The Buddy Scooter is a complete game-changer in the industry. While most scooters give you the method of transportation that you want, this scooter gives you the speed and acceleration that you need to enjoy the experience.
There's nothing quite like riding a Buddy 50cc Scooter through your hometown, enjoying the air and incredible fuel efficiency. You don't have to be limited to a car when you're traveling within your city. These gas-powered scooters are as good as it gets!
Whether you want a new means of transportation around town or you want to have fun relaxing and breathing in the fresh air on the weekends, this scooter is your new go-to option. Let's check it out to see why so many customers praise this model!
Our Review of the Buddy Scooter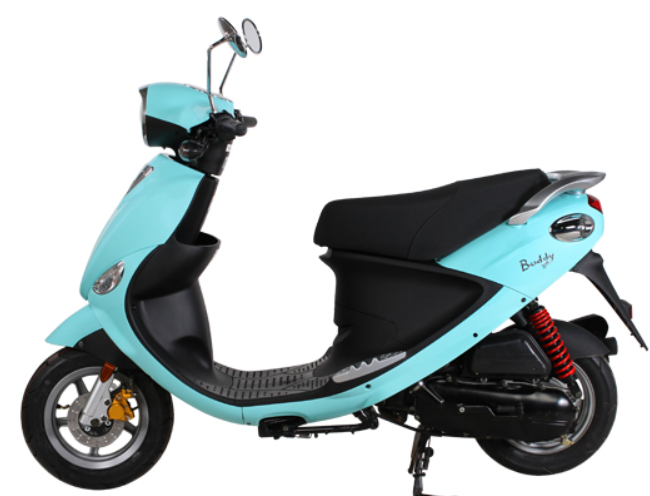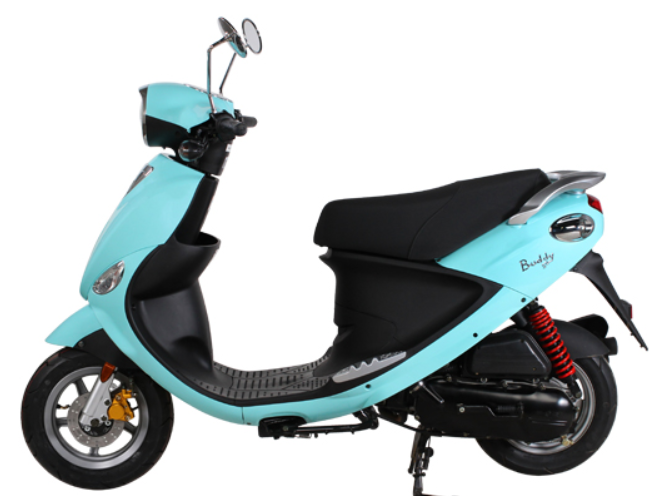 Key Features
The Buddy 50cc Scooter has a lot going for it. There's not a single feature that propels it to the top of most consumer's lists, but rather a handful. You might crave the comfort that comes from a padded seat, the convenient rearview mirrors that let you see everything behind you, or the throwback color schemes.
One of the best features that come with the Buddy Scooter is the fuel economy. It gets a massive 100+ miles per gallon! This far outshines most other scooters and definitely overshadows any car on the market. With a top speed of 30+ miles per hour, you can cruise quite quickly around the streets near your house.
The Buddy Scooter comes with several services and small features to give you peace of mind. For example, you get a 2-year limited warranty as well as roadside assistance for your scooter. It's usable for an unlimited number of miles within the aforementioned timeframe, so drive it as much as you wish.
There's also a USB charging port, seat storage, bright headlights, and more. Don't forget to choose from Lavender, Black, Red, Tangerine, and a list of other colors. Pick your favorite and visit a local dealer to pick it up. The overall weight of this scooter is 198 pounds. The bulky, tall tires help you hold the scooter up, so don't worry about it being too heavy.
Pros
+ This scooter is made to save you money as well as reduce environmental impact. With 100 miles per gallon, it'll be hard to find anything that compares.
+ You'll be able to choose from all sorts of unique and basic colors to find what you're envisioning. Several of them are modern, while a few are reminiscent of the '50s and '60s.
+ The comfortable seat is made even better due to the storage compartment underneath it. You can pack up a lunch, throw in your devices to waterproof them, and much more.
+ Although these scooters are built to last, having a two-year limited warranty is always nice. The roadside assistance is a huge bonus as well.
Cons
– Going 30 miles per hour isn't as quick as some scooters, but it'll do for inner-city travel and commuting.
– There isn't very much room for attaching anything on the back of this scooter to tug along with you.
Who is it Suitable For?
The Buddy 50cc Scooter is suitable for anyone who wants to leave the car at home in exchange for fresh air. There's nothing that compares to the freedom of riding a bike or a scooter. Beginners shouldn't worry about the handling since this is a rather lightweight model. You can slow down and speed up without any issues.
People who've ridden scooters before will enjoy the powerful acceleration that most other scooters are infamous for not having. Startup the engine to feel exactly why so many people love this beast of a scooter.
Why We Like It
We like this scooter because it's designed for everyone. There are a handful of scooters only for the pros, while beginners are usually limited to slow, boring models. However, this product mixes the benefits of both styles to let anyone enjoy the experience. You can save gas money, cruise at a decent speed, bring your belongings with you, and take the time to enjoy the day. What beats such an activity?
The Buddy 50cc Scooter is truly one of a kind. One feature that went unmentioned is the set of footpads that give you an excellent grip for your feet. Rain or shine, you won't have to worry about slipping.
Use your wide variety of headlights to illuminate your path and have a good time doing so. There's even a cubby in the front of the scooter for small additional storage space. This scooter keeps containing hidden features that most others simply skip right over. With the Buddy Scooter, no corners are cut from the manufacturer. You'll get the best attention to detail and nothing less!
If you liked the article, please leave your feedback.