If you have children of your own, as they get older, you may want them to start to carry their own stuff. For years, you have been the one to bring everything for them. Part of the reason was their size made it unfeasible for them to carry everything on their own. However, as they get ready to go to school, they are going to have to operate on their own.
They will need to know how to carry their lunch box, backpack, and anything else that they will need to carry. The same is true for when they are at home. If you are having some difficulty motivating your kids to carry their own stuff, here are a few suggestions that might help.
How To Motivate Kids To Carry Their Belongings
The first thing that you should do is motivate them to start to clean their room. This will get them to start picking up things and carrying them to where they belong. This instills a couple different skills within them. This will include becoming more tidy, and also learning how to carry and move things on their own. This type of training can carry over into the main household. You may begin to assign chores for them. However, if you are preparing them for school, you also want them to know how to carry stuff there. This will include learning how to use a backpack.
Why You Should Get Them A Carry-On Suitcase
Most adults that travel understands that you are allowed to bring at least one carry-on piece of luggage. These are typically much smaller than your standard suitcase, and if you are only going on a short trip, there is usually enough room to place this in the overhead bins right above where you are sitting. If you begin to travel with your children, they will need to have one. A great place to begin is with a product called a Scootie Scooter carry-on bag.
Overview Of This Child Size Carry-On Bag
This piece of luggage is designed for kids that are smaller. It is actually two products in one. There is a small piece of luggage in the front where they can put their belongings. It also converts into a small scooter. Once this is folded up, it will simply be a piece of luggage that they will be bringing with them when they travel.
Once they are out of the plane, they can extend the handle on the top, and fold down the base of the scooter, and they will now have a scooter that they can ride on. According to the reviews, this is something that many children have enjoyed. This 2-in-1 product is one of the best gifts you can give. Best of all, it will allow you to reward your child for all of the hard work that they are going through, learning how to carry things on their own.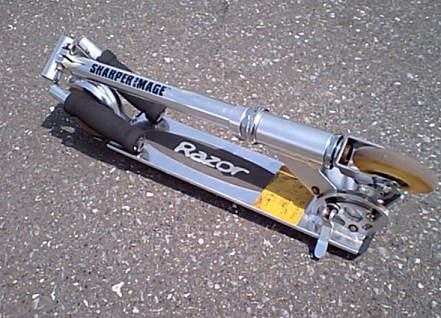 Reasons That Children Love This Particular Product
There are several reasons why this product is so incredibly popular. First and foremost, kids love scooters. However, it is the novelty of this item, its unique design, that makes it a fan favorite with both adults and children. Going back to the example of traveling with your children, once you are at the airport, your kids can begin to scoot along with you and their small suitcase.
This is literally a carry-on suitcase that is mounted on a scooter that is collapsible. It is one of the best gifts that you can give your children as you teach them to be more independent.
How To Find These Items On Sale
By simply searching for a Scootie Scooter carry-on review online, you will see multiple websites that are discussing this particular product. If you go to Amazon, you can see the comments that have been made by actual customers. These are often the most reliable. These are individuals that have actually purchase the item, and their children have used this unique piece of luggage in real life. There is no better source of information than from the words of an actual customer. While you are sifting through all of this info, you will inevitably find a listing for a Scootie Scooter carry-on suitcase that is reasonably priced.
The person that invented the Scootie Scooter carry-on bag was really very ingenious. This combination of practicality and entertainment is one of the best items on the market today. If you have small children, and you are planning a vacation, this is a gift that will be useful and a lot of fun. Your kids might be the only ones with a a Scootie Scooter carry-on bag, a product that will certainly reinforce their need to carry things on their own.
If you liked the article, please leave your feedback.