Given how many different kinds of toys there are out there for toddlers on the market, picking out the ones you want can be really confusing. As a parent, you need to consider things like age-appropriateness, longevity, durability, safety, and of course price. The best toys usually prove to be the ones that aren't just fun but also beneficial to helping your kids keep progressing. As always, you want to get the most bang for your buck.
One kind of progressive toy that proves advantageous is the ride-on toy. These are the kinds of toys which kids can hop onto and then ride, such as bikes, scooters, trikes, and rocking horses. Ride-on toys for toddlers and other children have many benefits, and not all of them are physical. Keep reading to learn a few of them.
Benefits Of Ride-On Toys For Kids
1) Promotes Exercise And Physical Activity:
A lot of ride-on toys mean the child has to use their legs in order to have movement. Older kids might even start making their legs stronger as they pedal more. Steering can help make upper limbs stronger, and this class of toys encourages the kid to be more active without them even realizing it.
2) Group Play:
Ride-on toys don't have to stay restricted to independent or solo playtime. Children can gather together to play, pretend, and explore. They can even learn things together and even from each other. Ride-on toys are great ways for kids to make friends and further develop socio-emotional skills. In a situation with only one toy, kids can learn things like waiting, taking turns, and sharing. They can even learn how to be sensitive to the feelings of others. Children can learn a lot from one another. Empathy, leadership, teamwork, and emotions when in social situations are just a handful of the many things that they can teach other. Having said this, toddlers still need supervision at all times.
3) The Development Of Motor Skills:
Children on ride-on toys can start honing their motor skills, both fine and gross. They do this in things like steering, grasping, and gripping. Some ride-on toys even have tiny knobs simulating keys to be turned, components that open and close, and joysticks for maneuvering.
4) Encouragement Of Adventure And Exploration:
A lot of ride-on toys can be used for indoor playtime. However, when safe, they can also be used outdoors. Spending time in the outdoors can help a child develop a love for nature and exploration. They can learn how to appreciate the world, nature, and their surroundings. Exploration is something that makes a kid think. Being in the outdoors can help a child learn to ask questions, make decisions, find answers, and create solutions.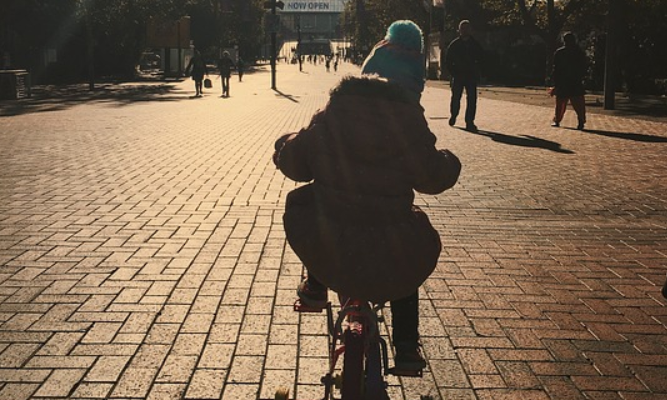 5) Teach Them Rules:
There are quite a few activities you can use to reinforce the general concept of rules, but ride-on toys are particularly useful, especially in teaching traffic rules. This can help kids develop senses of cooperation and responsibility. You might explore your own creativity, putting up a traffic route that encourages responsible driving with an emphasis on traffic signs. As they grow up, they won't have such a hard time following rules, particularly when they learn why rules exist anyway in the first place.
6) Improve Their Sense Of Balance:
Playing or operating ride-on toys substantially helps a child learn their sense of balance. They'll figure out how to distribute their weight in ways that will let them stay upright. Particular ride-on toys which promote a better sense of balance include bikes, practice bikes without pedals, trikes, and scooters. When they fall, and they will, always encourage them to just get back up. That will help them learn how to be resilient.
7) Spark Their Creativity:
Ride-on toys leave a lot of room for the imagination of a child. They can pretend that they're a fireman, a policeman, a mailman, or even a parent that's driving the family car. They might even pretend like they're going to the beach, the grandparents, or just their favorite drive-through. The possibilities are endless! Creative kids turn into the problem solvers and critical thinkers of the future because there weren't stuck inside boxed thinking and preconceived notions.
8) Better Spatial Awareness:
This is in reference to a kid's understanding of the space between any objects in their immediate surroundings. An obstacle course is a great way to further develop this. This particular skill is one that helps them pay more attention to the details around them.
9) Expand Their Vocabulary:
Teach them words like emergency, break, pedals, and lever. Based on how your kid is pretending at the time, you can teach them even more words. If they pretend they're doing a race car, you can start teaching them concepts like slower, faster, speed, and safety.
10) Encouragement Of Independent Play:
Toddlers should always be supervised, but ride-on toys can help them start learning how to play independently. Children start learning how to move just on their own. This sense of independence develops intrinsic motivations and self-esteem. This all leads to confidence. With an independent play, a kid can do exploration, recognizing their own feelings, responses, thoughts, and emotions along the way.
As you can now see, ride-on toys have a tremendous number of powerful benefits and advantages for toddlers, and honestly for many different age ranges of kids. As always with toy shopping, make sure you buy things that are not only age-appropriate but will be age-appropriate long enough to be useful to your family. Also check out warranties to see what the manufacturer and/or retailer covers, as well as the safety and durability of any given toy.
If you liked the article, please leave your feedback.