Skateboard backpacks and shoulder bags are nearly a must-have for anyone who loves skating, whether you do it at a skatepark, cruise around town or use it to get from point A to point B.
Because these types of bags and carrying straps are so useful and versatile, there are a lot of choices for buyers. So, the tough question will be: Which one should I get? It's a great question and the following product reviews of the best skateboard bags will help you answer it.
We will take a look at 13 of the best bags, so you will be able to compare and find the perfect fit.
1. GoRide Electric Longboard Skateboard Backpack Bag Carrier with Laptop Holder – Best Premium Choice
Designed for all-day use, the GoRide Longboard Backpack bag is a great choice for students and commuters. This sleek travel bag features adjustable straps that enable it to easily fit just about any size longboard and electric skateboard.
Plus, it wearing and carrying those heavy boards are made extra easy and comfortable thanks to the extra foam and padded, breathable straps.
Other cool features include double water bottle holders and large storage compartments that make it a workable adventure bag for those looking to cruise the city all day long.
The GoRide Electric Longboard Skateboard Bag Carrier even features a sleek laptop section that keeps your laptop safe, secure, and easy to access when you're on the go.
2. Universal Skateboard Shoulder Carrier Skateboard Carry Strap – Fit All Boards! Put into Your Pocket – Editor's Choice
Are you looking for something cheap but also something that will work to make carrying your skateboard easy and comfortable? Then you will love this carrying strap.
The Universal Skateboard Shoulder Carrier is comprised of a thick fabric and nylon material that is designed to withstand heavy use, time, and elements. But high-quality material doesn't mean it has to be a high weight.
These carry straps are very light and the big benefit of this design is that you can easily roll them up and shove them in your pocket or fanny pack.
That way, you can spend the day skating without much baggage and still have something useful to use should you need to carry your skateboard upstairs.
3. sefulim LISEFURE Skateboard Shoulder Carrier Skateboard Cary Strap with Adjustable Straps
While there are certainly big benefits of having some light and easy to put in your pocket like the previously mentioned carrying strap, sometimes you need a bit more. Sometimes you need something with a bit more form and support. For that, we recommend the sefulim LISEFURE Shoulder Carrier with adjustable straps.
This nifty shoulder carrier features comfortable straps that can be easily adjusted to fit comfortably over one's shoulders. But this product isn't just about the shoulder straps! It also features a firm backboard upon which the skateboard rests, and it is this foam-padded board that sits against your back.
This backboard makes it comfortable to carry a skateboard for a longer period of time as it prevents any rubbing against your back. It also is much lighter than the larger backpacks we have reviewed.
4. YS Sport Skateboard Shoulder Carrier Longboard Carry Strap Boards
The YS Sport Skateboard Carry Straps are another great low-weight, high-versatility option. These straps are made of a highly durable fabric and are designed to be able to easily roll up and place in a fanny pack, coat pocket, or small bag.
They are extra long and can be used on any type of board, including short skateboards, longboards, penny boards, and electric skateboards. As an added bonus, you can even use the straps to hang up your skateboard onto the wall — a pretty neat dual purpose!
The very versatile nature of these YS Sport Skateboard Shoulder Carrier straps makes it one of the most popular of this type of carrying contraption. Note, however, there is minimal padding and so those with sensitive shoulders might prefer another skateboard carrying option.
5. Skateboard Backpack Basketball Travel School Backpack 17.3 Inch Laptop Bag
If skateboarding isn't the only sport you love, then you'll want to check out this Skateboard Backpack Basketball Travel School Backpack. Designed and sold by Ronyes, this is a fantastic multi-purposeful skateboard and penny board backpack for holding everything the student or active adult needs.
You can fit your laptop, school books, soccer ball, tech accessories, and more along with your skateboard. In fact, a lot of people love this backpack because of how well it fits a penny board and how it does so comfortably.
If you are a student or you are shopping for a student, then the durable design and its inclusion of high-quality components, like premium zippers and rugged front meshing for the ball, should make this your top pick.
There are also hip straps and clips for added carrying comfort.
6. IWONDER Electric Skateboard Bag Longboard Adjustable Shoulder Foldable Carrier Travel Backpack
Hate how standard skateboard deck shoulder bag options don't actually protect the skateboard deck? Check out the IWONDER Electric Skateboard Bag and Foldable Carrier Travel Backpack. This nifty shoulder bag includes a cover for the skateboard or penny board itself, thereby protecting it from the elements and general wear and tear that can happen when carrying your skateboard in the subways and around classes.
The IWONDER backpack is made out of environmentally-friendly materials and boasts a very fashionable design that keeps the bag's size to a minimum, without excessive bulky materials. That said, it still has some pretty useful features!
Like a small zippered bag at the front of the bag where you can store your wallet, keys, smartphone, and any penny board accessories you might have.
7. IMPORX Longboard Skateboard Carry Bag Portable 2-Shoulder Bag Skateboard Handy Backpack
This IMPORX Longboard Skateboard Carry Bag is HUGE. This bag is so big that owners of it can easily dissemble three longboards, no matter their deck width, and fit all of them and their skateboard accessories inside this bag.
Or keep your longboard assembled and enjoy a very roomy bag. Other great facets of the IMPORX Longboard Skateboard Carry Bag include adjustable straps that allow owners to use it either as a one-shoulder bag or a double-shouldered backpack.
8. YYST Backpack Attachment Carrier Hanger Rack Hook Holder for Carrying Mini Crusier, Cruiser Board
If you already have a backpack that you love but hate that it doesn't have a space for your skateboard and penny board accessories, then this is a great pick for you. Plus, this attachment is only $9! The YYST Backpack attachment is also really easy to use. Simply wrap the two adjustable straps on either side of the attachment onto the backpack's shoulder straps.
This will put the hard hook outwards. To use the hook, slip your skateboard's front wheels over it. The hook will hold skateboards of all deck width in place thanks to its adjustability.
The attachment is designed to hold skateboards up to 10 pounds. It is recommended to remove the hook and securely store it when you are not using it to carry your skateboard.
9. Cooplay 41″ Black Professional Big Longboard Skateboard Carry Bag Handy Backpack Handbag Long Board with Mesh
This longboard carry bag is a good choice for those concerned about damaging their longboard in transit. This is a very, very heavy-duty bag and can be used for things like the airport and cross-state train travel.
But just because it's heavy-duty doesn't mean that the bag is tough to handle. This bag is comprised of a very durable material, very durable cloth material. This makes it possible to fold the bag and store it somewhere convenient.
Or you can even fold it and put it in another backpack when not in use. Note, that its huge side makes it not a good choice if you are shopping for penny board bags as penny boards are much smaller.
10. Cooplay 22″ Black Penny Banana Skateboard Carry Bag Handbag Backpack Straps
Now, this is a great pick if you are shopping for penny board bags! This bag was designed by Cooplay specifically for the use of carrying the increasingly popular type of skateboard known as penny boards.
This, however, means that it is a small type of skateboard bag. So don't buy this bag thinking you'll fit in a longboard or even a large shortboard. The ratings on the Cooplay 22″ Black Penny Banana Skateboard Carry Bag list it is as being ideal for those boards with a deck width of 17 to 22 inches.
This is also not a shoulder bag or backpack, but rather a carry bag. It has two thick straps for hand carry.
11. OTVIAP PUENTE Skateboard Carry Case Shoulder Bag Waterproof Longboard Storage Backpack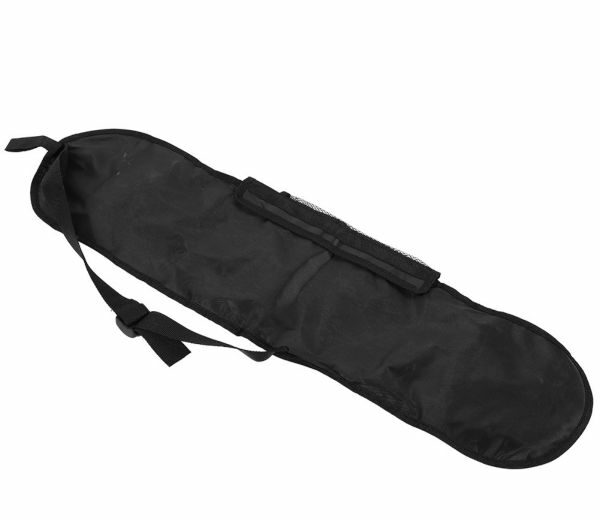 This bag is very similar in design to the previously outlined bag, but it is significantly more durable. Of course, that durability means it is going to cost a bit more money — but most find it worth the investment.
This longboard carry and storage bag is built of a polyester material that makes it very water-resistant, to the point of being virtually waterproof. This means that if you need to protect your longboard from rain and snow when traveling or moving about, keeping it in this bag will do it.
Other nifty features include a small inside pocket where you can stuff your valuables. The bag itself is equipped to fit all standard skateboards of up to 32 inches in deck width.
12. YS Sport Portable Skateboard Longboard Carry Bag – 2 Shoulder Bag Handy Backpack, Black
This YS Sport bag is made of durable nylon fabric material. This material makes the bag itself lightweight as well as easy to fold so that the bag itself can be folded into a compact size for storage.
When fully opened, the bag has a size of 47x11x6 inches. This size makes it a perfect choice for any skateboard, penny board, and longboard with a deck length of up to 46 inches. That said, the excess size of the bag may make it a bit too big for a shortboard or penny board.
Especially as there are other excellent penny board bags on this list. This shoulder bag features an adjustable shoulder strap that makes it easy to shorten and lengthen for optimum comfort.
13. Rollie Pack Slim Carry Foldable Electric Skateboard Backpack Bag for Boosted Boards Mini S & X, V2, V2 Dual Plus, Plus, Stealth, Exway, Flex, Evolve, Normal Skateboards and Longboards
The Rollie Pack Slim Carry Foldable bag is perhaps the most fashionable carry bag on our list. This bag is built as a slim-fit backpack but it is so much more.
This carry bag features a fabric covering that you can fit your shortboard or penny board in and protect it from the elements as well as scratches and dings. In addition to that basic coverage, the bag also features several sizable pockets. These pockets can easily fit several books, smartphones, keys, and other things like penny board accessories.
It does cost a bit more than the other bags on our list, but it is worth it. Especially given how comfortable the well-padded shoulder straps are on this Rollie Pack skateboard bag!
What is the best penny board bag for money?
Choosing the best penny board bag for the money will depend slightly on what you want. If you want just something simple, something affordable but also something that works, then consider one of the penny board straps we listed. We particularly recommend this option: YS Sport Skateboard Shoulder Carrier Longboard Carry Strap Boards. These carry straps are great for those on the budget, can fit neatly in your pocket, and still hold up for years of heavy use carrying your penny board.
But while those straps are a great cost choice, if by best penny board bag for the money, you mean the best quality for a good price, then we have to recommend the last bag we reviewed. The Eggboards Skateboard Backpack Laptop Bag – Waterproof Backpacks With Drawstring, Large Pocket, and Adjustable Straps. This penny board backpack is so great because of how versatile it is. It isn't just straps that you'll want to use for when you have your skateboard with you. This is a penny board backpack you're likely to use even when you don't have your penny board with you.
What is the difference between penny boards and skateboards?
The term "penny board" is sort of like Kleenex in that there is a brand called Penny Board Skateboards in Australia that first manufactured the board but now all boards like them are called penny boards (like how all tissues are generally referred to as Kleenexes). These boards are distinguished primarily by their size and by their deck material.
Penny boards are all going to be smaller, more compact boards that are built from plastic-type material. This plasticity gives it a bit more flexibility and lightweight composition compared to a regular skateboard.
In contrast, while some traditional skateboards were made out of plastic during the 1990s, most skateboards are made out of wooden decks.
In fact, most skateboard decks of North America aren't just made out of wood, they're made out of a very specific type of wood: Maple. Traditional skateboards are also a bit longer and a bit wider than penny boards.
What to look for when buying bags for penny boards?
When looking at buying penny board bags and skateboard shoulder bags, what to look for will depend largely on what you want out of a bag. If you want something that is simple, utilitarian, and cheap, then go for one of the carry strap models we noted in the Product Reviews.
But if you want more than just the basic straps, then we recommend looking for the following three qualities: Water resistance, quality zippers, and pockets. Zippers are often the first thing to wear out these and other bags and so it's good to double-check reviews for zipper quality.
Having extra pockets is also generally a must-have, especially if you travel often with your skateboard. If you are a student or commuter and need to travel often with your laptop, make sure the skateboard or penny board backpack that you choose has a wide center pocket that's large enough for your laptop computer.
Are penny board bags waterproof?
The answer to whether a penny board bag is waterproof or not will depend largely on what type of bag you choose. Like many things. Different brand backpacks and backpack models will use different types of material and what material they use will determine whether or not the bag itself is waterproof or not.
That said, it is important to note that even if a penny board bag labels itself as "waterproof" in the big headlines, you have to look closer. Look at the details. Most bags with headlines that scream "waterproof" actually are just "water-resistant".
What this means is that most so-called waterproof bags are going to be made up of a very durable material that will protect against a decent amount of water splashes and rainfall. This means that if you are skating home in a light rain or walk through a sprinkler, your board, penny board accessories, Kateboard hardware, laptop, and personal items are likely to be well protected from water damage.
However, you aren't going to want to take the bag into heavy rainfall, nor should you expect it to withstand partial or full submersion. Even something like a bucket of water poured onto a bag will cause some leakage as this is too much water at once.
Your skateboard or penny board is an important piece of equipment, and it is important to keep them protected and maintained. One way to ensure your penny board, skateboard, or longboard is kept safe when you're not riding it is by buying and using one of the above skateboard and penny board bags.
Which bag you choose to protect your skateboard or penny board will depend on your own unique needs, including e.g. price, design and versatility.
If you're on a budget and just need something easy but effective to carry your longboard, the YS Sport Shoulder Carry Strap would be the best buy for you. If money is less of an issue and the most important thing for you is that you have a big bag that can hold all your belongings, the Skateboard Backpack Basketball Travel School Backpack is the best buy for you. Do you want something more stylish but still with plenty of cargo options? Then the top choice for you would probably be the Eggboards Skateboard Backpack Laptop Bag.
All of the above are great bags, but the greatest one for you depends on your needs. We hope this guide helps as you choose the best penny board bag for your travels.