Cycling is a great sport to be enjoyed for riders of all ages. Over time, the most used parts can wear and tear, needing replacement. One of the most common discomforts for riders comes from wrist strain while riding, and regular cyclists will often wear down their bicycle handlebar grips with overuse. From off-road, on-road, or casual sidewalk riding, this article covers your best options to replace old handles with new, improved bicycle handlebar grips.
Below you'll find a bicycle handlebar grip that works best for you, your bike, and your preferred style of cycling.
1. U-JOY Bike Handlebar Grips for Kids
First on this list is the U-Joy bicycle handlebar grips. Topping our list, these are a low-cost option that fits almost all child-sized bikes or scooters. They're made from high-quality silicone that's both durable and easy to clean.
Installation of these grips is also simple; with a little soap, they will slide right onto any bike handlebar posts. Once installed, they have a nonslip mushroom grip design. This allows riders to comfortably hold onto their bike without issue.
Coming in 10 different colors, including the standard black option, these bicycle handlebar grips will match any bicycle and add personality to more plain designed bikes.
Pros:
+ Fits almost all bikes with a 20-22mm handlebar post
+ Easy installation with many color options to satisfy all childhood riders
+ Soft but the grippy texture, perfect for casual riders and kid's gentle skin
Why we like it: These grips are exactly what you imagine when thinking of purchasing a replacement for your bike. They're simple, pretty, and will do exactly what you want with an affordable price tag to match.
2. OUTERDO New Handlebar Grips
If you're looking for a replacement bicycle handlebar grip that can endure serious wear and tear, this is the option for you. These simple grips have a hard rubber core, then padded with softer rubber texture for any rider's comfort.
Designed more for mountain and BMX bikes, these bicycle handlebar grips will stay put on even the most adventurous of rides. The multilayered core creates a soft, shock-resistant grip for riders, allowing for comfort and reducing fatigue throughout a long ride. They will ensure hot summer days followed by sweat and rain and dirt the next without wearing down the grip of the bike or being detrimental to your comfort.
Pros:
+ Eco-friendly materials are good for you and the environment
+ Extremely durable for rough riders who experience drops, falls, or other common bike accidents
+ Comes in both black and white color options to match rider's preference
+ Non-twist design means once installed, grips will stay secure throughout any ride
Why we like it: These are the heavy-duty grips you're looking for when it comes time to upgrade an adventure bike. They function exactly as designed, are made from high-quality materials, and can withstand anything.
3. Emoly Bike Handlebar Grips
The Emoly bicycle handlebar grips are an upgrade when compared to the previous options on this list. The two-toned colorways are designed with an aluminum double lock and an ergonomic design, perfect for serious bikers.
Focused on rider comfort and safety, the shape of the handlebars provides more space to grip the bike as well as reduces stress on the wrists and shoulders of the rider. They also upgraded from the standard mushroom design, using instead a honeycomb grip pattern to withstand sweat or rain on the handlebar.
While still easy to install, these bicycle handlebar grips have a double lock option, allowing the grips to be tightened to the handlebar post matching the rider's preferences. Unlike other, less involved grips, these grips do require a socket wrench for installation. Once locked, these grips will never slip, slide, or twist while riding.
Pros:
+ Designed with serious riders in mind, focusing on comfort and safety
+ High-quality rubber grips with an extended surface for larger hands
+ Fits larger bikes as well, sliding easily over 23mm handlebar posts
Why we like it: Emoly bicycle handlebar grips are an automatic upgrade to any bike. These handlebars are for the adult rider, wanting to enjoy their time on a bike without discomfort or annoyance from rotating grips. They're a great long-term solution for handlebar replacement options.
4. Schwinn Ergonomic Comfort Bicycle Grip
Schwinn is well known in the bike community for offering high-quality products. Their long history of creating bikes gives them a leg-up in this list as a reliable brand to purchase from.
These grips have a unique diamond pattern, made from a Kraton material to provide a nonslip handle for the rider. They will fit most handlebars for standard bikes. With simple, slide-on installation, once in place, these bicycle handlebar grips will not rotate on the post.
They do come in two color options, black with grey end-caps or black with red end-caps. Matching almost any bike, they provide a simple upgrade solution to a standard Schwinn.
Pros:
+ Quality product from a well-known, reputable brand
+ Slide-on installation with no tools required
+ Not rubber or foam-based, so more durable than many other options for bicycle handlebar grips
Why we like it: these grips are what many riders are already used to thanks to being standard on Schwinn bikes. With this in mind, many buyers would prefer this option to maintain their comfort without going through a complicated installation process like other premium grips.
5. Weanas New Generation Bike Handlebar
If you're looking to make serious upgrades to your current bicycle handlebar grips, Weanas is a great option to consider. These grips have three different levels of density in their design, targeting long-distance trekking cyclists. Based on triene material, these grips are UV resistant to fading or losing their shape in the sun's heat.
Safety while off-road is important, so these bicycle handlebar grips have a diamond-patterned surface for improved control, as well as their "G2 Lock" which bolts this grip to the bike to maximize stability.  With three options for shape, there is an option best suited to meet your needs.
You can purchase these grips in standard, bar end, or cork gel coated for any type of adventure.
Pros:
+ Professional grade gear for heavy trekking cyclists
+ Multiple shape options for riders of different skill and preference
+ Gel inserts and multi-density padding provides control and comfort for any rider
Why we like it: These bicycle handlebar grips are the type of product typically found in boutique level bike shops. For riders looking to make an upgrade to their bike not just in appearance, but also in quality and durability this Weanas option is one to strongly consider.
6. TOPCABIN Bike Handlebar Grips
For a more simple, traditional look the TOPCABIN bicycle handlebar grips are a great, lost-cost option for adult riders. Coming only in a black and grey colorway, these high-quality rubber bike grips will install simply and stay in place for the casual rider.
They are made from a skid-proof TPR rubbergrip, comfortable for distance riders, these grips have a gentle ergonomic design to support the entire hand.
At only 90mm in length, they are also a shorter option for those who don't use a hand-shift on their bike, as well as for shorter women's bike handlebars. This is compared to the standard 120-150 mm length of most grips, which often have to be cut down for sizing on smaller bikes.
Pros:
+ Simple, classic design for the casual rider
+ Shorter length makes it an easy fit for smaller bikes without needing to trim the ends
+ Durable to withstand drops and crashes, common events for childhood riders
Why we like it: These bicycle handlebar grips are great, simple solutions for those needing to replace the grips on a smaller bike. Children and women's bikes often struggle to find replacement grips that are the proper length while also being comfortable in smaller palms. These grips from TOPCABIN do their job well.
7. Ergon GP1 Grips
Ergon has designed premium large bicycle handlebar grips that feature a winged, ergonomic design for adult riders. Designed and made in Germany, these grips are engineered to withstand any road. These grips are backed with a two-year warranty, supporting their reliability to their cyclist.
With an additional aluminum clamp, these grips can be installed at any angle for a custom comfort fit. They can be added to any standard bike, including carbon handlebar posts. Developed from TUV-certified rubber, these bicycle handlebar grips are also 40% cork to make these grips both durable as well as environmentally sustainable.
Pros:
+ German engineering at work with designs for better palm placement
+ Securing clamp for increased stability, as well as easy adjustment of grip fit
+ Designed based on input from professional riders for elite performance
Why we like it: these bicycle handlebar grips are sustainable, comfortable, and able to be secured to any standard bike. For older adults looking for a locking grip to upgrade their rides, the Ergon GP1 option
8. GPMTER Bike Handlebar Grips
These bicycle handlebar grips are highly rated on Amazon for their simple design while still providing a high-quality locking system to keep the grip in place. If you want a stable grip without all of the ergonomic and multilayered comforts of other suggested bicycle handlebar grips on this list, this may be the perfect solution for you.
Made from non-slip rubber, these grips have a gel layer to add comfort during longer rides. The rubber is focused on staying tough through all-weather situations. This, in addition to the aluminum clamp lock, will keep the grip stable on your bike and in your hand throughout any mountain terrain.
Coming in both red and black color options, these bicycle handlebar grips aren't the fanciest on our list but will seamlessly integrate into any bike design. Note though, these grips are not recommended for most road-bikes.
Pros:
+ Tool tightened locking clamp to keep the grip stable without twisting while riding
+ Anti-slip design keeps the rider safe in any weather
+ Low-cost product with high-quality materials
Why we like it: These bicycle handlebar grips are simple in appearance but just as secure as more complicated, ergonomic options on the market. This is our best pick for a no-bells, no-whistles handlebar grip that's easy to love and easy on your pocketbook.
9. Ergon GP5 Grips
Ergon is back on the list, this time with extended winged grips. These are just as engineered and ergonomically designed as the GP1 option above, but with additional improvements throughout the comfort bar end. Both the bicycle handlebar grip as well as the extension can be angled for custom fit and comfort to the rider, and then locked in place with the built-in clamp to prevent twisting once locked into place.
These grips are also classified as a large grip, giving the rider a wider handlebar as well as an extended length. This can be essential for riders who often feel cramped on their current bicycle handlebar grip, as well as for improving blood flow throughout the hand and wrist while riding.
Also made with TUV-certified rubber and ethically sourced cork, these grips are up to regular rides without beginning to breakdown from wear and tear.
Pros:
+ High-quality German engineering and design went into every aspect of this grip
+ Extended wing also ergonomically designed to support riders at any angle
+ Premium product with premium materials that withstand even the most serious riders
Why we like it: The first extended-wing bicycle handlebar grips on our list, Ergon has done a fantastic job in designing a handlebar that can be adjusted for any rider. With multiple joints for customization, this is the go-to option for riders looking to add diversity to their handholds.
10. Asti Natural Cork Foam Bicycle Grips
Cork-based foam bicycle handlebar grips are a great way to upgrade your current handlebar grips while also being environmentally responsible. These bicycle handlebar grips are left as unfinished as possible without reducing quality or durability. This leaves these grips with the elegance of brown cork that pairs well with more classic bike designs.
In addition to being stylish, these materials are all naturally sourced, great for those with sensitive skin as well as those concerned for environmental sustainability. These grips are biodegradable, perfect for those preferring zero-waste lifestyles.
Durability remains a priority for this design, with an air cell structure made to be weather resistant while remaining ergonomic and comfortable. The cork naturally provided a foam, shock-absorbing bicycle handlebar grips for improved cushion while riding.
Pros:
+ Beautiful design will look great on any decorative bike
+ Easy to install with a c-ring clamp to lock the grip to the post in any preferred position
+ Vintage touch while still providing modern quality and comfort
Why we like it:These bicycle handlebar grips are pretty. The brown tones are natural and add elegance to any bike. While they aren't designed with adventure biking in mind, these grips are great for city cruisers and casual riders.
11. TOPCABIN Double Lock Bicycle Grips
Also appearing a second time on this list, TOPCABIN also has bicycle handlebar grips that offer a double locking mechanism for ultimate security. Coming in five different colors, these bicycle handlebar grips are simple in design but still elegant.
These grip via an aluminum alloy locking ring on the end caps of the bicycle handlebars. These caps help to prevent dust, rain, and other debris from getting between the bike grip and the handlebar post. This prevention also then helps to extend the life of your grip, making it more durable against the elements.
Pros:
+ Anti-skid rubber for security in sweat and rain
+ 12-month warranty against a 100% return or replacement policy.
+ Allen key lock to prevent twisting or sliding while riding once installed
Why we like it: TOPCABIN has made simple bicycle handlebar grips that are an upgrade from most foam or soft rubber competitors. These grips aren't bulky or overly flashy but still provide colorway options to add decoration to your bike while also improving grip quality.
12. MARQUE Grapple Mountain Bike Handlebar Grips
The most fashion-forward bicycle handlebar grips on this list for far, MARQUE offers locking handlebar grips that come in ten bold color options. These are designed to fit in and stand out with any mountain bike or BMX biking community.
These grips are made from TPR rubber to help absorb shock as well as provide serious grip improvement. The rubber is also patterned in varying directions and blocks to give maximum stability for a rider. Made to fit any standard mountain bike, these grips also lock on with an aluminum ring lock to add security and prevent twisting once installed
Pros:
+ Bold color options in a slim profile for adding visual impact on any bike
+ Firm and confident handling thanks to the multidirectional grip
+ Thinner grips for those who want the stability of a mountain bike without the added padding of other options on the market
Why we like it: When you think BMX bike, these are the type of bicycle handlebar grips you imagine on the handlebars. They're bright, they're thin, and they provide maximum hand security for any rider no matter the weather.
13. Velo Vinyl Leather Grips
For casual riders, these vinyl leather grips from Velo are perfect for any cruiser. They are designed to fit single speed bikes with no handlebar shifters. This does limit the number of bikes they can be compatible with, but the stitching design of these grips is focused on aesthetics over comfort.
Built around high-density foam, these bicycle handlebar grips are covered in black synthetic leather with thick black detail stitching around the seams. While they do look nice, these are a bit tough to install as they cannot be lubricated with vegetable oil like many other grips. Once in place, they're made tight enough to not spin on the post while riding.
Pros:
+ Black leather appearance for a seamed retro look
+ Soft foam interior is perfect for slow speed, short distance riders
+ The quality is exceptional at their price-point, allowing everyone to upgrade their bike's appearance
Why we like it: This is the first leather bicycle handlebar grips to make it onto our list. They are simple enough to match most cruisers, while also adding texture to the appearance of the bike. The foam is soft without being flimsy making it an easy recommendation for very casual riders.
14. MARQUE Race Mountain Bike Handlebar Grips
Another brand making our list twist is MARQUE with these racing specific bicycle handlebar grips. Still being offered in bold color choices, these grips add dynamic support with the multiple rings, rubber shock absorbency around the base of the grip. Also made from TPR rubber, these grips can withstand rough rides and exposure to the elements.
As with the previous suggestion, these grips also lock into place with an aluminum ring, keeping the grips from twisting while you ride. These aren't soft grips for those looking for more cushion, but instead, these grips are tacky in texture for even the sweatiest of palms.
Pros:
+ Easy to install while also offering the endcap locking mechanism
+ Cool, bold patterns and colors to choose from to match any mountain bike
+ Prompt customer service should your grips arrive damaged or you have any questions during the install
Why we like it: these grips fit most mountain bikes and are 130 mm long to support most handlebar posts. These bicycle handlebar grips are almost as slim as MARQUE's other offerings while still adding extra grip support for those riding in rough terrain.
15. SAPLIZE Kids Bike Handlebar Grips
Our most youthful option on this list, SAPLIZE offers bright bicycle handlebar grips complete with streamers for any child to enjoy. One option for purchase includes both streamers and a handlebar windmill to add joy and excitement to every ride.
These bicycle handlebar grips are two-toned with a diamond pattern giving kids increased surface area to grip while staying comfortable and anti-slip. They are made from environmentally sourced TPU rubber materials, making it safe for sensitive skin.
They come in the perfect size for most kid toys, be it a bike, scooter, or tricycle.
Pros:
+ Flat end with large edges help kids keep their hands on the handle without sliding off the end of the grip
+ Multilayered rubber end cap to protect the bike as well as small hands during any drops, tips, or falls
+ While the tassels are optional, they are brightly colored to add joy and magic to any ride
Why we like it: When you picture the bike of childhood, these bicycle handlebar grips have earned their place in that image. With multiple color options, the tassels, and even the windmill, these are impossibly cute while still providing security and comfort to your child rider.
16. Bike Shop Replacement Non-Slip Rubber Handlebar Grips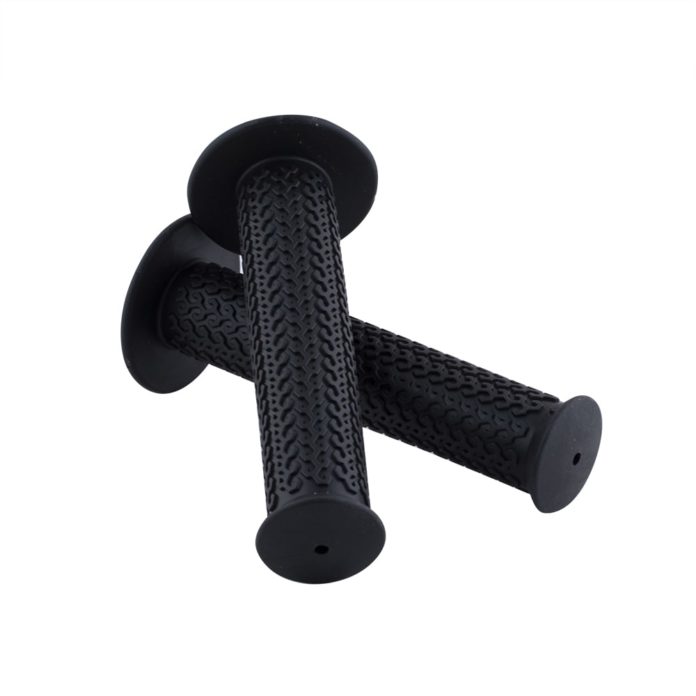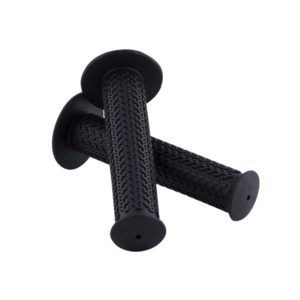 Supplied by Walmart, the Bike Shop branded rubber bicycle handlebar grips are a simple design for those looking to not think too hard about their purchase. Coming only in soft black rubber, these grips have an extra-wide endcap base for security while riding.
These bicycle handlebar grips walmart are a great option for local shoppers. This solution for grip replacement is almost as simple as it can get, with no added layers or locking mechanisms. They're easy to install, fit any standard bicycle, and are durable enough to withstand regular riding.
Pros:
+ No tools required to install, just slide on and start riding
+ Simple, no extra details design makes it great for riders who love the standard grips that come on most bikes
+ Thanks to being supplied by Walmart, you can return in-store or online should you need any support
Why we like it: Sometimes simple is best. For riders who aren't too worried about their hand-grip angle or how to maximize comfort on extended rides, these bicycle handlebar grips are a no-nonsense solution on this list of replacement options
17. Snafu Dominator Bike Grips
These unique bicycle handlebar grips mare designed to add a bit of personality to any type of bike. Shock-absorbing foam and rubber coating help riders stay comfortable, while firm rubber grips patterned after flames give stability as well as a statement to the bike.
Designed for BMX bikes, these offer performance as well as style. The dual-compound construction creates a comfortable grip for the rider. These bicycle handlebar grips only come with the black and grey color option which helps them to match almost any bike.
Pros:
+ These grips are great for kids who want a cool design on their handlebars
+ Soft material is comfortable for all riders regardless of age and skill
+ Sturdy enough to withstand tricks drops, and crashes with minimal wear and tear
Why we like it: these bicycle handlebar grips are classically cool for youthful riders. The flames are an iconic design for speed and daring adventure, perfect for encouraging children to learn tricks on their bicycles. We have no doubt your child will be riding faster than ever with these bicycle handlebar grips in place.
18. RUNACC PU Leather Lock-on Handlebar Grip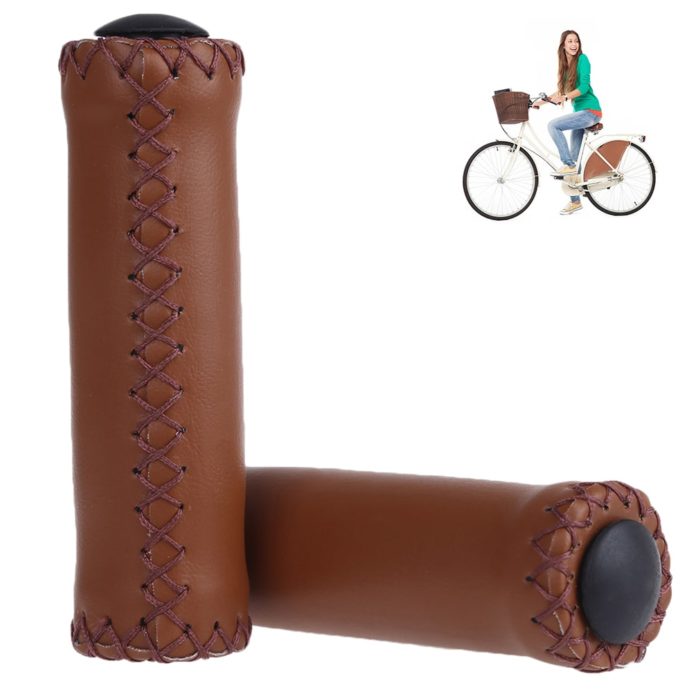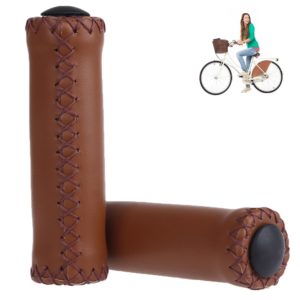 Our second leather handlebar grip to be recommended is supplied by Walmart. These brown leather grips from RUNACC are made to fit most standard bikes and lock on with a hard endcap to keep your grip from twisting while you ride.
Made from quality PU leather, these bicycle handlebar grips are soft to touch while still being tear-resistant and durable for most riders. Added beauty from the diamond-patterned stitching around the seams of these grips helps give these grips a classic elegance lacking on many comparable rubber options.
Pros:
+ Comfort grips with soft padding make these a great option for gentle riders
+ Will fit best with any cruiser style bike, but able to be installed on all standard bikes
+ Durable leather will survive the weather and falls without damaging the handlebar or grips
Why we like it: these bicycle handlebar grips are a wonderful addition to the look of any bike. The brown leather adds a touch of luxury to your ride while not compromising on comfort or quality.
19. ZTTO Anti-slip MTB Bike Bicycle Handlebar Grips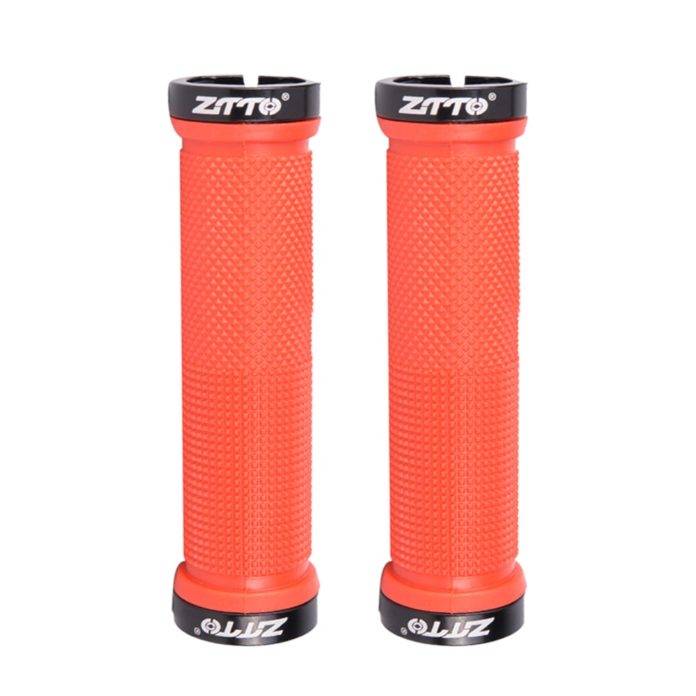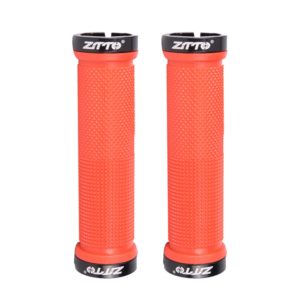 These simple, low profile bicycle handlebar grips from ZTTO are made from rubber and come in four different color options. These grips are a single layer padding and patterned design, adding a nonslip surface to a bike without too many extra details.
Thanks for the soft compound rubber, the grip is still comfortable for riders without being too firm. This extra absorbent material also helps to offset shock and improve handling for the rider. These bicycle handlebar grips would be a great option for a semi-casual rider looking to make a simple upgrade to their bike without breaking the bank or adding multiple changes to their previous riding experience.
Pros:
+ Single layer rubber design is easy to clean and maintain for outdoor riders
+ Maximum traction on the grip thanks for the tight bubble grip
+ Red, blue, green, and black color options to match most bikes
Why we like it: Coming from Walmart, these bicycle handlebar grips are simple while still standing up to regular riders. They fit most standard bikes, they slide on for simple installation, and they will stay in place throughout the life of the grip.
20. Primo Cali Grip Bicycle Handlebar Grips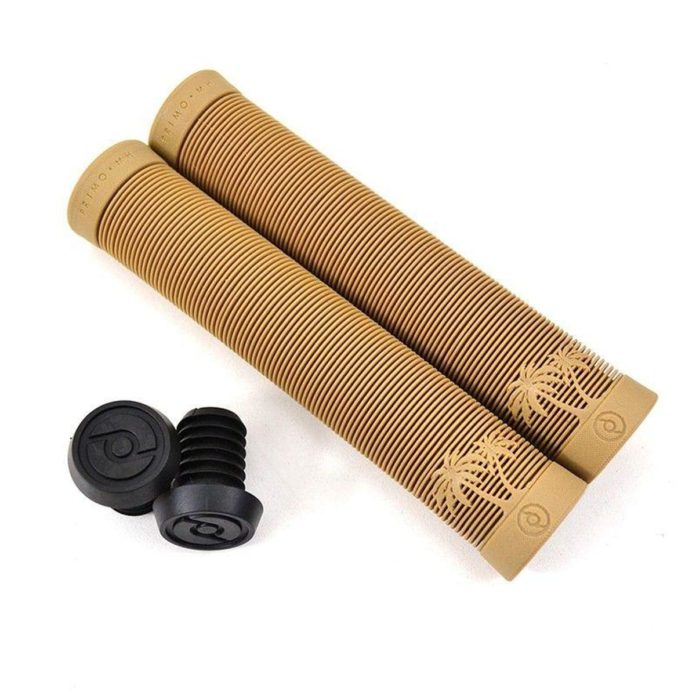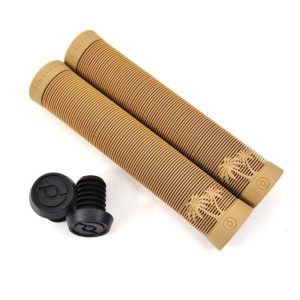 These extra-long bicycle handlebar grips come in at 170 mm in length. That's perfect for riders on large bikes or looking to add support to extend their existing handlebars. Coming in five colors, these grips are simple in design with an added touch of the tropics thanks to the palm tree icon on the end of the grip.
Designed with a thick ribbed pattern, these bicycle handlebar grips walmart have a soft feel while still being tacky enough to be non-slip.  Included in the purchase is the nylon bar ends to cap these grips, securing them in place and preventing dust from accumulating inside the handlebar post.
Pros:
+ Simple but colorful designs to add personality to your bike
+ Extra-long grip size to fit even the largest of bikes or to provide comfort for those needing to add length to their existing handlebar post
+ Slide-on installation with no extra locks or tools required
Why we like it: These cute bicycle handlebar grips would be a vibrant addition to your bike. They're traditionally designed with the tight ring pattern rather than the raised, textured rubber of many other grips for those who don't enjoy other hard-rubber offerings.
Buyers Guide
When shopping for your replacement bicycle handlebar grips, consider the size of your bike, the size of your hands, and your style of riding. While most grips available will fit a standard bike and work well enough for the average cyclist, there are many options available to choose from that will perform best for you. Taking the time to consider what you like about your current grips, but also what you dislike, will help you narrow down your options from this list and make an informed purchase you can be satisfied with after installation.
Before purchasing, we also encourage you to review the state of your bike, removing the previous grips and cleaning the area before attempting to install any new bicycle handlebar grips. We've detailed those steps below to ensure your bike is ready to be upgraded without issue. Once your previous grips have been removed, measure the length and diameter of your handlebar post to compare with the options stated here. The standard handlebar grip falls between 120 mm and 150 mm in length, but smaller bikes may be as small as 90 mm. These smaller bikes are often children's bikes, but some small women's bikes can also have these shorter posts.
Most standard grips can be trimmed for length as well, accommodating shorter posts on children's and small women's bikes. Be sure to keep your preferred length in mind when considering your purchase, as many of the more premium options can be purchased in a shortened design rather than requiring you to alter the product yourself after delivery.
If you have a short and narrow post, consider our options specifically highlighting those details or a grip that can be tool-adjusted. A tool-tightened and locked grip will be able to clasp to a narrow post that may otherwise be too short due to its ability to compress fully to the bike without relying on surface tension to keep them in place.
How to Remove Bicycle Handlebar Grips
Before you can install any new grip, you'll need to remove the existing bicycle handlebar grips on your cycle. The easiest way to do this is to lubricate the existing grip with water or vegetable oil, pouring it inside the grip between it and the handlebar post. This will allow the previous grip to slide off the post. Once removed, clean any remaining dirt or debris from the post. Once clean and dry, your bike is ready for the installation of a new bicycle handlebar grip.
You can check it out on the video below as well.
How to Clean Bicycle Handlebar Grips
Many will need to clean their handlebar grips should they become sticky. Many grips develop grime around them from a buildup of sweat, dirt, and rainwater. With repeated use and exposure to the heat and UV rays of sunlight, bicycle handlebar grips can begin to breakdown. This breakdown may leave you wondering, "How do you fix sticky handlebar grips?".
The easiest way to clean existing bicycle handlebar grips is to use warm, soapy water. Most grips are made from rubber or silicone bases, which can withstand gentle detergents found within most soap. Liquid dish soap is a great option for most grips. With a wash and rinse, your grips should become clean and all stickiness is gone. Be sure to dry your grips well to prevent any further deterioration or a buildup of mold or rust between the grip and the metal handlebar post.
How to Install Handlebar Grips on a Bicycle
Installation is mostly consistent across all of the options we've shared. Once the previous bicycle handlebar grips have been removed, a majority of grips are installed only by sliding the grip onto the post. While these grips are often tight to fit, it can be lubricated with water or vegetable oil to then slide the grip into place. Once dried, the grips suggested above won't twist, turn, or slide off of the handlebar post.
If you're wondering, "how do I keep my bike handlebar grips from slipping?" the answer is simple! Most grips will be firmly in place once installed and dry. If your bike has a more-narrow post that allows your grip to twist or slip even when fully dry, consider the suggested options above that have tightening locks or clamps to help secure your grip in place.
Bicycle Handlebar Grips by Rider Type
Casual
If you're a casual rider, keeping your bike mostly on paved roads for short rides, you may be best served by our lower-cost, rubber, or silicone-based grips. These simple grips are most like those that come standard on the average bike and are the easiest to install. You won't need to consider how to put on bicycle handlebar grips as many of the recommended options for casual riders are one solid piece that slides right on. If you wonder, "How do I keep my handlebar grips from slipping" we encourage a casual rider to consider one of our multiple suggested options with locking mechanisms to keep their bicycle handlebar grips in place.
Off-Road
For off-road cyclists, we encourage you to consider the options on this list that have multiple layers of coating for improved shock absorbency and stability. These grips are designed for long, rough rides so selecting a bicycle handlebar grip that facilitates comfort for the rider will improve the quality of future rides. Many of these grips are also one-step install processes, but we do encourage you to research further the grips suggested that have locking mechanisms. Having a grip that tightens close to the handlebar post and requires tools to remove, can help prevent and accidental slips in the mountains. Using a grip with a lock also ensures the bicycle handlebar grip does not twist while riding, so any rider preferences for the angle of their grip will not be lost while going over rocks or ledges.
Extended Distance
Riders who enjoy long-distance rides would most benefit from the ergonomically designed options on this list. Grips with a larger base, gel cushioning, and even premium materials create comfortable grips that can help to extend a ride. There are leather grips suggested as well that can add a quality touch to any bike. Taking advantage of an ergonomic design will help you to reduce tension in the wrist, elbow, and shoulder. These new designs can improve the posture of the rider, giving comfort, and supporting stress-reduction to allow cyclists to ride longer than ever before.
Quick Answer Review:
Are all handlebar grips the same size?: Mostly, yes! Most grips come in the standard size.
What are the best handlebar grips?: That depends on your and personal style of riding.
How do I keep my bike handlebar grips from slipping?: Install your grip and fully let dry before riding. If slipping is still an issue, consider a bicycle handlebar grip with extra locking support.
How do you fix sticky handlebar grips?: Wash with warm, soapy water and let dry completely.
How to put on bicycle handlebar grips?: Most grips slide right on with the help of a little lubricant! Grips with locks or additional features may require tools and detailed instructions will be provided with delivery.
How to remove handlebar grips?: Just as most slide on with a bit of oil, so will they slide off to remove.
How to clean bicycle handlebar grips?: Warm, soapy water and a gentle rag. More abrasive sponges can be used to remove tough grime and dirt from the bicycle handlebar grips.
What are the Best Handlebar Grips?
Looking into options, you may wonder, "are all bicycle grips the same?". While many feature similarities, there are many different styles of bicycle handlebar grips to consider. Do note though, if asking, "are all handlebar grips the same size?" the answer is mostly – yes! Some children's bikes have smaller posts, and some smaller bikes typically designed for women have shorter posts, but most bikes will be able to use the options below.
The best bicycle handlebar grips are the ones designed to withstand the style of riding you prefer to ride. We've suggested below some beautiful leather bicycle handlebar grips that are great for gentle riders, but not the best option for those looking into BMX. Foam bicycle handlebar grips are fantastic for children or riders who like the softest of grip while riding their bike. On the other end of the spectrum, multi-layered rubber and gel grips with expanded wing or ergonomic designs would be the best handlebar grip for endurance or off-road riders who need support to go long and hard on their ride.
How We Decided
Knowing this, we've gathered a list of 20 great replacement bicycle handlebar grips that can be purchased online, verified through product research and high-ranking customer reviews. Everything we've suggested has multiple verified purchase reviews, pictures, and detailed company information to help us tell you about their quality product.
This list covers options for children, small adult bikes, as well as large riders. Rubber, silicone, and cork options are all discussed, some are even ergonomically designed for maximum comfort. Bicycle handlebar grips are not one size fits all purchases, even though they often all do fit across all standard bikes. You must weigh your options carefully and select a bicycle handlebar grip that matches your needs.
Conclusion
You can find many great options to replace your bicycle handlebar grips online from both Amazon and Walmart retailers. We've suggested a range of quality and durability on this list, covering leather bicycle handlebar grips as well as foam bicycle handlebar grips.
In addition, we've covered how to remove bicycle handlebar grips, how to clean bicycle handlebar grips, as well as how to install handlebar grips on a bicycle. Be sure to consider all of the options on this list, as well as reflect on the parts of your existing grip that you'd like to see changed in your next purchase. Cycling should be comfortable for all riders, and there are great options to help you achieve that comfort.