Finding the right bicycle should always be an exciting idea. After all, you're either getting it for transport, exercise, and entertainment, all of which are beneficial to you! But you shouldn't settle for any ordinary bike, especially if you're looking for cheap bikes. Many companies like to mass-produce cheap bikes that only last a couple of years, which is probably far from what you're trying to invest in.
Luckily, we understand the struggle that you're going through. Not all of us have thousands to shovel out on a cheap bike, but it doesn't erase the need for one. After searching all over the internet through blogs, review websites, and other knowledgeable sources, we've made a list to help you find the best cheap bikes for you! Don't settle for a fragile knock-off bike brand, it's time to buy what you know that you deserve.
View The Best Cheap Bike Below
Here we reviewed top 20 best cheap bikes hoping that you will find exactly what you need. Some of them cost less, some cost few extra bucks, but all together, they definitely belong to cheap bikes category. If you check it now, you can catch some pretty cool Black Friday discounts for best cheap bikes. Our first choice:
---
1. Kent Northwoods Springdale – Overall Best Cheap Bike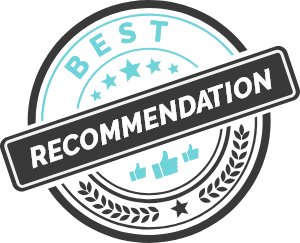 There is nothing as good as riding a bike you can trust and one that is ready to take you places that you want to go. Kent bike is one of those bicycles that have been designed for recreational use but thanks to its quality and amazing reviews, we had no other option but to declare it overall the best cheap bike.
If you also love around town commuting, then this one is just ready to take you from point A to point B in the fastest time possible.
It is a hybrid bicycle that has been made from a handcrafted aluminum frame and a 60mm suspension fork at the front. That simply means that riders will enjoy smooth riding on a wide variety of road surfaces.
To make it even better, it has been added with up to 21 speeds. That is important in allowing you to ride through any terrain, up and down hills with ease.
Pros:
21 speeds ensure any terrain use of the bike
Fitted with a lightweight aluminum frame
700c tires provide a comfortable ride
Linear pull brakes provide the best stopping power
Alloy rims make it look classy
Why we like it – When you want to go anywhere during your daily activities, then you can be sure that this is the bicycle that you have been missing to have. It has the best features that ensure your comfort all day long.
---
2. Sixthreezero Around the Block – Best Cheap Bike for Women
The best cheap bike for women is definitely the Sixthreezero Around the Block Women's Cruiser Bike. Made for the constant traveler, this cheap bike is among the best of the best. It has a storage compartment on the back, so you can load up and head out through the town. The lightweight, durable design is great for quickly jumping on and off the bike without having to worry about breaking or damaging the frame.
Being able to pick out your favorite color is nearly the definition of a customized product. There's a vast array of options, including Teal Blue, Coral, Light Plumb, and Cream, all of which have varying seat colors. What makes it even more customizable is the fact that you can choose the tire size and the available speeds.
The name 'cruiser' has never been so true. This bike is made so you can get from A to B, with comfort and efficiency at its forefront. From the foam hand grips to the smooth ride to the upright sitting position, your comfort is definitely of high concern. Throw in the fact that it's lightweight and it has the previously mentioned mounting bike rack, and you're all set!
Pros:
Multiple colors to choose from, including 10+ options
The comfortable seat cushion is perfect for long rides
A metal rack on the back end of the bike is positioned to secure bike backpacks, panniers, and baskets
Why We Liked It – This bike gets back to the basics of why we all love cruisers so much. They're quick, lightweight, and great for carrying extra cargo.
---
3. Priority Classic Plus – Best Cheap Bike for Men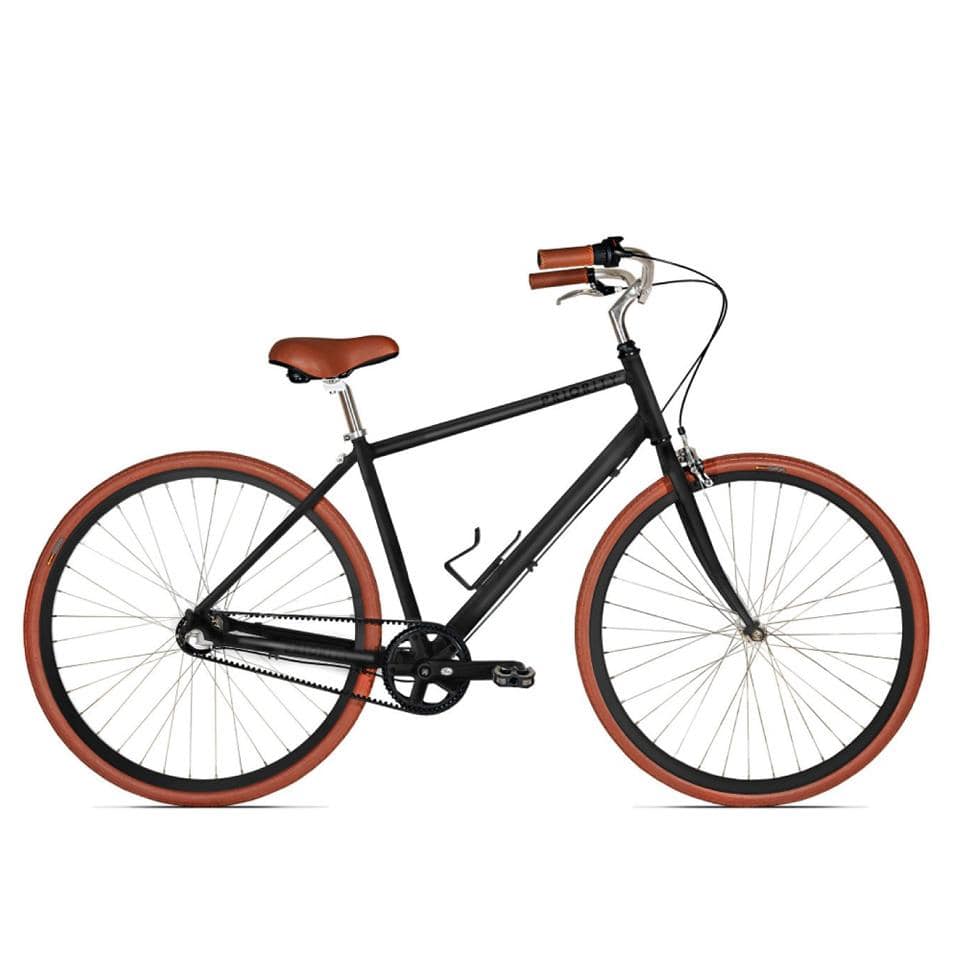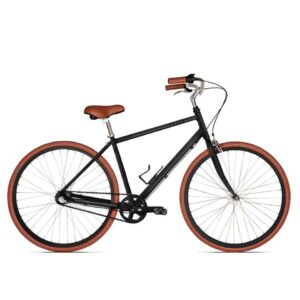 If you are into the classic design, this is as vintage as it gets! Simplicity and minimalistic details are separating this model from any other in this category. Classic plus is adding modern tone to vintage design, which combined with classy pedals and matching handhelds and seat color, makes it extremely attractive yet simple. Premium quality build combined with a hat and white shirt definitely declares PRIORITY COAST as the best cheap bike for men!
Handhelds and seats are not only matched visually but also anatomically, so even the longest rides will be extremely comfortable. It weighs only 25lbs which makes rides even easier. The Classic Plus comes with a Kickstand, water bottle cage, puncture-resistant tires, and air pump all included. It's really a challenge to find a lighter but more reliable model in this price range.
Pros:
Front hand and rear foot brake
Upright comforting riding style
Rust Proof Aluminum Frame
Why We Liked It – It feels amazing on the longer rides. Incredibly easy to handle and cruise. It almost feels like it is riding itself.
---
4. Schwinn Discover 700c Hybrid Bicycle
Hybrid bikes are slowly making a comeback in recent years. Having to buy multiple bikes for various situations is never fun. The Schwinn Discover 700c Hybrid Bicycle offers speed for the sidewalk and streets, and comfort combined with traction for off-road riding. There are also different options for men and women.
Since you'll likely be using this bike on several terrains, it's important to know what you're getting! A high level of durability is an absolute requirement, which is why Schwinn used aluminum to create a lightweight yet well-built construction. Fenders are implemented to keep dirt off of you while you cruise through mud, grass, and dirt.
Another requirement for hybrid bikes is that they have to be able to act quickly. Braking, speed shifting, and pedaling all need to happen as soon as the rider signals them. Luckily, the Schwinn Discover 700c Hybrid bike comes with all of the above. The 21 speeds can be cycled through in a second, and the four-finger braking system reacts immediately.
Pros:
Perfect for riding on almost any terrain that you encounter
Lightweight and durable for any and all scenarios
21-speed setting and a quick-acting shifter to get the job done
Why We Liked It – Hybrid bicycles are great for the all-around cyclist. No terrain can stand in your way, so why let the price tag? This affordable adult bike gives you the best of both worlds.
---
5. Mongoose Dolomite
The Mongoose Dolomite Fat Tire cheap Mountain Bike is an excellent, low-cost option for those looking to go off-road. The large tires are perfect for barreling over rocks and bumps in the trail that might otherwise cause problems for thinner tires. The thickness of the tires also provides a much smoother ride in such terrains.
This cheap bike comes with some of the best shifting properties around. With over 7 speeds to choose from, you'll have no problem finding comfortable settings for all inclines and declines along your journey. Not only that, but the special shifting mechanism makes it easy as can be to transition while riding.
When shopping for a new bicycle, the brakes aren't necessarily the most exciting part. However, safety is of the utmost importance. The breaks on this fat tire bike are positioned on the front of the bicycle and made to withstand all sorts of terrains. You never know when you're going to have to slam on those brakes going downhill. Having the best of the best at your disposal is much-needed peace of mind.
Pros:
Multiple speeds to choose from for any situation
Easy gear-shifting, even while riding
Quick-acting, well-placed brakes for safety purposes
Why We Liked It – It's hard not to like a fat tire bicycle that fits a low budget. These bikes are meant for the toughest riding situations, from the construction to the brakes.
Looking for more power? Try an electric fat tire bike.
---
6. Firmstrong Urban Lady Beach Cruiser Bicycle
Cruisers are some of the most relaxed bicycles on the market. They let you sit back and truly enjoy the ride and the surrounding scenery without having to put an insane amount of effort into getting around. The Firmstrong Urban Lady Beach Cruiser Bicycle is a classic example of a cheap bike that still manages to maintain a durable structure and design while leaving extra cash in the bank.
One of the coolest features of this cruiser is the fact that there are so many colors and designs to choose from. With colors like Baby Blue, Vanilla, Purple, and Mint Green, you'll never run out of options on this customizable bicycle. The varying tire sizes range from 24 to 26 inches and include multiple different gear settings for you to select.
The aforementioned sad truth about cheap bikes is that you don't always end up with the best construction. A lot of brands like to skimp out on the materials because they're not the first thing that people think about. Luckily, the steel frame and aluminum wheels hold this bike from rusting and breaking down after years of use.
Pros:
Classic cruise design to let you sit back and relax
Plenty of colors and sizes to choose from
The strong construction ensures you won't have to buy another bike any time soon
Why We Liked It – Finding a smooth-riding cruiser is like finding a needle in a haystack at lower prices. With this bike, you'll get the comfort and design of a nice cruiser without hurting your wallet.
---
7. Ninasill Shipment Bicycle
Sometimes it's good to be simple but have something that is ready to take you to your destination quickly. Ninasil is rated as a 26inch mountain bike that has been designed with a single hold braking system, a holding brake that is used for shifting, and then fitted also with a single speed disc brake. All these items have been tested to work and there your movement up and downhill is always guaranteed as being safe like never before.
The steel frame that has been used to make it also ensures that durability is always guaranteed for the bike. To make it unique, welders came with their technology and welded it so that it holds up for a long time. It is a bicycle that has been made to survive the toughest of times.
This is promoted with the all-terrain knob tires that is fitted on the bike. The tires are located on alloy wheels that are both light and durable. The wheels also add you better stability. Take your sharp corners and move like never before.
Pros:
Able to cope with hilly riding
Light and durable wheels ensure added stability
It's an all-terrain bike, goes where you want
Designed with both front and rear wheel brakes
Why we liked it-It is a bike that has been designed to allow you control where you want to stop and at that time. That's is a unique feature that promotes your safety.
---
8. Priority COAST

If you would like to find a better option in the beach cruiser category you will have an extremely difficult task. Salt, Sand, water, no matter what you think of, Priority COAST is designed to take on all the possible obstacles. No more worrying about rust, damaged chains, and comfort on the ride since it can take you through all beach conditions while providing comfort that will leave you speechless.
With a 3-speed system, you can set it up to fit exactly the kind of road you are taking. With this model, you will feel the lightest ride that will give you a whole new dimension to summer on the beach. You will take it anywhere with you, and it will take you anywhere you want. You would be amazed by how easy it is to ride this bike, and how precise the steering wheel is even on the sandy roads.
Pros:
Ultralight Rust Proof Aluminum Frame
Puncture-resistant tires
Color-matched Stainless Steel Fenders
Why W Liked It – Rear brake is on the pedal, which gives it a classic touch.
---
9. Firmstrong Urban Man Beach Cruiser Bicycle
Despite the name, the Firmstrong Urban Man Beach Cruiser bike is meant for an adult. The ideal size and build are made for people 5'5" and above, and almost any weight. If cruising is your ideal pastime, then this bike is definitely something to look into. It's class in appearance and quick as can be!
That feeling of getting a new bike is only made better by having more colors to choose from. Choosing your favorite color makes it suit you best, which is why Firmstrong offers tons of different options. Black, Orange, Emerald Green, and Chrome are just a few of the massive color selection.
The upright sitting position provides by the seating level takes all the pressure off your back in an instant. We all know how painful it can be to ride an uncomfortable bike, sitting at an awkward angle. Fortunately, you don't have to worry about that here. The cushioned seat, gripping handlebars, and easy-access handbrakes top it off for an all-around high-quality bike.
Pros:
Made for an adult 5'5" and above
Tons of colors to choose from
Designed for you, the rider, to feel comfortable the entire time you're on it
Why We Liked It – Having so many colors to choose from is always nice, but the real feature that brought this cheap bike to the list of the best of them all is the multitude of comfort additions
---
10. Priority START 24″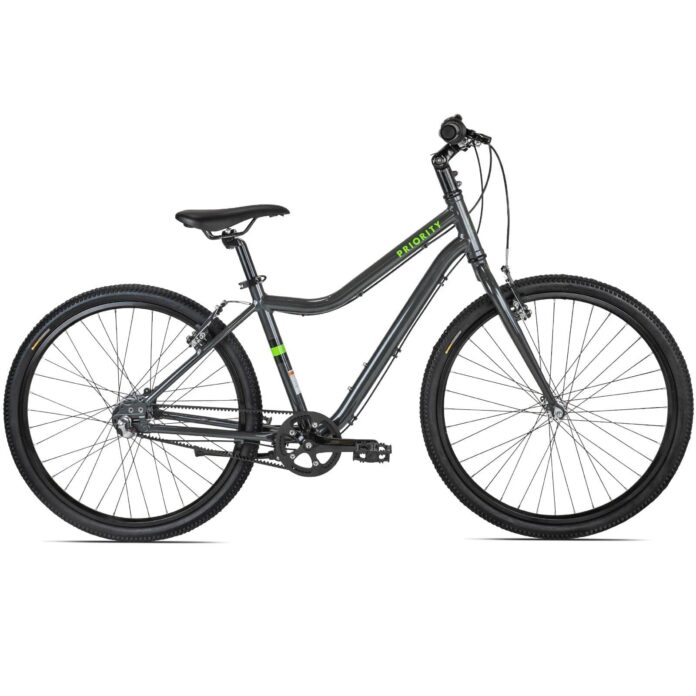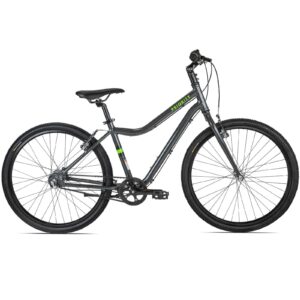 Long rides don't get more reliable than with Start 24″. Strong design with low-step rust-free frame and multi-terrain tires combined with all-weather grips and seat for comfort and durability this model fits best for children 7-13 years old. It does not exclude experienced riders that can fit on those dimensions at all because it can fulfill their needs as well.
Start 24″ also has an adjustable angle stem so that bike can grow with your child, which adds financial benefit to this model since you won't have the need to buy a new bike for years to come. As far as safety goes, it has a dual hand brakes system so you don't have to worry about stopping safely at any given moment, and on any surface. The kickstand is included, as well as a wide variety of color options for your kids.
Pros:
3-speed Shimano Hub System
Adjustable Threadless Stem
Grease and Rust Free Gates Belt Drive
Why We Liked It – Safety is one of the things that makes it perfect for beginners as well as advanced riders amongst kids.
---
11. Schwinn High Timber
If you want to explore the rugged terrain, you need a sturdy mountain bike. Designed for stability and smooth gear changes, a mountain bike can handle paved roads and trails without wearing you out. The Schwinn High Timber Mountain Bike is a prime example. It boasts a lightweight frame and plenty of gears to tackle any terrain.
You don't want to pedal a heavy bike up rough terrain or break down in the middle of a ride. You'll love the lightweight alloy rims on grueling rides, along with the 20-inch all-terrain tires. An alloy crank cuts down on maintenance, and the steel frames ensure long-lasting durability.
With the 7-speed Shimano shifters and rear derailleur, you can smoothly change gears as needed. You won't notice a jerking motion as you switch to a lower or higher gear. Whether you're cruising down the road or biking an unexplored trail, you'll enjoy a smooth ride.
Pros:
Designed to provide a smooth ride
Sturdy steel frame
Lightweight alloy rims and crank
Shimano shifters and derailleur
Why We Like It – Not all mountain bikes are designed to provide smooth rides, most often focus on durability and weight. With this bike, you get both at a price that won't break the bank.
---
12. Sixthreezero Ride in The Park Men's Touring City Road Bicycle
Looking to commute on a bike? Maybe you're just trying to find something to get you around town and to a friend's house. Whatever the case may be, sixthreezero has a great solution in their Ride in the Park Men's Touring City Road Bicycle. Designed for sleek style and casual comfort, this bike has it all.
Aluminum makes up the lightweight, durable frame with this road bike. It creates a build that works perfectly for long-distance rides without leaving you feeling sore along with all the pressure points. Why buy a bike if you're going to have to turn around a get a new seat cushion, brakes, or handlebar grips? This one comes with everything you need to get started.
The off-grey and brown coloring of this bicycle looks incredibly vintage and sleek while maintaining a low-profile. It doesn't make everyone look at the bike, which is a nice touch for when you have to go to stores, lock it up for school, and so on. The design is good for both going unseen as well as increasing speed quickly.
Pros:
The lightweight build makes it easy for you to speed up, slow down, and handle the bike
A 7-speed cycling system lets you change it up depending on your incline or decline
Classic, stylish, low-profile appearance
Why We Liked It – This bike has a vintage throw-back look. The lightweight design helps you guide the bicycle wherever you need to go, at the speed you need to get there.
---
13. Sixthreezero Around the Block
Debatably the most classic looking cruiser around the sixthreezero Around the Block Men's Cruiser boasts similar features to its female-intended counterpart. Instead of assuming that one bike fits all, they've split up the two to make it even more comfortable of a ride for everyone. The everlasting stylistic design paired with the