Electric bikes are great for getting some extra power into your cycling routine. Electric bikes combine the conventional old fashioned bike with an extra motor to help pedal up hills.
These electric bikes are great for giving you a speedier boost and very popular around older riders. In this article, we'll be reviewing the top 10 electric bikes under $1000 to help you make sure you get the most for your money.
View The Best Electric Bikes Under $1000 Below
1. NAKTO Shimano
This electric bike is great if you're thinking of making a difference to the environment and also looking for a convenient way to do so. You'll be able to take this bike anywhere and have tons of fun riding it again and again and what's best is you don't have to worry about it costing too much.
Pros:
+ High-quality material – This electric bike by NAKTO is made with high-strengthen carbon steel and premium comfort shock absorption which makes it an absolute dream to ride.
+ Gear shift system – The V brake technology, rear expansion brakes, and a 6-speed Shimano transmission system fitted into this bike help you control it with minimum effort and at maximum ease.
+ Lithium Battery – Smart lithium battery charge which gives 250W power.
+ High-Speed motor – There's a really high-speed motor included in this bike which enables you to ride around at up to 18 – 25 mph!
+ Dual riding modes – You'll also find you can ride in two great different cycling modes. There's Electric Bike which is excellent for long distances cycling with minimal effort and Assisted Bicycling which encourages you to peddle more.
This bike also comes included with a 1-year warranty which makes it a truly great investment.
---
2. Tomasar Power
The Tomasar Power biker is another great electric bike competitor which is absolutely fabulous for those looking to ride their bike to work.
This electric bike really knows how to pack in some quality design and engineering you'll be itching to get your bike.
Lithium battery – This bike comes with a lithium battery that is also removable and can be slotted into an easy charge port system when you're not using your bike. You can ride up to 25-50kms with this battery.
Pros:
+ High-quality material – You'll find this bike only uses 100% pure aluminum in its alloy frame which makes it great for shock absorption allowing you to have a much smoother ride.
+ Motor system – You'll be able to travel at 15 mph on this electric bike thanks to its 250w high-speed gear motors and 7-speed Shimano professional transmission system.
+ Premium quality breaks – Unlike a lot of other bikes, you won't have to worry about shoddy craftsmanship. As both the front and back breaks on this bike are entirely coated in carbon steel.
+ Dual riding modes – You can choose between two functions of cycling Electric Bike or Assisted Cycling which either take the pressure off you or just enhance your natural cycling speed and power.
---
3. ECOTRIC Fat Tire
The Ecotric Fat Tire electric bike really is revolutionary to the way you travel around. You'll be able to take this bike anywhere, and it will save you so much time and energy you would have otherwise spent looking for car parking spaces or seats on the bus. This bike is especially good if you live in a city thanks to its hybrid cycling and pedal assistance mode. But don't let the comfort of this bike fool you, it's also great for taking off road and going into the countryside or across mountains. However, you'd like to use your electric bike the Ecotric Fat Tire model is ready to take you there.
Pros:
+ A Max speed of up to 24mph thanks to its Shimano 7 gear shift and fat tires.
+ A strong 500w motor hub which will get you anywhere quick.
+ A removable lithium cell battery 36v with a battery life of around 400-600 charging cycles.
+ The Fat Tires on this bike make it great for any road condition, each tire is 26 x 4.0 inches wide and is built to be safe, fast and stable for your cycling comfort.
+ This bike weighs around 58lbs. and can carry around 260lbs – but you'll never feel any discomfort thanks to its user-friendly comforting design.
---
4. Cyclamatic Power Plus CX1
The Cyclamatic Power Plus CX1 electric bike is one of the most popular bikes out there thanks to the comfortable design and enhanced features from its previous original Cyclamatic model. In this bike, you'll find all the great old features of the original model with a better motor, an upgraded battery, an impressive 21-speed gear system, and just overly improved durability.
There are also a ton of other features that make this bike a great addition to your cycling collection.
Pros:
+ Ease of use – You'll find that this bike is as easy as it gets when it comes to maintenance, with a quick release battery and quick release front wheel. You'll be able to assemble this bike in minutes and change gears in an instant. These make this CX1 easy to ride whatever the weather – even in the rain!
+ Performance – The CX1's design enables you to ride at up to 15mph thanks to its 36v lithium-ion battery.
+ Style – We found the mountain bike frame of this electric super modern and efficient.
+ Comfort – All of your comfort needs are taken care of with this bike thanks to the 21 gears which you can use to help make cycling easier, as well as a padded saddle and front suspension.
Overall, peddling with this bike is just so ridiculously easy, we think you'll find you've got no excuses for not cycling everywhere.
---
5. ECOTRIC Fat Tire Folding Electric Mountain Bike
A 500 Watt motor and 36V battery takes you wherever you need to go on this sturdy and durable electric folding bike. It weighs 51.1 lbs, folds easily, has a slightly taller construction for someone who struggles with the small frame of most E-bikes, has front and back brakes and it takes approximately 6-8 hours to charge the battery fully – perfect for an overnight charge so that it'll be ready to roll first thing in the morning!
The aluminum frame is heavy-duty and highly durable, and it will carry you to your destination with a max speed of 20 mph. An electric bike like this is easy to pack up in your car and take with you, and its lightweight features make it easy to manage both by teenagers, older children, and adults.
Pros:
+ Max speed of 20 mph
+ External 7-speed gear
+ Front and back brakes
+ 6-8 hour charging time
Why We Like It – The 7-speed gear makes it easy to use this electric bike the way you feel the most comfortable, and an improved braking system sets you up for safe biking experience.
---
6. NAKTO Speed-G30
The NAKTO Speed is perfect for women as its frame was built with the body of a woman in mind, making your cycle ride as comfortable as possible.
The NAKTO Speed works really efficiently thanks to its combination of great features such as the following.
Pros:
+ Removable lithium battery – The great thing about removable batteries is that they easily snap off for quick and convenient charging and still hold enough charge for around 25 miles of cycling.
+ Add-ons – This NAKTO bike also comes with handy LED lights and a horn which keep you safe while riding at night.
+ 3 Mode cycling – Thanks to the cycling features of this bike you'll be able to ride in the traditional sense without any assistance, in a completely automatic mode which is great for saving your energy or in an assistant peddling mode which still lets you pedal but with enhanced power.
+ Efficient design- You'll able to ride around both in style in comfort in this NAKTO thanks to its V brakes and streamlined carbon steel frame which is both rust-proof and shock absorbent.
+ Comfort – This NAKTO is super safe, reliable and easy to ride. You'll be able to sit on a high-quality leather cushion which you can adjust the height of, to suit your riding style.
---
7. Hurbo Folding Electric Bike
There are three different modes to choose from when riding this folding electric bike. You can use it as an E-Bike, or you can use the assisted pedaling mode, and then there's an option to simply pedal like a normal bike. It has both front and rear brake plates that are definitely going to keep you safe as they function perfectly.
The frame is made from a lightweight, aluminum alloy. There's no need to worry about a difficult assembly. When it arrives with you, then you'll simply need to put the seat on, and then you're ready to cycle.
Pros:
+ E-Bike and Assisted modes
+ Max speed of 22-30km/h
+ 7-Speed transmission system
+ Anti-slip tires
+ 4-6 hours charging time
---
8. NAKTO Adult
This NAKTO Adult Electric bike is great for both sexes as it can easily be adapted in height for any shaped body. This bike is excellent for light commuters and those looking to take up a fun hobby, but there's also a ton of other great features.
Pros:
+ Streamlined carbon frame – This electric bike is made from carbon steel and is rust-proof. You'll also be able to ride on the bumpiest of roads and not feel anything because of the shock absorber that is also built into this bike frame.
+ Safety – Safety is really important when it comes to riding an electric bike, and NAKTO knows this and has implemented this model with a V-Drum brake both on the front and back which make it also safer for riders.
+ Battery – This electric bike also features a removable 36V lithium battery. The battery takes around 4-6 hours to charge and will last around 25 miles on a single charge. But luckily you can take the charger with you to charge at any time, where ever you are.
+ Strong Motor – This NAKTO e-bike features a 250w high-speed motor which gives it an excellent boost for riding at speeds up to 20mph. You'll also be able to choose from between 6 different riding speeds depending on your need.
+ Smart Riding with 3 riding modes – Like a few of the other electric bikes you can select from three different cycling powers. Firstly, you can go for a full automatic ride where you don't have to peddle at all. There's a mode which lets you cycle as you can with a normal non-electric bike and also a mode which enables you to cycle normally but with some added power from the motor.
---
9. ECOTRIC 26″ 36V 500W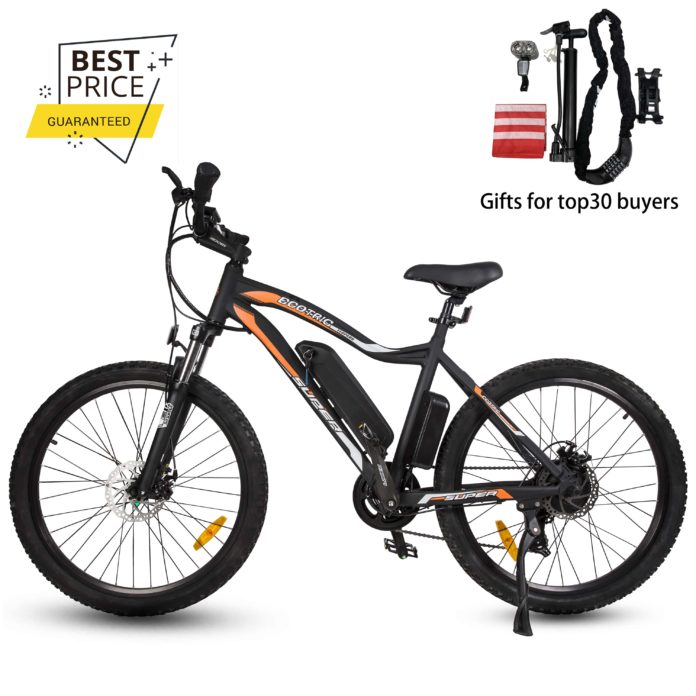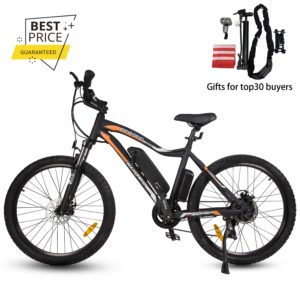 The ECOTRIC is a great bicycle to ride thanks to its strong driving force which is created from its 500W motor. There's also a removable lithium cell and smart battery charger which help you keep your electric bike ready for when you need it. And thanks to the aluminum body frame and sports suspension you'll be able to effortlessly cycle around at your leisure.
Pros:
+ 18-34 miles per charge
+ 260lbs load
+ Front and rear disk brakes
+ This bike also features an s900 LED display panel which shows you how much battery you have left, lets you access to cruise control and five-speed cycle display.
---
10. Yescom 20″ 500W Foldable Electric Bicycle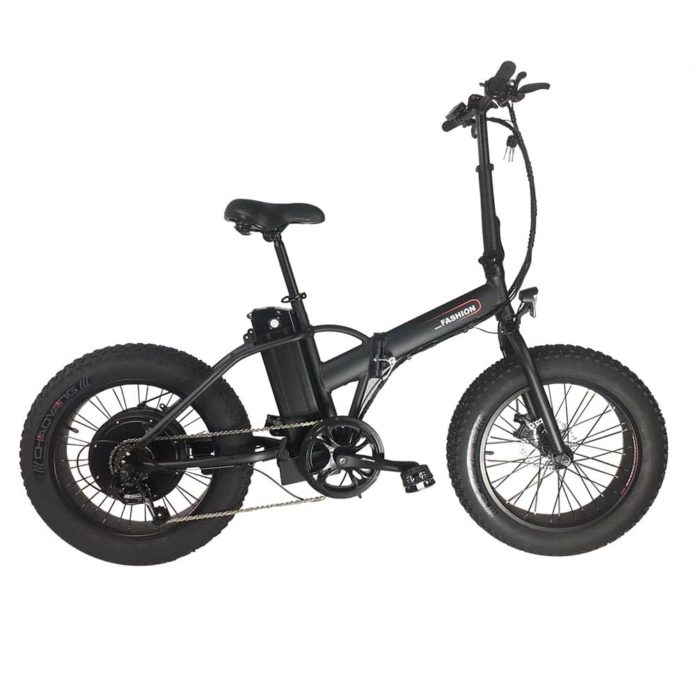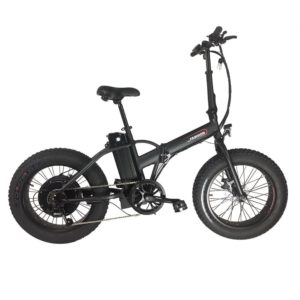 Incredibly practical foldable design enables you to fold it into a compact size for easy storage & transportation, which makes it great for camping or travelling.
On/Off & assisted mode selecting, battery display enables you to operate with ease. Yescom also has thumb throttle designed to control with Shimano 6 speeds.
Pros:
+ 36V 10 AH battery
+ Rustproof aluminum alloy
+ 400lbs load
+ Three riding modes
---
Electric Bikes Under $1000 Buyer's Guide
Firstly, electric bikes are very different from electric scooters as they don't go as quick, but electric bikes are great for just giving your normal cycling an extra boost.
Many people use electric bikes as they're much easier if you need to go fast or up hills. They are especially good for the elderly or people who live in hilly locations. A lot of other electric bike users appreciate using them as they're an easy alternative to get to the office without building up a sweat.
Style
There are many different types of electric bikes, but most are based on either a mountain bike or a hybrid style bike. There are also some electric bikes that are most like a Dutch bike when it comes to the position of your riding. If you want a more stream-like electric bike, you're better off opting for a hybrid style bike as their wheels tend to be both larger and skinnier.
On the end of the bike spectrum is the mountain bike shape where the wheels are wider and smaller. Mountain bikes are, as their name suggests much better for tracks and trails across uneven terrains.
Motors
When it comes to the motors on an electric bike, especially those under $1000 you'll find the motors are usually built into the wheel placement. More expensive models typically have the motor built into the frame and drive the chain directly. But you'll find the cheaper models still work well.
The only difference in the more expensive models' motors is that they can detect how hard you're pedaling and will adjust the power it produces based on how much you're pedaling. There's both negatives and benefits when it comes to this assisted power. For example, the negatives include not really being able to feel like you're cycling when you have assisted pressure.
However, some people want an electric bike so they can't tell that they're putting any effort into it. It all depends on what sort of bike you are after, but the bikes under $1000 you'll find won't have this assisted pressure as much which means it will ride more like a normal bike but with the extra push.
Batteries and charging
You'll find that all batteries in electric bikes these days are lithium-ion based batteries – this is good as they're the best battery type. They are a however different type of lithium-ion batteries. Some batteries are more energy dense than others, of course with anything the more expensive the electric bike, the longer the batteries will hold a charge for.
Most electric bikes, however, have at least 36v motors which are the same as a 360-hour battery. Of course, it is important to understand when purchasing your new electric bike however that batteries will degrade over time – this means they'll hold your charge less and you'll have to start charging your electric bike more often.
Luckily though thanks to the lithium-ion based battery you'll find all batteries will hold a decent charge for up to 3 years or 800 full charge cycles. To charge the battery up to full, it will usually take around 6 and a half hours. You'll probably find it's best to charge them on a night time before using them the next day. Some electric bikes come with a spare battery, but if yours doesn't you can easily purchase a second one, this may be necessary if you're traveling long distances.
Cost
You'll find the cheaper electric bikes start from around $600 these will be very basic models but will still make great first electric bikes. You'll also find very good starter electric bikes with most the same ability as the more expensive models for around about $900 – 1500.
Amazon Recommends:
If you liked this review, please rate below.