Electric scooters are a great way to commute in cities which is why we decided to make this the list of the best electric scooter for commuting. They are light, fast, can travel on roads or pavements, and aren't restricted to quiet areas.
Since they are small, they are able to fit in tight areas which an electric bike wouldn't. they are easy to carry and store once you have reached your destination, so you don't have to worry about finding somewhere nearby to lock up like you would a bike.
You no longer have to worry about turning up to work out of breath with the battery back making your journey smooth and relaxing, saving you from doing all the work.
We have compiled a list of the best foldable electric scooters for adults.
View The Best Electric Scooter for Commuting Below
1. GOTRAX GXL – Best Electric Scooter For Commuting
The Gorax GXL electric scooter features 8.5" pneumatic tires. Having tires filled with air make them great at handling all kinds of cities, absorbing shocks from the bumps of city life. With a mighty 250-watt motor, this is the most powerful scooter designed by Gotrax. There are multiple reasons why this scooter is number 1 on our list of best electric scooters for commuting and here's some of them.
This scooter is capable of reaching speeds up to 15.5MPH with a maximum weight of 220 lbs so you will be able to get anywhere in a hurry. This scooter has a 36v battery which can be used to travel up to 12.5 hours between charges, with only a 4-hour recharge time.
The GXL frame folds down and is compact, easy to carry and store. this makes it a great commuting scooter as well as being safe, as the e scooter batteries are Underwriter Labs Test Certified, to ensure the highest of quality. This scooter is 44" high, 41" long and 6" wide when set up for riding, weighing 31bls.
Pros:
+ 5.5MPH
+ Lightweight design
+ Quick recharge
+ Pneumatic tires
+ Portable design
Why we like it – The Gotrax GXL features a lever-activated holding frame, making it great for people on the move. Featuring 2-speed settings gives you better control, with one gear limiting to 10MPH or going up to second gear for the full experience.
For even more control, you can easily keep track of your current speed with the LED display and LED headlights make it safe to ride at night. Saying all that, it's easily the best electric scooter for commuting.
---
2. Segway Ninebot MAX Electric Kick Scooter
The Segway Ninebot MAX is quite possibly one of the best electric scooters for commuters. The one-step folding system makes the portability of this scooter a dream; you can fold it up easily to place in your car, or you can keep it with you on public transport.
If you're looking for the safest commute possible, this scooter comes with an anti-lock braking system and shock-absorbers at the front and rear tires. Speaking of tires, these provide the utmost comfort with their pneumatic style, meaning you can handle those speed bumps and rocky roads with ease.
The Ninebot MAX has the longest distance range on the market, at an impressive 40 miles, and it can reach up to 18.6 MPH. This scooter is also fast charging, using only one cord.
Pros:
+ Quick folding mechanisms
+ 40-mile distance
+ Anti-lock braking system
+ Pneumatic tires
+ 18.6 MPH
Why we like it – The Segway Ninebot MAX was made with quality in mind. This scooter has one of the longest and most impressive distance ranges at 40 miles, and the shock-absorbing pneumatic tires mean you can, indeed, travel that far without any bumps in the road.
---
3. GOTRAX G2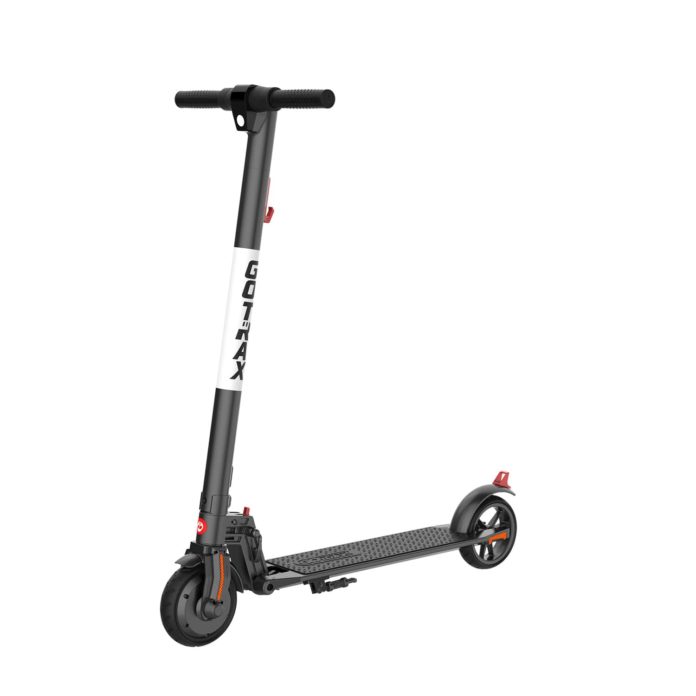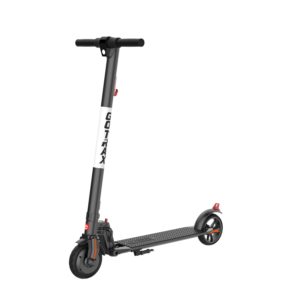 Gotrax G2 can ride up to 7 miles on a single charge.
It's 200w motor can reach maximum speed od 15.5mph which makes it perfect for short trips, since it has one-touch folding design, and you can easily store it anywhere. LED light in the front makes it safe to use even at night.
LED display is biult into handle bars so you can have insight to performance at any moment. Gotrax g2 has dual breaking system that enables responsive breaking even at top speed.
Pros:
+ LED display
+ Dual breaking system
+ Top speed 15 mph
+ Easy folding system
+ Light
Why we like it – What we like most about Gotrax G2 is quick folding system, which enables you to fold scooter in a second, and store it anywhere. Perfect for daily rides.
---
4. XPRIT 8″ Folding Electric Scooter For Commuting
The Xprit folding scooter is the perfect scooter for commuting short distances, with an aluminum frame it is durable and lightweight making it easy to travel at faster speeds.
With an 8-13-mile range on a single charge, this is the best commuter scooter for those who want to get from a to b quickly on a budget.
The Xprit Folding commuter scooter features an LED display for battery indicator, making it easy to monitor battery levels. This scooter is light and compact, making it easy to keep with you when you have finished your journey and means there is no need to risk it being stolen when locked up outside.
Featuring a 12.4 mph top speed means this scooter is easy to control and is able to hold up to 200lbs supported weight.
Pros:
+ Most affordable
+ LED battery indicator
+ Slimline design
+ Fast acceleration
+ Durable
Why we like it – This stand-up electric scooter is a great run around for those who want a more affordable scooter and only need to go on smaller journeys.
---
Electric Scooters For Commuting Buyers Guide
Using an electric scooter is the perfect alternative to walking for your daily commute and makes a quick trip to the shops even easier, and you may have already decided to buy one but aren't sure which is best for your needs.
Because there are so many different scooters to choose from, and all with different features, it can be hard to decide which one is best for you. when buying an electric scooter, there are certain things to consider making sure you get the right one for your needs.
We have reviewed the best commuter scooters on the market and now it's time to compare the different features you may want. This guide will help you decide which scooter to use.
What to look for when buying an electric scooter for commuting:
When buying an electric scooter, there are important things to look for depending on the kind of activities you will be using the scooter for. Here are the main ones:
For example, there are different levels of battery power which means they will all have different distances they can travel before needing to recharge.
If you have a longer commute, then it may be worth considering a scooter that can travel a longer distance to avoid having to recharge so often or risk running out of power half way through your journey.
If you know you will be using your scooter often, it would be another reason to consider a scooter which lasts longer between charges. It is also worth considering the charging time. While most scooters don't take long to charge, if you are short on time or use it often, it is important to look for a faster charging scooter.
Some scooters have faster speeds than others. With maximum speeds ranging from 10-40MPH, it is worth considering this when buying an electric scooter. Usually, the faster scooters are more expensive.
If you don't feel comfortable using high speeds or are commuting in a busy city where you are unable to go fast, you may not want to spend as much and go for one that doesn't have these features if you don't need them.
However, if your commute is longer and less busy, a faster scooter will save you time and make your commute easier.
The design is another factor to consider. If you will be carrying your scooter during any part of your journey, including through the office and will be storing it inside, then you might prefer a lighter, smaller scooter that is easier to store.
The weight of the scooter is worth bearing in mind, especially if you don't want to carry something heavy around or on and off public transport.
Are electric scooters good for commuting?
Electric scooters are great for commuting for the following reasons:
– They are more eco-friendly than driving.
– They are easy to take on and off public transport.
– They are faster than walking.
– Because they fold away, they are much easier to store than a bike.
– They require little effort so you can commute without getting tired.
– They save so much time making the commute faster and more fun.
How long can an electric scooter commute for?
Electric scooters have varying amounts of commuting time before their battery runs out. The scooters we have listed range from 8 miles before needing a charge, to a mighty 55 miles.
Depending on how far you need to travel will determine how long your electric scooter will need to commute for. Some electric scooters have inbuilt monitors making it easy to keep track of how much power you have left before the next recharge.
Can I charge an electric scooter for commuting at work?
You would be able to charge an electric scooter at work. However, it would be cumbersome to have to carry the charger around with you all day.
It would be worth considering the total miles you need to travel before buying an electric scooter and buy one that will travel the total distance without needing a recharge and saving that for when you get home.
Amazon Recommends: