Electric scooters are becoming more and more popular for a couple of reasons. They're amazing at getting people to and from places in and efficient manner, and they're simply loads of fun! Who wouldn't want to cruise around at 15 miles per hour on a scooter without having to pedal a single time? With all the possibilities available, electric scooters had no problem attracting large crowds, but there were a few issues standing in the way.
One of the greatest issues facing electric scooters is that they didn't last for a long time at the start. Who cares if it goes fast if it only does so for a few minutes? Unfortunately, the lower battery life began to take a toll on the industry. The good news is that a lot of companies and models, including all of the ones mentioned on this list, fixed that issue. Now that people have longer lasting battery life on their scooters, they can use the scooter for inner-city transportation. We put together an amazing post about everything you need to know about electric scooter battery, including best maintenance practices so make sure you check it out!
Another huge issue for electric scooters is that they were too small for most adults. Scooters obviously started out as a children's toy for the most part, but when electric scooters came out they were targeted at adults usually. Since most companies hadn't produced electric scooters for adults at that point, they didn't know the required sizes and often made them too small.
Because of all these reasons, choosing the best electric scooter can be tricky sometimes. However, the models we have listed below solves that problem as well. If you check it now, you can catch some unbelievable offers for Black Friday Deals on the best electric scooters!
These Are The Best Electric Scooter in 2023
We're gonna cover everything here! Below, you will find what is the best overall electric scooter of the year, premium choice, and editor's choice!
Besides that we'll tell you what's the best budget electric scooter, best electric scooter for adults, best electric scooter for the city, best one for off-road, what's the fastest electric scooter, best electric scooter with seat and of course best electric scooter for kids!
We researched, we tested, we talked to owners, we talked to companies and got everything here for you.
Let's start with…
2. GoTrax XR – Editor's Choice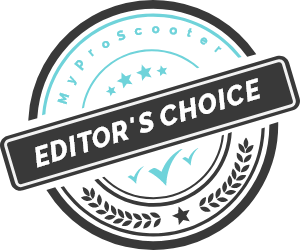 After GoTrax GXL, GoTrax GXL V2 came out and it became best selling electric scooter out there. There's no way on Earth that we won't talk about GXL V2, it's right on the #4 spot on our list, but first, we have to talk about an electric scooter that came out after GXL V2, and that's GoTrax XR.
GoTrax XR represents everything GXL V2 stood for but better!
In comparison to GXL V2, XR can go a few extra miles and the design is much more beautiful.
Considering its amazing specs, affordability, and the statistics that show this is soon to be best selling electric scooter, we had no other option but to declare GoTrax XR as ours, Editor's Choice for the best electric scooter.
Pros and specs of GoTrax XR
Max Speed: 15.5
Max Range: 17 miles
Weight Capacity: 220 lbs
One second folding system
UL Certified
Why We Like It: GoTrax was always on top of our lists because they are reliable and reviews tell everything for them – they will serve you for years to come at affordable prices. Plus, we just can't avoid the fact now you can go up to 17 miles with GoTrax!
---
3. GoTrax GXL V2 – Best Budget Electric Scooter
It's totally understandable if you don't want to give over a thousand bucks for an electric scooter and we get that. The Gotrax GXL V2 Commuting Electric Scooter will do just fine in that case as it's the best bang for the buck which makes it the best budget electric scooter on our list.
This scooter has a lot of features such as cruise control and a handbrake. These features make it an ideal scooter for your city adventures.
The GXL can travel 9 to 12 miles. It will recharge in four hours and then be ready to roar again. You can fold it down and then fit it under a desk or wherever you need to store it until you are ready to use it again.
The scooter can go up to 15.5 miles per hour. While this is not the fastest scooter on the block, it will get you motoring between the city blocks.
Pros and specs of GoTrax GXL V2:
Max Speed: 15.5 mph
Max Range: 12 miles
Weight Capacity: 220 lbs
Best budget electric scooter
Folds up easily
Why We Liked It: People are loving using electricity for the purpose of using anything motorized. This scooter is just more proof that the future is upon us and that it even has cruise control.
---
4. Levy Plus – Best Overall Electric Scooter
Fifth on our list but surely one of the best ones out there among electric scooters is Levy Plus!
Levy comes from New York City, and just by knowing that, you know that these guys know what the traffic jam is, and how to avoid one.
Their scooters are extremely reliable and can get you far away with its max range of 22 miles. Proper New York electric scooter!
We think this would be the best overall electric scooter out there because:
Kids can use it safely, it's not going to go like CRAZY fast
Adults can use it for getting to work or wherever they need to get fast enough
Price is super affordable
It supports few extra pounds then what is considered to be industry standard, so if you have few extra pounds as well, it won't be the issue on Levy Plus!
Modern design and the use of quality materials along with its capabilities justify every penny of it!
It's just too good an electric scooter that we had no option but to put it on our list!
Pros and specs of Levy Plus:
Max Speed: 19 mph
Max Range: 22 miles
Weight Capacity: 250 lbs
Why We Liked It – We stated 5 reasons above, and they all stand for why we LOVE Levy Plus! Definitely check it out!
---
7. MANTIS by FluidFreeRide – Fastest Electric Scooter
Another electric scooter comes from FluidFreeRide and this time it comes to the list big!
Of course, we're talking about MANTIS, the fastest electric scooter on the market!
With its 2x 60V 1000W BLDC motor you will be like a rocket on the road because you can get up to 40 mph!
10″x2.5″ air tires + front and rear suspension will ensure you can glide on the road smoothly, which definitely helps because if you're getting this scooter, you can definitely use it for long rides.
Also, you can get it in two different variations, one is with FST Li-ion 60V 17.5Ah battery which will give you a max range of 30 miles, and the second one (the one we recommend!) is with LG Li-ion 60V 24.5Ah battery which gives you a max range of 45 miles!
Pros and specs of MANTIS:
Max Speed: 40 mph
Max Range: 45 miles
Weight Capacity: 265 lbs
Two battery options
Foldable, portable and weighs only 65 pounds which makes it one of the lightest in its class
Why We Like It: Speed obviously! So much fun to have with MANTIS and if you need to get somewhere FAST regardless of where is it in the city, MANTIS is definitely the one to deliver a safe, smooth, and on-time ride!
---
8. Razor EcoSmart Metro – Best Electric Scooter With Seat
Razor was always known to produce high-quality scooters, and for this model, they earned a title on our list – Razor EcoSmart Metro is the best electric scooter with a seat!
Some people love electric scooters with seats, and if you are one of those folks then Razor EcoSmart Metro is definitely for you.
Razor was never over the top with its specs, so Razor EcoSmart Metro has features enough for just about anyone to fulfill their needs.
With their amazing rating on Amazon, it's a proof that this scooter is simply amazing.
Pros and specs of Razor EcoSmart Metro:
Max Speed: 18 mph
Max Range: 12 miles
Weight Capacity: 220 lbs
Cargo carrier on the back so you can go to the shopping with it
The rear-wheel-drive which means increased stability and better traction
Why We Like It: Comfortable, smooth, reliable, and multi-tasker! 4 in 1! You should really check it out!
---
9. GoTrax GKS – Best Electric Scooter For Kids (Age 6-12)
GoTrax was always about driver's safety which their certificates prove, and this time they created the safest option for our little ones.
GoTrax GKS is the safest and best electric scooter for kids and just by looking at its specs, you can see why.
It weighs only 17.8 pounds and it can work as an electric scooter but also as an ordinary kick scooter. It's made for kids age 6-12 and we can definitely say that GoTrax GKS is the best electric scooter for 6 year olds!
Pros and Specs of GoTrax GKS:
Max Speed: 10 mph
Max Range: 4 miles
Weight Capacity: 154 lbs
It weighs only 17.8 pounds making it the lightest scooter available!
6 inches rubber wheels
Why We Like It: The fact that it's so lightweight and that it can be used as an electric scooter AND kick scooter is just amazing! Once your kid drains the battery, it can still use it and have a ton of fun with it!
---
Electric Scooter Buying Guide
With all of these options, you probably still need a few questions answered before you make your final decision. Are you using this scooter as a commuter, or for fun? What is the age range you're looking for in this electric scooter? These are just a couple of the most commonly asked questions, but don't worry because we're here to answer them!
What to Look for in an Electric Scooter?
Electric scooters are on the rise in popularity, but there's far too many brands and models to choose from. It might become confusing, and some people even stay away from them out of fear of choosing a bad model. Fortunately, we found out the issues with all of them and weeded out the bad ones. There are several things you should look for in an electric scooter before pulling the trigger though, so read on!
For starters, you have to know what you want to use your electric scooter for. If you're looking to commute and replace your car for inner-city transportation, then a longer-lasting scooter with a decent speed is required. You don't want to choose one of the scooters with 40-minute battery life. Shoot for 15+ miles per charge or a little over double the mileage distance of your commute.
You also want to know what age range you need to buy the scooter for. If you're looking for a child or teen, then a top speed of 10 miles an hour should be your go-to scooter. If you're looking for an adult, then 15+ miles per hour is a great option. Some of the scooters on this list even feature upwards of 40 miles an hour, which is enough to replace a car for a lot of errands!
All in all, choosing an electric scooter can be a troubling task. There are so many variables, but don't look at that as a negative aspect. Instead, you should view it as a fun time because you're not only saving the environment by reducing pollution, but you're going to be riding around on an amazing electric scooter! Who doesn't want to cruise around and have a little bit of fun on the way to work, school, or the store? Electric scooters solve all kinds of issues, so find out which issues they solve for you, and choose accordingly!
Amazon Recommends: