---
7. CITYRIDER FluidFreeRide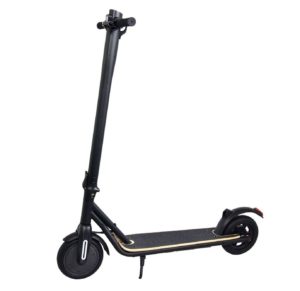 The CITYRIDER is a superbly crafted and highly affordable folding electric scooter that is
perfect for journeys within the city. Weighing in at an incredible 28 pounds the scooter has a top speed of 18 miles per hour and provides superb battery life with its 7.5Ah battery that allows you travel within a 10 mile range.
The CITYRIDER's performance stats, speed, battery life and sleek design make this the perfect solution for commuting, shopping trips or popping down to the takeaway shop! The scooter boasts a 36 Volt 200 Watt motor that is reliable and can carry a load of up to
100 kg.
With powerful front and rear LED lights you can travel safely through the city by day or night and the CITYRIDER's easy to read display gives you all the info you need while you're on the move. The display shows you your speed in mph and allows you to change between two gears, 'fast' and 'slow'. The folding electric scooter has lateral reflectors and handy turning indication signals so you can travel in traffic while letting fellow motorists know you're intentions. The CITYRIDER has effective brakes and tough honeycomb tires designed for good grip and stable turning.
Pros :
+ Excellent battery life and good range of travel.
+ Top Speed of 18mph
+ Convenient digital display
+ 200 Watt Motor
+ Easy to fold and highly portable
+ Quick Recharge times
+ Inner suspension honeycomb gripped tires
+ Sleek Elegant Design with Wooden Boarding.
Why We Liked It – Fantastic performance with sturdy and stylish design. Just perfect for
running errands and travelling to work. Leave behind the traffic, the trains and busy
stations and travel with the CITYRIDER to make your city life better. Be the envy of your
colleagues by avoiding the usual problems of the commute as you travel in style through
the city's streets with this fun and energy effective folding electric scooter.
---
8. XPRIT Folding Electric Scooter
If you're looking for a short-distance commuter electric scooter, then the XPRIT Folding Electric Scooter is definitely worth looking at. This scooter gets you up to 12 miles per hour speeds, which is 4 times the normal walking speed.
Durability
This scooter is made out of all aluminum alloy, which is well-known to be a very durable substance. Not only that, but it protects the scooter from rain and weather damage to prevent rust and staining over time.
Decent Battery Life
The 13-mile range on this scooter is enough to get you to work with no problem. You can also use it to go to school, the store, or simply to ride around the block to a friend's house. Electric scooters don't have to be all business, so a shorter battery life isn't always a negative.
Pros:
+ The aluminum alloy frame of this scooter helps protect it from rain and weather damage.
+ The 13-mile battery life is exactly what you need to use this scooter for transportation.
+ 6.5" wheels help carry you smoothly over all the bumps and cracks in the road.
Why We Liked It – The budget-friendly price tag of the XPRIT Folding Electric Scooter is amazing considering the battery life and speed capabilities.
---
9. Razor E100
If you're looking for an electric scooter for your kid, the Razor E100 is what you're looking for! It has everything your kid needs to get to school in the morning on time without making you late for work.
Reasonable Speed & Battery Life
Nobody wants their kid on an electric scooter going around 20 miles per hour, it's simply too dangerous. The top speed on this scooter is 10 miles per hour, which is just enough to get them to school on time within the 40-minute battery life.
Made for Kids
Not only is the speed and the battery life perfect for your kid to get to school and back, but there are a couple other features that cater to their safety as well. The braking system is top of the line, and the handlebar height is adjustable for all sizes.
Pros:
+ 10 miles per hour is a perfect speed because it allows them time to brake when needed.
+ The 40minute battery life is more than enough to get your kid to school and back.
+ With all kinds of special safety features, peace of mind has never been so nice!
Why We Liked It – We not only liked the Razor E100, we loved it! Any company that looks after the well-being of children while providing an excellent method of fun and transportation gets our vote of gratitude!
---
10.

VIRO Rides 550E
The VIRO Rides 550E electric scooter is especially designed for city ride.
Modern Design
Street style modern design makes it one of the most attractive models on the market.
VIRO Rides 550E's design is suitable for any age, given how modern and cool it looks in any situation.
LED lights
Cool LED running lights create cool ground effect lighting.
Pros:
+ The scooter can collapse in one second, which means it'll never hold you up.
+ The battery can reach up to a maximum of 17 miles on one charge.
+ It comes with a wide-foot anti-slip pedal for adults.
Why We Liked It – We love the foldable design, the long, 17-mile battery range, and the smooth braking system. All these things ensure that the Hiboy MAX electric scooter is the perfect choice for travelers and commuters.
---
11. Razor EcoSmart Metro Electric Scooter
Check Price on Amazon Check Price on Walmart
The Razor EcoSmart Metro Electric Scooter is a major leap in converting people from cars to scooters for environmentally-friendly purposes. It's unlike most electric scooters because it has a seat, which allows you to relax on your way to doing errands.
High Speed
If you're looking to get to work in style, the EcoSmart Metro scooter definitely nails it for you. You'll get a comfortable seat, a carrying basket, and a relaxing footrest topped off with a zooming 18 mile per hour top speed.
Durability
The durability of all Razor products remains at the top of the industry. Razor always makes a point to create excellent scooters without sacrificing their strength. The bamboo deck on this scooter is not only durable, but it's also very flexible to provide suspension.
Pros:
+ Made by one of the most trusted brands in the electric scooter industry, Razor.
+ The high speed of 18 miles per hour will get you from A to B in no time.
+ Made with bamboo and steel, you'll never have to question the durability of this scooter.
Why We Liked It – Standing up on a commute isn't fun for everyone, so we love that Razor created the EcoSmart Metro Electric Scooter because it provides an eco-friendly alternative for those of us who prefer a seated ride.
---
12. Costzon 24-Volt
The Costzon 24-Volt Electric Scooter is the ultimate scooter for teens. It's specifically created to help them get to school on time or to have a blast with their friends riding around the block. Don't worry though, it doesn't go too fast and it keeps your teen safe with special features.
Reasonable Speeds
If you were buying an electric scooter for yourself, you'd probably want a quicker one around 15+ miles per hour. However, we all want to protect our kids, so lower speeds are necessary. The top speed of the Costzon 24-Volt scooter is only 8 miles per hour, which is more than enough to get them where they need to be.
Safety Features
When you're buying an electric scooter for a teen, you always want to make sure it has the proper safety features to keep them out of harm's way. Luckily, this electric scooter has a special quick braking mechanism with non-slip grip handlebars.
Pros:
+ The 8 miles per hour top speed is enough to get them to school on time at a reasonable pace.
+ The battery life of 9.5 miles is perfect for them to not have to worry about carrying it home.
+ Special features like non-slip handlebars and quick action braking give you peace of mind.
Why We Liked It – The Costzon 24-Volt Electric Scooter solves the annoying issue of having to go out of your way to drop your kid off at school, which otherwise might make you late for work.
---
13.

Pulse Performance Products Sonic XL
Pulse Performance Products Sonic XL is a perfect for a city ride. Simple street design with two color option (Black/Yellow) and oversized deck surface provides with stability which makes this scooter suitable even for the kids to the age of 13.
Top Speed
200-watt motor can speed up to 13 mph.
Excellent Battery Life
24-volt sealed lead acid rechargeable battery system fully charged can last for 40 minutes of continuous ride time.
Pros:
+ Large deck surface
+ Stability
+ Can take 150lbs
Why We Liked It – Large deck makes it one of the most stable models in this price range.
---
14.

Swagtron Swagger 8
Swagtron has a long-standing history of producing some of the best electric scooters you can find. Come the Swagtron Swagger 8, an ultra-lightweight, whisper-quiet electric scooter that's perfect for kids, teens, and young adults.
SWAGTRON thought-out this scooter's design with a rider-first focus, making this an extremely durable, highly powered scooter that comes packed with an ultra-quiet hub motor.
Long-Lasting Battery
The Swagtron Swagger 8 is powered by one of the most efficient batteries you can find. Its battery works in perfect harmony with its ultra-quiet motor. A full charge takes just three hours and will power your scooter for up to 10 miles before needing another charge.
It also features a power-saving enhancement to ensure the best riding experience for its user. Users can also manually activate its kick-to-start feature to extend its battery life and get some extra miles on the road.
Smart Features for An Optimized Ride
The Swagtron Swagger 8 can reach top speeds of 15mph and has a motor powerful enough to conquer steeps with up to 10⁰ inclines with ease. It also has a cruise control feature that you can manually activate and maintain a consistent speed for up to 6 seconds.
Pros:
+ Has a long-lasting battery that can take it up to 10 miles on a full charge.
+ Has top speeds of up to 15mph, which is excellent for first-time users too.
+ Is very lightweight and has an ultra-quiet powerful motor.
Why we liked it: very few brands focus on the safety features of their scooters.
SWAGTRON is a nice change. Its 15-mile battery is a huge bonus too, and some users
have recorded speeds of up to 19mph going downhill.
---
15.

Voyager Proton Foldable
With Voyager Proton Foldable Electric Scooter, you get everything you need for both day and night ride. One of the most popular models of it's category.
LED Headlight
Built-in LED Headlight keeps you and road ahead of you visible at any place during long and pleasant night ride.
Lightweight

Despite having long range battery, it weights only 18 Lbs which, in combination with foldability, makes it easy to store and carry. It can easily be stored into your car, or even on your back, so you are able to take it to out-of-town rides.
Zero Emissions
We should all take care of our environment, and with this scooter, you can do it even while you are riding. It has zero emission system, despite long-life battery, so you you can fully enjoy ride in a nature and fresh air.
Pros:
+ Foldable
+ Long RAnge Battery
+ LED Headlight
+ Zero Emissions
Why We Liked It: LED headlight is the most attractive component of this one. The fact that it is great for the environment, with zero emissions, it is both satisfying and healthy to ride!
---
16. Razor E Prime Electric Scooter
If you are looking for one of the highest-quality scooters on the market, then this option
from Razor is the one you should choose. This is a simple electric scooter that is able to
keep a modern design with all the classic features that you want. You will enjoy the
large air-filled tires that makes it easier to travel around town without any problems. It
even has an anti-rattling folding technology that makes everything a little bit easier to
enjoy. Cruise around all day as comfortable as possible with this great choice from
Razor.
Strong but smooth tires
Large 8", pneumatic (air-filled) front tire and 8" flat-free, airless rear tire soften even the roughest terrain for a smooth ride everytime.
Unique riding system
Razor E Prime Includes patent-pending anti-rattle folding technology for a smooth, quiet ride. It Also has another patent-pending, compact, folding technology for a smooth, quiet ride.
Pros:
+ The Razor brand is a simple choice that is easy to enjoy.
+ Large wheels that help reduce the shaking when traveling around.
+ High-quality materials that are meant to last.
What we like about it: We like that this comes from a name we can trust. This makes it
easier for us to really know that the scooter is high-quality and will last a long time. We
also enjoyed how smooth the ride was, no matter where we took the scooter.
---
17.

Razor E200 Electric Scooter
Sometimes you want to get from point A to point B in a hurry. The Razor E200 Electric Scooter will provide you that and much more. It's priced in the middle ranging with $200 being the going price mark for this particular model.
This electric scooter has many cool features such as 2 rechargeable 12-volt batteries and a chain-driven motor. Both of which make it easy for you to stay mobile while riding your scooter around town.
The E200 can go cruising for up to 40 minutes of continuous use, ideal for road adventures with your friends or solo expeditions.
The Razor scooter can travel up to 12 mph, while it's not the swiftest electric scooter on the market, it will tote you throughout the neighborhood.
Pros:
+ Stylish design for both younger and adult riders
+ Comes at a reasonable price
+ Includes free shipping
+ Can withstand 154 pounds of weight
Why We Like It: Because of its heavy-duty frame and reinforced steel fork, of course. This electric scooter is proof of how far technology has come and there is even a nifty kickstand on the side.
---
18.

Hover-1 Switch 2
The Hover-1 Switch 2 Electric Skateboard & Scooter for Kids is a great mix of both of these mediums of movement. This device has a maximum load of 132 pounds, so it is really only for children and lightweight teens.
The Hover-1 Switch 2 can go up to seven miles per hour. It will last 6 miles on a single charge. It has five inch tire wheels which makes it stable. There is a handlebar and stick in the front so the rider can hold on and don't need to keep balance when it is in scooter mode. Then you can switch it back to skateboard mode again.
It has a powerful 90 Watt electric motor. It is controlled through remote. When in scooter mode, you can click the remote into the handle bars. One convenient feature is that it is water resistant so puddles can be accomodated. It also has a lithium battery that is rechargeable.
Pros:
+ The wheels light up when riding for an eye-catching experience
+ You can use it in manual mode to get exercise so it is truly versatile
+ A child can learn to ride a scooter and skateboard with one item
Why We Liked It: We liked the fact that you can go around your block with this fun combo vehicle. We feel it's perfect for the kid who just can't decide.
---
19.

Mongoose React Electric Kids Scooter
When it comes to the Mongoose React Electric Kids Scooter, you can see why every kid would want to have one. This one is for boy and girls that are aged eight and up. It has a maximum weight of 175 pounds, so most children can enjoy the ride and even double up.
With aluminum handlebars and frames, it's easy to see why parents are buying this high quality item. It also has a rear foot brake, which is actually the best way to stop a scooter. It also comes with the battery and the charger included.
At around $120 for the lower grade model, it is a purchase that you can get for a milestone birthday or Christmas. Your child will be able to fly around at speeds of 6 MPH maximum. This means that your child will be able to get to school faster or anywhere that walking would take that much longer.
Pros:
+ You can travel up to 7.5 miles in distance on a single charge
+ The lead acid battery is long lasting
+ You can accelerate using a push button
Why We Liked It: We found that this is overall a great value for what you're getting. You also have options within this model to upgrade if you want those extra perks.
Electric Scooter Buying Guide
With all of these options, you probably still need a few questions answered before you make your final decision. Are you using this scooter as a commuter, or for fun? What is the age range you're looking for in this electric scooter? These are just a couple of the most commonly asked questions, but don't worry because we're here to answer them!
What to Look for in an Electric Scooter?
Electric scooters are on the rise in popularity, but there's far too many brands and models to choose from. It might become confusing, and some people even stay away from them out of fear of choosing a bad model. Fortunately, we found out the issues with all of them and weeded out the bad ones. There are several things you should look for in an electric scooter before pulling the trigger though, so read on!
For starters, you have to know what you want to use your electric scooter for. If you're looking to commute and replace your car for inner-city transportation, then a longer-lasting scooter with a decent speed is required. You don't want to choose one of the scooters with a 40-minute battery life. Shoot for 15+ miles per charge or a little over double the mileage distance of your commute.
You also want to know what age range you need to buy the scooter for. If you're looking for a child or teen, then a top speed of 10 miles an hour should be your go-to scooter. If you're looking for an adult, then 15+ miles per hour is a great option. Some of the scooters on this list even feature upwards of 40 miles an hour, which is enough to replace a car for a lot of errands!
All in all, choosing an electric scooter can be a troubling task. There are so many variables, but don't look at that as a negative aspect. Instead, you should view it as a fun time because you're not only saving the environment by reducing pollution, but you're going to be riding around on an amazing electric scooter! Who doesn't want to cruise around and have a little bit of fun on the way to work, school, or the store? Electric scooters solve all kinds of issues, so find out which issues they solve for you, and choose accordingly!
Amazon Recommends: