Fat tire bikes are becoming more and more popular throughout the years. While regular all-mountain bikes almost always get the job done, these versatile, bulky counterparts are changing the game completely.
For starters, it's much easier to ride a fat tire bike in the snow, mud, and other tricky terrains. The width of the tire and the increased air volume inside of it give you a whole lot more cushion for cruising. More surface area contact translates to better handle and an overall smoother ride.
The best fat tire bikes can also be used on concrete and asphalt, which is why so many people are usually them as their only choice. Conquer challenging terrains, or ride it leisurely through the park… What's not to like?
But finding the right bike isn't as easy as it sounds. With so many cheap brands out there, you might end up dumping your money into something that's not worth it at all. Regardless of the price you spend, you should always get what you earned!
We went through more than enough reviews, YouTube videos, blog articles, and so on just to find the top of the top. Without further ado, check out the list below and find the best fat tire bike for you!
View The Best Fat Tire Bike Below
1. Mongoose Men's Malus Fat Tire Bicycle
Mongoose has been one of the most well-known brands in mountain biking for several years.  Once fat tire bikes started becoming a hit, they jumped on it immediately with the Men's Malus Fat Tire Bicycle. It uses the classic comfort from all Mongoose bikes, combined with the chunky fat tires for suspension.
Made for Comfort
When you think of comfortable cycling, the first thing that probably comes to mind is a beach cruiser. We all know and love the relaxed, laid back feeling of riding around on them. This model uses a beach cruiser frame to keep you as comfortable as possible, while also allowing you to shred through tough areas.
7-Speed Shimano
Being able to change speeds on the go is incredibly important in cycling. Slowing down to a stop, clicking over, then accelerating again is too much of a hassle. The 7-speed Shimano gear set here lets you switch it up without having to go through too much trouble.
Key Features
+ Made by a Mongoose, a very reputable brand
+ Comfortable beach cruiser frame to keep you relaxed and in control
+ 7-speed Shimano gears to adjust your settings on the go
Why We Liked It – Mongoose continues to make well-received cycling products year in and year out. This fat tire bike easily ranks up as one of the best on the market.
---
2. Mongoose Kong Fat Tire Mountain Bike for Kids
It seems like the hardest thing in the world sometimes to get kids out of the house and into the great outdoors. Luckily, the Mongoose Kong Fat Tire Mountain Bike for Kids offers you an accessible and easy way to convince them that playing outside rocks! This little beast of a bicycle treads through the roughest patches, even keeping up with adult bikes.
Durable Construction
Unfortunately for us consumers, a lot of companies like to cut corners and costs when it comes to durability and/or construction of their bikes. The good news is that Mongoose created a steel monster of a bike that ensures you little ones won't break their new toy anytime soon. It can withstand quite a few falls along the way.
Adjustable for Height
Kids are constantly growing, so it wouldn't make sense to get them something that they're going to grow out of in a couple months. The bike seat on this fat tire bike adjusts for kids from 48 to 60 inches tall, giving you quite a bit of growing room before shopping around again.
Key Features
+ The durable steel frame helps keep this bike from breaking and rusting
+ Made to adjust for growing kids over the years
+ Extra fat tires to help your little ones get over all the bumps and ridges
Why We Liked It – Finding quality bikes for children is pretty rare, since people often think they don't recognize quality as much. Safety is part of high-quality products, hence why this one is on the list!
---
3. Mongoose Dolomite Fat Tire Mountain Bike
The Mongoose Dolomite Fat Tire Mountain Bike is meant to tear through any and all terrains that you might encounter on the trail. The extra beefy tires on this bike almost make you feel like you're floating over the rocks and other natural debris that might otherwise cause serious discomfort.
Multiple Color Options
What's better than a fat tire bike? A fat tire bike with color options, of course! This one comes in three variations, including Light Blue, Navy Blue, and Red. It might not seem super diverse, but it's the simple things in life that add up. Your bike will now be even more customized.
Mechanical Brakes
Being able to hit the brakes as fast as possible is essential when you're cruising through dangerous trails. You never know when an animal, person, or fall tree can be sitting right around the corner. The brakes on the Dolomite mountain bike work in an instant, creating an immediate, smooth stop.
Key Features
+ Extra-large tires to help you almost virtually float over terrain
+ Quick-acting brakes to keep you in control 100% of the time
+ Multiple colors to choose from, giving you a personal feeling with the bike
Why We Liked It – The Mongoose Dolomite fat tire bike is an excellent addition to the mountain biking world. The tires and brakes are nearly unparalleled in the industry, as is the high-quality steel frame.
---
4. Krusher Men's Dynacraft Fat Tire Bike
Krusher might not be the first company that comes to mind when you think about mountain biking, but after riding the Dynacraft Fat Tire Bike, you might have second thoughts. It's made to fit almost any sized adult male, with a chart to help you in your selection.
Multiple Sizes and Colors
There's no such thing as 'one size fits all' when it comes to cycling. Sure, you might've used your friends bike a few times, but ultimate comfort comes from proper selection. Using their size chart, you can choose what size tire you need to pick. There are also a couple colors to choose, keeping things interesting.
Adjustable for Comfort
The seat and handlebars on this fat tire mountain bike are both adjustable to further increase your comfort. Even if you pick the right tire size, you still need to correct the height of both because it can have you sitting in all kinds of awkward angles if not!
Key Features
+ Several sizes to choose from, allowing you to pick what fits you best
+ A couple of colors to choose from to customize the bike
+ You can adjust the handlebars and the seat to help with proper posture
Why We Liked It – We loved this mountain bike because it's built with the customer in mind. Krusher doesn't assume your height, nor what color you might choose. Instead, it's all in your hands.
---
5. ECOTRIC Fat Tire Electric Bike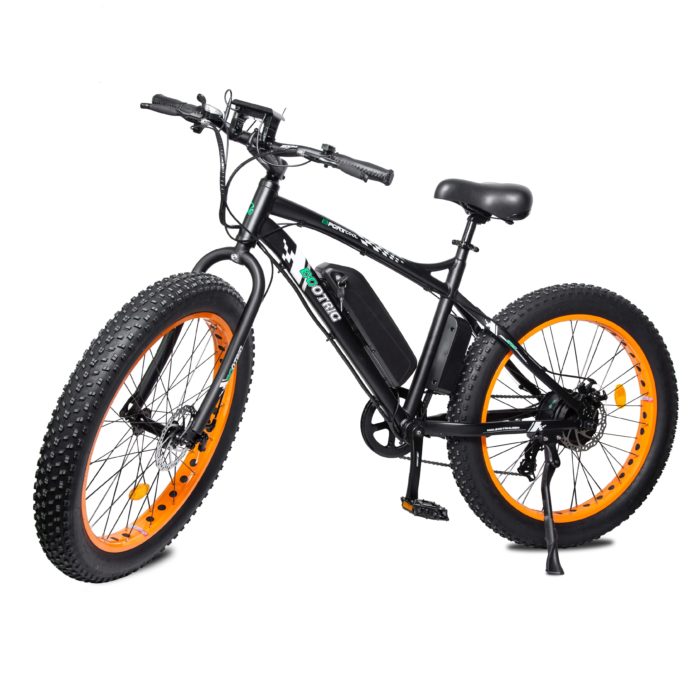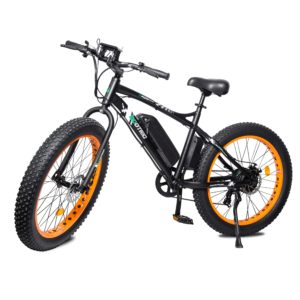 While fat tire bikes are gaining constant popularity, electric fat tire bikes are the next level of exhilarating adventure in the sport. Imagine cruising around the mountains and hills going twice the speed of a regular mountain bike while being in complete control. These used to be something you could only dream of!
Fast as can Be
The first thing that you're probably wondering here is how fast this electrically-powered mountain bike goes. Well, the ECOTRIC Fat Tire Electric Bike sees speeds of 23 miles per hour when it's topped off. Obviously more weight packed on the seat and sides slows it down a little, but overall it's quite the experience for little effort!
Powerful Motor and Battery
The 500-watt motor on this electric bike is no joke. It pulls you through the tough dips, inclines, and various terrains without a problem at all. The 36-volt battery lasts long enough for several sessions before having to recharge it, and it's also removable for easy re-powering.
Key Features
+ Extra wide tires to help you keep your balance after stopping
+ Quick accelerating motor with a fast-charging battery that's removable
+ A few color options to choose from when checking out
Why We Liked It – Electric fat tire mountain bikes have got to be some of the coolest inventions in the sport's history. With such a powerful motor behind it, it's hard for us to not put it high on the list among the best of the best!
---
6. Mongoose Aztec Fat Tire Bicycle
The Mongoose Aztec Fat Tire Bicycle is a simplistic model that focuses most of its energy on the actual comfort and output of the product. It might not have all the fancy additions, but it's easily one of the best bikes in the category. You can switch everything up until it's perfect adjusted to your liking.
Bulky Frame and Tires
The steel frame on this fat tire mountain bike keeps it from breaking or bending, even after the toughest wear and tear from the trail. On the other hand, the tires are so bulky that they don't even let damage come close to the frame! At 26 x 4 inches, they're truly some of the biggest tires on the market.
Shimano Gear Shifter
Mongoose always enlists the best of the best brands in their products. The Shimano 7-speed gear set changes the game by putting the gear shifting back into your hands. There's nothing difficult about switching things up on the fly, which is entirely new to mountain biking outside of Mongoose/Shimano.
Key Features
+ Made to be simple in appearance, but efficient everywhere else
+ Uses 4-inch wide tires to keep you as balanced as possible
+ A 7-speed Shimano gear shifter allows you to change speeds on the go
Why We Liked It – We really liked this model because it doesn't need all the extra bits to make it effective. If you want to get a high-quality fat tire bike that prizes comfort, speed, and durability, then you might want to check this one out!
---
7. Dynacraft 8107-57TJD Boys 20-Inch Sixteen20 Krusher Bike
Finding the right bike for your kid can be difficult. You don't want to get something that won't seem cool or fun, but you also don't want to risk safety issues while they're riding the bike. The Dynacraft 8107-57TJD Boys Krusher Bike mixes a great combination of safety and super stylish appearance, making the ultimate gift for any kid who wants to start mountain biking.
Safety Comes First
This bike is packed with safety features that blend in as cool additions. For starters, it's made of harden steel, which is the same stuff used for many professional BMX bikes. On top of that, the rear coaster breaks are covered by a slogan to get them excited for the trail ahead. Finally, the fat tires are bulky and unique looking, while provided perfect balance.
Large Tires
Speaking of the fat tires, they're 20 inches tall! This is perfect for growing kids, because it'll last during the preteen and teenage years of their life. The size keeps them raised up off the ground, but they'll also be in complete control the entire ride.
Key Features
+ Made to be safe and stylish at the same time
+ Created from the same materials as professional BMX bikes
+ The 20-inch tires keep your kid raised off the ground, without losing any control
Why We Liked It – When someone manages to make a product that's both safe and fun, it deserves some serious recognition. Getting your kid to play outside or go mountain biking with you will be easier than ever before!
---
8. Diamondback El Oso Nino Fat Bike 2017
Last but definitely not least on the list, we have the Diamondback El Oso Nino Fat Tire Bike of 2017. This beast is made for the roughest of trails, and the riders who tread on them. It's not a simple, lightweight bike at all. If your kid is plowing through snow, splashing through mud and puddles, or roughing it over rocks, they're going to love this bike!
Wide Tires
The 4-inch wide tires on the El Oso Nino Fat Bike are perfect for balancing and mastering the terrain ahead. Kids love how much balance and control this model provides, and we're sure you'll love the safety. Paired with the durable steel frame, you've nothing to worry about.
Comes with a Shimano Shifter
There aren't too many kids' bikes that come with a Shimano shifter on them. In fact, most of them don't have a gear shifter at all. However, this bike has a 7-speed Shimano gear set to give your kid the same speed control that you have on your bike. No more slowing down on those inclines!
Key Features
+ Made for kids who love conquering all obstacles in front of them on the trail
+ Comes with a 7-speed Shimano shifter
+ The extra wide 4-inch tires provide stability and ease of riding
Why We Liked It – This bike is perfect for those of you who are trying to help your kids keep up the pace. Equipped with the best of the best settings, they'll be right on your tail on those dirt paths!
---
Fat Tire Bike Buyers Guide
What to look for when buying a fat tire bike:
Do you want gear shifters?
One of the first things you need to ask yourself before pulling the trigger and buying the first fat tire mountain bike you see is whether or not you want gear shifters. Being able to change gears or speeds on the go is incredibly useful, but sometimes they jack up the price a little.
Most of the Shimano gear sets are made to give you the option of changing speeds on the go, which means you don't have to slow down to much. You'll be able to keep momentum without having to slow down to a stop. On top of that, riding uphill and downhill is much easier with gear changing. Just something you might want to look for or at least consider prior to buying your bike!
Is it adjustable?
Being able to adjust the seat of your bike is an absolute must. Without it, you won't be able to sit properly. Over time, it starts to wear down on your back, legs, and arms. Another consideration is adjustable handlebars. Sure, you might have the right height with your seating, but without adjustable handlebars you'll be stuck in a similar situation.
We live in a time where almost all bikes, regardless of what they're meant for, come with adjustable seats and/or handlebars. Since you're spending your hard-earned money, get something that'll make you relaxed and always in control of the bike!
How are the brakes?
Another big issue with a lot of bikes is faulty brakes. Especially with fat tire mountain bikes, you don't have the time nor quick-thinking to deal with brakes that don't work as soon as you need to use them. With running animals, other cyclists, and random large rocks or logs possibly on the trail, you need to have as much stopping power at your will as possible.
One of the greatest additions to any bike is hand brakes. If you manage to find a fat tire bike with hand brakes, and most of them come stock, then you definitely should consider it. Since your hands are already in position, it'll take you less than a second to squeeze the brake and come to a stop instead of trying to find it with your foot.
Is it comfortable?
If the bike isn't comfortable for the first 30 seconds, then it's going to be a nightmare after two hours of riding on bumpy trails. Always make sure you're getting what keeps you as relaxed and comfortable as possible. You wouldn't want to be worrying about an aching back, feet, or arms while you're trying to have fun!
There are a multitude of features to look out for so that you can ensure your own comfort. These include a cushioned seat, adjustable handlebars and seat (as previously mentioned), grippy handle bars so you don't slip, a lightweight frame for easy handling, and more. All of these things can come back to bite you if you don't plan ahead, so keep an eye out while perusing this list.
Do you like the appearance?
The first thing most of us noticed when looking at a fat tire bike is the appearance. Is it stylish, plain, flashy, or dull? Although appearance isn't always a make or break situation, you should always love what you buy. If you like the way it looks, you'll love the way you feel when you're driving it down the trail.
Some brands don't pay much attention to style, while others focus too much on appearance rather than functionality. Try to find the sweet spot right in the middle of the two. We believe that all eight fat tire mountain bikes on this list are equipped with efficient mechanics, while all flaunting stylish (but not excessive) appearances.
Keep an eye on safety!
It's not always fun to think about safety. Nobody gets more excited to buy the cycling helmet over the bike, but we all know it's necessary. Making sure you're safe on the trail should be the utmost importance in choosing your fat tire bike.
Quick-acting brakes, a durable frame that you can handle, and even something as simple as overall comfort all come into play with safety. If you're not feeling your best, then you're not performing your best. Follow the above steps will keep you safe and ready to hit the hills without worrying about safety a bit!
In the end, it's all up to you. Our purpose was to bring you the best fat tires bikes around, so check them out and let us know which one you choose!
Amazon Recommends:
Bestseller No. 1
Bestseller No. 2
Bestseller No. 3
If you liked this review, please rate below.