Electric bikes are very convenient if you need to get to places at quite a quick speed. They can be used for a whole range of purposes, for instance, if you need to run an errand quickly, or you can even use them on a daily basis to get yourself to work and back.
They can be very cost-effective and will save you a lot of money and time, as you wouldn't have to wait for any public transport to arrive and you also wouldn't have to pay for it either. Plus, these types of bikes are not like an ordinary bike, because they're electric, so it means that you don't have to exhaust yourself, as you would do on an ordinary bike.
In this review we've put together a list of the best fat tire electric bikes that you can find, to make it easier for you to decide which one will suit you best.
View The Best Fat Tire Electric Bike Below
1. Addmotor MOTAN
If you have a larger type of figure, then this bike is really ideal for you, as it can actually hold up to 350 pounds. It can allow you to get to the location that you desire in a lot less time as the 700w power motor will enable you to get up to 23mph.
Not only this, but it can also travel 40-55 miles just on one full charge. Therefore it's very ideal if you need to travel longer distances on this bike. Plus, one very good factor about this bike is that you can still pedal it manually if it does happen to run out of charge, so you won't end up being stranded somewhere.
Pros:
Holds larger people1000w motor
Top speed is 23mph
Travels 40-55 miles
You can pedal manually too
Why We Like It – We like this electric bike because it is made from very strong and sturdy materials and can move at very fast speeds.
---
2.

Omeng ATV Transmission Damping Bike
The design of this electric bike is a very city style, so it would be perfect for your city or neighborhood ride. It can go up to 20mph with 500w motor power. It als ohas LCD display with 5 speed pass levels, speed meter, odometer, trip time and more advanced settings.
With fully charged battery it can go up to 30 miles continuous ride. Weight of it is 55lbs including the battery. When foldable, it can fit most of the trunks.
Pros:
City style design
Up to 30 miles per charge
LCD display500w motor
FoldableUp to 20mph
Why We Like It – We like this electric bike because the design of it is awesome and you can easily fold it and store anywhere.
---
3. NAKTO Fat Tire Mountain
This electric mountain bike is really ideal if you want to purchase one of the fastest ones around, it is actually able to reach a staggering 30mph. This is equivalent to driving a car to some extent, but if there's any traffic on the roads, you can easily cycle your way through it all with this bike.
It is able to ride a distance between 27- 30 miles with a full charge, and you can use this manually if the battery does end up running out. On the front of the bike is a 360 degree LED spotlight, so it means that you're completely safe if you want to use this bike in the dark.
Pros:
Top speed 30mph
Prevents you from getting stuck in traffic
Can travel up to 30 miles
Can be used manually
360 degree LED spotlight
Why We Like It – We liked this electric bike because it is also suitable to use in dark conditions, and it means other road users will be able to see you very clearly.
---
4.

Kasen 1000W
Fat tires and a powerful motor is the Kasen 1000W High Power Electric Bike's claim to fame.
The 48V, 1000W motor is rear drive and battery operated. Up front, you get a LED headlight for visibility in the dark. The tires are made by Kenda and provide maximum ride smoothness and stability.
An all-aluminum frame makes the electric bike lighter than most. Gear is handled by a 7-speed Shimano mechanism. Rounding out the hardware is a MOZO hydraulic suspension and TEKTRO disc brakes. The Kasen has an impressive range of up to 45 kilometers and speeds of up to 45 kph.
Pros:
Comes with warranty
Quality, professional parts
High speed 1000 watt motor
Fat tires and classic design
Why We Like It – The Kasen Electric Bicycle is great for commuting short distances or when you just want to cruise around the neighborhood. Its high powered motor and fat tires make it a worthy buy.
---
5. CHJ 26 Inch Fat Tire Snow Bike
Superiority starts with the looks and that is given by the manufacturers. The output of the E-bike here has been tested in a rigorous manner so that quality is ensured. Pedaling is now made easier with the 48V 15AH lithium removable battery. The sturdy 1000W motor is also able to provide you with up to 80-100km of usage. You can also ride with a speed of up to 35km/h.
The bike provides you with 3 working models that you can choose from, that is; an E-bike, auxiliary wheel and then the normal bike. This way, you can be sure that even if the battery runs down, you can still be able to pedal home safely.
The wheels and tires have been perfectly made also to enable you ride with comfort across soft and sandy soils. You will not have to fear the process of sinking at all. A bike that it made to last longer than most in its category.
Pros:
Made with an aluminum alloy frame that is light and durable
Aluminum double walled allow wheels for longer life
Fitted with high strength front fork to bring you comfort
Why We Like It: Just enjoy a pleasant and a ride that is consistent. You can ride it day and night time, when darkness falls, then the LED headlights will provide you with light to lead you the way.
---
6.

Mongoose Dolomite Fat Tire Mountain Bike
Modern designed fat tire mountain bike. It comes with navy blue color that fits perfectly with inner wheel lines.
It is suitable for all off road surfaces, with high-tensile steel with supersized and terrain knobby tires.
Shimano derailleur with seven speeds makes it able to switch speeds even while climbing during the ride.
Pros:
Great off road bike
750w motor
Three working modes on the motor
Can be used in any weather condition
Why We Like It – We liked this product because it comes with a whole different range of warranty features that guarantee all of the parts on the bike.
---
7. Kasen Kabbit
The Kasen Fat Tire off-road electric bike is powerful and built for travel. It's equipped to handle most terrains, making it ideal for exploring dirt roads or backwoods trails. Thus, giving you the ability to take the Kasen bike anywhere your heart desires with ease. Like other electric bikes, the Kabbit Fat Tire Cruiser has extra thick aluminum alloy tires to last throughout years of riding. 
This bike has a 100w Bafang Lithium battery and 500C LCD headlights for darkened roads and nighttime traveling. And that's not all, this fat tire electric road bike has front and rear hydraulic disc brakes for quick stopping action when needed. Plus, as an added bonus, it comes with a 7-speed gear handlebar for easy acceleration with the use of one finger. 
Pros: 
Double Wall Spokes
MOZO Hydraulic Suspension 
4-6 Hours Charging Time
Left Display Thumb Throttle
Self-Assemble Tool Pack
Why We Like It – This is a durable fat tire cruiser electric bike that is dependable and can handle even the toughest terrain.
---
8. Tomasar Power
The Tomasar Power biker is another great electric bike competitor which is absolutely fabulous for those looking to ride their bike to work.
This electric bike really knows how to pack in some quality design and engineering you'll be itching to get your bike.
Lithium battery – This bike comes with a lithium battery that is also removable and can be slotted into an easy charge port system when you're not using your bike. You can ride up to 15-30 miles with this battery.
Pros:
High-quality material
Motor system
Premium quality breaks
Dual riding modes
Why We Like It – These two dual riding modes are a really great way to save power and get the max out of your bike!
---
9. Ordinary Fat Tire Bike
If design and functionality are what you are looking for in a bicycle, Bike Bike Bicycle is your best bet. It comes with three working modes, that is, PAS, Pure electric, and pure human riding modes, that make the bicycle suitable for long-distance trips.
Also, it features a front and rear shock absorption system that includes an aluminum alloy four-link rear shock absorber and a four-link front shock absorber that can filter the unevenness of roads allowing you to ride more comfortably.
Furthermore, it comes with an LCD display that shows your driving data including the speed, distance, strength, etc. Additionally, while the bicycle is lightweight, only weighing 29kg, it can accommodate a heavy load of up to 230kg. Individuals also love its durable structure that makes it ideal for people of different weights as well as size.
Again, it's a fully enhanced waterproof bike meaning you can drive in any season without worrying about water ingress. Also, it's equipped with an inbuilt motor of 1000W power and a removable 48v/12.8ah lithium battery that's also waterproof.
Pros:
Suitable for various weights and heights
1000W motor
LCD display
Double shock absorption
Why We Like It – We liked this bike because it can be used in rainy seasons without being damaged. Plus, it comes with a sleek design and is made with durable materials.
---
10. Vilano NEUTRON Electric Folding Fat Bike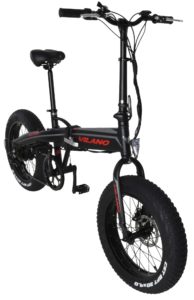 This electrical bike comes with 3 driving modes. You can try pedal assist technology, throttle, or "regular" 7-speed bike.  It goes pretty easy up to the hill. Perfect for weekend fun rides or every day use.
It's foldable so it can fit almost any trunk, or yo ucan store it anywhere, and can go 15-30 miles per charge, depends on which mode you are using it on, with headlight included. Seat is really comfortable for foldable bike, which makes it great choice for both city and off road rides.
Pros:
36V battery
250w motor
Pedal assist
Foldable
Anti-slip resistant tires
Why We Like It – We liked this product because when you're riding it, you can feel how easy it is drifting on almost any surface.
---
11. X-Treme Sedona 48 Volt High End Women's Step-Through Frame Electric Mountain Bicycle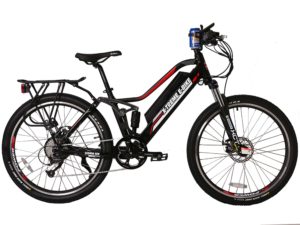 One of many design especially for ladies. Despite it looks gentle, it has powerful 500w motor from the Bafang High Torque Zero Resistance Clutch with digital torque sensor. Entirely made of aluminium which makes-no rust! It can be driven trough any surfaces and any weather conditions without any worries.
The LC display indicates speed , distance and Battery life. It comes equipped with the KIng Meter 5 Speed Smart Power Assist System(SPAS) with USB phone charging port.
Pros:
500W motor
48 volt Lipo4 Lithium Battery
Kenda Mountain tire
Can be used in any weather condition
Why We Like It – Aluminium makes it almost untouchable for all conditions it faces. It also makes it durable a lot more than most of other materials.
---
12. Addmotor MOTAN M-60 R7 Electric Fat Cruiser Bike Retro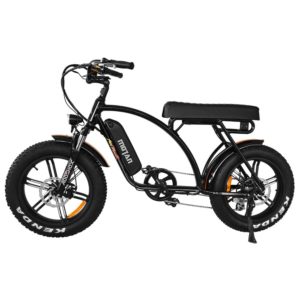 \
Addmotor MOTAN M-60 R7 is an all-purpose urban beach cruiser bike that is great for both city and adventurous ride. It contains the latest e-biking technology, with a natural upright riding position, a long plush bench seat, and an adjustable handlebar. With the ability to go up to 55 miles per charge, it also works as a paddle-assist, muscle power, or throttle.
Pros:
Retro design
Adjustable seat
Up to 55miles per charge
Lates e-biking technology
Why We Like It – We liked this product because it is a combination of modern and retro style, and it has an adjustable and comfortable seat.
---
13.

SWAGTRON Swagcycle EB5
Being the definition of SWAG, this bike will get all eyes on you! Adjustable seat and handlebar allows you to set a perfect position for a comfortable ride anytime. It fits almost all heights, and with 14 inch wheels, can take up to 264 lbs.
Tires are easy to maintain since it has a quick-disconnect power lines. While 15.5 mile range on a single charge, it also has a pedaling option, which enables you to ride it yourself if you want, and add full, or semi-assisted electric support. It folds 3 times and can fit almost any storage or car if you want to take it to some off-road rides.
Pros:
No need for assembling
Foldable
Can use in manual mode
Can take up to 264 lbs
Why We Like It – We like its atractive design. You can never go unnoticed if riding Swagtron Swagcycle.
---
14. ANCHEER 26"2
The ANCHEER 26"2 Woking Models Foldable Electric Bike is another wonderful bike to enjoy scenic rides through the park or to ride to and from work. It has a unique folding design enabling you quick storage; making this electric bike ideal for those with limited space.
Adopting an ultra-lightweight, yet durable aluminum frame, this bike will provide you with years of riding enjoyment. It also comes equipped with double shock absorbers that ensure your comfort over rocky terrain and bumpy roads.
Pros:
High-Quality Brake & Motor System
Ergonomic Design
26 Inch Ultra Strong Wheels
3 Working Modes
Why We Like It – The reason we chose this electric bike is because of its ability to ride 31 miles without peddling.
---
15. The Boss eBike-Black
Boss e-Bike is one of the best options on the market. It gives you enough traction and flotation to help conquer every type of pavement you hit, from smooth and flat to rocky and bumpy, and even sand and snow. It has a 6-speed component and a pedal-assist that helps it get the job done right and can make quite the scene on city streets. And while these bikes are great for any type of recreational ride you would like to do, the fat bike tires will also make it perfect when you commute to work. 
Pros:
Big, sturdy tires that can handle snow, ice, rocks, and smooth surfaces
Can max out at 16 mph
4 hours charging time
Why we like it: We love that this stylish bike can handle so many different terrains and keep up with whatever we throw at it. Whether we want to take it out for some fun or use it to ride to work, this bike has it all.
---
Fat Tire Electric Bike Buyers Guide
There are a lot of electric bikes all over the internet and in many stores across the United States, but it can be quite confusing when it comes down to making a decision over what one you should purchase. A lot of them have a whole load of different features from having different top speeds to having more powerful motors compared to some of the others. This can make your decision even more confusing, especially, when some of them have quite a dramatic price difference.
Therefore we've discussed some of the things that you need to look out for before you buy an electric bike.
Headlight
This is a very important feature that you will need if you want to ride your electric bike at night or even when it is very early in the morning. If you do not have a headlight on your bike, then you shouldn't use it at these times. The headlight is able to help other road users see you and to help pedestrians see you as well.
Manual mode
You may have noticed in the list above that some of the electric bikes have different modes. This is another very important feature to look out for because these usually have a manual mode too and this is the crucial point. If your bike doesn't have a manual mode and you end up running out of battery, then it can be quite difficult to be able to get it back home with you.
However, if your electric bike does have a manual mode and when you're riding it it doesn't seem like you have enough battery then you instantly have the option of being able to ride it back home or even carry on your journey like you would with any other regular type of bike.
Top speed
The top speed depends on what you actually need the bike for and what type of roads you want to travel on. If you're going to be using the bike during rush hour in busy city traffic, then you're probably not going to want one that goes too fast.
This is because you shouldn't go too fast when you're going through this, as there could be dangers that you need to look out for. However, if you're planning to use the bike through the countryside type of roads, then you may want one that is a little faster.
Digital display
Most electric bikes do have these, and they are a very handy additional feature. This is because they are able to tell you a whole range of extra things, like the amount of battery you have and what speed you're going. However, these are not essential, and you don't have to have them if you don't want to.
How to clean an electric bike?
You can clean your electric bike in a variety of different ways; some of them may actually be more convenient compared to others. One way you can clean it is by using soap and warm water and then gently rub this over your bike to get off any dirty marks or mud. However, this can be quite a time-consuming way of cleaning your electric bike, but it is actually the more efficient way of doing it.
This is because the dirt is able to come off a lot easier with a sponge. Another way that you can clean it is by using wet wipes, and this is a lot easier and less time-consuming. However, you may struggle to get some dirt off with this method, especially if there is a lot of dirt and mud over your electric bike. Therefore this method is better for lighter cleaning.
How to use an electric bike?
When you open the box that contains your brand new electric bike you probably won't be able to wait to try it out, so here are the steps you need to follow to be able to use it:
1.    Find that battery that should be in the box.
2.    Press the on button on the battery to see how much it is charged.
3.    Insert the battery into the body of the bike, your instruction manuals should tell you how to do this part, as each bike is different.
4.    Make sure it clicks because then you will know that the bike is locked in safely.
5.    Hold the power button down that should be near the bikes handles.
6.    Choose the correct settings that you would like to use and how much you want electrical assistance.
7.    Then all that you need to do is start riding the bike.
What's the difference between a regular bike and an electronic?
You may be thinking what's the point of spending a load of money on an electric bike when you can just buy a regular one. However, there are some significant differences between the two. First of all, if you do have to travel quite long distances, then a regular bike may exhaust you before you even get to the place you need to be.
This is where an electric bike can be very useful because they are able to help you cycle. They do this by electronically moving the wheel for you. Therefore, it means that you don't have to actually peddle as much and you won't tire yourself out either.
What's the difference between a moped and an electric bike?
It may seem like electric bikes, and mopeds do pretty similar things, and in a way they do. However, one of the most significant differences between the two of them is that with a moped you don't have to peddle at all. Therefore, this isn't as good for your health as you won't be exercising.
Another difference between a moped and an electric bike is that with a moped you will need to get insurance to be able to drive it. Therefore an electric bike is actually quite a bit cheaper to run, and you can even charge it from your own home.
Expert tip:
One thing to note when you do ride an electric bike is the fact that the harder you peddle it the bigger the boost to the bike. This means that the bike will go a lot faster.
Did you know:
The first form of electronic bikes actually appeared in the 1970s. However, they were a lot clunkier then than they are now, and the reason they did appear was because of the energy crisis. They started getting more noticed at a later date in the 1990s.
Conclusion
There are hundreds of electric bikes all over the internet, and it can be very difficult deciding which one will suit your needs the best. You may have noticed that they are actually quite expensive to buy; therefore, you need to make sure that you buy one that will do exactly what you need it to. So it's best to work out what type of distances you will be traveling on it and how fast you actually need it to be. This will then be able to help you decide which one is best for you.
Electronic bikes are becoming more and more popular, and this is because they are a lot better for the environment. Plus, they can also cost you a lot less to run compared to a car and even compared to public transport. There are some things that you do need to look out for before you buy an electronic bike though, for instance, whether it has different modes or it comes with a headlight. As you don't want to end up getting stranded when the battery runs out.
Amazon Recommends: