With an electric bike, you'll be able to get that little boost when you cycle and with the folding frame models you've got even more uses! Folding electric bikes are great for those who are short on storage space or commuters who need to carry their bikes around a bit more.
Electric folding bikes have been around for a while, and now there's a great market of different models to choose from. So we've decided to gather together the best models for 2021.
View The Best Folding Electric Bike Below
1. ANCHEER Premium
The ANCHEER Electric Magnesium Integrated Suspension will very quickly become your favorite way to travel. This mode of folding electric bikes comes with.
Pros:
+ A collapsible metal frame – This frame enables you to ride around on a premium quality lightweight yet strong aluminum bike frame which is both anti-rust and exposure paint protective and of course foldable!
+ 250w motor – This model can be ridden for up to 15-30miles at toppest speed 15-17mph per charge.
+ 3 working modes
---
2. EuroMini ZiZZO Campo
The EuroMini is a great little electric bike which is perfect for short distance commuters or occasional hobby riders. You'll find this bike can be taken where you like with the smallest of effort as it's.
Pros:
+ Reliably lightweight – At only 28.5 lbs. this bike's frame provides the perfect amount of stability when being ridden as well as a super convenient lightweight design to be carried along.
+ Easy to fold – The lightweight aluminum frame of this EuroMini is excellent to carry around but also even easier to fold. With one flick of a switch, you'll be able to fold your bike down in an instant, which means it's super easy for carrying into your home or office.
+ Easy to ride – Thanks to the adjustable stem, 7 Speed Shimano components and grip style shifter you'll never have to worry about a rocky ride ever again.
---
3. Angotrade 26 inch Electric Bike 
The Shaofu folding bike is great for those that need to carry their bike on a train or in the car as part of their commuting journey. This bike can easily fold down to be stored in a car trunk or carried on the bus/ train with absolutely no hassle.
Pros:
+ Frame – We loved this electric bikes collapsible frame as we've already mentioned, but this frame is also super made from super lightweight aluminum which makes it really easy to carry around with you.
+ Lithium battery – This electric bike has a brilliant 36v/8AH battery which helps you ride for up to 25km and also comes with an easy charge port system that allows you to charge the battery both on and off the frame.
+ Safety – You don't have to worry about your safety when riding the Angotrade folding bike thanks to fully carbon coated and strengthen brakes and a bright LED headlamp. You'll be ready for whatever comes along during your bike ride, and you'll also be prepared for cycling in the dark.
+ Power – With the Angotrade you can ride at around 25-35mp/h at its max speed, and you'll get this fantastic power from as little as 4-6 hours of charging. All you need to do to make sure your bike is ready to get you places is simply charge your battery at night and connected it back to your bike in the morning.
---
4. SwagCycle Pro
The SwagCycle Pro is quite different from some of the other electric bikes we've reviewed in this article as it doesn't have any pedals! This model is quite revolutionary, but that's what makes it a great machine to ride.
Pros:
+ Durable – A lot of the other electric folding bikes don't carry substantial weight as well. But not he SwagCycle this electric bikes sturdy frame can hold up to 264lbs. and still, collapse down for portability and storage.
+ App technology – One of the best features of the Swag electric bike is the ability to control your speed through the specially designed app. All you need to do is connect your apple or android powered phone with the SwagCycle 2 app, and you'll be able to track your trip, speed, GPS location all at the tip of your fingers.
+ USB charging – Unlike most other models this electric bike doesn't have a separate battery and charging port. We found this feature super handy as it means you can actually charge your bike where ever you are with its USB port just like you would a phone.
+ Long-lasting – Despite this bike running off a USB port charger, we found its single charge was really impressive and lasted up to a good 15-20 miles of cycle time.
---
5. Schwinn 14 Hinge
This electric folding bike stood out as the most stylish, unlike most other electric bikes which feature a hybrid or mountain design. This electric frame was very reminiscent of a Dutch bike with a nice sleek paint job and wide handlebars. This bike just provides a great easy to use a model which includes:
Pros:
+ Easy to use frame – As we've mentioned the frame of this bike model is really user-friendly and great for those wanting to keep a straight back thanks to the city bike design. But this model is also great for those who can't lift their leg high, as the frame is a low stand-over design.
+ Lightweight and foldable – The small but sturdy 20-inch alloy wheels and lightweight aluminum frame make this bike super easy and user-friendly when it comes to folding it away, even the pedals fold away for extra storage space. Once you've folded this bike down you can even pop it into its specially designed carrying case which makes it simple and stress-free to carry around with you.
---
6. Yescom 20″ 500W Foldable Electric Bicycle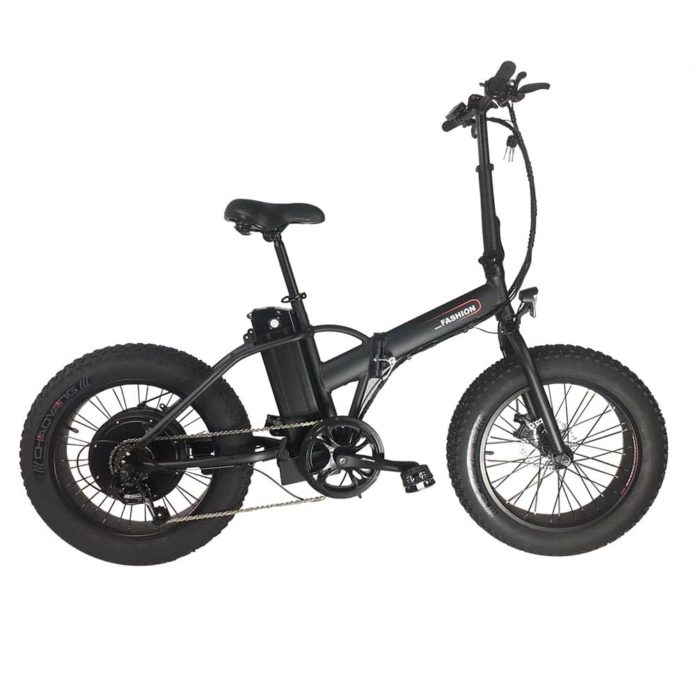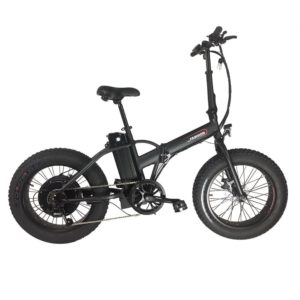 Incredibly practical foldable design enables you to fold it into a compact size for easy storage & transportation, which makes it great for camping or travelling.
On/Off & assisted mode selecting, battery display enables you to operate with ease. Yescom also has thumb throttle designed to control with Shimano 6 speeds.
Pros:
+ 36V 10 AH battery
+ Rustproof aluminum alloy
+ 400lbs load
+ Three riding modes
Why We Like It – This product is surprisingly lightweight for such a sturdy electric bike, and the three riding modes make it easy to adapt it to your everyday needs.
---
7. ECOTRIC Fat Tire Folding Electric Mountain Bike
A 500 Watt motor and 36V battery takes you wherever you need to go on this sturdy and durable electric folding bike. It weighs 51.1 lbs, folds easily, has a slightly taller construction for someone who struggles with the small frame of most E-bikes, has front and back brakes and it takes approximately 6-8 hours to charge the battery fully – perfect for an overnight charge so that it'll be ready to roll first thing in the morning!
The aluminum frame is heavy-duty and highly durable, and it will carry you to your destination with a max speed of 20 mph. An electric bike like this is easy to pack up in your car and take with you, and its lightweight features make it easy to manage both by teenagers, older children, and adults.
Pros:
+ Max speed of 20 mph
+ External 7-speed gear
+ Front and back brakes
+ 6-8 hour charging time
Why We Like It – The 7-speed gear makes it easy to use this electric bike the way you feel the most comfortable, and an improved braking system sets you up for safe biking experience.
---
Foldable Electric Bike Buyers Guide
What to look for when buying a Folding Electric Bike?
Electric folding bikes are great for commuters, they give you the power of an electric bike with the convenience and freedom of being able to fold them away. The electric bike really helps those who need to store their bike in a car trunk or on the train before reaching the section of their journey where they can hop on their bike.
You'll find that electric bikes are sometimes called e-bikes and they're basically a way of having a motor assist your riding. There are many benefits to owning an electric bike especially for those who want to get to work quickly without being sweaty, those who have just suffered from an injury or the elderly. As you can tell from this article, there's a whole world of electric bikes so it may take a while to decide which ones for you. The good thing is there are so many electric bikes these days that it's hard not to find one that you'll love.
If you're still wondering about whether to choose an electric bike which folds or not we thought we'd outline the benefits of a folding one.
Freedom
Most people that opt for a folding electric bike chose to ride to work on their bike instead of getting public transport or using their car.
Folding electric bikes make great commuting companions for many reasons.
•    Helping the environment by not releasing any nasty chemicals
•    Save on petrol prices
•    Avoid traffic jams
•    Be able to maneuver your way through any traffic or small lanes
Storage
Electric bikes which fold are great for commuters, but they're also great for people who don't have a lot of storage space. This is great if you live in a flat and will need to store your bike inside on a night time. This can be really convenient when it comes to storing your bike in busy cities without having to worry about anyone causing damage or stealing your bike.
Flexibility
You'll be able to take multiple modes of transport. If you live too far away from work to cycle, but you still live a good 20/30 minutes walk from your nearest bus stations, you'll be able to slash your commuting time in half with an electric bike. Simply hop on your bike ride 5/10 minutes to your local bus stop, fold your bike back up and get on the bus. Riding an electric folding bike really is just that easy.
When it comes to selecting your electric bike there are many things you should consider, this includes a) the weight b) the power of the electric c) how easy it is to fold.
Weight
Choosing the weight of a folding electric bike can be a really important factor to consider when you're shopping around for a new model. Electric bikes in general often weight more than their manual competitors, with some weighing up to 15-40 lbs. depending on motors size etc.
This weight won't affect how your right your bike, as thanks to the electric power you'll never notice you're pulling extra weight. However, the weight should be considered when buying a folding electric bike as you're more likely to carry this bike around. Folding bikes are lighter than many other manual and electric bikes, but their size still does vary. You'll find some of the lightest folding electric bikes are around 35lbs.  Fortunately, the weight will not affect your riding experience; it all just depends on what weight you can lift and carry.
Power
Many people think folding bikes break easily, this is not the case.
Folding electric bikes are often more durable than normal electric bikes. These models of bikes are often stronger due to the engineering involved to make sure the bikes hinges can take the pressure of being folded and unfolded every day. You'll find that the manufacturers of electric folding bikes have specially reinforced the joints and hinges around the frame to make them longer lasting.
Many people have often said that folding electric bikes must be really slow. Believe it or not, this is a common misconception, folding electric bikes still pack as much engine power as their non-folding counterparts. The folding electric bikes still support the same engine power and quality engineering as the other models. With many folding electric bikes reaching the power of 48v and speeds of up to 20/25mph.
Type
You'll find that electric bikes do come in a range of frame styles from hybrids, to the mountain, road and even city bikes. Each of these frames provides something different from your riding experience when fitted with a motor.
I. Electric road bikes aren't too common as most cyclists who cycle on the road are often quite athletic. However, in recent years more and more road electric bikes are cropping up on the market. So if this is the sort of frame you'd like in an electric bike – keep your eyes peeled!
II. Electric mountain bikes are more popular than road bikes, like the ability to cycle quicker across hills and uneven terrain seems to be a great match. We found that a lot of people who've opted for an electric mountain are usually the athletic type of person who is starting to find it a bit more challenging to ride.
III. Electric Hybrid bikes are perhaps the most common, especially across Europe and they are starting to become more common in the USA too. We would definitely recommend a hybrid as the go-to commuters electric bike. These models make it super easy to get from a to b without sweating and give you a hand carrying heavy luggage.
Amazon Recommends:
If you liked this review, please rate below.