ATVs are becoming one of the most popular and sought-after kids gear. These vehicles can be super fun for kids and families alike. Children cannot wait to drive, as it makes them feel grown-up and like their parents. As their popularity grows, so does the market. Now, the market of all-terrain vehicles and 4x4s is coming through thick and fast.
There are so many models at competitive prices. Which is great for excitable kids, but can cause a lot of difficulties for parents. After all, with so many different models and prices how are you supposed to know which one is the best? There are so many factors that go into finding the best kids ATV, including your kid's age and ability.
We have researched the best kids ATV models available right now, to find the most fun and safest models for your kids.
View The Best Kids ATV Below
1. Razor Dirt Quad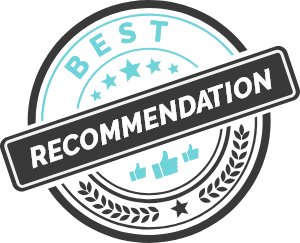 This new and improved Razor Dirt Quad bike features fresh styling and designs. Kids will love the super cool design and sleek body of this quad bike!
The Razor Dirt Quad is a miniature electric off-road quad bike that features authentic quad geometry so your kids will feel like they've got the real thing.
It has a terrain-tracing, droop-level rear suspension that can deliver a safe and smooth ride. This rear suspension also features a coil shock that adds to the smoothness of this ride, even when on uneven or rocky terrains.
This quad bike is recommended for ages of 8-years or up and all the features are made for small bodies and little hands.
The twist-grip acceleration control, adjustable rise handlebars and hand-operated rear disc brake are all easy for little legs or arms to reach. They are designed for kids to control, for an authentic experience, while keeping the quad in gear and safe on all terrains.
The 13-inch textured tires are designed for a non-slip or skid action on all terrains, keeping your kid upright at all times.
Pros:
+ Fresh styling and details that is super attractive to kids
+ Authentic quad geometry
+ Can be adjusted to fit your kid's size and reach
+ 13-inch tires are designed to keep the bike upright and steady
+ Terrain-tracing suspension for a safe and smooth ride
Why We Liked It – This incredibly sleek and cool quad bike looks and performs just like the real thing, making this great for adventurous kids.
---
2. Yamaha Raptor 700R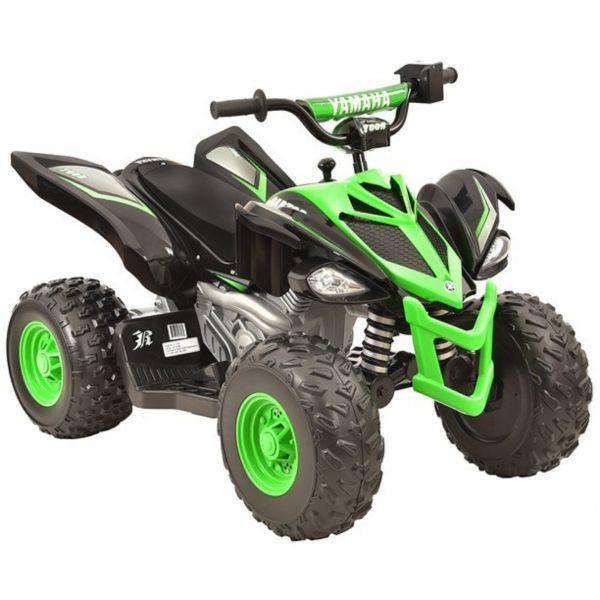 Check Price on Walmart
The Yamaha Raptor 700R can provide hours of fun for your little driver, both indoors and outdoors. Once fully charged this quad can run for up to three hours, giving your kid plenty of time to explore your home or garden on four wheels.
It features racing graphics and driving sounds to deliver a fully immersive playtime. You kid really will feel as though they are on the racecourse or dirt track with this quad, even if they're just driving along the sidewalk!
The maximum speed of five miles per hour is enough to make your little one feel adventurous while being safe enough so you don't have to worry about them.
Furthermore, the sturdy MotionTrendz tires are designed to drive smoothly and safely on all surfaces around your home.
The thick treads ensure that your kid will be steady even on the highest speed setting and the wheels shouldn't cause any damage to your flooring.
Pros:
+ Hours of fun for your little one
+ Can drive indoors or outside
+ Racing graphics and sounds for an immersive play
+ Sturdy tires that will keep your kid upright when driving
+ Various speed settings (maximum speed: 5 mph)
Why We Liked It – This super cool quad bike provides a fully immersive playtime, with sounds and graphics, for your little drivers.
---
3. Best Choice Products 12V Kids Powered Large ATV
This ATV is the perfect vehicle for little racers! This ride-on vehicle looks and acts just like the real thing, so you're kids are certain to love it. The realistic features include; working LED headlights, for vision at all times; horn sounds, and a storage basket to bring toys on the go.
This car also has a sound system that has a radio and a built-in MP3 player that can take both USB connections and Micro SD cards. Your kid can really have all the fun on the road, and this time they're in charge of the stereo!
The ATV also features all-terrain wheels, which are thick and wide. They have a great tread and can handle all kinds of surfaces including mud and grass. This truly is the ATV for little explorers. This XL vehicle is made from non-toxic and durable plastic that has been designed to withstand repeated play and hard adventures.
Pros:
+ Built for racing and hard terrains
+ Great features including working headlights and storage basket
+ Features a radio and MP3 connection
+ Thick wheels that stay steady on all terrains
+ Non-toxic and durable plastic body
Why We Liked It – This ATV is fully equipped with all the latest technology, including MP3 connection, for a truly adventurous ride.
---
4. Smart DealsNow 110cc ATV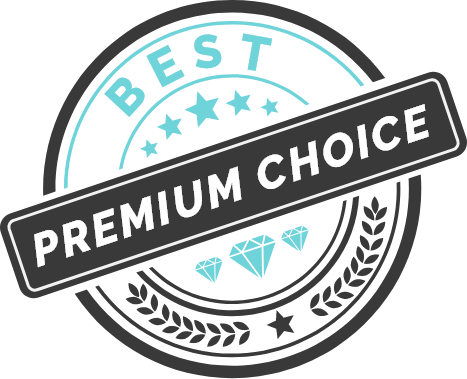 This ATV four-wheeled drive is an incredibly cool vehicle. The bright red color and spider-web design make it a real eyecather.
The Four Wheeler is a great size for children and is designed for those aged 6 years and over. The handles are within easy reach for little hands and feature a remote control that can be used on the go. This remote control is pretty cool and can be clipped onto jackets for emergency stops when on the road.
The Four Wheeler is designed to be super safe for little kids, giving parents a peace of mind. There is a speed restrictor or governer setting that allows you to choose how far and fast your kid can go on this ATV. It is an incredibly sleek vehicle that is streamlined to deliver a smooth and safe ride.
Pros:
+ An incredibly cool and sleek ATV
+ Handles are within easy reach and control
+ Remote control for emergency stops
+ Designed for safety and has controls for parents too
Why We Liked It – This Four Wheeled ATV is an excellent size for little kids and features a lot of safety controls for parents and kids to use before and during the ride.
---
5. Peg Perego Polaris Outlaw
Check Price on Amazon
This ATV is incredibly sleek and strong with its realistic design. It is super cool and comes in a bold red shade that is suitable for little boys and girls.
The realistic features also include shocks and fenders that wouldn't look out of place on the real four-wheeler.
The rechargeable battery can provide hours of fun for your kid. The multiple speed settings, from 2.5 to 5 miles per hour, let your kid feel as though they are really driving and are in total control of the wheel.
This ATV is super safe to drive through, giving parents a piece of mind. The large knobbly all-terrain wheels provide traction on all surfaces including grass, dirt, gravel and indoor surfaces.
The handles are within easy reach for little hands and allow your kid to steer this vehicle across all terrains. They can also control the speed of their vehicle with the accelerator pedal and automatic breaks.
Pros:
+ Realistic design and features for a cool ATV
+ Various speed settings, ranging from 2.5-5 mph
+ Incredibly safe to drive
+ All-terrain wheels provide traction on multiple surfaces
+ Easy to reach breaks
Why We Liked It – This ATV is super cool and has been designed to look and feel just like the real thing.
---
6. Power Wheels Jurassic World Dino Racer
This ATV has been specially designed for adventure loving kids. Nothing will get in the way of your child when they're riding this vehicle. It features a body that is built to look like Blue, one of the dinosaurs from the popular Jurrasic World franchise. This allows your kid to make up their own Jurrasic adventures.
Blue's mouth comes with chomping action for a totally immersive playtime. Your kid can adjust this ATV to suit with whatever games they are playing. The sturdy steel frame features a specially-designed Power-Lock brake. This brake automatically stops the ATV when your child lifts their foot off the pedal.
It can drive up to a maximum speed of six miles per hour, which can be totally controlled by parents. The high-speed lockout allows you to increase the speed whenever your little driver is ready.
The large, wide tires are designed to handle a wide range of terrains and keep your kid steady. This ATV can be driven on hard floors, dirt, wet grass and any other hard terrain that you have around the home.
Pros:
+ A super cool and unique ATV design
+ Looks like Blue from Jurrasic World franchise
+ The maximum speed is 6 mph
+ Parents can control the speed of this ATV
+ Thick and wide wheels are super safe on all terrains
Why We Liked It – This unique ATV is a super fun vehicle that allows for imaginative and adventurous play.
---
7. Yamaha YFZ 450 2008 ATV Blue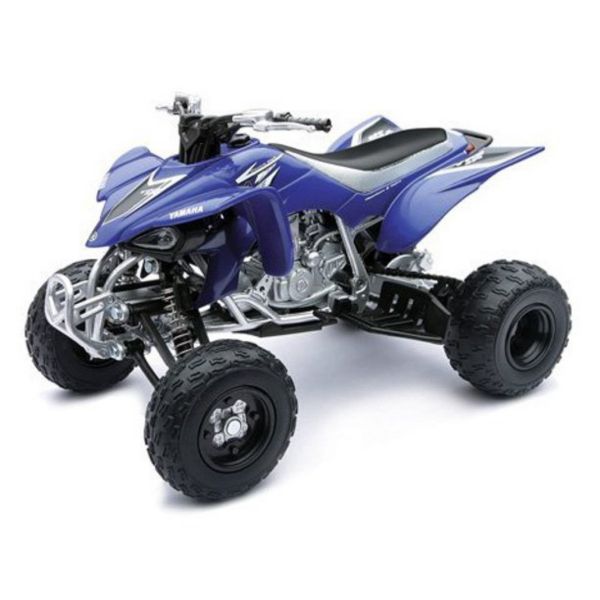 Check Price on Walmart
The Yamaha Kids quad features incredibly cool styling that is based on the authentic Yamaha YFZ 450. This will make your little ones feel super grown-up and professional.
It is a small quad that is designed for little kids, aged between 18 to 36 months. It has been designed to be simple to use, and your kid will be able to push the start button on their own.
This quad can be used indoors or outdoors, making it suitable for all seasons.
The battery-powered motor is incredibly powerful and can offer up to four hours of play per charge. Your kid will have such a good time whizzing around the home or garden on their very own four-wheelers!
As it has been designed for toddlers, this ATV is very safe to ride. It delivers a smooth transition on various kinds of terrains and doesn't go too fast. You can easily keep up with your little ones when they're riding.
Pros:
+ Specially designed for young kids
+ Simple to use and kids can power it on their own
+ Up to 4 hours of play per charge
+ Runs at a safe speed so you can keep up
+ Authentic Yamaha styling
Why We Liked It – This authentic Yamaha quad bike is super cool and fun for little kids. It runs smoothly and allows you to keep up with your kid at all times.
---
8. TAO TAO TFORCE
This ATV has been specially designed to look and work just like a real four-wheeler. It features working headlights, automatic transmission and great real-life detail.
The Tao Tao TFroce ATV is available in a range of camouflage shades, making it suitable for a wide range of little explorers.
It is incredibly high-quality and has been manufactured to deliver safe and smooth riding. The thick, knobbly wheels have great traction and can be used on a wide range of outdoor terrains. They can handle dirt, mud, wet grass and various other uneven surfaces. This certainly is the ATV for little explorers!
There is a storage container at the rear that allows your kids to carry essentials with them on the road. The brakes are very easy to reach and use, so you can rest assured that your kids will be safe and in control. It is made from durable steel that and withstand hours of play.
Pros:
+ Designed to look and work like a real quad bike
+ Available in a range of camo shades
+ Brakes are easy to reach and use
+ Thick tires are suitable for a variety of outdoor terrains
+ Truly designed for explorers
Why We Liked It – This incredibly cool four-wheeled has been specifically designed for uneven terrains and outdoor spaces.
---
9. Power Wheels Dune Racer
The Power Wheels Dune Racer can be used in a wide range of off-road adventures. It is a solid and unique design, with a large cockpit that can fit two drivers.
It has a sturdy steel frame and a high-power Monster Traction drive system that can handle a range of different terrains and will pick up quite the speed. This ATV is a genuinely cool vehicle. It even features a storage trunk under to hood for toys or other essentials on the road.
It has two forward speeds, 2.5 and 5 miles per hour, as well as the ability to reverse. The Power Lock brakes are incredibly responsive and will help keep your kids safe, even when going at the highest speed.
The Power Wheels have been put through the test thanks to Fisher-Price Play Lab kids. This ensures that no matter what your kids are getting up to, these tires will last and can keep them upright.
Pros:
+ A super unique ATV
+ The sturdy steel frame will remain secure
+ A wide cockpit that can hold two little drivers
+ High-power Monster Traction system is super responsive and fast
+ Two-speed settings and reverse capability
Why We Liked It – This ATV is a truly unique vehicle that can hold two little drivers. It is perfect for those who love adventure and adrenaline.
---
10. Coolster 3050D
This incredibly powerful ATV is a super cool vehicle that kids and parents will love. It is truly an explorer vehicle with the four thick wheels and high seat. The wheels have a knobbly design that can withstand even the toughest terrains, such as mud or wet grass.
This is such a fun ATV that can be driven by small children and their parents. The seat is wide and long enough to handle two people, although you should always set your child in front of their safety.
The handles are high up and easy to hold, which makes it suitable for kids to learn to steer and drive independently. It can pick up quite the speed when in forward drive, although the brakes are easily accessed and used. You can rest assured that your kid will be safe and secure while they're having the time of their lives off-road.
There are various different shades available to ensure that there is a model for your kid.
Pros:
+ Great thick wheels for all terrains
+ Made for outdoor off-road driving
+ Can be driven by parents and kids together
+ Handles are easy to grab and use
+ Brake is responsive
Why We Liked It – This powerful ATV has been specially designed for rugged, outdoor adventures.
---
Kids ATV Buyers Guide
ATVs are some of the hottest toys right now. They are motor-operated vehicles that can be driven by children off-road or indoors.
They are incredibly cool pieces of kit that will encourage your kid to explore their wild side!
What does ATV stand for?
ATV stands for all-terrain vehicles, and they are vastly becoming one of the most popular kid's toys. These are vehicles that are often modeled on real four-wheelers or quad bikes.
They can be very exciting and will encourage kids to get out there an explore.
What Do I Need To Look For?
When shopping for the best ATV for your child, there are certain things you need to consider:
This is perhaps one of the most important things to consider when looking into buying a kids ATV.
ATVs typically come with a recommended age group and, although you know your child best, it is best if you stick by these rules. ATVs can be incredibly fun toys, but they can also be quite dangerous if you have a small child.
Most kids ATVs have thick wheels with excellent traction. This means that they, like their adult versions, can be driven off-road and are designed for adventure.
However, if you have a small child or do not live in an area where you feel as though it is safe for your kid to drive the streets, then there are indoor versions available.
You should check the thickness, wideness, and traction of the wheels on your ATV before purchasing to ensure it is safe for your kid.
How much control you want
Some kids ATV come with parental controls and remotes. This means that you can have a say in how far or fast your kid is driving.
However, as these toys are made to be replicas of real ATVs and are designed to give kids a real-life experience of driving, a lot of the controls are left to them.
On some kids ATV, the brakes and accelerator only have one control, and that is within the vehicle. If you have an older child, then these kinds of ATVs will be great as they can experience some independence.
What Size ATV Do I Need?
When talking about the size of an ATV, we are referring to the engine. The size of the engine, and therefore how powerful the ATV is, will differ significantly depending on your kid's age and size.
Here follows a brief guide to ATV sizes:
Children under 11 years: 70 cc
Children aged 12-15 years: 70-90cc
Older teenagers: 125-250 cc
If you have a child younger than 11 years, then you should look into smaller ATVs.
What Kids ATV Gear Do I Need?
Now you've chosen the best ATV for your kid, it doesn't end there.
In order to keep your kid safe and secure out on the road, there are some essential pieces of gear that you need. All of these will contribute to the adventure and make your kid feel as though they really are an off-road driver.
As well as an ATV, you should get:
A helmet
Driving gloves
Protective goggles (for muddy terrains)
Warm, comfortable clothing
Boots or sneaker with a tough grip
There is a wide range of specialized gear you can purchase for your little driver. This will differ according to your budget and the kind of ATV you have chosen.
Key Specs
| | | |
| --- | --- | --- |
| Kids ATV | Recommended Age | Power Type |
| Razor Dirt Quad | 8 years + | Battery |
| MOUNTOPZ 110cc Four Wheelers | 6 years + | Motor |
| Yamaha Kids YFZ450R | 18-36 months | Battery |
| Yamaha Raptor 700R | 6 years + | Battery |
| Peg Perego Polaris Outlaw | 3-7 years | Rechargeable Battery |
| Power Wheels Jurassic World Dino Racer | 36 months – 7 years | Battery |
| Best Choice Products 12V Kids Powered Large ATV | 3-8 years | Rechargeable Battery |
| TAO TAO TFORCE | 8-14 years | Motor |
| Power Wheels Dune Racer | 36 months – 7 years | Battery |
| Coolster 3050D | 6 years + | Battery |
Amazon Recommends: