Today at MyProScooter, we reviewed the best electric scooters for kids to figure out exactly which kids electric scooters come out on top.
Kids electric scooters are driven by batteries and motors and do not require a push off the ground like in kick scooters. Kids, teenagers, or older kids, anyone can ride these as they are convenient, often fast, and much fun to ride. Choosing the best electric scooter for kids on the market can be a tedious task as there are so many things to take into account and so many brands to choose from. We've sought out the products your kid needs, in the hopes to make the whole process a lot easier for you.
Before making the decision you need to identify your own needs and then compare those needs with the features of the product. Of course, you should have some know how about what these scooters are all about and what parts they are made from. In this complete guide, we will tell you in detail everything you ought to know before buying a kid's electric scooter. You can even save if you check best Black Friday deal for electric scooters for kids. Note that some of these scooters can be the best choice for toddlers too.
Our Picks of the Best Electric Scooters For Kids of 2020
1. Hiboy S2 Lite – Best electric Scooter For Kids Overall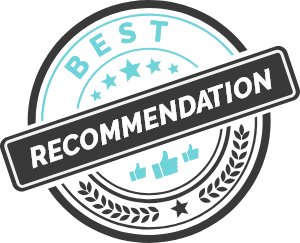 When you look for an electric scooter for children, if you are an adult that wants to surprise or reward a good kid, the first thing you check is safety, and performances in order to make your children safe and satisfied. However, if you are a kid, the most important thing about your electric scooter is that it has some extraordinary features, and to stand out among others. In other words, it needs to look cool! Luckily Hiboy designed something that fulfills all requests.
With S2 Lite you can enjoy the comfort and secure ride while keeping every eye on you at the same time. Sophisticated but minimalistic style is the most attractive thing about this model. What gives it unique touch is the super cool large front headlight. While ensuring safety even for night rides, it looks awesome and you can't go unnoticed while riding it. In addition, there are three more lights into it's light system, so you can see everything, and you can be seen in any given situation.
Battery can take you up to 10.5 miles when fully charged, which makes it perfect for neighborhood ride, or even trip to school. It weights only 21lbs and can be folded in a second so even the kids can take it anywhere, and can be stored almost anywhere. This model also comes with charger and user manual, where you can find answer to almost all questions regarding this model.
Pros and Specs of Hiboy S2 Lite:
Max Speed: 13 mph
Max Range: 10.6 miles
Weight Capacity: 21 lbs
Super Cool Front Light
Multiple Color Options
Why We Liked It – Perfect combination of design and performance. Great choice even for the beginners!
---
2. Razor Power Core E90 – Premium Choice
The Razor Power Core E90 Electric Scooter is a result of the manufacturer's efforts to improve the riding capacity of its products. Now with this Razor Power Core E90 Electric Scooter you get increased riding range up to 80 minutes which is double as compared with E300 and E125. The speed however is less as compared with those models and is only 10 miles per hour. This is justified as it is designed for kids aged 8 or above. It is maintenance free with no chains so essentially very simple design. It also serves as one of the lightest models with a maximum weight of only 22 pounds. You can say that the Razor Power Core E90 Electric Scooter has the essence of a kick scooter but is actually an electric one. Since it is so light kids under the age of 8 can ride it too without needing training wheels especially if they have ridden regular two wheeled scooters.
Pros and Specs of Razor Core E90:
Max Speed: 10 mph
Max Range: 13 Miles
Weight Capacity: 120 lbs
Alloy Steel Frame
Great Price
Why We Liked It – The Razor Power Core E90 Electric Scooter is the cheapest scooter on this list and goes to proof that a good product does not necessarily have to be pricey. You have two color choices with green and pink although essentially it can be considered black colored only as only accent colors vary.
---
3. Razor E100 Glow Kids Electric Scooter – Editors Choice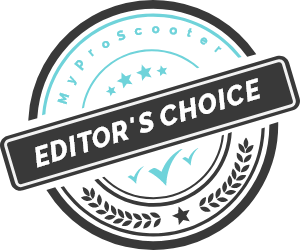 The E100 Glow from Razor is another great choice for young kids as it is optimized for ages 8 or above. It serves as the predecessor to E125 as it has a bigger front pneumatic tire. This one too gives a maximum speed of 10 mph which is good considering a young child will be riding.
With top speeds above 10 miles per hour it is not too safe especially for children who have little riding experience. The charge time is minimum 12 hours however you can charge more too up to a full day charge. It creates very little noise with its quiet chain driven motor. With twist grip throttle and hand applied brake, the ride is quite safe. The product itself weighs a little over 30 pounds which is why it is appropriate for children aged 8 or 9 because they can handle it conveniently.
Pros and Specs of Razor E100 Glow:
Max Speed: 10 mph
Max range: 6.5 miles
Weight capacity: 120 lbs
Polyurethane Wheel
Front Braking System
Why We Liked It – This is a product that makes these motorized rides very much accessible with its very reasonable price tag. It gives something valuable and durable in a cost that is remarkably lower as compared with many other models from high end brands even Razor itself.
---
4. GOTRAX GKS Electric Scooter for Kids
The GOTRAX GKS electric scooter prides itself on safety and design. Its new 'Safe Start Technology', ensures that the motor won't kick in until your child places both feet securely and firmly on the deck. The scooter's 6-inch, hard rubber wheels mean that the ride will always be smooth on paved areas, making them perfect for bumpy sidewalks and streets.
Your child will be spoiled for choice when it comes to choosing a color; the GKS electric scooter comes in four two-tone color combinations, including red, pink, green, and blue, meaning they can cruise confidentally down the street in the style they love.
The frame makes for one of the lightest electric scooters available, weighing only 17lbs, meaning your kids can carry them wherever they like. It also has a weight limit of 154lbs, and the recommended maximum height for this scooter is 5ft.
Pros and Specs of Gotrax GKS:
Max Speed: 7.5 mph
Max Range: 4 Miles
Weight Capacity: 154 lbs
Rubber Wheel Type
Gravity Sensors
Why We Liked It – With its six-inch tires, Safe Start Technology, and lightweight style, the GOTRAX GKS is an excellent electric scooter for your kids.
This product is a must-have of you have scooter kids at home.
Razor produces some of the most innovative models in the world of scooting and the Razor E300 is proof of that. E300 is one of the best electric scooters in town. This product is jam-packed with great features like the retractable kickstand and the hand brake. It is a chaindriven motor scooter which gives enough power to go over a speed of 15 mph making it a good enough for every day small trips.
With a full charge the razor E300 kids scooter battery system has a running time of up to 40 minutes. It is quite wide and heavy which allows it to stand weight up to 220 pounds. So whether you are a teenager or an older kid, you should be able to travel on it easily. Its own weight is over 50 pounds but thanks to the brake system you can control it. The pneumatic front and back tires are quite big so you get smooth ride over rough surfaces as well. This is why we think this is the best electric scooter for the money.
Pros and Specs of Razor E300:
Max Speed: 15 mph
Max Range: 9-10 miles
Weight Capacity: 220 lbs
All-Steel Frame and Fork
Larger Front Tire
Why We Liked It – It is designed to give you the most optimized riding experience so it has high torque and twist grip acceleration control. It is a mix of quality and convenience to give riders of all ages exactly what the best electric scooter should be like: fast and fun.
Another great offering from Razor, the E200 by Razor has a high torque and ultra-quiet motor that is of course chain driven like in most razor toys for kids. It has a twist grip throttle to make twisting a piece of cake. Talking about the Razor scooter battery replacement and pack, this one has 24 volts battery that powers the scooter to last for about 40 minutes. It usually takes 12 hours to charge, but Razor recommends charging it for a full 24 hours even when the light turns green. Despite the long charging time, you do get a decent speed at 12 mph. However, there are factors that can influence the speed such as rider weight, climate and over time usage. It is child friendly and optimized for beginner riders who have little scooting experience. However, they will not take long to learn it as it is quite easy to operate. They can then take them to class or roll on the street or park with their friends.
Pros and Specs of Razor E200:
Max Speed: 12 mph
Max range: 8 Miles
Weight Capacity: 154 lbs
200-Watt Chain Driven Motor
Soft, Rubber Grips
Why We Liked It – As you know Razor produces some of the most affordable products in this industry, the E200 is quite affordable. The electric type scooters can be very expensive and this brings decent quality and range at a price tag that is not too heavy on the pocket.
Classic is never out of fashion! If you prefer minimalistic things this is perfect choice for you. The wide sized deck allows the rider to comfortably place both feet on it while riding, so kids as young as 9 can easily ride it without any training. In addition, it has easy-to-use thumb throttle control so the acceleration is as quick as it can be. This high performance, fully electric scooter can go up to 10 mph which is perfect for short commutes and neighborhood cruises.
If you still worry about safety you note that it has polyurethane wheel and hand-activated rear brake that provides optimum braking performance and total control. 100 Watt DC motor enables run time of 40 minutes continuous ride, which equals to 6-mile range.
Pros and Specs of Viro Rides VR 550E:
Max Speed: 10 mph
Max Range: 6 Miles
Weight Capacity: 29 lbs
Multi-Color Option
Hand-Activated Rear Brake
Why We Liked It – Security and simplicity are one of the most attractive in this category. You can choose from wide variety of colors, and fit it exactly as you wish.
Eight place is taken by Swagger 8! Swagtron as pbrand, speaks for itself. One of the leaders in electric scooters went into kids scooters market as well by creating this model. Simplicity and effectiveness are probably most accurate description of Swagtron style, and it that pattern has bee unfollowed while creating this scooter as well. Motor so quiet you can barely hear it. yet so powerful that can take you up to 15 mph, for as long as 10 miles per single charge. Don't worry, you won't have to wait long before another ride since it takes only 3.5 hours for battery to fully charge.
5.5″ rubber tires makes every ride as smooth as it can be, but the feature that makes this model stand out in its category is not mechanical. Smart system that enables you to manually engage cruise control, also gives you an opportunity to increase your range-per-charge from 10%-30% by using "kick-start" option. It will engage your motor from the moment you reach 1.8 mph manually to support you ride and to increase tour speed while keeping you rested. As far as design goes, deck is super cool and neon stripes on it makes it a must-have.
Pros and Specs Of Swagtron Swagger 8:
Max Speed: 15 mph
Max range: 10 Miles
Weight capacity: 150 lbs
"Kick-Start" System
Aluminum Frame
Why We Liked It – Smart software combined with firm hardware. It's hard t find a flaw to Swagger 8!
---
9. Mongoose React Electric Scooter For Kids
Even though all items on this list are created for young scooter fans, this one is designed especially for youngest of them all. Perfect choice for ages 8 and up, with maximum weight limit of 120 lbs, it can smoothly take your kid to the neighborhood without any worries of going to fast, or having handling troubles. It can go up to 6 mph with 7.5 miles battery life when fully charge, so there is no danger of speeding since preferences are adjusted to kids in particular.
Aluminum frame makes it easy for handling, and moving, as we ll as storaging when battery runs out. In case you need longer ride than battery capacity, you can always turn it into kick scooter and keep on riding until you arrive to charging location. Kick scooter mode has resistance-free system so legs won't be tired at all! These features are perfectly combined to make both kids and parents fall in love in Mongoose React E1.
Pros and Specs Of Mongoose React:
Max Speed: 6 mph
Max range: 7.5 Miles
Weight Capacity: 120 lbs
Rear Foot Brake
Can Be Converted to Kick
Why We Liked It – It is impressive how smooth it goes. You get to the desired location as if you float on the air, but that does not affect safety in any way.
---
10. Pulse Performance for Kids
Another great option for youngest riders. Pulse Performance is equipped with 80-watt chain driven motor that can speed up to 8 mph. While being safe from speeding, another protective features comes in heavy-duty contured stem and handlebars which are improving stability and durability. It can take up to 120 lbs, which makes it perfect for light riders, approximately ages 8 and up. Rides can take up to 50 minutes with 12-volt battery system so fun almost never stops.
Rear foot brake, and anti-sliping surface on deck as well as on the handlebars, in combination with strong alloy steel frame increases safety almost to maximum. We strongly suggest young drivers to wear helmet and protection, but if there is one model that can be used without any protection, it is Pulse Performance.
Pros and Specs of Pulse Performance:
Max Speed: 8 mph
Max Range: 6 Miles
Weight Capacity: 120 lbs
Polyurethane Wheel
Push-To-Go Throttle Technology
Why We Liked It – Safety comes first, especially if we want young riders to take it seriously. This one is as safe as it gets, you just need to watch the road, and scooter will do the rest!
---
Kids Electric Scooter Buyers Guide
If you are looking for an electric scooter for your kid, this is just the place for you. It doesn't matter if your kid wants to be a professional, or just to follow you on the weekend rides, you will be able to find just the thing for you. It is important to be careful while choosing the right model, since your and your kid's wishes might not be the same. The most important thing is to find balance between design and safety, and in order to do that you need to have certain specifications in mind, so we created this buyers guide to help you decide which one is the perfect for you and your kid!
Parts of the Electric Scooter
Besides the essential parts of a scooter like a deck, handlebar, and wheels, these toys for kids have motors and batteries that provide power to motors. This is what drives them and essentially determines their performance.
Motor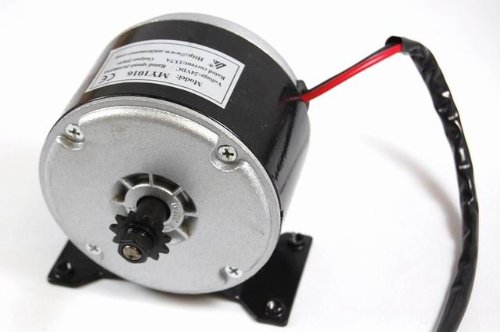 The power of motor varies from one model to another but of course the heavier models tend to have a higher power. The higher power motors give more speed and are long lasting. Usually these are either brushless or brushed, but brushless engines are way better as compared with their counterpart. The brushless wears out very slowly. The Watts usually are in the range of 250 to 550 Watts. Anything over 350 watts should give ample speed and range.
You will also see a measure termed peak Watts, this is the peak power the scooter will achieve when it is going over an incline or generally needs more load. The higher the power the better the performance but again, it highly depends on your usage. For an 8 year old driving an electric scooter, lower power should be chosen so that the speed is adequate with their age. However, for teenagers the higher power scooters are better as they will get them to places in time.
Chain Drive
When you search for scooters you will read the expression 'chain driven' a lot. This simply means that the motor is attached with a chain that drives the wheels. Chain drive is considered better as it is more reliable and can be very long lasting as compared with belt drive. The only drawback is that the chain based scooters make noise when you are riding them. Nevertheless, manufacturers have come a long way and have improved these motors to be fairly soundless. You can easily find a motorized scooter for kids that is very quiet.
If you want your scooter to be completely noiseless then perhaps you should go for belt drive one as they make zero noise. They are just as good when it comes to performance but they do not have a very long life like chains.
Batteries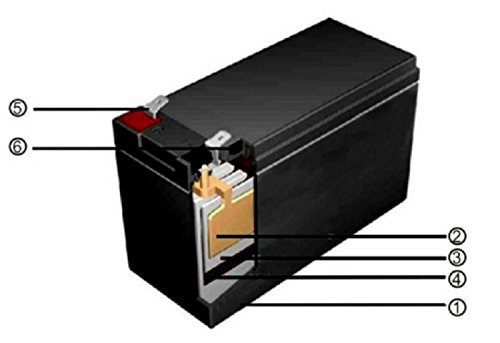 Batteries are absolutely important when it comes to the life of the scooter because these are what provide the power. In scooters, the batteries are usually lead acid or lithium based. When buying a scooter also take into account the life of the rechargeable battery.
Lead acid batteries have a life expectancy of 3-5 years and can be very cheap. Lithium based batteries on the other hand are much more expensive. These are lighter than lead acid and there is very less power loss. In simpler words, their performance stays consistent during the rides and you get the same range every time you take out to ride it to school or park. Most brands including Razor scooters utilize lithium based batteries only in the scooters because of their clear advantage over the other ones.
As for the voltage, the rechargeable battery system used in these scooters is 12 volts. However, to provide more power some scooters have two or three of these batteries bringing up the voltage to 24 volts and 36 volts respectively. This impacts the range as well as the speed of the scooter. Another important consideration is amps as higher the amps the longer the range would be.
Frame and Forks
People get into the electrical details so much that they forget that these electric scooters that their kids are going to travel on are essentially scooters only. So the main parts should never be overlooked. It has been seen that models with low quality frames and forks do not last very long. This is because the mass of these toys for kids is quite a lot compared with other kinds and if the structure is not sturdy enough it would not last long enough.
For this reason, motor scooters for kids too are constructed with high quality tubular steel to provide the necessary support to the overall build. Make sure to read about the deck and handlebar when buying an electric one so that you know you are getting something long lasting.
Brakes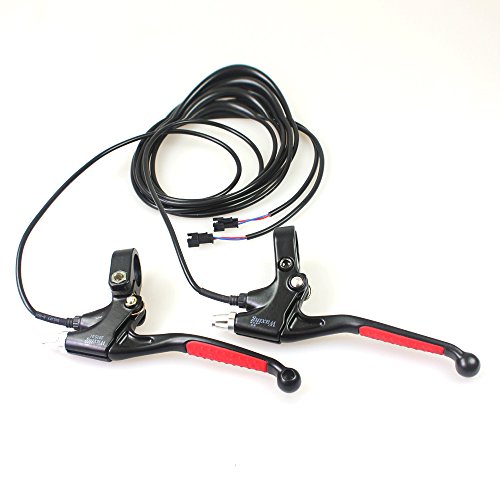 Similar to frame, brakes