Cruising from one different point to another, especially for people with slight physical inabilities and medical issues, maybe quite problematic. There is a need for maximum comfort and care to make their daily activities. In order to make everything work for them, mobility scooters are essential machines that offer much-needed comfort and care to these people. However, for their cruising experience to be outlived, mobility scooter accessories are vital. They come in different ranges, designs, colors, and affordability in line with the preferences of the users.

It is essential to consider the best off road emobility scooters accessories as well as those outdoor given the experiences in the different points slightly differ. In this article, we will delve into discussing the top best mobility scooters accessories that, in all time, make the best experience for the users, focusing on both the offs road and on roads.
View 9 Best Mobility Scooter Accessories
1. High Road Mobility Scooter, Wheelchair and Walker Organizer
Looking at the top mobility scooter accessories from various blogs, articles, and several videos, we found high road mobility scooter, wheelchair, and walker organizer as one being repeated continuously. Its uniqueness and innovativeness give it the top-ranking status among the best mobility scooter accessories. It avails the desired daily essentials when needed through the eight pockets hanging organizer.

Also, it is powerfully designed such that it can store different accessories with maximum protection assured. For example, the three front pockets are meant to store personal needs while two side pockets are ideal for bottle keeping with card locks to have them held upright always. Ferrying tech devices is not a big deal as it is designed with padded compartments that enable their storage with ease. Furthermore, it is highly adjustable and can be attached with much easiness. Buckle-on straps affect this. High-quality materials are used to make them making them more durable and worthy of being considered. That is why, without a doubt, it steps out as one of the best mobility scooter accessories worthy of being bought.

Pros
+ Durable
+ Easy to use and highly adjustable
+ Proper storage mechanism

Why we like it: It ensures that all the needed daily essentials available, sending a strong message of what excellent mobility scooter accessories are. Everything stored in this mobile scooter accessories is highly protected, hence no panic on their safety at all. 

2. Challenger Mobility Scooter Trailer for Pride Mobility Scooters Heavy Duty Large Tires
The space for a scooter is usually limited since it is designed without factoring the need to have desired goodies ferried with much ease. To address this concern, one of the best mobility scooter accessories that need to be considered among much off road emobility scooters accessories and mobility scooter accessories is this trailer. The challenger scooter trailer provides a perfect transport solution with its ability to ferry a weight of up to 80 lbs, thus better experience as the best mobility scooter for outdoors. It has a large red cover, which ensures no stealing can be conducted.

Since its efficiency depends on the scooter, it comes with robust hardware that facilitates proper attachment of the trailer. It is more significant enough to be able to ferry personal belongings as well as doing shopping at any given time with much easiness. In order to ensure that maximum soft is guaranteed to the user, it comes with reflectors enabling their visibility; hence they remain to be safer.

Pros
+ Highly versatile
+ Heavy load carrying capacity up to 80 lbs.
+ Comes with a reflector for visibility at night
+ can be fitted in any scooter whether lightweight or heavy-duty
+ Durable
Why we like it: It is one of the excellent mobility scooter accessories and off-road mobility scooters accessories enabling the user to store the desired property with much ease and without any panic. It comes with all attachment materials, thus appealing to use as well as the general appearance. Its arguably among the best mobility scooter for outdoors
3. ROBOCUP 12 Colors, Best Cup Holder for Drinks
Talking of mobility scooter accessories, RoboCup has distinguished itself as one of the best mobility scooters which are highly needed. Its versatility is impressive, with just simple two cups and a clap. Provided there are flat vertical services with a maximum width of 2″, you are licensed for the fantastic service rendered by these cups.

Whether it is drinks, fishing rods, phone, gear, keys, glasses, among many other items, you need not worry about their handling as these cups give the much-needed third hand. You will not expect rusts on your cups as they are made with stainless hardware. A utilitarian design is in place with UV enhancement for longevity. Furthermore, your usability need is put in place with a three-year warranty, which gives you a hassle-free moment with your fantastic accessory.

Pros
+ Durable
+ Comes with a three-year warranty
+ Multicolored
+ Has powerful grips that do not slip
+ Easy to use with high efficiency
Why we like it: It gives you a fantastic experience such that you are approving its selection one of the best mobility scooter accessories and, in fact, among the best mobility scooter for outdoors. It is used just the way it is providing excellent results than ever. 

4. Pembrook Wheelchair Pouch Bag
This is one of the catchy mobile scooter accessories that you can think of ever having. Thinking of the outdoor experience, then it is the best mobility scooter for outdooring. Just imagine having things out of order while on your scooter; getting stopped to pick something that has fallen or without your know how it gets crashed simply because it has just slipped unwarily? This bag gives you the much-needed comfort by keeping other accessories such as walkers, Rollators, among others in place. It is expandable and larger measuring 12″ by 8″.

The durability for the bag is high with double stitched seams and reinforced stress points that make sure you have it at your service for as long as you desire. Rapid weather changes should not worry you as your property in this bag is well preserved, given that it is water-resistant. Furthermore, no matter the mobility device you decide to use, you cannot afford to leave this fantastic bag behind. It is highly versatile with adjustable hooks and loop straps that enable secure connection in the preferred device. When you talk of mobility scooter accessories leaving this Pembrook wheelchair pouch bag will be a great mistake.
Pros
+ Highly versatile
+ Large with excellent expandability
+ Easy to zip with a high-quality zip
+ Water-resistant
+ Durable
Why we like it: It is an excellent piece of mobility scooter accessories offering much-needed safety on personal belongings as off-road mobility scooters accessories and other small fittings,

5. Drive Medical Sun Shade for Scooter
Summer periods tend to assume are enjoyable in most times with a ray of beautiful sunshine that you always want to bask in. It may be too hot and harmful, causing burns and shadings in the eyes. We are pretty that you are not ready again for those sunburns or shadings in your eyes. Riding your scooter needs to be enjoyable in this period. That is why it is appropriate to consider this product among the best mobility scooters known. It is designed to ensure maximum comfort with reduced risk of heat exhaustion. Though this nylon made shade sets the desired tone, would it be boring if there is nothing put in place to juice up the experience?

However, this is not a problem with this scooter sunshade as it provides a built-in accessory port built into the frame. This enables the usage of other mobility scooter accesories within the shade, thus giving the user a fantastic experience like never before. Its durability is questionable as it is efficiently made to withstand harsh environmental conditions. It is compatible with phoenix, prowler, odyssey, Ventura, and scout, while none to zoom flex, Cobra, among others.

Pros
+ High compatibility though with scooter models like the phoenix, prowler, odyssey, Ventura, and scout
+ Protection against harsh sun rays
+ Easy to install
+ Facilitates usage of additional accessories with shade provided.

Why we like it: It is one of the high mobile scooter accessories that provide shade, especially in summer, making commuting a more appealing exercise to those with scooters.
6. Challenger Mobility J900 Large Rear Basket for Electric Mobility Scooters and Power Wheelchairs
Are you looking for a fantastic experience in outings or shopping? Challenger Mobility J900 Large Rear Basket s your ideal partner as it enables you to carry out all the tasks enjoyably. It is one of the best mobility scooters accessories that need to be fitted to your scooter for a fantastic experience.

It is appealing at first glance, being highly spacious to meet all you need. It is made for decades with high-quality materials used to ensure proper service for long. Its installation is not a complicated activity since it can quickly set it to its place and continue enjoying the ride to the desired location or pick the desired goodies.

Travels or weather need not worry you as they are well catered for, ensuring that nothing goes a miss when this pretty mobility scooter accessory is in use. In line with your needs, its adjustability is excellent to enable you to have it in the preferred height and cater for your load size. When ferrying goodies, it is like no other since proper care is much established. With just a holding pin to mount on the desired end or device, you need no additional tools for its mounting while maximum goods safety and comfort are emphasized.

Pros
+ Easy to install
+ Lasts longer as it made of high-quality materials
+ Highly spacious
+ requires no extra tools
+ Greatly adjustable

Why we like it: It is one of the best mobility scooter accessories and a real partner for outings as you can ferry the necessities with ease. Going shopping will not be a nightmare, but an enjoyable exercise all the essentials are appropriately fitted and shipped with lots of easiness. 

7. Heavy Duty 300D Mobility Scooter Storage Cover
Ever been worried about decorating a mobility scooter and shielding it from adverse elements such as dust, rains, snow, among others? With Heavy Duty 300D Mobility Scooter Storage Cover, one of the best off-road mobility scooters accessories, got you well covered. It gives you the needed protection against these elements with a forced seam that offers extra protection against any leakages or ripping.

It comes with a free fitting and matching bag for proper storage. Generally, it fits 4 or 3 wheeled scooters, with a guaranteed service due to its durability. It is lightly weighted; hence need not worry about providing it or storing it. It is just amazing. When you have it in use, you are assured of maximum safety to your scooter come what may be. This offers excellent longevity as nearly harmful elements are barred off from causing damages, which might be costly to replace or a worsened off activity leading to dumping the machine.

Pros
+ No ripping and leakages
+ Lightweight
+ Easy to fit
+ Durable
+ ensures maximum protection

Why we like it: It is among the fantastic mobility scooter accessories and one of commentable off-road mobility scooters accessories that guarantees the maximum protection to your scooter from rainfall, dust, snow, or debris. 

8. Velmia – Waterproof Motorcycle Cover for Outdoor and Indoor
Have you been fed up by excessive coldness when sailing in your scooter? Here there is a solution. This warm cover is one of the best mobility scooter accessories as well as off-road mobility scooters accessories that you need to consider purchasing for yourself or those you love. It is highly designed to ensure that you get warm always when on boar or when in office. It is made of a non-woven fabric material which skin is friendly and skillfully created to ensure that maximum comfort is availed.

The material is durable, guaranteeing exceptional longevity while in use, thus putting a more excellent value in the money spent. To ensure that you do not keep pulling it up when in use, it comes with straps on both sides, which ensure that they are no sipping at all. its ultra-soft touch makes it more appealing and a guarantee of quality. No matter the gender, it is designed for unisex, meaning that everyone can enjoy the excellent service of this accessory.

Pros
+ Skin-friendly, comfortable and durable.
+ No slipping when in use
+ Pretty designed
+ Designed for unisex

Why we like it: It is well designed in a friendlier manner to ensure that the user gets maximum comfort and warmth when using it. Also, everyone can use it as it is for all genders, a vital off-road mobility scooters accessories and a real test of excellent mobility scooter accessories 

9.ScooterPac Sunshade Canopy for Mobility Scooters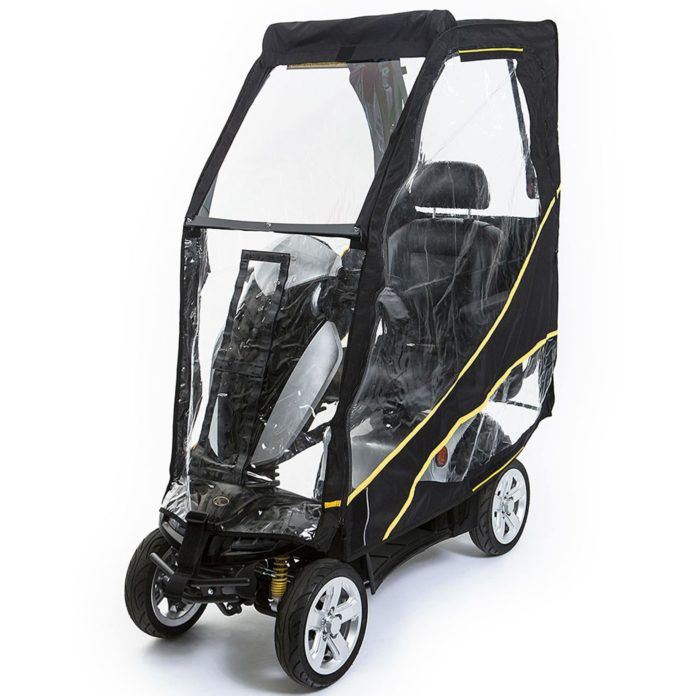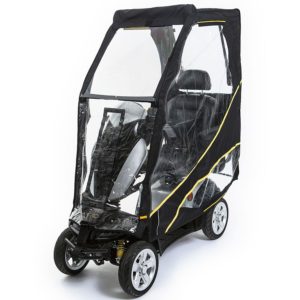 Who does not like to beat harsh weather conditions and blossom in friendlier terms? Are there any mobility scooter accesories that can facilitate this great concern to everyone? The ideal answer to these questions with a ScooterPac Sunshade canopy is yes. It is just a fantastic piece that gives you the real taste of the best mobility scooter accessories. The canopy frames are made of high-grade aluminum that guarantees safety whenever in use.

Does it give a satisfactory emphasis on how to decorate a mobility scooter? Sure it does because it is fitted with an ingenious mechanism that enables back folding of the scooter to the back seat when not in use and a quick set up when needed. Just only second! The fabric fitted is waterproof with durable polymer sides and an appealing windscreen which has high clarity. The size of your scooter should not worry you when you think of mobility scooter accessories from ScooterPac since they are universally designed. Whether it is large or standard, the canopy is available and ready to be fitted with less time than you can imagine and you will good to enjoy the best mobility scooter accessories.

Pros
+ Easy to set up and open
+ Durable
+ can be fitted universally
+ Highly available
+ Guarantees the real value of money

Why we like it: It is among the best mobility scooter for an outdoor experience that can be fitted in almost all scooters with ease. The make is enticing and guarantees ideal safety when in use. 

Mobility Scooters Accessories Buyers Guide
Getting a scooter is one of the best ideas ever that one can consider having or getting for their beloved in response to their immediate needs. However, before then, considerations such as whether there are any off-road mobility scooters accessories available or any best mobility scooter for the need to be made. These doubts once the information on mobility scooters accessories was availed.

In this guide, we intend to offer a quality and detailed information on how one can secure the best mobility scooter accessories and get the best off the road and outdoors. The data will be vital and enabling sourcing mobility scooter accessories with a complete insight into how to decorate a mobility scooter.

What do I need?
When desiring to have one of the mobility scooter accessories, you should be clear on what you need. There are many mobility scooter accessories in place, and getting all of them will not be a logical exercise, and no one would even bother to give you any advice on this. Human needs are said to be insatiable, with only a fulfillment able to be done within a particular specific time. Therefore, it is essential to come out clear and choose the mobility scooter accessories you may desire. They should be able to quench the desire on how to decorate a mobility scooter that had been dreamed of for long with how to decorate a mobility scooter. This kind of a bold choice will set the guts of surveying the best mobility scooter accessories out for outdoors or the best as outdoor mobility scooter accessories.
What are the specifications of the mobility scooter accessories?
Having stood clear on what kind of mobility scooter accessories you need to have, you set out to get the best mobility scooter accessories that, in your view, will render the required service and give you the much-needed support. This is achievable by ascertaining the specifications on these mobility scooter accessories from which you will conclude the best mobility scooter accessories that perfectly fit you. Some of the key specifications that you need include:
Durability
You do not indent to buy mobility scooter accessories bound to crush the next minute when put into use. The key emphasis is that the mobility scooter accessories sourced should give you the service needed for a long time with minimal or no defects. This is viable only by ascertaining the material used to make the mobility scooter accessories as they dictate whether they can last longer. The best mobility scooter for outdoors will give you value for money.
Quality
When getting the best mobility scooter accessories and best mobility scooter for outdoors for your needs, you need something of the highest quality. You are not in the business of making abracadabra purchases. Accurate information and decision making are required. The only viable elements of quality in mobility scooter accessories are the length of warranty and the reputation of the brand or the manufacturer from where it is sourced.

Warranty
This shows the duration in which the manufacturer is willing to offer the necessary corrections on the mobility scooter accessories at their costs. This is in line with cases of some happenings, as described in the warranty document. The duration may not mean that the manufacturer is ready to correct the defects on the mobility scooter accessories but communicates the manufacturer's confidence in the products. That is why they can make those guts. It is an ideal choice of quality, and it is essential to consider such mobility scooter accessories which may be vital as off-road mobility scooters accessories and best mobility scooters for outdoors.

In most cases, extended warranties are aligned with customer experience and duration; they have been operating on the specific field. It will be impossible for a new entry-level company to give a warranty of 15 years on something, yet they have limited operability within the said field. Therefore this makes a logical correlation with the quality you are looking for, hence enabling the best mobility scooter accessories.
Accessibility
Mobility scooter accessories need to be easily accessible to you so that you can quickly get them in case of need for replacements. Before you make a purchase, you have to identify the shop or connect to the supplier for better reliance. If you want excellent service and a strong relationship bound to satisfy your needs, locating a physical location or getting into liaising with virtual personnel focused on mobility scooter accessories provision will be a big plus. There will be nothing to worry about since the much-needed help will always be a phone call away with the best mobility scooter for outdoors and the best mobility scooter accessories around.
Portability and storage
The mobile scooter accessories you are out to buy should not be a burden. They need to make your experience more appealing, and that is the need to choose ones that are easy to ferry and store. Since the scooter is to be used for outdooring, getting the best mobility scooter for outdoors is very important.

Adjustability
Concerning the user's needs, some mobility scooter accessories can be adjusted to the needed height, width, or length when put in place by the user. They give the taste of what does it mean to be the best mobility scooter accessories as they are made to embrace the different needs that are set to be fulfilled by the user with much ease.
Universality
This addresses the ability of mobility scooter accessories being used in different fittings or facilities without causing hick-ups. If it can be used within a range of models without any problems, then it is worth putting your money in as it shows you what getting the best mobility scooter accessories need to be.
Versatility
Mobility scooter accessories that can execute different activities at different points are worthy of putting money. They are ideal best mobility scooter accessories given that you stand a chance to carry out a range of services with much ease, something odd in other mobility scooter accessories. Hence, they need to be considered when making the final decision.
Budget
Purchasing entails spending and expenditure need to have limits so that one will not break the borders and get caught in a debt crisis. When deliberating on the mobility scooter accessories to purchase, it is worth making a comparison on the price and the amount you are willing to spend. If the two have a conflicting stance, it is advisable to harmonize concerning the need for urgency. This is so by deciding whether to post phone the purchase until later day s that you can get more money and meet the required price. On the other hand, you may choose to get the mobility scooter accessories at affordable prices and have it serve you within the duration, which is viable. 

Conclusion
No one is interested in purchasing something that is going to wreck in the next minute. We all seek maximum benefit and the value of money we have invested in the mobility scooter accessories we have chosen. Getting the best mobility scooter is ideal for everyone, with the only task remaining is making the necessary deliberations and choosing wise- best mobility scooter for outdoors.

Concerning your budget and the need you are to satisfy, there is a surety that the best mobility scooter accessories are to be purchased as deemed fit. Suppose there are hick-ups, especially on the budget side, with no tangible way to top up or adjust. It is worth postponing getting the ideal quality of mobility scooter accessories as initially anticipated. This may limit one at that specific moment. However, soon they are bound to enjoy the best mobility scooter for outdoors.

Furthermore, it will give the best impression on how to decorate a mobility scooter. Therefore, decisions are always critical; hence, you need to take time to deliberate, use the provided information, and check other reviews so that you can do it from a well-informed perspective. You need the best mobility scooter accessories; you deserve the best.