What Different Toddlers Scooters can you get?
Choosing a scooter for toddlers is a bit more complicated than getting one for an adult. Kids have different sets of requirements and these requirements are usually a deal breaker when buying a scooter for toddlers. In this small write up we have tried to answer some of the most commonly asked questions that leave customers clueless. Depending upon the child there are various types of scooters to choose from.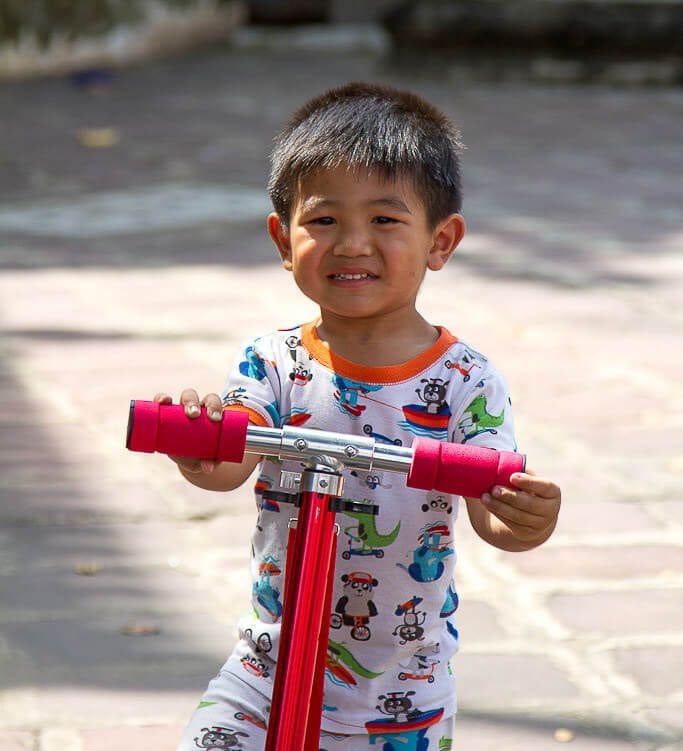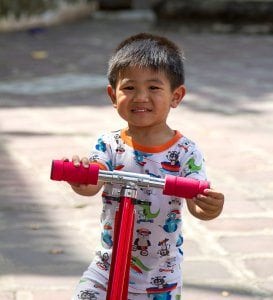 As every manufacturer is producing all the types, we won't talk much about the makers but only about the different types. The scooters for toddlers are available in two-wheels and three-wheels models. Both scooters are perfect for your kids, what you may buy will probably depend on the age of your child.
Next up, toddlers scooters are also available in different wheel sizes. Larger wheels add more stability to the ride while smaller wheels are associated with higher speeds. The overall size of the scooter is also important. Toddler scooters are available in different sizes and before buying one you might want to consider the size of your kids (not the age).
Can you get Wooden Scooters for Toddlers?
Do you know that first ever known scooter was built from wood? Things, however, have changed drastically. We hardly see any wood scooter these days. The primary reason for this change is economical rather than anything else. Quality wood is more expensive than aluminum or plastic and often requires a better craftsmanship. Aluminium or plastic is easy to work with and the time required in the making is also much more reduced.
Whether you should go for a wooden scooter for toddlers would depend upon a few considerations. Wooden scooters are no doubt more sturdy, reliable, durable and most importantly looks amazing. Having said that, these scooters usually have a shining price tag attached to them. If you are on a tight budget, these are not for you. If you can afford one and experimenting is what you like then you should definitely go for them.
One thing is for sure that your kid is bound to make heads turn when he is riding a wooden scooter for a toddler.
What are some Plastic scooters for Toddlers?
When it comes to scooters for toddlers, the market is full of different kinds. Made from different materials, each scooter type offers different functionalities. We, however, believe that the best material for toddlers scooters is plastic. Even when we talk about the plastic scooters, there are so many brands to choose from.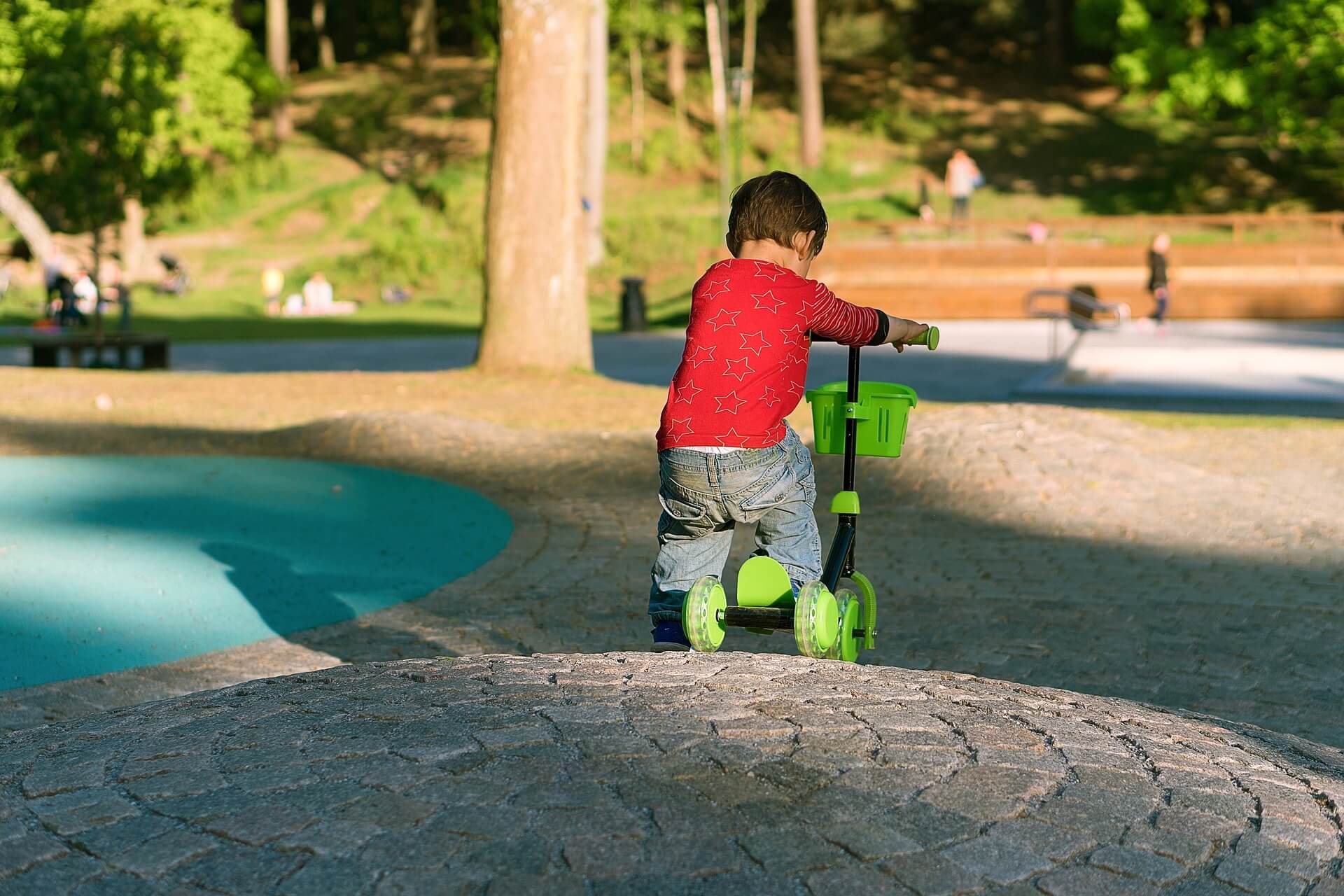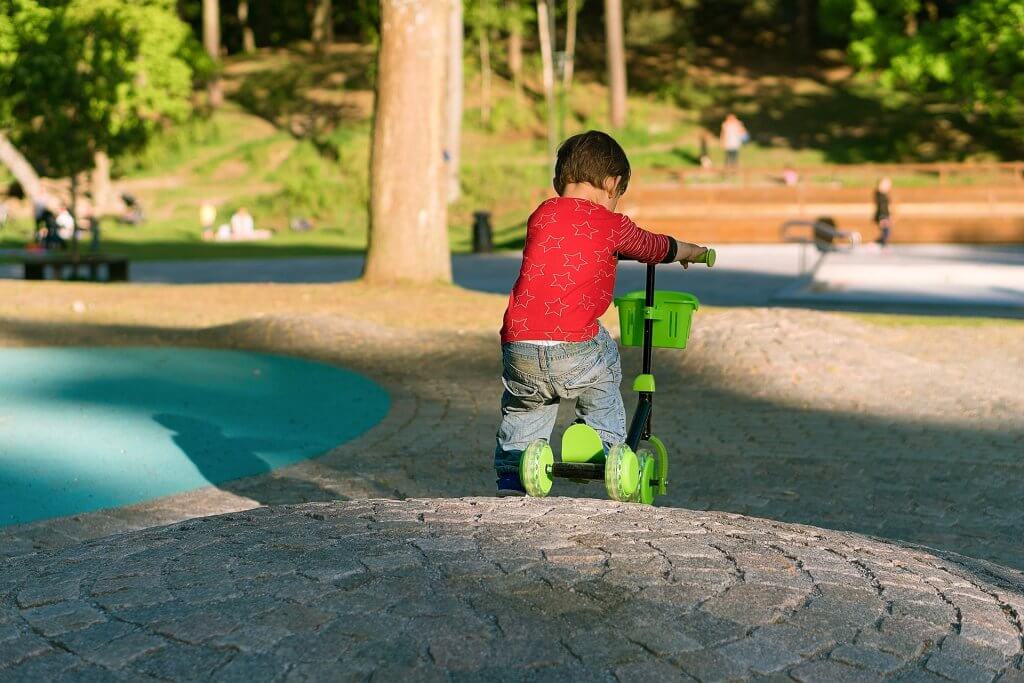 So, getting the first scooter for your toddler can be a tedious job. The Fisher-Price Laugh & Learn plastic scooter for toddlers is an exemplary toy. While making it, the company focussed not only on the fun part but developed something that can help the little ones learn too. Other manufacturers making excellent plastic scooters are Little Tikes, Little People, Radio Flyer and more.
Are there Sit On Scooters for Toddlers?
Sit on scooter is a type of scooter for toddlers with two front and two back wheels. They can even be in the shape of 1 front and 2 back wheels. The whole design of a sit on scooter is made keeping in view the stability factor.
Since toddlers find it hard to balance their ride, they need more stability and support from the ride itself. This is the reason why sit on scooters are ideal for toddlers as their first scooter. They can not only roam around freely and safely in or outside the house but they usually love breaking free from the traditional baby cot. Here it is important to keep in mind that toddlers when getting on their bike for the first time, are usually too excited. This demands some extra care and an adult to keep an eye on them, especially when they are biking around outdoors.
The sit on scooters are also fitted with a comfortable seat for your little one so that he can stay inside his ride for hours without being too tired. Whether to buy a sit on scooter for your toddler is a tough choice. However, we recommend that if your little one is between 4 – 6 years of age, you should simply go for a sit on type. It is important to keep in mind that the scooter you are buying will be used by your little one. It is he, who has to approve it and not you. You might not like the sit on style of scooter for toddlers but he is just getting into the world of scooting, he hasn't seen all those fancy types. So, let him start with the sit on type (we are sure he is going to like it) and keep bigger surprises for later.
What are Micro Scooters for Toddlers?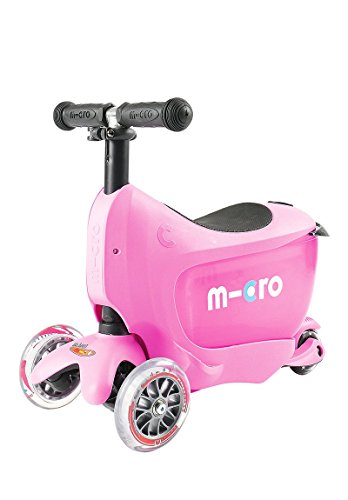 Micro scooter is a Swiss brand that has been in the business of making top-notch scooter products for all ages. No matter if you are looking for a ride for your 2 years old or for yourself – micro scooter has something for everyone. Having said that, the company's real fame is often associated with its products that particularly made for babies. Some of the famous micro scooters for toddlers are Micro Mini Original Kick Scooter, Micro Mini 2-Go and more.
If you liked the article, please leave your feedback.