When you hear the word scooter, you may automatically think that it's a kids' toy, but they are now available for adults to use as well. It can actually be a great time saver when you're traveling to different places. Plus, you don't actually have to be on the road with them. You may think that it is a lot of effort to use a scooter, but now they have electric ones, so you don't even have to do any work yourself at all. They can be great to use for fun and for more practical reasons.
Therefore, we've put a list together of the best electrical scooters around so you can easily decide which one will suit you better.
View Best Foldable Electric Scooter for Adults Below
1. Razor E Prime III Electric Scooter
Razor E Prime III Electric Scooter has 250w motor that can reach up to 18mph and has range up to 15 miles. Despite weight of only 24.2lbs(lightest in the class) it is stable and rides really smoothly. Designed so that rear wheel absorbs more weight, Razor R Prime III is easy to steer which, in combination with stability and LED light that is built-in to the front of the steering wheel, makes it easy to use.
Pros:
+ Easy to use
+ Light and easy to steer
+ 250w engines
+ Stable
+ Anti-slip tires
Why We Liked It – We liked that it is stable despite being light and mobile. If you like easy-steering wheel, this is perfect for you.
---
2. GOTRAX GXL
The electric scooter has a very slim and modern design, so you really will look like you've got the latest up to date gadget when you're riding this scooter around. It is also UL2271 certified which means that it is completely safe for you to ride around town.
This scooter is able to travel up to 12.5 miles, so it's more suitable for smaller journeys that you may have to take, but it only takes 4 hours to recharge fully. It also has a top speed of 15.5 mph, so you can definitely get to places a lot quicker than you usually would.
Pros:
+ Modern
+ UL2271 certified
+ 12.5 miles of travel
+ 4 hours to recharge
+ Top speed of 15.5mph
Why We Liked It – We liked this electric scooter because it is quite a bit cheaper compared to other scooters, and it can still get you from a to b.
---
3. Razor E300S
The Razor E300S electric scooter with seat provides a model for a much lower price which is available in four different color options. Being able to reach speeds of up to 15 mph, the Razor E300S seated electric scooter can carry a load of 220lbs and is tailored more towards the teenage market. After a 12 hour charge, the battery can provide 40 minutes of continuous use, a perfect choice for zipping around the neighborhood.
Pros:
+ Great price
+ Four color options
+ 220lb load
+ 15 mph
+ 40 minutes of continuous use
Why We Liked It – The Razor E300S seated electric scooter is an excellent choice for teenagers or for lighter adults who want to travel short distances, or who are just looking for a fun ride. The color options will allow you to stand out from the crowd in style.
---
4. Hikole Scooters for Adults
The urethane wheels that are featured on this foldable electric scooter for adults are much bigger than the standard size. But the fact that they are 200mm only means that you get a much smoother ride, as there's less chance that you'll feel any bumps in the road.
It also has a wider deck than usual, at 13.5 cm, but that allows for more stability and comfort. It only weighs 13.5lbs, which makes it easily portable and ideal for use as a commuter scooter. The handlebar is easily adjustable so that it can be used by adults of a range of heights.
Pros:
+ Large wheels
+ Shock absorption at the front and rear
+ Adjustable handlebar
+ Wide deck
+ Can be folded in 3 seconds
Why We Liked It – It is an excellent foldable electric scooter for adults that offers a smooth, stable ride thanks to the large wheels, wide deck, and front and rear shock absorption.
---
5. SWAGTRON Swagger 2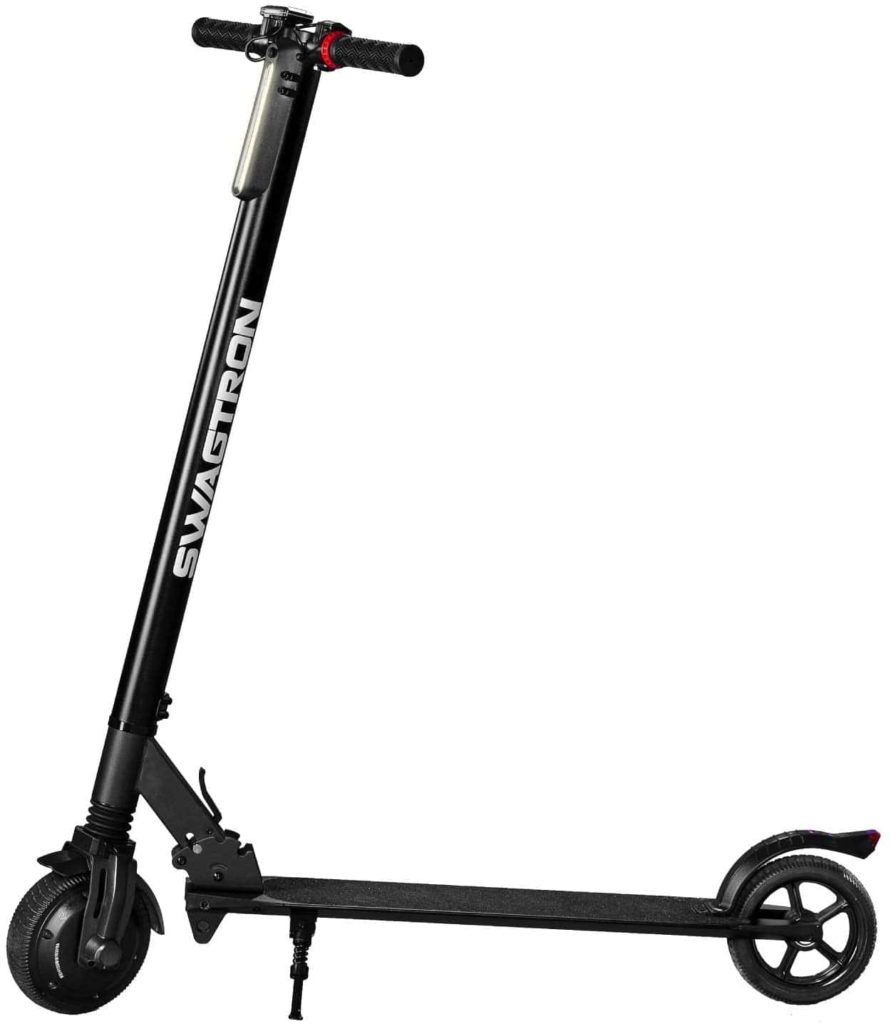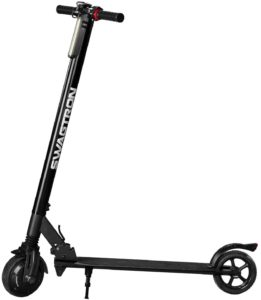 With Robust 200w motor Swagger 2 has enough power to cruise up to 15mph, travelling 9miles per single charge. You are able to control your speed with 3 riding modes that are controlled by using throttle. LED display enables you to monitor your ride entirely. Display's calibration is impeccable, so even if the sun is shining directly into it, you will not have any problems. Battery safeguard prevents any overvoltage, short circuit and overheating, so durability is guaranteed.
Pros:
+ 3 riding modes
+ Battery safeguard
+ LED display
+ Top speed 15mph
+ Safe and stable
Why We Liked It – We liked design of it, and 3 riding modes, which can fulfill any driver's needs.
---
6. Hiboy S2 Electric Scooter
A kinetic energy recovery system means that this foldable electric scooter for adults charges as it is going down hills, allowing for a slight increase to the 17-mile range that is standard from a full charge.
There are some great features as part of this electric scooter, such as a cruise control function, a double braking system, and a dashboard screen that shows your speed and how much battery you have remaining. It has taillights, headlights, and sidelights that are effective and bright so that you can ride safely in darkness.
Pros:
+ Regenerative battery
+ Rear shock absorber
+ Double braking system
+ Speed and cruise control
+ Intelligent motor
Why We Liked It – This is definitely one of the best foldable electric scooters for adults, as it has so many amazing features that make your ride smoother, safer, and longer than a lot of other electric scooters.
---
7. Fast 88 Kids/Adult Folding Scooter
The large wheels on this lightweight aluminum frame scooter make it stable and easy to navigate – perfect for beginners and for older children and teens that need help working on their balance.
It comes with a 3-second easy folding system, which makes transporting it hassle-free and simple, and superior traction comes from the low close-to-the-ground deck design! This scooter carries up to 300 lbs, it will transport you smoothly over most surfaces (including grass and gravel), it has front suspension, ABEC 7 Carbon steel bearings for durability and a kickstand – the perfect folding scooter for any adventure, both for responsible children and adults!
Pros:
+ Patented folding system
+ 200mm high-speed wheels
+ Weighs only 13.5 lbs
+ 300 lbs max weight capacity
Why We Like It – The generous max weight means most adults can use these scooters, and it speaks highly of its durable construction and reliable design.
---
8. MEGAWHEELS S10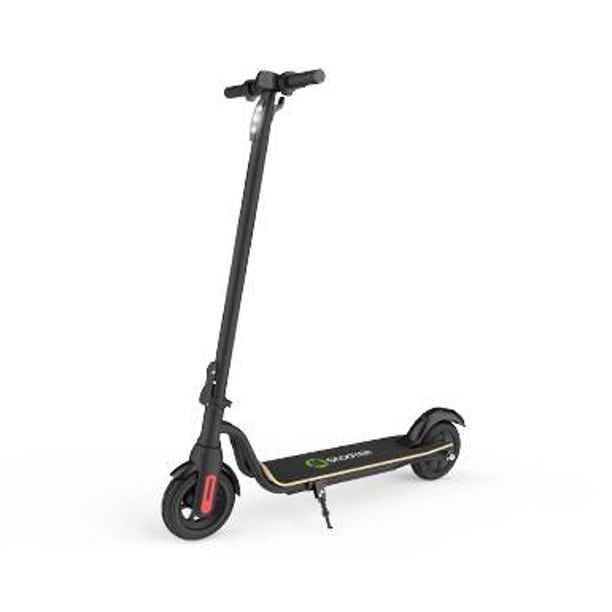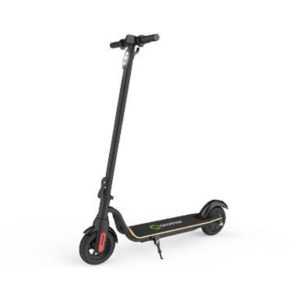 With 7.5A battery, 250w motor, and Led display Megawheels S10 is great for city ride. It can last for 17-22 miles per charge, and has 3 speed modes, battery indicator, and light status, so you can see complete device's status on one screen. Bright LED light in the front, and reflect light in the back makes it safe to use even during night rides. It can be folded and unfolded quickly and doesn't weight much. Megawheels S10 is completely eco-friendly without any possible emissions.
Pros:
+ Organised displey
+ Light
+ Foldable
+ Night lights
+ Includes other features
Why We Liked It – We like this electric scooter because you can easily adjust it to suit your height, and it is very easy to use and navigate.
---
9. Glion Dolly Foldable Lightweight Adult Electric Scooter
Check Price on Amazon  Check Price on Walmart
Glion has a stellar reputation for producing the very best foldable electric scooters for adults. This one is excellent. It offers 15mph as a top speed, as well as a range of 15 miles, once it has been fully charged.
Glion estimates that you can travel 500 miles on this scooter for an electricity cost of a single dollar. At 28lbs when the battery is attached, then this is a lightweight foldable electric scooter for adults. It is also compact, and it has dimensions of 37" x 12" x 8" when it is folded.
Pros:
+ Never-flat tires
+ Lightweight
+ 15mph top speed
+ Compact
+ Includes pedestrian bell
Why We Liked It – It provides you with all the key features you want from a foldable electric scooter for adults, which means a long-range, a good top speed, as well as a lightness and compactness that makes it portable and perfect for use as a commuter scooter.
---
Adult Foldable Electric Scooter Buyers Guide
Choosing an electric scooter can be quite a dilemma as a lot of them have a whole range of different features that you can compare. For instance, some may be suitable for use in the dark while others may not be so suitable for this. Some of them can also go a lot faster than others, while some may be able to travel a greater distance.
Therefore, in our buyers guide we've listed all of the things that you need to look out for before you do purchase an electric scooter.
LED lights
If you want to use your electric scooter when it's dark, then this is essential, and you must make sure the electric scooter you're planning to buy does have this feature. This is because not only can it show you where exactly you're going to be riding, but it will also light up any dangers that might be in your way.
For instance potholes and puddles, if you happen to go over a large pothole, then it could create quite significant damage to your electric scooter, and it could also cause you to injure yourself as well.
This isn't the only benefit to making sure that your electric scooter has LED lights. If you're planning to use it when it's dark, then it's essential that other people can see you too, especially cars. If your scooter does have lights on then cars will be able to see you, and so will other pedestrians. Therefore, you won't be risking your health or anyone else's.
Top Speed
You may have noticed in the list above that there are quite a few electric scooters that have different speeds. You will need to check them in the description of each of the scooters to find out what their max speed is. Some of them do tend to be quite a bit faster than others, and they can even reach a staggering 40mph. If you're planning to do these types of speeds on them, then it's best not to ride them on any sidewalks.
However, you should rarely want to do these speeds anyway, as this is not a car and it can be dangerous for you and for other road users. Even though some of the electric scooters may seem to be a bit slower compared to one that can do 40mph they are still just as useful and are still able to get you from and to wherever you need to be at a very quick speed.
Travel distance
A lot of the electric scooters in the list above have a whole range of distances that they are able to travel. Some of them are able to travel a lot longer distances compared to others, so it's very important that you definitely know what you want to use the scooter for. This is because you don't want to be on the way to somewhere and it runs out of charge because it is unable to travel the distance that you desire.
The electric scooters that do have a much shorter travel distance are more suitable if you need to get to places quickly that are not that far away, for instance traveling to blocks that are not that far from you in towns and cities. Whereas if you need it to travel quite a few miles on quite a few journeys throughout the day, then it's probably best to purchase one that is able to travel longer distances.
Battery recharge
The recharge rate can be a big factor about whether or not you do decide to purchase an electric scooter. Some of the batteries can take a much longer time to charge up compared to others.
However, you will need to figure out how often you're going to need to use your electric scooter throughout the day, because if you need to use it more frequently, then it's better to get a scooter that has a shorter recharge rate. However, there are multiple ways that you should be able to charge it when you're still out and about. For instance, if you're at work, then I'm sure it will be okay to charge it there.
Buyers guide questions
How to use an electric scooter?
Each scooter may have different instructions about how you use them, so it's always best to read them before you do start. Usually before you can use them you will need to charge it up fully, otherwise, it probably won't run for a very long time.
Once it is fully charged you will then need to turn the power on, then take the release bar off and gently start pushing it with your foot. After you've done this, then you can gently push the accelerator button with your hand to get it going.
How to clean an electric scooter?
If you're out and about all day every day on your electric scooter then in a short amount of time it is bound to get a little bit dirty. To clean it the best way to do this is to use a wet wipe, that way you won't damage the electrics by using a lot of soapy water. Simply wipe the wet wipe over the dirty areas, and that should get rid of any dirt that may be on your electric scooter.
Can an electric scooter be used manually?
Some electric scooters can also be used manually too, but you will need to check that your electric scooter can be used manually before you try to do it. This is because some of them cannot be used in this way so you wouldn't want to damage it by trying to do so.
Expert tip:
It's always best to avoid damp roads; this is because the tires of the electric scooter can lose traction quite quickly.
Did you know?
If you do want to ride your scooter on the sidewalk, you need to be careful because there are a lot of pedestrians on the street too, if you want to then you can always use it on certain roads as well.
Conclusion
There are many electric scooters around, and a lot of them are a whole range of different prices, some of them are a lot more expensive while others are quite a bit cheaper. However, they all do have various features, and some of them are able to have a higher top speed and travel a longer distance, while others are more suitable for shorter journeys around town.
It really depends what you need to use the scooter for and then you will be able to decide which one will suit your needs the best because you don't want to buy one that can't travel long distances if you do have far places to travel to. Most of the electric scooters are very easy to use, and they are very easy to carry around with you because most of them are portable. They can really make your life easier if you have places to get to in a short amount of time.
Amazon Recommends:
If you liked this review, please rate below.