Tuning your 50cc moped is one of the best decisions a person can make. It optimizes how the engine runs and eliminates some of the unnecessary hurdles placed by the manufacturer.
In this case, the moped can come to life with appropriate fine-tuning on your part.
So, what do you have to do?
Most Important Steps When Tuning Your 50cc Moped
1) Remove the Ignition Module
The best place to start would be the ignition module.
In general, a moped is going to come with a restricted and/or controlled ignition module that represses RPMs. This is normal and is seen in most similar products because of manufacturing limitations put on the companies. However, since you're looking to tune the moped, it's time to get rid of this RPM represser as soon as possible. In fact, this should be the first step a person takes with their moped.
Now, there are different ways of going about this and it will depend on your preference.
In some cases, people simply get rid of the ignition module and take it out. However, this is unnecessary because it's okay to simply disable or disengage the ignition module to get similar results. Removing the entire setup is effective but it is a lot of work that's unneeded. To do this the right way, you should aim to clip the ignition module and then start testing whether or not the change has worked.
You will know it has worked when the RPMs start pushing upwards without a fake "ceiling" in place.
Play around with the settings for a bit and rev the moped to see how it goes. If done well, the RPMs are going to reacher higher numbers in a matter of seconds. This is a sign you've done things properly!
2) Work on the Carburetor
It's time to focus on the carburetor as this is just as important as the ignition module.
While tuning your 50cc moped, it's best to look into the product's fuel air-mix to see how it's doing. To do this, you're going to open up the carburetor and find a washer that attaches itself to the fuel pipe. This is going to be easy to spot and should be the largest washer in the area. Fiddle around with the washer and see if it moves. Once you get it to move, start loosening it as that will allow more fuel into the engine.
What is the purpose of doing this?
It is going to give the engine more juice to work with and that will enhance its performance metrics.
Please note, while this change is going to help with your speed and performance, it's also going to lower the moped's fuel efficiency numbers. Since more fuel is going into the engine, this has a direct impact on how much fuel it uses per mile.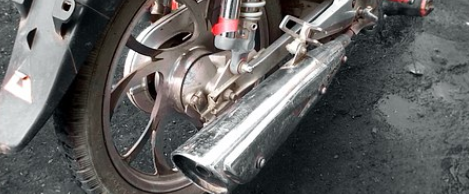 3) Change the Exhaust
This particular change is necessary if you've played around with the carburetor.
Once the washer has been loosened, it's going to start to impact how much fuel goes to the carburetor. As a result, this has an impact on the rest of the setup too. For example, you're going to be putting more pressure on the exhaust system. A regular exhaust isn't going to be able to handle those changes and may start to break down after a while.
To avoid this issue, please take the time to find an aftermarket exhaust as soon as possible.
You want to find an option that's built for your 50cc moped and can handle the tweaks that have been made. Otherwise, you may be in a situation where the tuning ruins your exhaust system and leaves it in worse shape then it was before you started.
Along with being able to handle the tuning, it's also going to ensure more air is able to get into the system to keep it functional.
4) Clean the Air Filter
Sometimes, it's the finer details that help with tuning your 50cc moped.
Yes, the other changes are going to hold weight but it's also important to do simple things such as cleaning the air filter. If you don't clean out the air filter, it's going to start to clog up leading to major repair issues.
Be smart and tackle this problem as soon as possible by cleaning out or replacing the air filter. This simple change will ensure your tuning leads to positive results.
5) Don't Ignore the Legal Restrictions in Place
Riding a 50cc moped isn't the same as getting on a bike.
It comes with state and federal regulations that have to be kept in mind while tuning the system. Manufacturers aim to get CARB approved in the USA before releasing their product, which is why certain limitations are put on the RPMs.
By making tweaks, you have to focus on whether or not those laws are being broken due to your changes. Each state is going to have different regulations and it's important to read up on them as soon as you can. Otherwise, you may end up getting in a lot of trouble!
Final Thoughts
Yes, tuning your 50cc moped is a wonderful decision but it's important to make reasonable tweaks.
In some cases, a person can get carried away with their adjustments leading to potential issues in the engine and/or exhaust. Remember, sometimes it's the smaller changes that do great things for your moped!
If you liked the article, please leave your feedback.