For the fans of Sanrio characters, we have a treat for you. The new Hello Kitty scooter is electrified (pun intended). Using the classic black and pink colors, all Hello Kitty fans will know what to expect on this electric scooter that can take you up to a speed of 8.5 mph!
It doesn't go that quickly so it is more suited to running errands around the neighborhood or just for a ride down the street. For your child's and your safety, the scooter features a sensitive front handbrake to assist you whenever you need to stop.
You'll feel so fancy surrounded by your favorite animated cat with Hello Kitty graphics plastered all over the scooter. The durable chain-driven scooter is quite easy to ride with a wide board that provides you with firm footing. Look for it on MyProScooter!
Hello Kitty 12-Volt Electric Scooter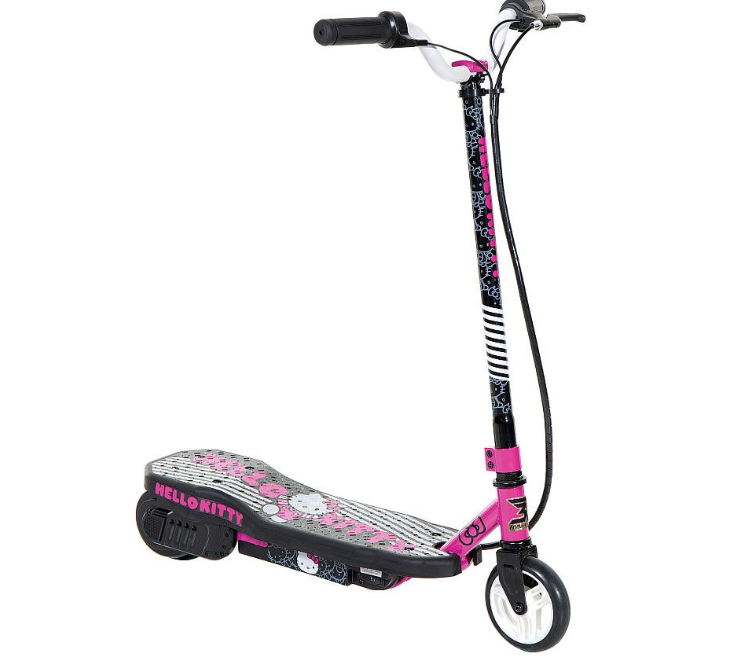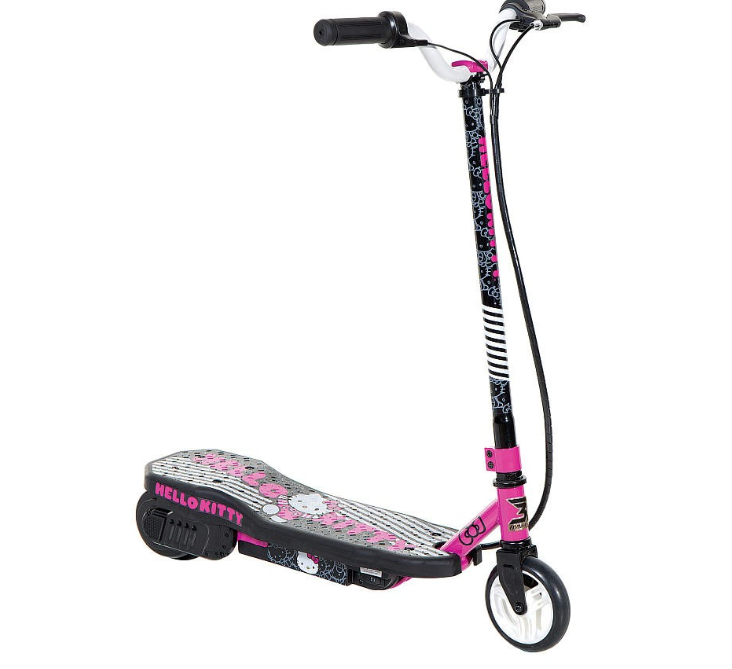 Key Features
• Possesses a front hand brake for quick stops
• Top speed of 8.5 mph
• Pink and black finish with Hello Kitty graphics
• Chain-driven system
• L31.75xW20xH34.5
• Lead-acid battery power
• Weighs about 11 Kg
• Color: Pink, black, white
Pros
+ Get around more efficiently than before, and in style with this cute Hello Kitty brand scooter.
+ The electric-powered scooter is not only easy on the environment but you as well.
+ With a width of 20-inches, you can be sure you will have a steady footing and a firm grip.
+ The sensitive hand brake gives you precision stopping.
+ The chain drive mechanism is durable and long-lasting.
+ The 12-volt battery comes included.
+ Charge the battery with the included charger.
+ Very easy to assemble.
Cons
– The battery may not work or come included
Who Is It Suitable for?
This cute electric scooter is suitable for kids aged 8 and over. However, if your child is younger than 8, it could still be a very fun gift if used under your supervision. The only issue with that would be the height. It works best when the handlebars are at chest level. With a speed of 8.5 mph, it's not fast enough to cause any serious injury to your child.
Teach your child to operate the hand brakes for precision stopping and to avoid accidents. At 11 kg in weight, the electric scooter is easily portable, although your child would need your assistance in doing so.
Why We Like It
We love this model as it takes us back to childhood. The cute Hello Kitty character and the white, pink and black design is fun and creative, bringing out your inner child. It does not operate at a high speed, which makes it safe and controlled. However, if you do happen to stop suddenly, the hand brakes offer precision stopping.
Although the battery does need to be charged awhile, an electric scooter is much easier on the environment and requires less effort from you! If you are looking for something fun to gift to the kids this holiday season, head on over to myproscooter and find this unique gift your children will love!
Add On Item
Bell Child's Hello Kitty Adventurer Multi-Sport Bike Helmet
To add to the gift, a Hello Kitty helmet would be the icing on top of the cake. It fits children with size 20.5-21.3-inch heads and it comes in the form of Hello Kitty's iconic face! It's a cute accessory that adds safety to the mix with its hard shell and vents to keep your head cool. This Hello Kitty helmet was designed to fit children from 5-8 years of age. It's useful to keep in mind that some consumers argue that the size is quite large for children.
Pros:
+ Cute Hello Kitty design
+ Hard shell exterior for protection
+ Vents to keep your child's head cool
Cons:
– Maybe a little big for your child's head.
Conclusion
People are working together to save the environment. Having your child get acquainted with an electric scooter will also cut down on carbon emissions, especially if you are just taking a walk around the neighborhood to run some errands.
To add to the gift, a matching Hello Kitty helmet would really complete the electric scooter. Your child can have as much fun as possible while you make sure they are safe with the hard shell accessory.
If you liked the article, please leave your feedback.