Electric scooters are taking over cities and towns across the country. They're a portable and convenient way to get around that's faster than walking, easier than battling traffic, and drastically more affordable than countless taxi rides.
The Levy brand offers two models of electric scooters — the Levy and the Levy Plus. Both models are designed to be long-lasting, portable, and safe, but Levy Plus offers a few extra features to keep you riding longer and more comfortably. They are both featured on our list of best electric scooters for adults and it's for a reason!
Choosing which Levy electric scooter is right for you will involve a look into which features you deem most important, such as battery life, power, and price point. This honest and detailed Levy electric scooter review will help you decide if a Levy scooter is right for you, and if so, which model will suit your needs.
1. Levy Electric Scooter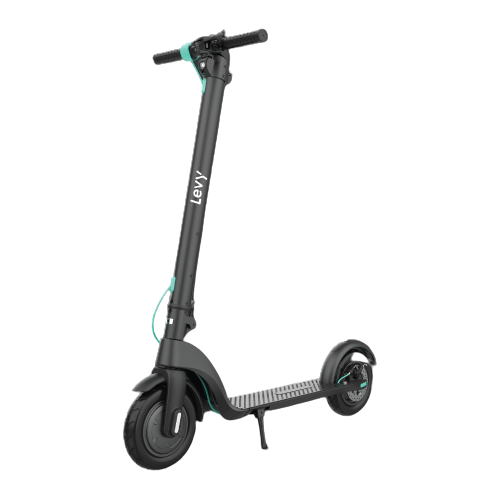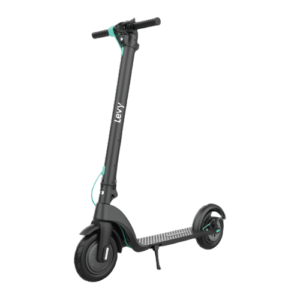 The Levy is the original scooter made by the Levy company. It was designed with portability, range, safety, and affordability at the forefront. The Levy electric scooter retails at a competitive price given the power, comfort, and sleek look.
The Levy is designed to let you ride comfortably and confidently. It features a floorboard height of 5 inches, standing length of 18 inches, and a floorboard width of 6 inches to suit riders of a variety of heights and weights. The max load of the Levy is 230 pounds.
Power and battery life are areas of concern for anyone shopping for an electric scooter. The Levy features a battery capacity of 230 Watt-hours and can be fulled charged in three hours. The max range in Eco mode is 10 miles and 8 miles in Sport mode. The maximum speed of the Levy is 18 miles per hour.
Other notable Levy electric scooter specs include the battery weight of just 3.3 pounds and overall weight of 27 pounds. The lightweight design makes the Levy easy to transport, whether you're carrying it into the office or tossing it into the back of your vehicle. Even better, the battery is easily removed and replaced with another of the same capacity, so you can extend the range of your scooter simply by keeping a full-charged battery nearby.
The Levy electric scooter offers a lot of bang for your buck in terms of quality and luxury features. The LCD display shows speed and battery range, so you won't find yourself stranded on your commute. The IP54 waterproof rating and anti-fire battery case mean you don't have to leave your scooter behind if a sudden rain hits, and the 8.5-inch tubeless tires allow for maximum shock absorption.
Safety features of the original Levy scooter include LED headlights and taillights, a rear disc brake, back fender brake, and front e-brakes.
The Levy is a well-rounded scooter that won't break a buyer's bank. It's powerful, safe, and comfortable to transport and use. It also features a few additional bells and whistles that make it feel like a higher-end scooter despite it's affordable price.
Pros and specs of Levy:
Safety at the forefront of design
Lightweight and portable design
Competitive pricing
Why We Like It – The Levy electric scooter offers a variety of high-end features without a four-figure price tag. It's powerful, safe, and easy to transport.
2. Levy Scooter Plus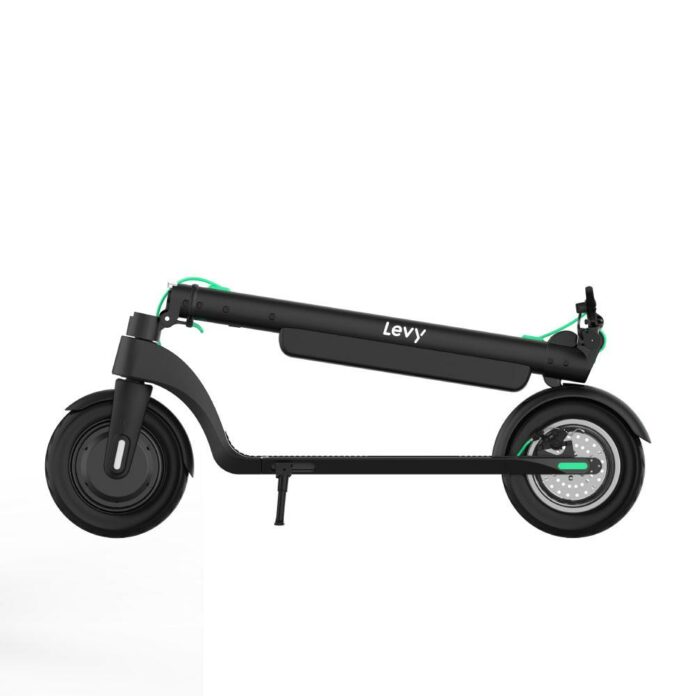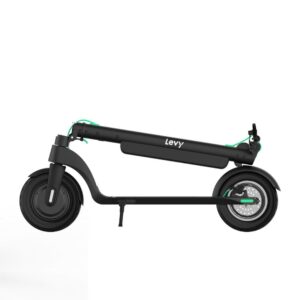 The Levy Scooter Plus is the second, more advanced model offered by the Levy brand. It's slightly faster than Levy, features a longer range, and provides a few additional bells and whistles. Similar to the Levy, the Levy Plus is easy to transport, packed with safety features, and prepared for all-weather riding.
One of the major differences between the Levy and the Levy Plus is its max range. The Levy maxes out at 10 miles with Eco mode while the Levy Plus features a range of 22 miles with Eco mode and 18 miles in the Sport mode. The Levy Plus is designed for riders who want or need to travel farther without having to recharge. The larger, removable battery of the Levy Plus requires a five-hour charging time, and replacement Levy Plus batteries can be purchased as well.
In terms of portability, the Levy Scooter Plus weighs in at 30 pounds, which is three pounds heavier than the Levy. This is due to the larger battery size, so what you sacrifice in terms of portability, you gain in more than double the range. The Levy Plus features also features a maximum speed of 19 miles-per-hour, which is slightly faster than the original model.
Several features of the Levy Plus are similar to those of the Levy, such as the LED headlights and taillight, rear disc brake, back fender brake, and front e-brake. The IP54 waterproof rating, anti-fire battery case, and LCD speed and battery range display are also consistent across both models.
Riders looking to use their Levy electric scooters in all seasons will appreciate that the Plus model is available with 10-inch pneumatic tires for superior shock absorption and easier riding in all weather conditions and varying terrain.
The Levy Plus is still considered an affordable electric scooter at a slightly higher price than the original Levy. Potential buyers will want to consider whether roughly double the range is worth the additional cost over the original Levy model. It's simply a matter of preference, but the 20-mile range of the Levy Plus is something we think buyers who plan to use their electric scooters on a near-daily basis will appreciate.
Pros and specs of Levy Plus:
20 mile range for longer rides
10-inch tires for all-weather riding
Removable and replaceable battery
Competitively priced
Why We Like It – We really appreciate that the Levy Scooter Plus features nearly double the range of the original Levy model without doubling the purchase price.
Levy Buyer's Guide
Electric scooters have become increasingly popular in recent years, and that means the market is being flooded with varying models. Choosing which model offers the most bang for your buck can seem like a daunting task.
It's important to consider which features are most important to you. Some buyers will favor portability while others may be looking for plenty of safety features or the longest possible range. This guide will help you decide which electric scooter is best for your needs.
Levy Electric Scooter Battery Pack
Levy electric scooter battery packs can extend your scooter's range immediately. Most owners of electric scooters will tell you that having multiple battery packs has made owning and using an electric scooter drastically easier. Keeping additional batteries charged means that when one runs out of power, it can easily be swapped for a fully-charged one. Your electric scooter is always ready to ride when you have additional batteries, which means you won't be stuck in one place for several hours waiting for a battery to fully charge.
The Levy electric scooter battery pack is waterproof and is packed in a fireproof battery case with overcharge circuit protection. Levy batter packs feature the most advanced Panasonic and LG 18650 battery cells, which are the same you'll find used in all of the leading electric vehicles. Every battery pack features a built-in charging port, so you can simply remove the battery when you need to recharge. You won't need to transport the entire scooter just to charge it.
A major advantage of Levy electric scooter battery packs is that Levy has manufactured the battery compartment to be compatible with the latest technology. That means that if Levy releases a new, more powerful or more efficient battery pack, it will still be compatible with your Levy electric scooter. It's important to note that replacement batteries for the Levy Plus can not be used with the Levy original model.
How to Install New Battery
Installing a new battery on a Levy electric scooter is easy and can be performed in roughly 10 seconds. Simply flip open the display console, remove the original battery, and slide the replacement battery in place. The keyed slots in this compartment will assure you that the battery install has been done correctly. Levy has made the battery installation process practically fool-proof.
Levy Electric Scooter vs Swagtron Scooter
Swagtron electric scooters have been popular choices for buyers looking to purchase an affordable electric scooter. Swagtron offers numerous models, ranging from kids electric scooters to the Swagger 5 Elite Electric Smart Scooter. Most Swagtron models are available for under $300, which has made them some of the most popular budget-friendly scooters on the market.
Buyers may consider a Swagtron scooter if budget is a top priority. The popular Swagger 5 Elite Electric Smart Scooter, which is comparable to the original Levy, features a 250 Watt motor with an 11-mile range on one battery charge. However, the Swagger 5 lacks some of the higher-end bells and whistles featured on the Levy, such as an LED battery and speed display, removable battery, and multiple braking systems for superior safety.
When comparing the Levy Electric Scooter vs Swagtron Scooter, buyers will want to consider what's most important to them. Swagtron scooters feature extremely affordable pricing and plenty of technology and comfort to get you around. However, Levy scooters offer a few additional safety features, multiple riding modes, and can provide endless range when paired with removable batteries.
How to Turn on Light on Levy Electric Scooter
All of the technological features of Levy electric scooters are easy to use. Turning on the lights is as simple as tapping the menu button the throttle twice. Double-tap the menu button again to turn them off. The taillight on all Levy scooters is always blinking whenever the scooter is in use. This is one of the many safety features.
What Is an Electric Scooter's IP Rating?
You'll probably see information about an electric scooter's IP rating when shopping. This rating tells you how resistant an electric scooter may be to outdoor elements, such as water or dust. IP ratings are based on two numbers, but the second number explains how resistant the scooter will be to moisture. Riders who want to use their scooters in all weather conditions will want an IPx4 water-resistance rating or higher.
Both Levy scooters feature an IP rating of IP54. This means they can tolerate splashes but not full submersion in water. They're considered water-resistant, so you'll be fine riding your Levy scooter on a rainy day, but it's important not to allow the scooter to become fully submerged.
How to Choose the Best Electric Scooter for You
Choosing the best electric scooter for your needs depends on a number of factors. Electric scooters can vary greatly in terms of price (ranging from around $200 to upwards of $2,000), technological features, price, safety measures, customer support, and more. Levy electric scooters are considered budget to mid-ranged commuters, as the original Levy falls in the budget category and the Levy Plus is considered mid-range.
Choosing an electric scooter for your needs will vary based on the following factors:
Price you wish to pay
Range you require
Your weight
Top speed you prefer
Whether or not you want suspension
Safety features
Braking systems
Tire style (solid tires or pneumatic)
The higher your budget is, the more likely you are to find a scooter with a long list of technological features, superior suspension, a longer range, faster top speed, and pneumatic tires.
Expert Tip
Choose an electric scooter with pneumatic tires if you're at all concerned with comfort while riding. Solid tires will cause you to feel every bump and crack in the sidewalk, while pneumatic tires provide a bit of suspension for a drastically more comfortable ride.
Did You Know?
Electric scooters are now considered one of the most efficient means of transport. They're considered better for cities than cars, as they do not emit CO2 or other pollutants.
An electric scooter can be a life-changing purchase, especially if you use it on your daily commute to and from work or school. It can also be an efficient means of getting around town that's more affordable than using multiple taxis, the subway, or your own gas-guzzling vehicle. However, choosing the correct electric scooter for your needs requires taking into account the many factors that can vary from model to model. The Levy and Levy Plus are considered quality commuter scooters, and to us, the removable battery feature is one that sets them above most other scooters in a similar price range.