Traveling broadens the mind and exposes you to new experiences and cultures. Those who travel with kids can make memories that will last them a lifetime. there are very few things in life that will provide a parent or caregiver with such joy as to see the look of wonder on a child's face when they are exposed to something brand new, be it a new type of food, a theme park, or even something like the ocean.
However, traveling with kids comes with a whole new set of responsibilities and can also be incredibly stressful.
Almost any holiday that involves children will also involve a fair bit of walking and a low tolerance for boredom on the part of the younger members of the family. A hungry child and a 15-minute walk to a local restaurant can lead to frayed nerves. A walk along a beach front to watch the sunset can also elevate the stress levels. Sometimes adults tend to forget that although travel can be fun kids have a whole different set of priorities and tolerances.
One of the ways that the younger members of the family can remain part of the action, while still enjoying the holiday experience is if parents or caregivers look into the possibility of taking a kids scooter along for the journey.
What difference will a scooter make? Here are five excellent reasons that a kids scooter should be part of the baggage for any vacation or excursion.
1. Easily Portable
Foldable kids scooters have come a long way since the first models hit the market. Specialized travel scooters take up even less room and many types can be dissembled into pieces that can fit easily into a travel backpack – the smaller models, as amazing as it sounds could even be transported in a large woman's handbag (along with safety equipment like kneepads and a helmet). They also will not add to any extra baggage charges at check in when traveling by plane.
2. The Solution for Walking and Boredom.
Kids love to be active and explore – but they also want the security of knowing that there is a responsible adult keeping an eye of them.
A kids scooter allows them to explore their surroundings in a safe way while keeping them from becoming frustrated with the time that it takes to walk between attractions. It also deals with the ever-present threat of them becoming bored and frustrated.
The latest kids scooters (especially the travel versions) are literally kids play to assemble. Most children over the age of 6 – 8 will be able to assemble them on their own after being shown how just once. this gives children a sense of responsibility and independence. The relates directly to that ever-present threat of boredom.
It doesn't matter whether they are getting frustrated during a family reunion or at a hotel – in a few minutes they can assemble the scooter, grab their safety gear and be having the time of their lives (just be sure to tell hotel staff to keep an eye on them or confine scooter use to designated play areas with a minder).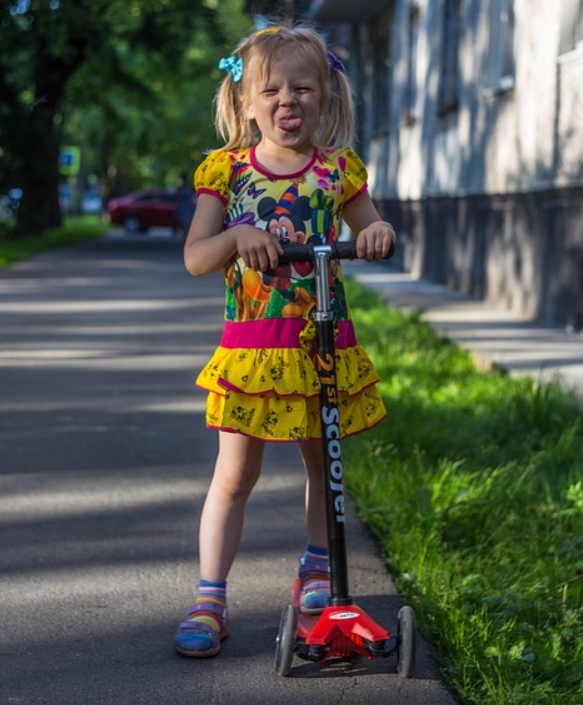 4. Space Considerations.
The great thing about kids and travel scooters is that enjoying the scooter experience does not require huge amounts of space. The newer models are so maneuverable that almost any child will become comfortable with a 'curving'scooter riding style. Even a small space provides plenty of fun – and it also promotes coordination as the child learns to steer using their body weight and the handles bars in tandem. A travel scooter also allows energetic to avoid the frustrations of slower walking adults. They can range out and scoot back to the family to their heart's content while the adults take a leisurely stroll.
5. Fun for Everyone.
Having a kids scooter while traveling is a fantastic way to make their travel experience just that little bit more fun. However, for adults, it's also important to realize that having scooter can be fun for the entire family. There are numerous travel scooters that are also designed for adults. they do take up a little more space than the kid's models but should quite easily be suitable for most travel experiences including those which require air travel.
Even the larger models are perfect for travel on shorter trips such as to the beach or the park.
Before traveling with a scooter do some investigation – you don't want the younger member of the family to be disappointed. there are destinations which do not allow for the use of scooters on certain public thoroughfares. Make sure that even where a destination does allow the use of scooters that the child is equipped with all the required safety equipment. Without a helmet and in some cases knee pads parents or caregivers can face hefty fines- and it simply is good safety practice.
The beauty of travel scooters for both kids and adults is that they are excellent value for money and just make every travel experience that much more fun for everyone. The kids' versions have been designed for children as young as 5 years old and upwards. There really is a scooter for everyone.
So next time you are planning a travel experience with kids investigate the possibility of taking some thing a little bit extra in the luggage – a scooter for the younger members of the family.
If you liked the article, please leave your feedback.