Scooter Hut is most well-known for their scooters, but they also sell individual parts. You can use these parts to repair your current scooter or to create your own custom design at home. They have upgrade packs, wheels, clamps, grip tape, and more. You can even find bearings, pegs, and brakes. There's literally every single piece that you need to make a new scooter in one tab! It doesn't get any easier than this.
If you're worried about safety precautions, have no fear. Scooter Hut has certified helmets, protective pads, and insoles to save your feel from aching and slipping around. All of their gear is tested to make sure that you're getting quality products that'll keep you protected at all times.
You might also be interested in the clothing and other accessories at Scooter Hut. They sell ramps and rails, sweaters, shirts, hats, and even backpacks. There are also posters, stickers, and tools up for sale throughout the year. Speaking of 'sale', don't forget to check out their deals and sales section to save money instantly.
Scooter Hut's 3D Builder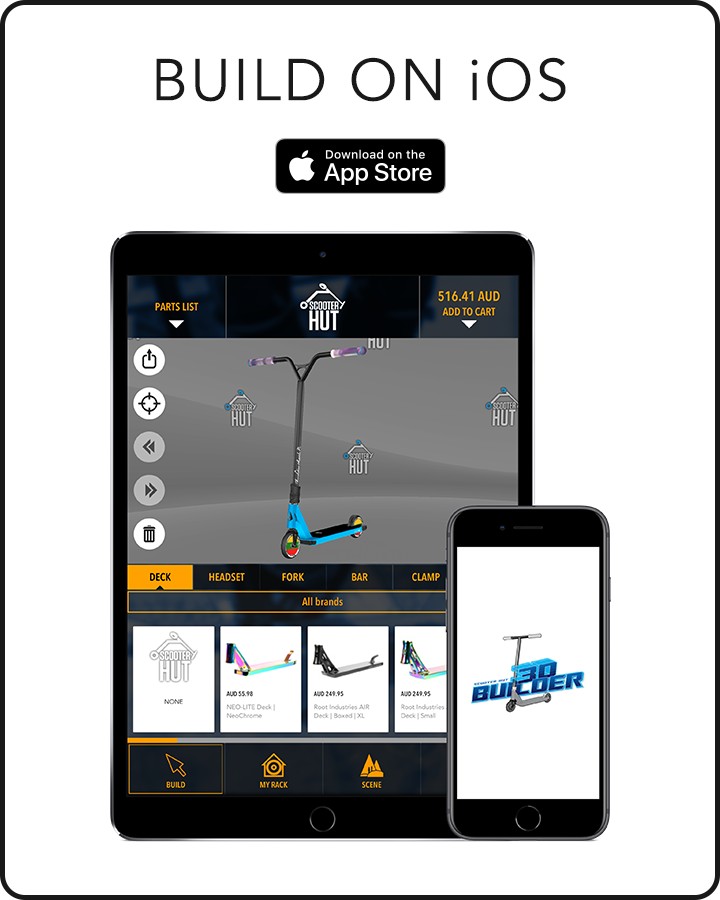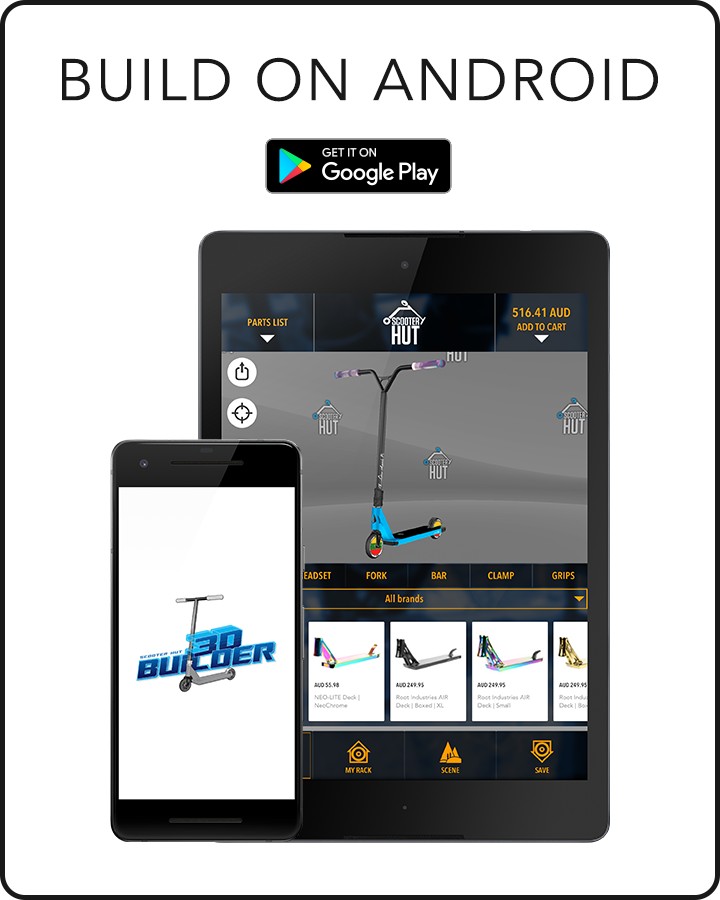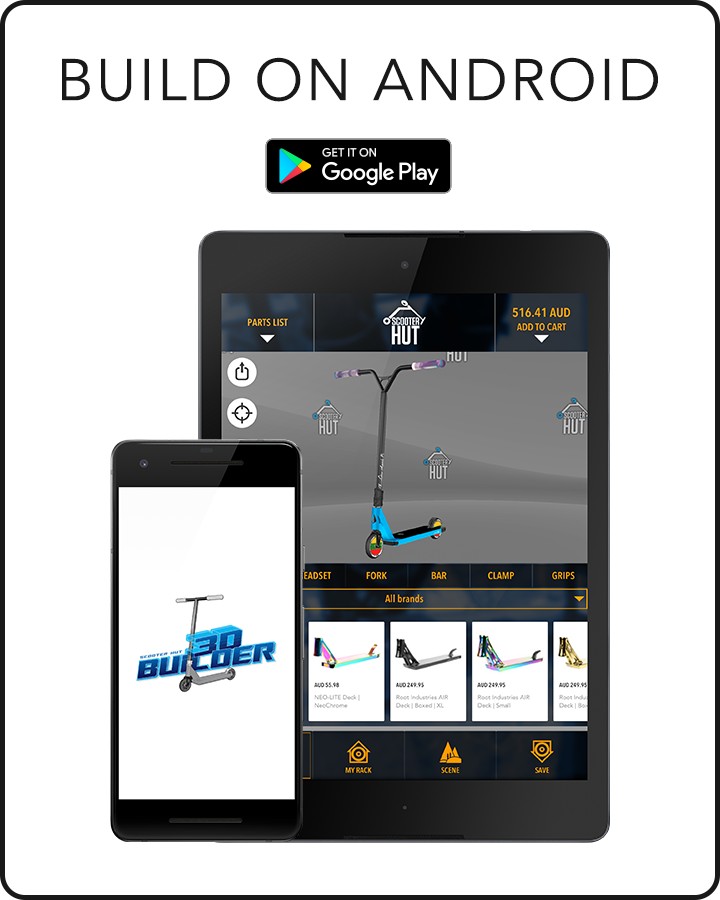 We've gone through some pretty unique features and products so far, but nothing comes close to the Scooter Hut 3D Builder. Their builder is unlike anything you've ever seen by any other scooter company. You can literally build your own custom scooter right from your computer.
Choose the clamp, deck, handlebars, and every other part to have the scooter of your dreams delivered right to you. There's never been an easier way, nor a method that puts everything in your hands through this design process.
Somehow the 3D Builder manages to get even better. Thanks to their recent updates, you can now download the app to create your own scooter from your mobile phone. They have the app on Android as well as Apple iOS, so feel free to download it whenever you're ready to make your own scooter from anywhere in the world. Choose the color, the grip tape, the wheels, and don't forget to save your designs if you want to edit them later prior to ordering.
As you create your new custom scooter through Scooter Hut's 3D Builder, you can watch the price tag adjust right in front of you. We love this feature because there's no mystery in what you'll have to pay.
Many companies tend to hold back the price tag until it's time to pay up, but with Scooter Hut, you'll know the total amount before everything. This allows you to adjust the parts to fit your budget range on the go.
Worldwide Shipping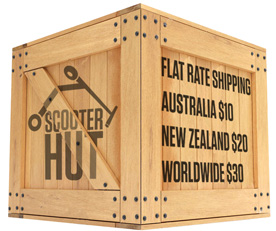 Scooter Hut is based in Australia, but they offer to ship throughout the world. They also have a standard flat rate shipping fee that you can view right on their website prior to ordering. Rack up all the items you'd like to in the virtual cart without worrying about the shipping costs adding up to sky-high levels as you would with other brands.
So, what exactly does worldwide entail with Scooter Hut? You can order their high-end products from Australia, Canada, the USA, New Zealand, Brazil, Spain, and many other countries. Check out their International Shipping information for more details to see if they ship to your country and what the flat rate fee is.
They also have a list of each country with the business days required to ship there. Everything is nicely laid out to ensure that there's 100% clarity throughout the shipping and payment processes.
Orders placed through Scooter Hut are shipped within 24 hours for almost every customer. They process shipments twice a day, so you'll receive your items as quickly as possible. No more worrying about multiple weeks of sitting around waiting for your products! You can have your new customized scooter in under 10 business days, even less in most cases.
Social Media & Customer Service
Scooter Hut has so many loyal customers due to the fact that they have some of the best customer services on the planet. Everyone at the company is an expert in the field, and they're all passionate about scooters. You'll feel as if you're shopping with the help of a friend rather than a boring salesman.
Ask any questions that you have for a quick response by calling their phone line, contacting them through the company email, or messaging them on one of their social media accounts.
Currently, Scooter Hut has a Facebook, YouTube, and Instagram account. You can comment on their photos or message them directly for responses as well. Follow them on those accounts to view suggestions and upcoming products. They also have a blog for you to look through for common FAQ without having to wait for a reply.
If you happen to get heavily-interested in scooter riding, there's a Scooter Hut community. View their calendar to see new events around the corner or look through old events on the same page to see what they're all about. Scooter Hut also has multiple showrooms in Melbourne, Sidney, Perth, and a few other cities in Australia. You can sign up for their VIP mailing list to receive exclusive offers and to get a look at what goes on in the showrooms.
Scooter Hut takes care of their customers. Whether this is your first time or your tenth time shopping with them, you can expect a helping hand whenever you need it. They offer repairs, a warranty service, and priceless advice that you can't find in most other stores.
You can also look through their lowest price promise, giving you the best prices on any brand listed on their website. Finally, don't forget to check out the crash replacement service. If you are opt-in for the service, you can get a massive discount on your replacement repairs upwards of 25%.
The Scooter Hut Review Takeaway
Scooter Hut is one of the world's top brands in the industry. Their community spirit and customer service are second to no other company around. They offer numerous services and posts to help everyone across the globe enjoy the excitement and thrill of professional scootering.
You might be buying a new scooter for your kid, or you could be customizing your own with the unique one-of-a-kind 3D Builder. Either way, you can rest assured that you're getting the best products with the best service backing them.
The Scooter Hut website deserves its own mention as well. You can move quickly through the tabs and various menus without getting confused. Everything is clearly labeled with the make, model, and price tag right in front of you. Sort by brand, scooter type, and the age range that you'll be shopping for. Never before has scooter shopping been so easy, helpful, and professional!
If you liked the article, please leave your feedback.