Embarking on a journey into the pastime of snowboarding, you will discover that you will need numerous pieces of equipment and items of clothing to ensure that you keep warm and get the most from your snowboarding experience.
There are many items you may consider purchasing before plunging into the snowboarding world, and our guide will help you with one of the most important consumer purchases for any budding snowboarder.  Choosing the right pair of snowboarding gloves for you will enhance your experience on the slopes.
Insulation
One choice you will have to make is what type of insulation you want to include in your snowboarding gloves.  As well as keeping you warm in the snow, it is important to think
One choice you will have to make is what type of insulation you want to include in your snowboarding gloves. As well as keeping you warm in the snow, it is important to think about the type of insulation that will dry fast and which may also keep you warm when wet.
Choices of insulation include wool, cotton, Thinsulate ®, Breathefil (™), Thermolite ® and PrimaLoft ® to name a few. An excellent insulator to choose is wool which dries fast and provides warmth when it is wet. It is a heavier material, however, which is something to be aware of.
On the other hand, cotton takes quite a long time to dry and so may not be the most practical insulation material to choose for the slopes. Synthetic insulation may be a smarter choice, with Thinsulate ® and Breathefil (™) coming top for general everyday usage when either snowboarding or skiing. A much warmer synthetic insulator for extreme weather conditions is PrimaLoft ®, although for extra thermal protection you also lose some dexterity.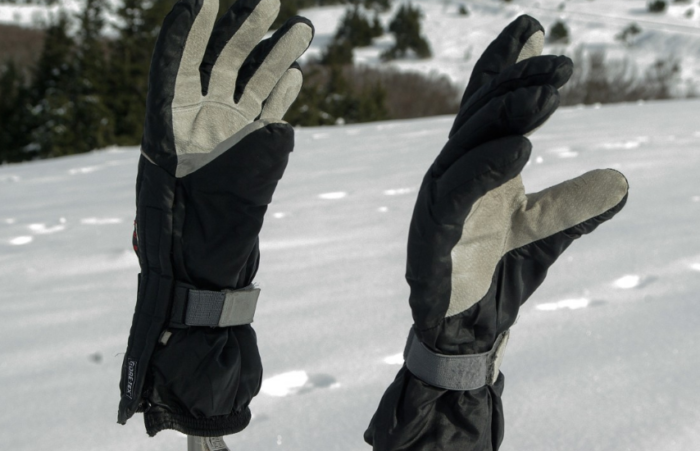 Insulation is usually measured by the weight of the material, providing you with a good idea of just how warm the gloves will keep you. Measured in grams, insulation measuring around 100 grams is an average amount for the standard cold weather temperatures of approximately 30 degrees Fahrenheit.
Insulation weighing less than 100 grams maybe more suitable for warmer days while insulation weighing more than 100 grams may be needed for especially cold days of under 20 degrees Fahrenheit. The heaviest weight for ski glove insulation is around 200 grams, although this level of insulation is for the most extreme weather conditions imaginable.
Short-Cuff vs. Long-Cuff
Once you have decided what type of insulation you want to use, you will have to decide on the style of snowboarding gloves. One style choice is choosing whether you want to purchase short-cuff or long-cuff snowboarding gloves.
A short-cuff snowboarding glove will slide under the sleeve of your jacket, providing a traditional and inconspicuous style which may be more comfortable for the novice snowboarder. Oppositely, the long-cuff glove is pulled over the sleeve of your jacket, covering your forearm and providing more thermal protection. However, this style may suit the more experienced snowboarder who is seeking something extra from their equipment or for when the weather is particularly treacherous.
A more user-friendly choice of snowboarding glove, particularly for the beginner, is the short-cuff style. This provides benefits to both the wearability of the winter glove along with the practicalities of packing them away in your suitcase. Additionally, a lighter option may help benefit your flight baggage allowance. The choice of buying a short-cuff snowboarding glove may afford you an increase in flexibility as you slide down the icy landscape.
Alternatively, you could choose the long-cuff snowboarding gloves which provide you with extra protection from the duplicitous weather conditions. Fastening with an elasticated grip, the cuff covers the forearm and furthermore allows you to wear with an open cuff to provide practical temperature control.
Long-cuff snowboarding gloves may permit the wearer flexibility and ease of use, being easier to put on and take off. This option may, however, appeal to the more advanced snowboarder, with a variety of fashionable styles available to make your mark on the snowboarding scene.
Fixed Liner vs. Removable Liner
Another style choice is whether you want to include a fixed liner or a removable liner. Gloves with a fixed liner will always hold their shape, which is a benefit for beginners in particular, especially in bad weather conditions.
An advantage of a fixed liner is that it will never get lost, but it may in turn actually improve their ease of use due to heightened dexterity along with providing the user with assistance in putting the gloves on and off their hands. However, a fixed liner may prove more difficult to dry and of course, cannot be replaced. Furthermore, a snowboarding glove with a fixed liner may not be as warm as other gloves, offering reduced thermal protection.
An alternative may be that you could choose to purchase snowboarding gloves with a removable liner. This means that you are able to take the liner out of the glove when you want this may mean that your gloves dry much faster than usual. This option may suit a more experienced snowboarder, however, who is able to position the liner effectively during each use.
When buying gloves with a removable liner, you are purchasing two pairs of gloves which may be worn alone or together. When purchasing snowboarding gloves, you are able to change your combination depending upon the weather and your specific needs from time to time.
Removable liners may also be replaced at a lower cost than buying the full snowboarding glove again. A removable liner may offer additional warmth to your snowboarding experience although a removable liner does present some drawbacks.
On occasion, you may find that you removable liner and their respective snowboarding gloves may not fit back together very easily, providing an uncomfortable wearing experience. In order to prevent this occurrence, try wearing the gloves and their removable liners on for size, ensuring that they come apart and fit together again with ease and comfort.
It is important to consider that a degree of dexterity may be lost with the use of removable liners so it may be best to try on several types of glove on your own hands may be the best option to suit you. A further issue is that gloves with a removable liner may be much more expensive so ensure you are buying the best brand and the best fit for your needs.
If you liked the article, please leave your feedback.