As the winter months approach, we get together our warmer clothes such as snowboarding jackets and skiing pants, and start to brace ourselves for the blizzards ahead. Winter is a super cold time of year, and one of the only things that make the weather better is that we get snow too. It's always so fun to dance about in the snow and make the most it before it becomes too slushy and freezes over to make ice. One way we make the most of the wintery white snow is to use our snow scooters and enjoy every minute. Yet, it's not that common for people to have snow scooters and it's highly likely that if you're on this post, you're looking at getting one for yourself.
The price point and quality of snow kick scooter can really range depending on the brand and model you choose. Sometimes there are some good value choices and other times, you're just wasting your hard-earned money on a product that won't last five minutes. That's why we have put together this list of the top 8 best snow scooters you can purchase on the market right now. We've also included a short buyer guide to give you more of an idea of what you should be looking for when you're on the hunt for a perfect snow scooter that suits all your needs.
View The Best Snow Scooter Below
1. GeoSpace Original LED Ski Skooter
Perfect as a gift for all the kids in your family during the colder months, this GeoSpace ski scooter is the ideal choice for anyone who loves to learn their balance and be able to steer in any direction! It is relatively lightweight, and you can push yourself down slopes including snow, grass and even sand. So, if it's not snowing, you can still have fun! It's not motorized, but it's fast if you push yourself even faster. It also comes in two colors – red and blue, so if you have two children and they both get one – there won't be any fighting over each other.
Something that is handy to know is that this model folds up too so you can fit in the smallest of places. It's predominantly made for kids, so it has extra cool features they'll love to use when they're flying around the snow. But, adults are more than welcome to use it too. The model has an LED light mode and a long handle to keep ahold of if you're new to snow scooting. It's possibly one of the best kids snow scooters out there, and we would highly recommend it to anyone! The handle is adjustable too so even those who are smaller can use it. The material is gripping for under your shoes meaning you won't have any problems regarding falling off or slipping.
It's a really affordable price too, there's not much more to love than a reasonably priced snow kick scooter with cool designs and extra safety features. – Just don't forget a safety ski helmet!
Pros:
+ Lightweight
+ Range of Colors
+ LED Light Mode
Why We Liked It – Nothing is better than buying an affordable product and being satisfied with what you have. It's always a great choice to buy a scooter when you know it gets good reviews and it's worth every cent you put into it. We love reasonably priced items, and this one is definitely something special.
2. Best Choice Products Scooter Sledge
For all those looking to save a ton of money, this best choice scooter sled is the answer to all your questions. It has a sturdy plastic handle to help control the direction you're going in on the scooter sled, and this also collapses so it won't take up a huge amount in your car or home. The plastic is durable, so even if you do have some slips and trips, it will stay together, despite the low price point. This is a huge reason to invest in this Best Choice Products Scooter Sled too, it's totally affordable and good value for money. For some of the more expensive scooters out there, you can get two, three, and even four of these!
Another useful feature of this scooter is that it has anti-slip foot rests on the top to ensure you can keep your balance while you're on the go. Make sure you're wearing appropriate ski boots or snowboarding boots for the slopes! The Best Choice Products Foldable kids snow scooter sled comes in two colors – red and blue. And they're ideal for younger children due to the size of them. Unfortunately, the handle isn't adjustable so what you see is what you get, for this reason, we would recommend this for adults as it may be comfortable. Nothing is stopping you from using your child's one though.
Pros:
+ Sturdy and Durable Plastic Material
+ Affordable
+ Two Colors Available
+ Ideal for Younger Children
+ Non-Slip Board
Why We Liked It – Sometimes children just want a piece of equipment to play on and often it's not ideal to spend a lot of money on these winter toys when you know they're not going to be looked after properly. We love this Best Choice Products Foldable kids snow scooter sled because it's a reasonable price and the snow kick scooter is great value for money too. It's always better when you can get something ideally suited to what you need!
3. Railz Youth Recreational
For any child that is a little nervous riding the snow for the first time, this Railz Youth street snowscooter is the perfect answer to their worries. It allows the user to feel confident and in control of their ride, even when it's super snowy and cold! The Railz Youth street snowscoot looks like a typical scooter, but instead of wheels, it features directional skis at either end of the model. It folds away easily meaning you can pick it up and take it anywhere you want. Don't have snow hills where you live? Walk it to the local hill or park, they'll have lot's of fun there.
This Railz Youth snow kick scooter also has a sure-stop snow brake so if they need to stop there won't be any accidents suddenly and there is a safety leash too, so things don't get too crazy. Unlike the other models described, it comes in 3 assorted colors! It also has an adjustable handle-bar and can take a weight limit up to 200 pounds.
Something super awesome about this Railz Youth snow kick scooter is that you can buy a wheel kit and turn it into a summer time toy too. It's not even expensive either! Yet, the model has a higher price point than others on this list which could deter users from buying it for their children – sometimes it's better to save money and get a similar model.
Pros:
+ Foldable and Compact
+ Available in 3 assorted Colors
+ Adjustable Handle-Bar
+ Easy to Assemble
Why We Liked It – The Railz Youth snow kick scooter looks cool and can get super-fast if your child is willing to push it. It lets them burn off a lot of energy and before you know it – they're sleeping soundly in their bed. Snow scooters are super fun and exciting, but they're even better when they look good too.
4. Railz Full-Adult Size Recreational
Moving on to the adults out there who want to get a piece of fun and action, the Railz Full-Size Recreational scooter is a perfect choice. It is great if you've never felt confident on the snow slopes as it allows for safe control of the scooter overall. Since it's adult size, the handle-bar is adjustable of up to 36" which is pretty good for such a reasonably priced snow kick scooter.
Unlike the children's version, the Railz Full-Size Recreational scooter only comes in two colors. Yet, everything else about it is the same (except the price!). It's a little more expensive than the child's model because it's bigger and the handle bar has more adjustable material. Other than that, it's easy to assemble all you do is simply turn the bolt on the side of the bar and you're ready to go. The Railz Full-Size Recreational scooter is lightweight and can be folded up, so there are no worries about not fitting it in the car or being annoying when you're walking to the snowy park!
Pros:
+ Easy to Fold and Lightweight
+ Reasonably Priced
+ Great to Improve Confidence
+ Adjustable Handle-Bar
Why We Liked It – Adults want to have fun too, why does everyone think only kids can use the snow scooters during the winter months? This snow kick scooter is a reasonably priced fun snowscooter that anyone can buy and have a play around with. You don't need to be a professional or pay out a huge price to have a little extra fun this winter.
5. The Lakeside Collection
Affordable and reasonably priced snow scooters are great as an early Christmas present, this Lakeside Collection mode has an easy to grip handle. This handle can help you guide your way down the snow hill, but it can also be a handle to carry your folded-up scooter too. There are no problems with danger or control as the handle controls everything perfectly.
This grip handle snow sled winter scooter really can take your winter fun to the next level, and it's the ultimate gift at any time of the year if you live somewhere where it snows all the time. Likewise, to other models it holds up to 200 pounds weight limit but this is only ideal for ages 8+ as the handle isn't adjustable and it may be hard for smaller children to reach the bars at the top properly. This is possibly one of the only downfalls of this snow scooter, once you child has grown out of it, they won't be able to use it again.
Luckily if you do decide to get this grip handle snow sled winter, you can either sell it to someone else or pass it on to your younger children. There are also other models that look very similar and have a lower price. It's worth looking around and seeing what else you can get for your money.
Pros:
+ Ideal for Winter Fun
+ Holds up to 200 Pounds Weight Limit
+ Compact and Lightweight
+ Easy-Grip Handle for Safety (make sure you've got ski gloves to keep your hands warm)
Why We Liked It – Lakeside is a great brand who constantly produce amazing quality products you know they're reliable! You're not going to be let down by this model at all.
Something a little more up market is the ALEKO SSC03BL Deluxe, it can be used on the snow and during the summer days too. It has special attachments to ensure it is safe and secure, these ski scooter attachments are very good quality. The attachments are super simple to attach on, they simply snap on and off in a matter of seconds. This is why it's ideal for anyone who likes to get places quickly without any hassle or worry about the weather conditions.
Having a snow scooter during the winter months is useful as you don't have to worry about sliding and skidding your car, you'll be totally controlled on your kick snowscooter! It's safe for all ages and has an adjustable handle bar so even the little ones can have a go if they feel brave enough.
Pros:
+ High Quality
+ Adjustable Handle-Bar
+ Easy to Attach Skis
+ Ideal for Summer and Winter Fun
Why We Liked It – Who doesn't love fun all year round? Sometimes snow scooters can get boring if you can only use them during the winter months. With this model, you can play with it whenever you want! It's a great choice for everyone, no matter what your age!
7. Slippery Racer Downhill
Built with backside guard rails for super smooth acceleration, this durable snow scooter is a choice ideal for almost everyone. It has a foldable handle-bar so it's easy to store anywhere in your household and it can be transported easily too. Both kids and adults can make use of this model. Although unfortunately, the handle isn't adjustable, so the height stays the same meaning you must ensure your child is suitable for the snow kick scooter that is 32" in height.
It's made from a premium grade plastic so although it's firm, it can be flexible if you want it to be too. The slippery racer will have all the other neighborhood children excited for the snow and to have a play on this new toy. The model is loved by parents and children alike, and there are so many memories to be made!
Pros:
+ Super Smooth Acceleration
+ Durable and Flexible Design Material
+ Foldable and Compact
+ Suitable for Kids and Adults
Why We Liked It – The snow is so much more fun when you can sled down hills super-fast! This model is affordable and looks great too. What more could you want?
8. Railz Original Snow Sled Ski Scooter
This Railz Original Snow Sled Ski Scooter model is designed with the user in mind, it's super simple to assemble, and you won't have any problems sledding down a mountain or hill without sky-high confidence. It's even specially made for those who are taller since the handle-bar is adjustable up to a larger height. An added bonus is that unlike most other models it can take up to 220 pounds of weight and is perfect for any rider over the age of 5!
For the rider's safety, it has a leash and gripping plastic board, so there is no danger when you're riding the snow kick scooter on the slippery snow. You can also get the model in a few assorted colors which ideal if you've got multiple children who all want one for themselves. It's not lightweight which may be an issue if you're wanting to carry it and it only folds down a little since it's not fully compactable.
Pros:
+ Awesome Design
+ Extra Long Adjustable Handle-Bar
Why We Liked It – The popping neon colors of this model are a real selling point. There are so many boring colored snow scooters out there, it's only great that this one is available at a reasonable and affordable price for anyone who wants to buy it.
9. Railz Pro-66 Quad Ski Kit
Rather than investing your money into a kick snowscooter that will only work during the winter months when the weather is cold, and it's snowing all the time. Turn your street stunt scooter into a snow one within a matter of seconds with this ski kit. It's an affordable price and means the scooter is no longer seasonal! It's a great choice for anyone who doesn't want to spend a large amount on a snow scooter if they don't know how much use they'll make out of it.
They're heavy duty, good quality and can hold riders up to 220 pounds so the adults can have a go of the snow kick scooter too. Fun isn't just for the children!
Pros:
+ Good Value for Money
+ Excellent Quality
+ Can Hold Riders of 220 Pounds
Why We Liked It – It's obvious, who wouldn't want to be able to use their kick snowscooter all year round despite the weather? Why should you or your child have to wait for the snow to have fun? You shouldn't, and you don't have too!
Snow Scooter Buyers Guide
What Is A Snow Scooter?
They're also known as snowmobiles as they're designed for traveling during winter in the snowy weather. They don't need to be used on roads or any type of trail as they can just be simply operated on ice or snow without any issues. There are some professional types and others that are just for fun. This guide will go into all the different types and models of snow kick scooters you can get, and these are some of the best! Essentially, a snow scooter is a really cool version of a new normal except you can go on snow and float around the ice which is super exciting and fun.
How to Ride A Scooter in The Snow?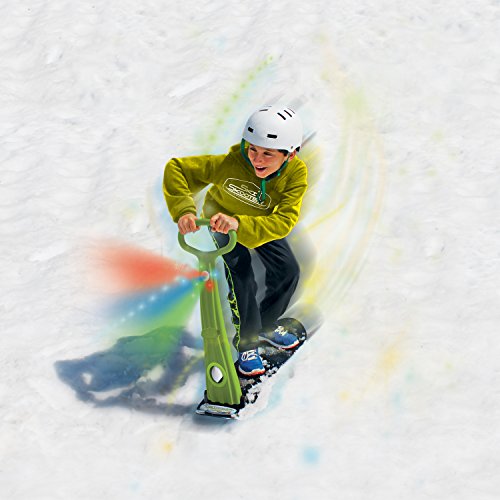 Surprisingly there is a skill to how you can ride a scooter in the snow. It's not just as simple as hopping on and moving forward. You should be careful to stay safe and ride securely rather than going as fast as you can. As you get used to riding the scooter, then you'll be able to ride a little faster, and within no time you'll be looking like a professional.
However, we're going to cover the basics of how you can ride your scooter in the snow, for all those people who have either never ridden in the snow before.
Or, if you're worried you'll have the wrong technique – you can take some tips and hints too. There isn't an order to the list below, it's just some random tips to help you improve your riding skills and ensure you don't get into any danger.
Take it slow when you're going down hills – Snow scooters are made for the snow so they can handle the ride down hills, but if you're not careful, then it can end in an accident. When you first get the scooter then be sure to take your time and learn how to handle different hills. Remember, snow often hides the true depth of snow below you, so you could be rest on a hole or something a lot bigger than you think!
Read the road – Don't simply ride your scooter, think about the route you're going to take beforehand. Look at the road ahead and decide what you think the best way to go will be. Reading the road is essential part of being on your scooter and you have to ensure you're taking all the safety precautions.
Wear the gear – The winter weather means we just want to wrap up in a scarf and big coat, but this isn't always practical, especially when you're riding your scooter. Be sure to wear gear that is suited to the type of scooter you're wearing. You can always add extras if it's safe but it can be lifesaving wearing the right clothing pieces.
Where to Buy Snow Scooter Skis?
The best place you can buy your own snow scooter skis is from Amazon! They have a variety to choose from in all assorted colors and styles. They're amazing! Some of our favorite ones are available from Amazon too, the Railz Pro-66 Quad Ski Kit is ideal for anyone who wants to build or start their ski collection. And, they're affordably priced also!
What is the Best Kids Snow Scooter?
GeoSpace Original LED Ski Skooter has got to be the winner here. It's reasonably priced, controllable and super fun for everyone. The kids will really love the snow and cold weather with a toy like this.
What is the Best Adults Snow Scooter?
Railz Full-Size Recreational scooter will always be the best adult snow scooter. No one has ever said that snow scooting is just for children, and it's not! You're entitled to have lot's of fun even if it's not in the sun.
Expert Tip
Choose a snow scooter that can be used all year round and then you're making the most out of the money you spend. If you're only using a snow kick scooter for 2 months out of a 12 month year, then you won't want to spend a big price. Yet, being able to use it all year round will mean you can spend a little more on your new purchase.
Did You Know?
Despite there being electric scooters out there available for customers to buy, people prefer buying the manual counterparts as they're more fun, can burn even more calories and lots of energy!
If you liked the review by MyProScooter, please leave your feedback.