Choosing the best mgp stunt scooter can be a mind boggling task because there is just so much variety out there. But when you know you are buying from a trusted brand, things become quite easy. Such is a name Madd Gear which is pretty popular in the world of scooters.
There are so many out there, so we know it can be difficult to choose. Well, it was… until now!
Here is everything you need to know before choosing the right product from this brand.
Top 5 Madd Gear Pro Scooters of 2022
1. Madd Gear Mini Drift Trike
This is a three wheeled MGP drift scooter with a large 16 inches diameter wheel. It gives a more controlled ride and is suitable for children above 5. It is made from high tensile steel frames and can easily withstand nearly 150 pounds. The rear wheels are designed for better drifting with Molded fat Tread. With the adjustable bucket seat, any child can reach the pedals without difficulty. The handbrake system is inspired by BMX so you can stop and spin. The seat is quite low but not uncomfortable. This is a strong scooter perfect for kids who have not yet mastered two wheel scooters.
Why We Liked It – We like it because of the control it gives during the ride. Not only that, this scooter drifts like a pro.
2. Madd Gear MGP VX9 Team Scooter
The Madd Gear MGP VX9 Team Scooter has a solid frame that ensures the safety of the rider. If you're a parent looking to buy a good scooter for their child (8+), then this might be your best bet. It has a max capacity of 220 pounds and it even has an extra-wide 4.5-inch deck for stability and handling.
There are all sorts of colors ranging from Hydrazine to Ethanol, with several choices in between. Since it's plated with a chrome appearance, it shines with a stylish glint. The rubber grips on the handlebars combined with the rear brakes are both excellent for maintaining control, thus improving safety.
Pros:
+ Comes in several unique color combinations
+ Made for kids 8 and older
+ Durable construction for safety purposes
Why We Like It – We like this scooter because it's comfortable to ride, it's nice to look at, and it has all of the safety features that a parent could want in a scooter intended for their child.
3. Madd Gear Carve Pro Stunt Scooter
When searching for the best Madd Gear pro scooter, then you have to consider looks. And this is one cool looking pro scooter thanks to the black and green color scheme. It's more than just a good-looking scooter, though.
The sealed headset and high-tensile threadless fork make it a great scooter for learning new tricks, as well as perfecting whips and bar-spins. The 100mm composite flex brake functions well and will come in handy both at the skate park or while riding the scooter on the streets. The 100mm nylon core wheels offer seriously high rebound.
Pros:
+ 100mm Nylon-Core Wheels
+ Stylish Looks
+ Printed Full Deck Griptape
+ 100mm Composite Flex Brake
+ Heavy Duty
Why We Liked It – It is a great Madd Gear pro scooter that is heavy-duty, perfect for tricks and has a very good composite, flex brake.
4.MGP VX5 EXTREME COMPLETE SCOOTER – BRONZE/CHROME
With any Madd Gear vary, the Extreme is all the time the prime quality and this yr the VX5 Extreme is not any totally different!
Designed alongside Madd Gear MGP Team Riders to ensure that there isn't a want for aftermarket upgrades, this scooter is the last word full for pro riders. Featuring greater, 120mm chilly cast Filth wheels and the superbly crafted Chrome Plated batwing swoop bars, making the VX5 Extreme certainly, a premium scooter.
5. MGP VX5 Pro Complete
Madd Gear does it as soon as extra with the model new VX5 Pro completes. These new completes are sick! With new shade strategies and new designs you will for constructive be wanting current driving definitely one among these. These completes are examined by Madd Gear Pro riders to make sure they'll stand as much as the toughest driving circumstances. Madd Gear is a primary agency inside the enterprise, making merchandise which will stand out to any kind of rider. If you're merely shifting into scootering or attempt to step your recreation up from a main scooter, we extraordinarily advocate the Madd Gear VX5 Pro.
Madd Gear Useful Buying Guide
Madd Gear is an Australian scooter manufacturer that was formed in 2002. Since then it has exploded on the scooting scene and has quickly crossed borders. These are popular all around the world and are known for their high quality and fun designs. They have several series for stunt scooters that aim to bring out parts made using latest technology and are therefore very durable.
These qualify as high end because of their price ranges. That said they deliver quite some value and buying one you are good to go for a long time. They produce scooters for all ages from kids aged 5 to late teenagers.
Choosing the right Stunt Scooter
Madd Gear produces some of the best stunt scooters in the market right now. They do not just produce those; they also produce other regular scooters including three wheeled. So when looking for the one designed for stunts and freestyle scooter tricks, you have to ensure that you are really buying what you need. These will usually have a fixed and welded bar that is not adjustable. This also means that it is not foldable.
If you want to improve your stunt game and are looking for something that is purely designed for performing stunts then avoid buying any scooter with adjustable handlebar. That said, you do need to ensure that the height of the bar is commensurate with your height. You should not have to hunch too much. They have quite a lot of variety of pro stunt scooters to choose from.
The VX Series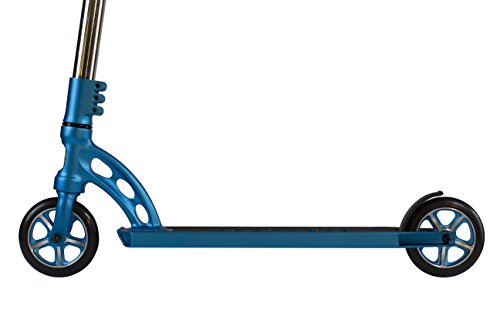 If you are looking for something sturdy that is built using high quality material then look no further and choose the VX Extreme pro scooter or Nitro from MGP. These pro stunt scooters have large sized scooter bars that are light because of weight reducing extrusion technology. These usually feature the forged alloy 3d forged fork. The wheels on these are the biggest for a stunt scooter i.e. 120 mm. The VX scooters from Madd Gear are their most sought after products and stunt riders just love it. These can tail whip to 360 degrees and are designed for some extreme action.
The Marvel Editions
If you are a Marvel fan, then you will love these limited edition pieces from Madd Gear. They have designed scooters that are printed with Marvel comic characters which we all know quite well. There is Spiderman, Ironman, Hulk and Captain America. The limited Edition is filled with all these heroes andis something worth having. Behind all these graphics and prints, the scooter itself is sturdy and has parts that are just as good as the Nitro or Hatter Kick.
MGP Wheels
The thing about wheels in a scooter is that they take a lot of beating so they need to be absolutely strong. Since they are being designed for a stunt one, they also need to be light weight and small. MGP wheels check all the requirements for the best quality wheels and scooter money can buy. They are generally made from High Rebound PU and the inner core is made from metal. The size is usually either 100 mm, 110 mm or 120 mm. The larger wheels also offer smooth ride so if you will also be using the scooter for riding purposes this size would be best suited to meet all your needs.
Pricing
Madd Gear are expensive scooters that can cost hundreds of dollars. This is because they use latest technology in manufacturing the parts. Most of these costs above $200 but some models can cost lesser than that especially during sales or holiday seasons. It is still a good bargain as some other brands can go upwards of $500 so essentially you get the same kind of thing for half the price. Australia is on the forefront of producing quality pro stunt scooters as many brands are based there. So buying Madd Gear you know you are getting the authentic made in Australia product that will enhance your stunts and take them to the next level.
MGP Decks
Madd Gear ensures that their decks last very long and weigh as light as possible. They are fluted and usually made from aluminum.
Some are nickel or chrome plated which adds to their strength and ensures that water and dirt do not ruin the board. Most of these can easily withstand weight above 150 pounds so you do not have to worry about damaging it with your weight. Decks when bought separately come with spacers to fit any size of wheels. The 3d forged alloy tube MGP deck is a different from the rest and provides more support for controlling the ride.
The decks are the playground for Madd Gear for making scooters stylish. They use funky and colorful grips tapes on the sides and front. Some of these have cutout designs that look unique and will definitely earn some fans.
Availability of Parts
You can easily find the parts for Madd Gear online. These pro stunt scooters are very sturdy to begin with but of course with time the parts will wear out and you might want to replace them. You can also replace the deck or wheels after you have used it for quite some time since these parts are in contact with the ground and bear the weight of the rider.
Benefits of Buying a Complete Scooter
MGP Scooters come complete and ready to ride which is highly convenient. Whether you are buying for yourself or someone else, it eliminates the need to get your tools out and assemble the entire thing yourself. With a complete one, at most you will have to put on the hand grips which take less than a minute. You should only buy parts and build your own if you are keen on customization or cannot find an appropriate height of the scooter. Buying complete also saves you money because buying separate parts especially from top brands can run up hundreds of dollars very quickly.
Today we review the top 5 best Madd Gear pro scooter available on the market in 2022. From cheapest to the highest quality, we review them all to help you make the correct decision.
For beginners we highly recommend starting with the Madd Gear Kick Extreme Scooter due to the brilliant price tag and excellent design. For more advanced riders, the MGP VX5 is the one for you. Featuring a much more sturdy design and swooping bars, this certainly is a premium scooter with a not so premium price tag.