When you hear about skate shoes, I'm certain that specific brands immediately pop into your head or you envision a particular style of shoes. Skate shoes, as the name indicates are shoes that are specially created for you to skate. These shoes are built in a specific way so that the sport of skating is supported and enhanced. They work exactly in the way that a skater needs them to work and they offer strength, protection, durability and reinforcement in all of the right places. In this article, we will explore the different types of skate shoes that exist, their technology, materials and everything else you need to know.
Types Of Skate Shoes
There are basically three types of skate shoes and these include high tops, mid tops and low tops. The main difference between these three types is the height of the shaft.
High Top Shoes
High top shoes have the highest top where they end right above the ankle. These shoes will keep your warmer, which means they are best suited for skating in cold weather or winter. Also, the high tops offer more stability and padding which means better protection while skating.
Low Top Shoes
Low tops have the lowest shaft and they are your standard skate shoe. Due to the lower cut, they are much lighter which means you'll be a little quicker on your feet. Even though they don't have the ankle protection of high tops, they have well developed insoles that offer a great deal of dampening and cushioning.
Mid Top Shoes
Mid tops are a great option if you can't decide between a low top and high top. The shaft is a bit higher than a low top and laces fall around the ankle or slightly under. These are fantastic transitional shoes between the warmer and colder months of the year.
Materials
The material that a skate shoe is made of plays a very important role in the life of the shoe as well as its aesthetics. The tougher materials such as leather and suede are much more durable and will hold up longer, especially if you do technical street skating. Lighter material such as hemp and canvas are much more breathable but they may not hold up as well with heavy skating. These lighter materials are better suited for skating around town, so you should consider your intended use when looking at the material.
Shoe Soles
The actual construction of the sole will affect your comfort and how you feel while skating. There are typically different soles that are built into each shoe so that the shoe is able to meet various requirements. We will now take a closer look at each type of sole, their technology and how they differ from one another.
The Outsole
The outsole is the most important aspect of skate shoes since they ensure your shoes have a good grip, are stable and flexible. These soles are also quite resistant to abrasion to ensure you get a good life from your skate shoes. They usually have shock-absorbing cushioning and air pads to ensure your feet are well protected.
The Midsole
The midsole is located between the outer and inner sole. The midsole is responsible mainly for dampening and most popular brands have their own specific midsole technology. For example, Adidas has Skateboarding BOOST soles, Nike has Max Air, Lunar Footbed and Zoom technology. Most skate shoes make use of EVA (ethyl vinyl acetate) in addition to phylon which is heat resistant in their midsoles.
The Insole
Insoles are all about the individual needs of each person and they are mostly removable or interchangeable. When they become worn out, you can replace them as necessary.
Vulc Soles & Cup Soles
The one main difference in skate shoes is the use of vulcanized soles or cup soles. Cup soles are sewn into the shoe which means they make the shoe more robust but this causes the shoe to be a bit heavier and not as flexible. Vulcanized soles, on the other hand, are much lighter and thinner since the rubber parts are only glued to each other. This causes these soles to be lighter and more flexible but they wear through faster and are more prone to abrasion. However, with vulcanized soles, you can start using them right away since they don't require breaking in. Skate shoes with cup soles are more stable and have greater dampening despite taking a while to break in.
Shoe Features
As you know, skate shoes have a specific look and you may be wondering, exactly what makes these shoes so special. We will now take a look at their seams, padding and ventilation.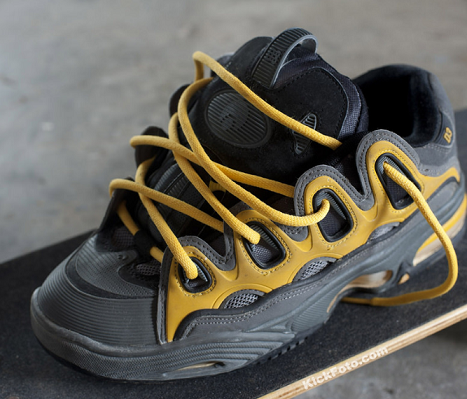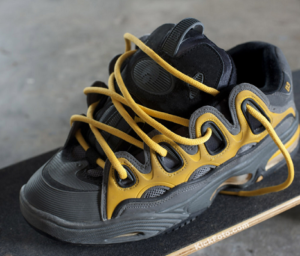 The Seams
Most skaters know the pain of having their regular shoes tear at the seams. As a result, the seams of skate shoes are extremely important. Skate shoe seams are reinforced in the areas that are most vulnerable to tearing which greatly increases their durability. They typically have double and triple seams in the heal and toecap since these areas tend to wear away faster. In the event that you use rough grip tape, then you should look into getting seamless toecap skate shoes.
Ventilation
Skating is a very taxing sport, which often leads to sweaty feet. As a result, most skate shoe manufacturers add breathing holes to the shoes and even perforated side panels. Some skate shoes also have tongues made out of a mesh material which is great for ventilation.
Padding
Lastly, skating involves the heavy use of your ankles, joints and feet. As a result, these shoes have padding in the heel area, side walls and tongues to ensure injuries are prevented and to increase overall comfort.
Conclusion
In closing, we have just looked at the main components of skate shoes and how they differ from other types of shoes.
If you liked the article, please leave your feedback.