Riding a new scooter is one of the most exciting experiences around. Not only is it convenient to have a method of transport for work, to-and-from the store, and other uses, but it's also super fun! The Wolf RX 50 is a top-notch example of an economy scooter that doesn't break the bank. While the price is affordable, this scooter blows most competitors far out of the water in performance value.
You might be a newbie, or you might have the experience, but there's something for all of us to enjoy about this stylish scooter. The comfort value is as good as it gets, as is the fuel-economy, the color selection, and the motor power from this scooter. Without further ado, it's time to dive into the specs and details of the Wolf RX 50 Scooter.
Let's check it out below!
Review of the Wolf RX 50 Scooter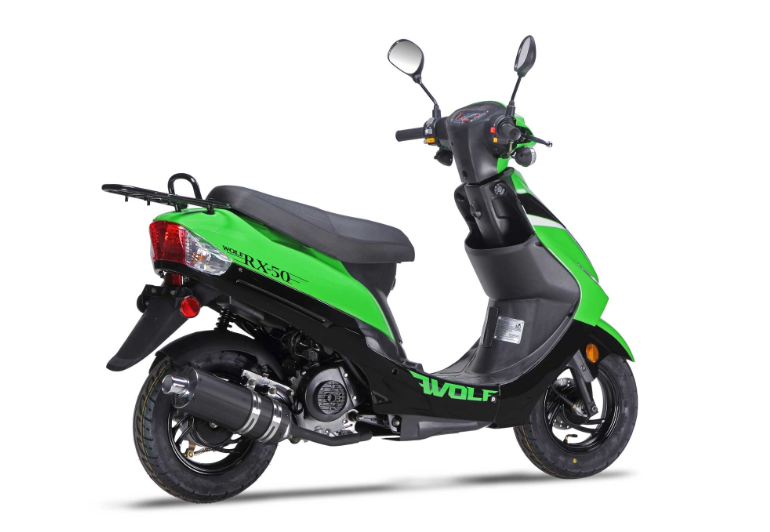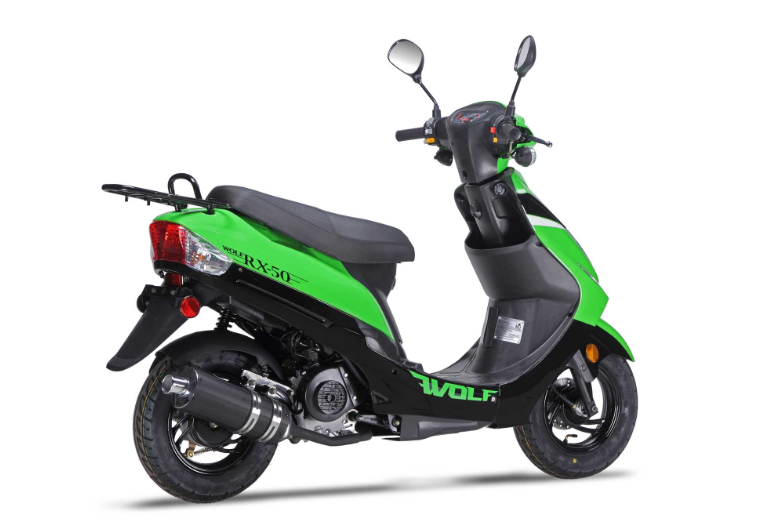 Key Features
The Wolf RX 50 Scooter is such a steal of a deal for all sorts of reasons. Whether you're new to riding scooters or you simply want an upgraded model that's well ahead of its time, you're in the right place. The automatic transmission on this scooter ensures that almost any rider can get used to the ropes of it.
A top speed of slightly over 35 miles per hour allows you to use this budget-friendly scooter anywhere within city limits. It saves tons of gas by providing a whopping 100+ miles per gallon tank! You won't find that on any car in the world. Fill up with a few bucks and travel the city for days and even weeks without refilling. There's even a rear shelf for bringing additional items with you.
The low ground clearance of five inches combined with the 67" x 25" x 44" dimensions make it ideal for small, medium, and tall riders. The seat height sits at 31 inches from the ground, letting you place your feet firmly every time you stop or slow down. For beginners, this is something that'll save you more times than not.
The maximum weight capacity of this gas-powered scooter is 330 pounds. A brand new Wolf RX 50 Scooter only weighs 175 pounds, which is fairly lightweight for a 4-stroke 49cc scooter. You can handle it easily without losing control. Large scooters and bikes can be a challenge for people without experience, but this one won't be an issue whatsoever.
Pros
+ Comfortable seating with a padding area as well as proportionate dimensions for people of all shapes and sizes.
+ Six different colors to choose from: Green, Black, Yellow, White, Red, and Blue. Pick your favorite color and enjoy the ride!
+ 35+ miles per hour is perfect for traveling and commuting around your town where it's permitted.
+ Incredible fuel efficiency at 100+ miles per gallon, which is far better than almost any other vehicle out there.
Cons
– There aren't very many adjustable features on the Wolf RX 50 Scooter, although the set features are generally ideal for everyone.
– While 35 miles per hour is great for inner-city travel, you won't be able to take this scooter on any highways.
Who is it Suitable For?
The Wolf RX 50 Scooter is suitable for almost anyone over the age of 18. It's comfortable to ride and there's a very small learning curve. Beginners won't have any problem getting up to speed or slowing down. The average dimensions make it easy and smooth riding for almost anyone who wants to use it.
If you're someone who wants to ride around town on a sweet scooter, or you want to save gas, the environment, and your wallet, then this is the way to go. It doesn't get much better than an economy scooter with a low price tag and top-notch features and specs. The Wolf RX 50 Scooter truly has something for everyone, which is why so many people keep coming back to the company time and time again.
Why We Like It
We like the Wolf RX 50 Scooter because it's not made for a specific person. It's designed to fit almost anyone, giving new use to scooters. If you're new to riding, then it can be a challenging problem to take on. We really enjoy the Wolf RX 50 so much because it takes the fear and uncertainty out of riding and replaces it with the passion, excitement, and freedom that one should feel when out on the road.
Don't worry about using too much gas, controlling a heavy bike, or paying way more than you should for a scooter. This scooter has you covered from head to toe so that you can soak in the unforgettable experience of riding a scooter wherever you go! Choose your color, place your order, and start riding the first and last scooter that you'll ever need.
If you liked the article, please leave your feedback.