Electric bikes have become so much less of a niche hobbyist possession. They are gaining in popularity every day owing to their positive contribution to the environment and there sleek and classy designs. They are constantly being updated with improved technology.
They make a great bike for commuting and specialist riding. Not only this but so many are built with great safety features that they are becoming even safer to use than driving a car.
Below is a list of ten products that have been selected for review. Read on for an example of the selection of electric bikes available for purchase at the moment, as well as our comprehensive buyers' guide.
Related: Electric Bike Kits.
View The Best Electric Bike Below
1. NAKTO Shimano Electric Bike
The NAKTO Shimano Electric Bike has topped our editor choices list as it is a cleverly designed, subtle electric bike that is multi-purpose and multi-functioning.
The bicycle allows up to nearly 30 miles of usage from one single charge owing to its strong and powerful lithium-ion battery pack when using lithium battery charger. It also reaches speeds of up to around 25 miles an hour, which is great for an electric bike. You can adjust the seat as and how you need to so that it can be shared with your family or friends and you can adapt it quickly and easily.
Manufacturer's instructions are included with the bike, and they are clear and concise, and if your question is not there, then customer service is just a phone call away.
It has a safe brakes system installed on the bike, front and back which will keep your mind at ease while in use.
Pros:
+ Long Battery Life
+ Gender Neutral
+ Multi-Functioning
+ Powerful Bike Motor
+ Adjustable Height
Why We Liked It – This bike is a great option for somebody looking for a reliable and durable electric bike. It can be used mobile or standing still, in the day time but also at night time owing to the LED bike light feature on the bike.
---
2. Tomasar Power Electric Bike
Tomasar Power electric bike is a modest yet powerful addition to the electric bike market. The bikes battery life is great and provides a good range (up to 25 KM). It is made from a durable aluminum alloy frame alongside other durable materials such as carbon steel. Tomasar has also included front and rear brakes for extra safety and peace of mind while using their electric bike.
The back and front wheels on the bike are built with strong traction and grip and of top quality material, so you know that they are safe, reliable and durable. This powerful bike by Tomasar has seven different speed settings which are easy to maneuver around and are also explained in the detailed manufacturer's guidebook provided with the bike.
Pros:
+ 36 V Lithium Battery Pack
+ 25 KM Range
+ Aluminum Alloy Frame
+ 250W Motor
+ Safe Brake System
+ Strong Traction on Back and Front Wheels
Why We Liked It – This aluminum alloy frame electric mountain bike is slightly cheaper than others on the list, but that does not detract from the value of the product overall. It has a great battery life and strong motor as well alongside coming in a variety of different patterns and designs.
---
3. Cyclamatic Power Plus CX1 Bike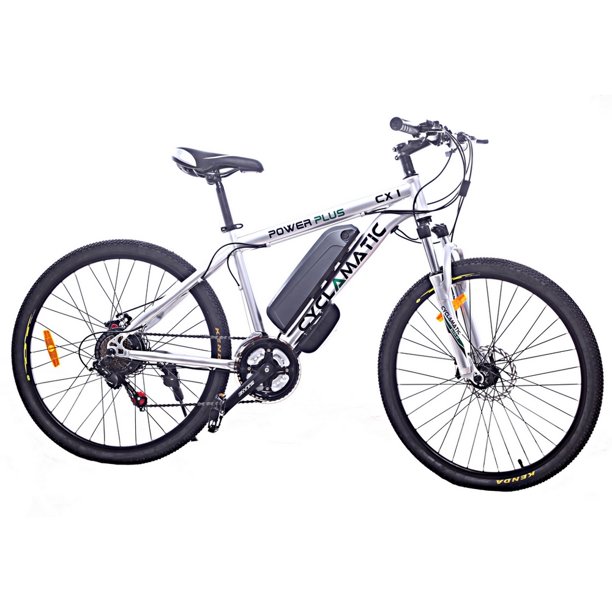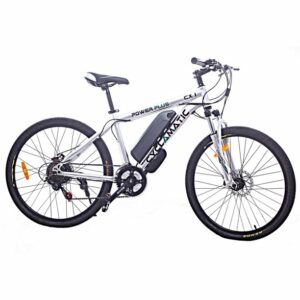 This Cyclamatic power plus electric mountain bike can be assembled and reassembled quickly and easily, though it might take a few attempts to practice. It has a range when fully charged of just under 30 miles, which is at the higher end of standard when it comes to electric bikes. It has quite a powerful motor at 250W which only adds to how smooth the ride is when using this bike.
The 21 gear system means that you can travel vertically upwards with ease and without having to strain yourself too hard thanks to the supportive gears on the power plus electric mountain bike. The bikes' battery takes around three hours to be charged completely and should be done after every ride just to be on the safe side. Of course, that is the charge time from a flat battery so it will take less after half a journey. You can also use the bike as a normal pedal bike without all the electric features, the bikes' battery is fully detachable.
Pros:
+ Easy to Assemble
+ 15 MPH Speed
+ Removable 36V Lithium Ion Battery
+ 21-Speed Gears System
+ Front Suspension Fork
Why We Like it – This is a versatile mountain style electric bike offering a large motor, large range and large capacity to function in all weathers and a variety of different terrains. This powerful bike is a good option if you are looking for a quick and easy, no fuss no frills electric bike.
---
4. NAKTO Fat Tire Electric Mountain Bike
This is another great electric bike from NAKTO, creators of many great electric bikes. This one is more specifically designed with mountain bikers in mind, as suggested in the title. It is made from strong, waterproof aluminum materials and has extra suspension to allow for more control when riding on rough, mountain terrain.
There is a one year warranty, but it only covers some of the parts of the aluminum electric mountain bike so you might want to consider still taking out your own insurance. The bike works as a pedal bike, an electric bike and a combination of both it is up to you and how you assemble it. The tires are strong and durable and built for rougher terrain and the charge time takes around four hours.
Pros:
+ Six Speed Gear System
+ Works Three Ways
+ 300W Motor
+ 20 MPH Speed Capacity
+ 30 Mile Range
Why We Like it – This is a versatile aluminum electric mountain bike with a great set of features. It is well designed and stylish providing a top quality, safe ride.
---
5. Tomasar Power
Looking for something a little more sturdy? You'll find that in spades with the Tomasar Power bicycle, a bicycle that comes with a lot of outstanding features such as a removable lithium battery that can allow you to ride up to 25-50 km depending on where you happen to be going and in whatever direction.
The aluminum alloy is a sturdy material used in this one, the sturdy shock absorption used in this bike will also allow for a very comfortable ride, one that can pass over multiple surfaces with little to no resistance. Front and rear brakes are incredibly reliable here also.
Pros:
+ Removable battery
+ High-speed motors
+ Long distance travel
+ Optimal brakes
+ Responsive
Why We Liked It – This is a very reliable product, one that allows you to travel rather long distances rather easily.
---
6. NAKTO Adult Electric Bike
This is another great adult electric bike from NAKTO. It has a big battery, not the biggest on the list, but big enough to give you a good long run time from a single charge. In fact, you can keep going for up to 26 miles on one single charge, which if you think about it is actually quite a long distance.
As with the majority of electric bikes out there, you can adjust the seat to suit you as and when you need to, and the handlebars are ergonomically designed for your optimum comfort.
It has safety brakes at the front wheel and rear wheels of the bike, and it has a six-speed system installed as standard. This is easily adjusted intuitively, and if you are needing further clarity, the concise and detailed manufacturer's guide will provide all of the answers that you need.
Pros:
+ Positive Reviews
+ For Adults
+ 36V Lithium Battery
+ 26 Mile Run Time
+ Comfortable
Why We Like it – This adult electric bike is clever and smooth. It doesn't take a long time to charge the battery up to its full capacity and has a powerful electric motor that can keep the bike going at rapid speeds for the duration of your journey.
---
7. Addmotor MOTAN
Addmotor MOTAN electric mountain bike is a big bike built for big biking appetites. It goes fast, it lasts for a long time, and it means business. The thick tires can manage rough roads and tracks, making it the ultimate off-road bike. It is fully adjustable for different heights and shapes and sizes and is made with a tough frame to support anything.
It even comes with built-in mud guards so that you don't get covered while riding. This is alongside the front, and rear safety brakes that will give you peace of mind should an emergency stop need to occur.
Pros:
+ 48V Lithium Ion Battery
+ 20 MPH Top Speed
+ 55 Miles Range
+ 136 KG Capacity
Why We Like It – The Addmotor Motan makes the list because of its impressively sized battery and therefore its impressively large range capacity.
---
8. ANCHEER Premium
The ANCHEER Electric Magnesium Integrated Suspension will very quickly become your favorite way to travel. This mode of folding electric bikes comes with.
Pros:
+ A collapsible metal frame – This frame enables you to ride around on a premium quality lightweight yet strong aluminum bike frame which is both anti-rust and exposure paint protective and of course foldable!
+ 250w motor – This model can be ridden for up to 15-30miles at toppest speed 15-17mph per charge.
+ 3 working modes
Why We Liked It – This electric bicycle is a fast and powerful machine which provides a great ride and a fantastic experience.
---
Electric Bike Buying Guide
There are so many more great electric bike products out there, but above are the top ten that have been selected for review and to demonstrate a range of features and attributes that you may not have considered you would be looking for.
The question remains, what are you looking for when you are buying an electric bike? Consider the following criteria discussed in our buying guide below to give you a little bit more of a clearer picture.
Battery
The battery that comes with the electric bike is important. You need to be verifying:
a) How long does it take to charge? You don't want to have to wait around for a full day if you run the battery flat. Average charging time would be around three hours to get a full charge.
b) What size is the battery? This is important as it dictates how many miles you can get from one single charge. If you are using your bike for your daily commute, this becomes important quickly.
c) Is the battery detachable? This is a matter of security as well as a matter of convenience. You want to make sure the battery can't be stolen and that if needed, you can remove it at will.
d) Is the battery protected for all weather conditions? If the answer is no, then this may not be the bike for daily use. The battery should be in a protective casing to keep it safe from all types of weather.
Electric Motor Size
The size of the electric motor will determine how powerful your electric bike is. It also determines what speed the bike can go at, what weight it can take and how durable the bike will be in the long run.
All electric bikes come with a variety of different electric motor sizes that are usually powerful enough to be able to support an average sized adult. However, this information is definitely worth checking out pre-purchase- just in case!
Range
Ask yourself: How far do I need to travel on my electric bike? If the answer is: Just a few miles, then it doesn't really matter. However, if you are intending to use your bike on a daily basis, then the range becomes a little bit more relevant. Perhaps you may be using your bike for your daily commute to work and back, or maybe just on adventure days. Commuter bike options may be of more interest, though.
Regardless, you need to know exactly how many miles you can get out of a charge so that you don't end up struggling unnecessarily and behind schedule. Most mainstream electric bikes will provide a range of around 20 miles, often more, from one charge.
Speed
How fast do you need your bike to go? An average speed that an electric bike is capable of is around 18 MPH. This is quite fast and will definitely get you where you need to a lot faster than the average pedal bike or by walking. However, there are some bikes that can go up to 28-30 MPH.
These speeds may be for the more extreme hobbyists out there. Of course, this usually is dependent on the physics in the equation. What weight is the person riding and what height is the person riding will dictate the top speed that the electric bike is capable of. With that in mind, the majority of electric bikes can sustain at top speed capacity of around 260 lbs.
Brakes
Brakes are important. Brakes are the key safety feature of any vehicle, and the electric bike is no exception to this. If you are using your bike for top speeds, electric mountain biking or riding it around traffic, you need to be diligent that the brakes provided on the bike are fit for purpose.
The majority of electric bikes will be fitted and made with front and rear brakes, which provide extra safety and extra stopping power. However, this is not always the case and is definitely something that needs researching before making any purchase. The brakes are the last thing you need to be worrying about while riding!
Design
Is this bike multipurpose? I.E., Does the bike function as an electric bike AND a push bike if necessary? This is true of most electric bikes, but not all. If you want one for the beach or mountain, electric fat bikes may be more suited.
It is worth considering in case something goes wrong with the technology, and you need to continue with your journey. Lots of electric bikes can be adapted into pedal bikes with ease.
Warranty
Does the electric bike come with a warranty? Hopefully, the answer is a big fat YES. Otherwise, you may end up spending a lot more money than you had originally planned. A good warranty should be at least a year and cover all the important parts that may fail. If it doesn't, you may need to look for additional insurance.
Did you Know?
Electric bikes are undeniably much better for the environment than doing your daily commute by car or other modes of heavier transport.
In fact, up to 26 lbs. of CO2 is prevented when an electric bike is used in place of a car over 500 miles. Just imagine how much greener the planet would be!
Expert Tip
Make sure that the bike you pick is equipped to deal with and ride on the terrain that you are going to use it on. If you are a mountain biker, then you need to be finding an electric mountain bike that is built for this purpose. Otherwise, you may run into trouble along the way and end up injuring yourself and your bike!
Amazon Recommends:
If you liked this review, please rate below.