Dirt bikes: loud, adrenaline pumping, heart racing, and insanely fun. Once a fairly niche sport, the demand for dirt bikes has been growing in popularity over the years. Initially, a petrol-fuelled adventure, dirt bikes have commonly been run on gas.
But what with the planet slowly withering away from the devastating effects of global warming, why not switch to something a little more environmentally friendly – a fast electric dirt bike. Electrically charged vehicles have never really been taken seriously, what with their infamous lack of power compared to their fossil-fuelled rivals. However, times are changing, and technology is ever improving.
Electric cars are now a popular choice for the environmentally conscious: why not now for the dirt bike enthusiasts. Being a gasoline-head doesn't have to necessarily include the gasoline. Electric dirt bikes are becoming faster and faster and are now a formidable force to be reckoned with in the speedy world of dirt bikes.
What with the fastest electric dirt bikes becoming more and more appealing to the environmentally conscious generation of today, there are so many different models available on the market for this booming trend. It can get a little confusing sifting through them all – but we're here to help. In order to choose the best electric dirt bike for your teenagers and your kids, we did our research. Therefore, here's a comparison of the best electric dirt bikes in 2022.
View The Best Electric Dirt Bikes Below
1. Razor MX400 Dirt Rocket
This electric dirt bike is truly made for the mud with large 12-inch pneumatic knobby tires. You'll have no trouble going off-road with this bad boy. Adjustable riser handlebars make it more comfortable for the ultimate hardcore dirt biking experience. The Razor MX400 Dirt Rocket has just a single speed for more independent control on the bike.
The bike has a chain driven motor for a super quiet ride but don't let this fool you – it's still a pretty powerful bike. The Razor holds up to 140 pounds and so is perhaps suitable for kids around the age of 12. A high-torque motor with twist grip is amazing at kick-starting the bike into high gears, making for awesome acceleration. Speeds can go up to 14 mph, operating at the higher end of the speed scale for these mini dirt bikes.
Pros:
+ Large knobby tires perfect for off-road
+ Single speed makes for a wilder ride
+ Very quiet bike
+ Twist-grip acceleration control
+ Top speed of 14 mph
Why We Liked It – The bike is super quiet so is suitable for not disturbing those cranky neighbors! This doesn't mean that the bike lacks in speed, reaching up to 14 mph. Stay awesome with this Razor MX400.
2. Hyper HPR 350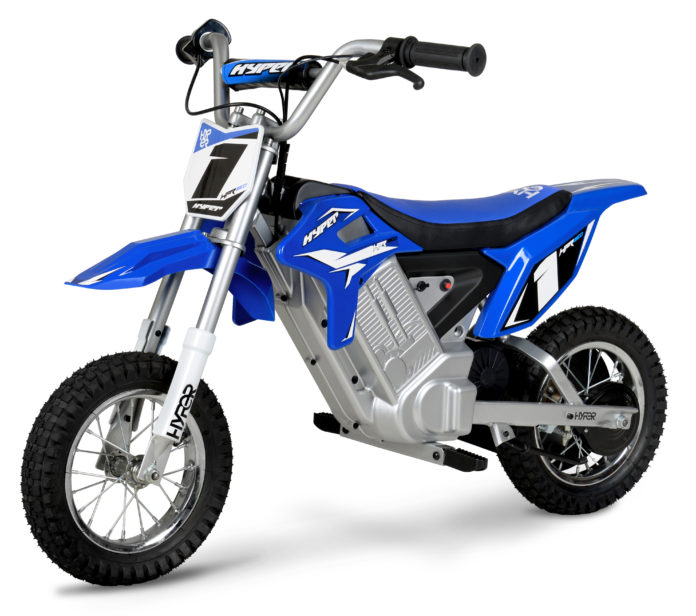 The Hyper HPR 350 is scaled down motorcycle is perfect for young riders. With speed up to 14 mph, you are sure to impress your friends. Adjustable handlebars for a comfortable ride.Hyper HPR 350 has a 24v motor as well as 12 inch real pneumatic knobby dirt bike tires. It has sturdy steel frame with 140lbs max weight, with ride time up to 40 minutes
Pros:
+ Battery powered
+ Sturdy steel frame with 140lbs max weight
+ Ride time up to 40 minutes
+ Speeds up to 14 mph
+ Triple clamp style adjustable handlebars
Why We Liked It – Mini electrical dirt bike, perfect for kids. Steel frame that can absorb 140lbs makes it sable and safe.
3. Razor Dirt Rocket SX500 McGrath
Inspired by the legendary and triumphant motocross rider Jeremy McGrath, the Razor Dirt Rocket SX500 is for those looking for a super-charged experience. The bike has authentic McGrath graphics, set with a fairing design making the bike more aerodynamic. Who wouldn't look cool riding this thing? Made with genuine dirt bike frame geometry, the bike also has a high-torque and a variable speed motor.
Now you might be thinking – how fast do electric dirt bikes go? This bike reaches speeds of up to 15 mph, and considering the Razor Dirt Rocket supports riders up to 175 pounds, it is recommended for ages 14 and above. The bike has 36V with 40 minutes of continuous use – around the middle range of power for electric dirt bikes.
The Razor Dirt Rocket SX500 features dual suspension and riser handlebars, with large pneumatic knobby tires, a retractable kickstand, and hand operated dual disc brakes – making for that thrilling but mechanically safe ride.
Pros:
+ 40 minutes continuous use
+ Dual suspension for maximum comfort
+ High-torque for extra power
+ Large tires suitable for off-road
+ Dual disc brakes for increased reliability
Why We Liked It – With speeds of around 15 mph, the Razor Dirt Rocket SX500 McGrath is a zippier dirt bike – for the real thrill seekers! The bike also has dual suspension for greater comfort.
Check out the MX500 for an alternative.
---
4. Razor MX650
The Razor MX650 is a compact electric dirt bike with an impressive 650-watt motor. Faster than the Razor Dirt Rocket SX500, this bike reaches thrilling speeds of 17 mph: for those true adventure-kids out there! Carrying similar features of dual suspension and riser handlebars, this bike is just as reliable in safety as most electric dirt bikes.
That includes the twist acceleration handlebars especially, putting the rider in better control over the bike. The pneumatic knobby tires ensure a maximum power transfer to really grip that ground and have the time of your life on one of the sweetest electric dirt bikes available.
Designed to generate more power for uphill and tricky off-road conditions, this MX650 bike is perfect for rumbling around those challenging tracks. This quieter electric dirt bike is recommended by the manufacturer for ages 16 and older. In other words, for the more experienced of you dirt bikers.
Pros:
+ Exhilarating speeds of 17 mph!
+ Dual suspension for maximum comfort
+ Large tires brilliant for off-road
+ For teenagers
+ Twist acceleration puts the rider in control
Why We Liked It – Faster than most electric dirt bikes, you could swear you were riding the gas-powered model! Aimed towards older riders of 16 and above, it's a good choice for your teen who will have everyone else green with envy.
---
5. Razor MX350 Dirt Rocket
A key feature of the Razor MX350 Dirt Rocket is the 14 mph speed capacity; it's similar in speed to the cool Razor Dirt Rocket SX500 McGrath. The riser handlebars are adjustable with a double crown fork, made of steel, meaning your little one has better control while on the bike. There are up to 30 minutes of continuous use for the Razor MX350, perfect for a fun, quick zip around.
The bike has a high-torque chain driven motor with twist-grip acceleration control for ease and further control. You can never have enough control over your fast dirt bike! There is a hand operated the rear brake and large pneumatic knobby tires – extremely good for adventurous off-road conditions. Also included on the Razor MX350 Dirt Rocket are a retractable kickstand and folding foot pegs. So that dirt bike can stand tall and proud (just like you for owning it!).
Pros:
+ 14 mph top speed
+ 30 minutes of continuous use
+ High-torque for more power
+ Large knobby tires perfect for off-road
+ Twist-grip acceleration means control
Why We Liked It – The Razor MX350 Dirt Rocket is pretty speedy at 14 mph and has a fair 30 minutes of continuous use. The high-torque of the bike means it's got some sweet 'oomph' behind it.
---
6. Razor MX650
The Razor MX650 is a compact electric motocross bike with an extremely powerful 650-watt electric motor. A lot speedier than other models, like the SAY YEAH, the Razor MX650 reaches speeds of 17 mph, making it one of the fastest razor dirt bike we have here. The bike has authentic dirt bike frame geometry for the ultimate dirt bike riding experience.
The dual suspension and the riser handlebars make for a more comfortable and smooth ride – only the best for us thrill seekers. The added pneumatic knobby tires create a maximum power transfer for the chain-driven motor. This bike is considerably quieter than a gas-guzzling dirt bike. The initial battery charge time for maximum usage is 12 hours. The more powerful bike is therefore recommended for ages 16 and older with a 220-pound maximum weight limit.
Pros:
+ Powerful 650-watt electric motor
+ A speedy 17 mph
+ A comfortable dual suspension
+ Knobby tires suitable for off-road riding
+ Quiet bike means minimum noise
Why We Liked It – At speeds of 17 mph, the Razor MX650 is one of the more powerful models on offer and the fastest Razor dirt bike. It still has the element of comfort, however, with dual suspension and riser handlebars. Ride in style!
---
7. Burromax TT250
The Burromax TT250 has a lower wattage of 250W and a high-torque brushed DC electric motor of 24 Volts. The battery charge time takes a relatively quick 8 hours – result! There are also two different speed variations on the bike: a low speed of 7 mph and a higher speed of 14 mph. It is a good feature to control your kids' speed and match it to their ability.
The acceleration is smooth with a variable throttle control for the ultimate control in dirt bike riding speed. An added full suspension design makes the ride nice and comfortable. The Burromax TT250 includes a heavy-duty folding footrest and adjustable riser handlebars for that ultimate cool bike.
Pros:
+ A really quick 8 hour charging time
+ Two different speed variations mean better control
+ Smooth acceleration
+ Full suspension for better comfort
+ Adjustable riser handlebars
Why We Liked It – The really quick charging time leaves more valuable time to ride the bike! The two different speed variations give better and safer control with the full suspensions making sure the fun on the bike stays comfortable. Ride on!
---
8. Mega Moto MM-E250-PR
This classic e-mini bike comes pre-assembled and includes a toolkit that makes it easy to set up.  With a 250W motor, it has a speed limiter that enables parents of young drivers to adjust the speed of the bike between 7mph and 11mph. It also has a really powerful design which makes it look exactly like an actual dirt bike. In case you might be interested, you can choose between two colors-red and pink.
Pros:
+ Rear disc brake
+ Speed limiter for bigger safety
+ 250W motor
+ Easy to setup
Why We Liked It – Has powerful engine, and speed limiter which is essential to children safety. One of the most secure bikes in its category.
---
Electric Dirt Bikes Buyers Guide
What is my skill level?
Don't get ahead of yourself! The first thing to think about before choosing the best electric dirt bike for your child is their skill level at dirt bike riding. Some people go for the biggest, loudest and most expensive dirt bikes before even considering if they can properly handle the bike. Dirt biking is a serious and sometimes dangerous game and not a sport to mess about in. Keep this in mind! Maintaining a dirt bike can be a lot of hard work, therefore consider this when making your decision.
What is my budget?
Some electric dirt bikes are obviously more expensive than others. But don't let this put you off. Sometimes the more expensive option is the best fit for your teen or kid. There is no point compromising on the safety and comfort of the rider!
What type of riding are you doing?
It's probably not worth it buying a motocross race bike if you're only riding on single tracks and trails. Think about what riding you're most likely to be doing and what bike best suits you for that. The fastest electric dirt bikes aren't going to perform as well on single-track riding for instance. A helpful suggestion!
Clutch or automatic?
An important choice when buying your electric dirt bike is whether you want to go for clutch or automatic. Most kids are more than capable of learning to work a clutch on a dirt bike. However, first riders are probably going to more confident with an automatic – it's simpler and lets them concentrate more on enjoying the ride!
Safety Gear
The frame on a dirt bike is small and light so that the dirt bike is perfect for mobility and jumping.
It's a proper childhood – ripping around in the dirt with no mobile phones and just enjoying the fresh air. However, always have your kids wear the appropriate and best safety gear! Always watch over them when they are riding and make sure you're in a safe environment for dirt biking. Remember – safety is key.
Conclusion
All in all, the best electric dirt bike is the one suited to your ability and comfort. Remember: don't get ahead of yourself and buy the biggest and fastest bike. Whatever your style of racing, there is a bike to go with it. So bear this in mind before choosing your bike. Nevertheless, going electric for your dirt bike is a great way of cutting down pollution and helping the planet!
Electric bikes are also a quieter version of the insanely noisy gas dirt bike. A better option if you want to rip through the trails and not disturb anyone or the wildlife. Dirt bikes are a massive amount of fun and a great way to spend time as a family out on the dirt tracks! Ride on!
Amazon Recommends:
Bestseller No. 1
Bestseller No. 2
Bestseller No. 3
If you liked this review, please rate below.