Mountain biking has gained a lot of popularity over the last decade or so. With that in mind, so have mountain bikes and furthermore, electric mountain bikes. There are a range of products out there that vary in range, speed, and function.
Whether you are a beginner or a true expert, you want something that suits your bespoke needs. There are a lot of questions you need to ask yourself before making a purchase and below will give you a better idea of what direction to head in.
Below is a list of ten of the best electric mountain bikes that exist on the current market.
View The Best Electric Mountain Bikes Below
1. ECOTRIC Fat Tire
The ECOTRIC Fat Tire electric bike ticks all the boxes for potential and pro mountain bikers alike. It is designed for and therefore equipped to deal with any number of different terrains including the beach and dirt roads also. Consequently, you can take the bike with you anywhere with ease and the comfort of knowing it won't let you down as it goes, not just on your mountain biking adventures!
The fat tires are thick and have a great tread and grip built into them, which makes the bike that much more durable than its competitors.
It has a great battery life, a strong motor, and top speeds. Not only this but it can support larger weights of up to 260 lbs. and not be slowed down in any capacity. You can adjust the seat as and how you like or need, and the handlebar is fully ergonomic, which means it is built for comfort and can become bespoke to you quite quickly.
Pros:
+ 7 Speeds
+ 500 W Motor
+ 36 V Lithium Battery
+ Strong
+ Lightweight
Why We Liked It – This fat tire electric bike is strong and powerful and can sustain and support larger weights as well. It can travel on a variety of different terrains which makes it highly adaptable for different mountain biking settings.
---
2. NAKTO Fat Tire Electric Mountain Bike
This is another great electric bike from NAKTO. This electric mountain bike is definitely a contender for a top place on the review list. It is made from strong, waterproof aluminum materials and has the extra suspension to allow for more control when riding on rough, mountain terrain.
There is a one year warranty, but it only covers some of the parts of the bike so you might want to consider still taking out your own insurance. The bike works like a pedal bike, an electric bike and a combination of both it is up to you and how you assemble it. The tires are strong and durable and built for rougher terrain and the charge time takes around four hours.
Pros:
+ Six Speed Gear System
+ Works Three Ways
+ 300W Motor
+ 20 MPH Speed Capacity
+ 30 Mile Range
Why We Liked It – This is a versatile bike with a great set of features. It is well designed and stylish providing a top quality, safe ride.
---
3. Kemanner Electric Mountain Bike
The Kemanner electric mountain bike is one of the more environmentally friendly bikes on the review list. It has an environmentally friendly battery that has a low charging time (4 hours) and a large capacity for range (25 KM). This mountain bike also has incredibly strong and thick tires to make the bike more durable and ensure extra protection when riding on rougher terrain.
Pros:
+ 36V Lithium Ion Battery
+ 25 KM Range
+ 3-Speed Smart Meter
+ 2 Riding Modes
+ Foldable
Why We Liked It – This electric mountain bike comes with a guarantee of great customer service attached to it, with someone available to help you (should you so need it) 24 hours a day. It is this added pastoral touch that makes the product more wholesome.
---
4. Tomasar Power Electric Mountain Bike
Tomasar Power electric bike is a modest yet powerful addition to the electric bike market. It has a great battery life which provides a good range (up to 25 KM). It is made from a durable aluminum alloy frame alongside other durable materials such as carbon steel. Tomasar has also included front and rear brakes for extra safety and peace of mind while using their electric bike.
The wheels on the bike are built with strong traction and grip and of top quality material so you know that they are safe, reliable and durable. It has seven different speed settings which are easy to maneuver around and are also explained in the detailed manufacturer's guidebook provided with the bike.
Pros:
+ 36 V Lithium Battery
+ 25 KM Range
+ Aluminum Frame
+ 250W Motor
+ Safe Brake System
Why We Like it – This mountain bike is slightly cheaper (under 1000 dollars) than others on the list, but that does not detract from the value of the electric bike overall. It has great battery life and strong motor as well alongside coming in a variety of different patterns and designs.
---
5. Cyclamatic Power Plus CX1 Electric Mountain Bike
This is a compact bike that can be assembled and reassembled quickly and easily, though it might take a few attempts to practice. It has a range when fully charged of just under 30 miles, which is at the higher end of standard when it comes to electric bikes. It has quite a powerful motor at 250W which only adds to how smooth the ride is when using this bike.
The 21 gear system means that you can travel vertically upwards with ease and without having to strain yourself too hard thanks to the supportive gears on the bike. The battery takes around three hours to be charged completely and should be done after every ride just to be on the safe side.
Of course, that is the charge time from a flat battery so it will take less after half a journey. You can also use the bike as a normal pedal bike without all the electric features, the battery is fully detachable.
Pros:
+ Easy to Assemble
+ 15 MPH speed
+ 36V Lithium Ion Battery
+ 21-Speed Gears System
+ Front Tire Suspension
Why We Like it –  This is a versatile bike offering a large motor, large range and large capacity to function in all weathers and a variety of different terrains. It is a good option if you are looking for a quick and easy, no fuss no frills electric bike.
---
6. Hurbo Electric Mountain Bike
Hurbo electric mountain bike is a fully foldable and storable electric mountain bike option. It is equipped with a 36V lithium ion battery which will provide you with a range of up to 50 KM. It is detachable from the bike frame for ease of charging, which will take around five hours to become fully charged.
The bike itself has two working modes which can be swapped and changed however you, please. The motor is 250W, and the top speed is around 25 KM per hour. This is helped along by the 7-speed gear system. The frame is strong and made from aluminum, so it is waterproof and durable as well.
Pros:
+ Environmentally Friendly
+ 36V Lithium Ion Battery
+ Variety of Styles
+ Safety Brakes
+ LED Headlamp
Why We Like It – This is an environmentally, incredibly durable electric mountain bike which will keep you going in all weathers with its excellent range and protected battery.
---
7. eAhora XC100 Plus
One of the things that divides this model from others in same price range is that it has detachable battery, which enables you to charge it at home or at office despite your bike isn't around. Battery takes 4-5 hours to charge, and can take you 55 miles per charge.
Another great advantage of this model is ability of cruise control. If you keep speed for 8 seconds under electric mode, it activates cruise control, but don't let it get distracted! Safety is still number one priority.
Pros:
+ Detechable battery
+ 350W motor
+ 55 miles per charge
+ LED Headlamp
+ Cruise control option
Why We Like It – One of greatest advantages is cruise control option, which is really useful for any mountain ride.
---
8. Aceshin Electric Mountain Bike
This is an electric mountain bike for adult bikers with a removable battery that works in two different ways. It is fully equipped with front shock absorbers and thick tires made with strong material so that they are durable and can withstand the variety of rougher terrain that comes hand in hand with mountain biking.
Pros:
+ 36V Battery
+ 250W Motor
+ 21 Speed Gear System
+ 2 Modes
+ Variety of Colors
Why We Like It – The great thing about this bike, apart from the obvious top features, is that it comes in a variety of colors and patterns.
---
9. Addmotor MOTAN
Addmotor MOTAN electric mountain bike is a big bike built for big biking appetites. It goes fast, it lasts for a long time, and it means business. The thick tires can manage rough roads and tracks, making it the ultimate off-road bike. It is fully adjustable for different heights and shapes and sizes and is made with a tough frame to support anything.
It even comes with built-in mud guards so that you don't get covered while riding. This is alongside the front, and rear safety brakes that will give you peace of mind should an emergency stop need to occur.
Pros:
+ 48V Lithium Ion Battery
+ 20 MPH Top Speed
+ 55 Miles Range
+ 136 KG Capacity
Why We Like It – The Addmotor Motan makes the list because of its impressively sized battery and therefore its impressively large range capacity.
---
10. X-Treme Sedona 48 Volt High End Women's Step-Through Frame Electric Mountain Bicycle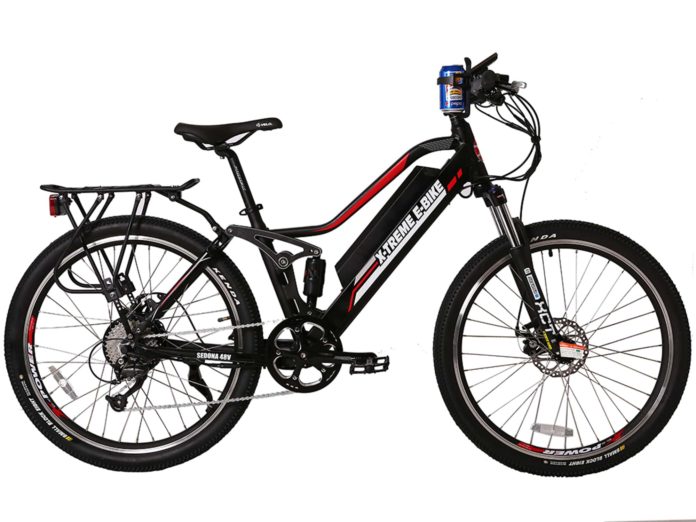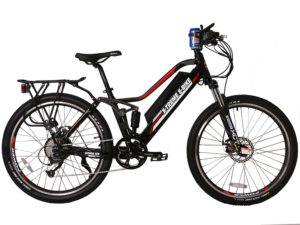 One of many design especially for ladies. Despite it looks gentle, it has powerful 500w motor from the Bafang High Torque Zero Resistance Clutch with digital torque sensor. Entirely made of aluminium which makes-no rust! It can be driven trough any surfaces and any weather conditions without any worries.
The LC display indicates speed , distance and Battery life. It comes equipped with the KIng Meter 5 Speed Smart Power Assist System(SPAS) with USB phone charging port.
Pros:
+ 500W motor
+ 48 volt Lipo4 Lithium Battery
+ Kenda Mountain tire
+ Can be used in any weather condition
Why we liked it – Aluminium makes it almost untouchable for all conditions it faces. It also makes it durable a lot more than most of other materials.
---
Electric Mountain Bikes Buyer's Guide
There are so many more great electric bike products out there, but above are the top ten that have been selected for review and to demonstrate a range of features and attributes that you may not have considered you would be looking for.
The question remains, what are you looking for when you are buying an electric bike? Consider the following criteria discussed below to give you a little bit more of a clearer picture.
Battery
The battery that comes with the electric bike is important. You need to be verifying:
a) How long does it take to charge? You don't want to have to wait around for a full day if you run the battery flat. Average charging time would be around three hours to get a full charge.
b) What size is the battery? This is important as it dictates how many miles you can get from one single charge. If you are using your bike for your daily commute, this becomes important quickly.
c) Is the battery detachable? This is a matter of security as well as a matter of convenience. You want to make sure the battery can't be stolen and that if needed, you can remove it at will.
d) Is the battery protected for all weather conditions? If the answer is no, then this may not be the bike for daily use. The battery should be in a protective casing to keep it safe from all types of weather.
Motor Size
The size of the motor will determine how powerful your electric bike is. It also determines what speed the bike can go at, what weight it can take and how durable the bike will be in the long run.
All electric bikes come with a variety of different motor sizes that are usually powerful enough to be able to support an average sized adult. However, this information is definitely worth checking out pre-purchase- just in case!
Range
How far are you going on your electric mountain bike, if the answer is: Just a few miles, then it doesn't really matter. However, if you are intending to use your bike on a daily basis, then the range becomes a little bit more relevant.
With things like mountain biking and off-road riding, it is important to factor in the range that your bike is capable of. If your battery fails you because you didn't charge it properly or you miscalculated the impact of your speed on the capacity of the bike, then you will end up in a predicament.
Regardless, you need to know exactly how many miles you can get out of a charge so that you don't end up struggling unnecessarily and behind schedule. Most mainstream electric bikes will provide a range of around 20 miles, often more, from one charge.
If you are looking for a bigger range, look at battery size and how it correlates with the size of the motor installed on the electric mountain bike. This will normally give you a better idea of how far the bike will take you.
Speed
The average speed that an electric mountain bike is capable of is around 20 MPH. This is less restricted while mountain biking than while biking on the road, however, it may not be wise to reach such top speeds while trailing on rough terrain.
There are in fact, some bikes that can go up to 28-30 MPH. This may be more suitable for flatter terrain.
The weight of the person riding and the height of the person riding will dictate the top speed that the electric bike is capable of. With that in mind, the majority of electric mountain bikes can sustain at top speed capacity of around 160 lbs. This, of course, varies from model to model.
Brakes
Brakes are important. Brakes are the key safety feature of any vehicle, and the electric bike is no exception to this. If you are using your bike for top speeds, mountain biking or riding it around in traffic, you need to be diligent that the brakes provided on the bike are fit for purpose.
The majority of electric bikes will be fitted and made with front and rear brakes, which provide extra safety and extra stopping power. Fewer of these bikes will be equipped with brakes that are quick stopping. This is an additional safety feature, on some bikes but not all, that is highly recommended for you to look for in your electric mountain bike purchase.
However, this is not always the case and is definitely something that needs researching before making any purchase. The brakes are the last thing you need to be worrying about while riding!
Design
There are a few different designs of electric mountain bike out there.
Foldable bikes are becoming ever more popular. Being foldable means that the bike is storable. This means that it does not take up unnecessary space in a house or a shed etc. It also means that it could be hung up on a wall, should this be a requirement. They certainly have advantages over bikes that cannot fold, and their overall integrity of strength and purpose is not compromised.
Some electric mountain bikes are made as multipurpose. This means that they can be used as an electric bike or a pedal bike, or as a bit of both. Some are even built with speed cruise control functions for ease of use.
It is worth considering just in case something goes wrong with the technology and you need to continue with your journey. Lots of electric bikes can be adapted into pedal bikes with ease, and this might be a really sensible option to opt for when making your electric mountain bike purpose.
The Warranty
Lots of electric mountain bikes now come with a warranty. This is a good thing to have on any electrical product that you own, as you never know what might happen or when it might happen.
However, it is worth looking at the finer detail.
First of all, you should be looking for a warranty that lasts at least a year. The preference is procuring a warranty that is going to last for more than a year, but most companies do not offer this. If you find one that does, great, this might be the factor that swings your decision in that bike's favor.
Second of all, you need to establish what exactly the warranty will actually cover you for. Some warranties, not all of them by any stretch but definitely some, only cover you for certain parts of the bike that might break. You want to make sure that you are at least covered, at the very least, for the battery and the motor.
Thirdly, you might strike gold and find a warranty that covers all parts for many years. However, this seems unlikely to happen after shopping around.
Something to think about maybe taking out extra insurance to cover your contents or making sure you know a good mechanic on standby.
Expert Tip
The most common tire size for a mountain bike is the standard 26 inch. This is suitable for most mainstream and hardy types of riding. However, there are other options that are worth exploring if you are looking for something a bit bigger and better. It is worth talking to an expert in store to fully understand the wheel size choice debate.
Did you know?
There are a lot of health benefits to mountain biking including improvement for heart health, joint health and even your mental health and concentration capacity.
Amazon Recommends:
If you liked this review, please rate below.