The time has come to hang up that outdated hoverboard and switch it out for a new off road electric skateboard ! Off road electric skateboards can do everything a hoverboard – or even a traditional skateboard or longboard – can do, and more!
These new boards give you the best of both worlds: they come with a powerful motor that can easily propel you to speeds far beyond what could be reached on a traditional board, without forcing you to compromise comfort or control as you would on a front facing hoverboard. Welcome to the world of best mountain boards.
Related: Top Off-Road Scooters.
View The Best Off-Road Skateboard Below
We've put together this guide to help you find the all-terrain, electric skateboard that is right for you. It includes six of our top picks as well as buyers' tips.
1. MBS All-Terrain Longboard
If you're looking for a top of the line electric offroad skateboard, look no further the MBS 10001 All Terrain Longboard. Its huge lithium battery gives it an unparalleled 31-mile range per charge and allows the user to choose between different modalities to optimize speed and control.
The redesigned  deck ensures a smooth, comfortable ride on any terrain, so you can off-road with total confidence.
+ 190mm Navigator Drone trucks guarantee precision turning
+ 100mm all-terrain longboard wheels are cast with 78A super-high-rebound urethane
+ Rubber shielded ABEC 9 bearings
Why We Liked It – You get a lot more than you pay for, since the price is way lower than the actual quality of the product.
---
2. Atom 90 MountainBoard
The Atom Longboards 91115 90 MountainBoard is easily one of the best options in the industry. In a group of ATS(All Terrain Skates) trucks. Comes with F1 bindings which are perfect for smaller feet. With 8 inches Diamond tread tire you can ride it on any surface possible. With Axle to Axcle lenght of 85.2 cm, it is pretty stable, and you will not have any problems in certain unapproachable terrains.
Pros:
+ Designed for speed and long-term use
+ Designed for every surface possible
+ Massive pneumatic tires
Why We Like It – We like this electric skateboard because it's one of the fastest choices we could find on the market. The massive tires are also a nice addition for those who go off-road.
---
3. MotoTec 1600W Off Road Electric Skateboard Dual Motor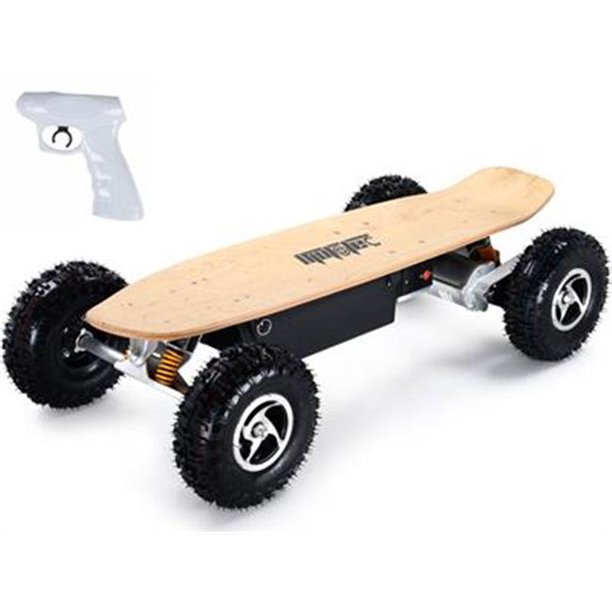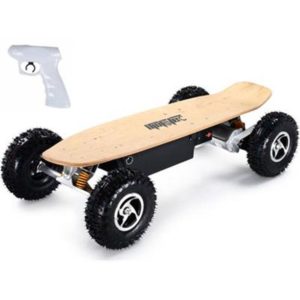 Having two separate motors, one for each rear wheel, allows the board to turn but prevents it from twisting during acceleration, as well as better traction on dirt.
Intensity of extreme sports and classic thrill of skateboarding mixed together gives an unique experience. Large tires allows you to control every move you make with it, without losing flow of the ride itself. It is controlled using wireless, handheld remote control with three-speed variable control system.
Pros:
+ Dual Engine
+ Fat tires
+ Smart remote
+ Great control
+ Stable to ride
Why We Liked It – Satisfaction that combination of power and control give you, makes  riding this skateboard awesome experience.
---
4. AZBO Off Road Electric Skateboard
Whether you're a pro or a newbie, the AZBO Off Road Electric Skateboard is a solid choice. It even comes with elbow pads, kneepads, and gloves to keep you safe along the journey. It includes massive pneumatic tires to allow you to cruise right over grass, dirt, concrete, and numerous other terrains.
The maximum speed on this board is 25 miles per hour, a perfect amount to get around the area quickly. It has a max capacity of 290 pounds, and it charges in as little as 3 hours from empty to full.
Pros:
+ Perfect for going off-road
+ Includes safety gear for beginners
+ Max weight capacity of 290 pounds
Why We Like It – We like this product because it comes with everything you need to get started. Even if you're used to riding electric skateboards, safety gear is always a good idea to try out.
---
5. AZBO Electric Skateboard Longboard with Remote Control 
The AZBO Electric Longboard with remote control provides comfortable and responsive platform with unique shape it has. Rechargeable remote control allows you to have control over the longboard's speed, breaking system, and battery capacity at any given moment, which is making your ride even more relaxed.
With dual-hub motor, that enables AZBO ES to go up to 17mph, and a 4.4 lithium battery which gets fully charged in just 2 hours, you will be amazed how smooth it speeds up, and act during skating.
Pros:
+ Travels up to 17 miles per hour
+ Charging time 2 hours
+ Dual-hub motor
Why We Like It – What we liked the most is that driver has to worry only about the destination, everything else is controlled with precise remote control.
---
Off Road Electric Skateboard Buyers Guide
Electric mountain boards are becoming increasingly popular – and they're not just being used as toys. Yes, they are certainly a big hit among teens and pre-teens, and they even have a wide base of adult recreational users. But more and more people are choosing to use all-terrain electric skateboards in their daily commutes. They are a relatively cheap, portable, and environmentally friendly mode of transportation, and they are especially popular in urban and sub-urban areas – and particularly popular in college towns.
Finding the right board can be tricky, especially for first-time buyers. There are often a lot of nuances and lingo that can be confusing to even the most experienced riders, and more than a little intimidating for those who are new to the culture. To help, we've broken down everything you'll need to know and sorted it into three categories:
What Is an Off-Road Electric Skateboard?
First and foremost, it is important to understand exactly what an offroad electric skateboard is – and what it isn't. It is not a hoverboard, which you ride facing forward and which typically has safety features that aid balance and limit speed. It also isn't exactly a toy – the heavy duty, off-road boards can be much more dangerous than a traditional skateboard.
The average electric mountain board or longboard can go as fast as 25 mph and does not come with any balance or stability aide whatsoever. At 25 mph, the speed may not seem very fast from a vehicular perspective, but it is a pretty significant speed to be traveling without anything between you and the road – or other cars. For that reason, most electric longboards and skateboards are not recommended for children under 13 years of age. You will also want to wear protective gear when riding one; you'll need a helmet at a minimum, but kneepads are also highly recommended.
What to Look for in an Off-Road Electric Skateboard
There are a million different types of boards out there, and every rider is looking for something a little different. You stand a much better chance of making a satisfied purchase if you first figure out exactly what you want the board to do and what terrain you want it to cover.
Riders who care most about speed will want to look for boards with solid, non-pneumatic tires – the trade-off with these is that they are not as well-suited for the rough or slippery terrain. These boards are best for those planning to use them in an urban environment.
For those who want a mountainboard or electric skateboard for all terrain, pneumatic tires and a quality suspension system are a must. You'll want to look for boards with high-quality, rubber wheels and dense shocks to help keep you stable.
The final thing you will want to look at is the range, or how far the board can travel on one charge. The range can vary greatly between models, from as low as 10 miles per charge to well over 30. Generally, the higher quality the board, the better the range. It's important to keep in mind how far you will need to travel. Before buying, calculate the average distances you'll want to cover. Some boards have replaceable batteries, but most must be plugged in and charged.
Where to Buy an Off-Road Electric Skateboard
Make sure to do a little shopping around before you buy! There are many retailers who sell the same boards at vastly different prices; you might not need to shell out big bucks for a high-quality board. Amazon is a great place to check, but sporting goods stores and skate shops will also have a large selection. However, the prices are likely to be lowest on Amazon. Sometimes you can even buy directly from the manufacturer!
Another thing to be on the search for is copycat or mimic boards, which can allow you all the features of the higher-end electric mountain boards without the price tag. For instance, the Q Dream 25 MPH 2000W is exactly the same as the much more expensive Ninestep 2000W Mountainboard. It's even made from the same manufacturer but sold at a fraction of the cost.
Another important factor of board shopping is when to buy. Demand – and prices – go up around Christmas and right before summer, just in time for the holidays and the return of nice weather. The best time to buy is late winter or early spring.
Luckily for you, we've reviewed the Blitzart electric skateboard right here!
Conclusion
Electric mountain boards are quickly becoming one of the most popular modes of personal transportation around the country and are projected to be one of the hottest gifts this season! Unlike their cousin the Hoverboard, they seem to be here to stay.
Motorized boards are so much more than a child's toy or even a piece of sporting equipment; for many, they are a fun, environmentally conscious, and budget-friendly alternative to other modes of transportation.
They come in such a wide variety that there is sure to be one for every rider. From the long range, urban commuter to the dedicated electric mountain board or off-road enthusiast, electric skateboards have something to offer for everyone. It takes a little patience and research to find the one that is best for you, but all that effort is well worth it in the end.
Amazon Recommends:
Bestseller No. 1
Bestseller No. 2
Bestseller No. 3
If you liked this review, please rate below.