There are many beautiful and fascinating snowboarding resorts in the world, and if you have been planning to take a trip to one of these fairy-tale like countries to have the time of your life, we have you covered!
Mont-Treblant, Quebec, Canada
Built in 1939 in Quebec, Canada, this elegant resort is situated on the highest peak of the beautiful Laurentian mountain. It has charmed ski and snowboarding enthusiasts for over 70 years and it will be sure to stun you with the breathtaking and enchanting views. Right at foot of the mountain you will be greeted with the lively, cobble-stone covered village that will make you feel like you stepped right into a winter wonderland fairy-tale.
Mont Tremblat is one of our favourite resorts because it's ideal for beginners and intermediate riders alike. There are four different types of terrain to fit the preferences of almost any eager snowboard or snow scooter enthusiast and there are three different parks available to be used by riders of any skill level to help expand their freestyle snowboarding skills. These parks also have phenomenal panoramic views that look out over lakes and forests alike.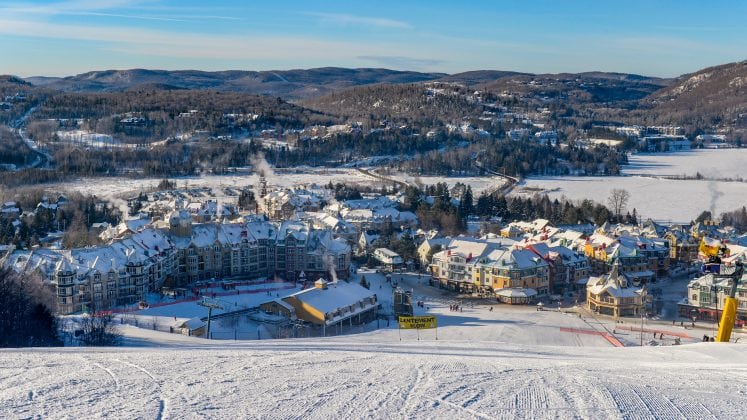 There is an impressive selection of obstacles, including: ramps, modules, jumps and banked turns.
If you are looking for a ski resort that will help take your snowboarding to the next level, Mont-Tremblant will offer you just that and more.
They have a park ranger team that is on hand 24 hours a day, 7 days a week, and any problems or accidents are resolved quickly and professionally.
With over 94 trails and 13 lifts located all around 625 acres of fresh, powdery snow, you can be sure that you will not be bored on your trip to Quebec's famous ski resort. If you are bringing your family, Tremblant offers a daycare for kids aged between 1-6 years old, and if your kids are eager to learn to snowboard and ski like their parents and relatives, there is a Snow School where you can sign up kids that aged 3 and above.
The Travel
+Tremblant has their own official airport, which means that there are many direct flights available from all over Canada.
+From the airport, you will have the option to either take a bus from the main intercity bus terminal (Station Centrale d'Autobus) to get to your hotel, or you will have to take the subway or taxi to get to your initial destination.
+ If you will end up going by bus, it is recommended to go by Galland-Bus, since they cost almost half the price the Tremblant shuttles do!
The Top Hotel
+ The Hotel Quintessence is a 5-star hotel that is located just 2 minutes away from the official Mont-Tremblant resort and village.
+ Each suite has a wood-burning fireplace and private balcony or a terrace, where the guests can dine during the warmer months. There are plenty of spa and relaxation options available on site and the staff will provide you with the finest food choices and wine options. Couples wholeheartedly recommend this hotel and rate it a solid 9,9! Make sure you have a pair of skiing gloves for outside, though! Want snowboarding gloves? Click here.
Ski Pass Cost
A daily ski pass for an adult costs about 50$-60$ dollars, the payments are officially charged in Canadian Dollars. There are also a few seasonal passes available from 400$+ for those that plan to stay longer – just don't forget to pack extra ski pants!
Åre, Jämtland, Sweden
Founded in 1909, this fascinating ski resort is located just on the outskirts of the Åre village and is known to host many competitions.
It's not uncommon to take a walk around the village and to run into many famous snowboarding and ski legends! Especially during the winter season, this resort is perfect for anyone that is looking to relax or to hone their snowboarding skills while being surrounded by masters and other beginners.
The resort is divided into 4 main terrains: Are, Duved, Tegefjall and Bjornen. Duved and Tegefjall are connected by lifts as are Are and Bjornen. If you are a beginner, Duved And Tegefjall have many beautiful slopes that are catered to people who are still trying to get around the snowboarding learning curve. Since many people initially all run to the slopes provided on the Are district, Duved and Tegefjall tend to be quieter and are perfect for anyone that likes to learn or train in peace.
If you will want a quick coffee or some tea to drink, there is a cafe located on the slopes to enable you to do just that! You will find all kinds of runs here that cater to both beginner and intermediate riders. If you are looking for a place to buy a pass or to rent some gear, there is also a lodge on the slopes that will be able to equip you with both.
Are is at the center of the resort and has a fantastic variety of slopes for all skill levels. You will be able to find a freestyle park here as well as a half-pipe park and various black runs. If you will ever feel like you need a break, that are plenty of cafes and bars located around the resort near Are. Bjornen is ideal for families looking to improve their skills together or for beginners trying to achieve an intermediate snowboarding level.
The Travel
+ There is an airport in Are/Osterond and there are various ways to get from the airport to the Are ski resort itself!
+ If you are at the airport, you can get to the Are ski resort by:
1. Flygtaxi (a bus that will pick up all the people from the specific flight you are one and take you straight to the resort).
2. Taking a taxi to Osterund, and then taking the local bus going to Are (usually the cheapest option!)
3. Share a private bus/taxi or take a taxi alone!
The Top Hotel
+ The Copperhill Mountain Lodge is the most renowned hotel in the Are area. They offer you rooms that have been designed by Peter Bohlin, the same man who designed Bill Gates house and various other Apple properties around the world.
+ This hotel has a very classic ski-lodge look and also provides a ski-in and ski-out access that will help you get out on the slopes without any trouble whatsoever!
Ski Pass Cost
Ski passes at the Are ski resort usually cost 230 SEK (around $30) for one full day of snowboarding for one adult. So, go and pack your snowboard pants, you're going snowboarding!
Hemsedal, Norway
The Hemsedal ski center opened up in 1961, and from that time onward, this ski resort has grown to be the biggest resort of its kind in Norway! More than half of the visitors that come to Hemsedal each year come from abroad. The resort gained significant popularity right after Skistar bought the area and started developing the acres around to attract tourism. Situated between Oslo and Bergen, this ski resort is perfect for people who are from the capital cities and are looking for a get-away holiday.
All of the three summits are hugged around the ski resort and provide a fantastic atmosphere for anyone that is ready to go on their snowboarding adventure. Once on the top you will be able to choose which slope you will want go down on, since each one has a different difficulty level it's important to choose wisely! You will be able to snowboard for 6km down to the foot of the ski resort without having to stop. There are 49 slopes to choose from, 3 parks, 1 skicross arena and 20 lifts.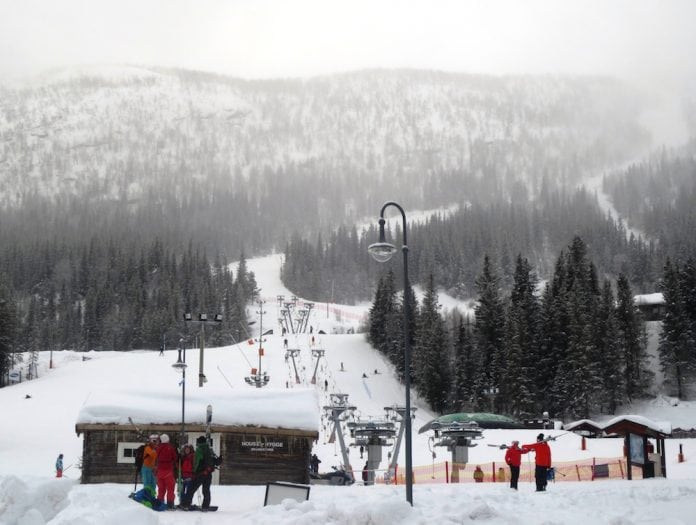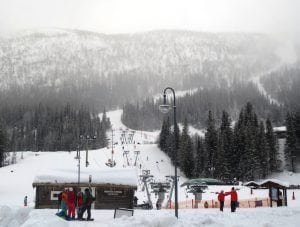 Hemsedal is known for keeping families well occupied; there is a very large skiing area open for children to help them learn and experience skiing and snowboarding with instructors and family, too.
They have child friendly slopes and lifts alike! There are also many snow parks for those riders that like to have a challenge, try freestyle and other various tricks that are not possible to do on normal slopes!
There are also many fantastic restaurants and bars around Hemsedal which will definitely be great salvage points for those who are exhausted after hours of snowboarding!
The Travel
+ Thanks to Hemsedal not being far from Oslo, it's easy to get to the Oslo airport, and from there you can get to Hemsedal in various ways:
1. You can rent a car or take a taxi
2. You can take the train from Oslo to Gol, and from Gol get a taxi or local bus to Hemsedal
3. You can take an express/night/local or transfer bus (loca bus nr. is 360)
The Top Hotel
+ One of the best hotels in the area is definitely the Harahorn hotel. If you like to have a unique and refreshing holiday, Harahorn will offer exactly that.
+ They are situated 10 minutes from the main Hemsedal skiing area and have a fantastic atmosphere within the ski-cabin design.
Ski Pass Cost
While Hemsedal doesn't offer daily ski passes, they have a a weekend pass that lasts three days that costs 1,245 NOK (around $151) for an adult. There are also seasonal and weekly passes available for purchase.
Chamonix, France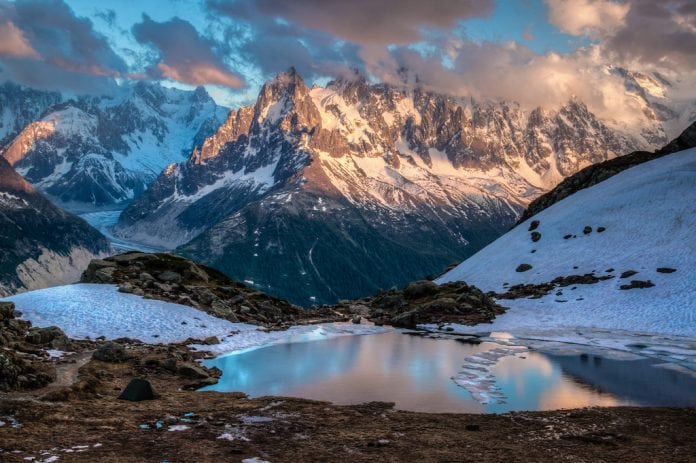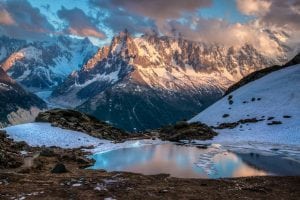 The holding of the first Winter Olympic Games took place in Chamonix, in 1924. Since that event, Chamonix has been growing relentlessly in tourism and is one of the most popular ski resorts in the world.
You can find Chamonix on almost any credible list of best ski resorts on the planet, and it's for good reason.
In the 1960s the resort had more than 5 million visitors, and Chamonix has only been improving their slopes and services since then.
There are five separate ski areas to choose from that are spread over 20 km. Each of these areas has a different terrain to cater to different skiing and snowboarding levels of the riders. Chamonix is one of those resorts that is tailor made for those adventurous souls, since at least 70% of the slopes here are labeled black or red. That of course doesn't mean beginners won't find something for themselves; each area has a series of nursery slopes and blue runs, too! The lift system works all year round and will be sure to give you access to all of the peaks around Mont Blanc.
There is also a lot of off-pistes ski touring terrain that is perfect for experienced snowboarders that like to test out their skills on more aggressive slopes. If you are an intermediate rider, you will be happy to know that Chamonix is known for being one of the best freeride resorts in the world. Many people are also amazed by the sheer size of the resort itself, since it ranges in at 245.5 km2!
The Travel
+ The quickest way to get to Chamonix is by taking a plane that first lands at the Geneva airport
+ From the airport, it's easy to take a direct taxi, hire a car or get an airport transfer
+ You can also travel by Eurostar or TGV trains that go from Lyon and Paris to Saint Gervais Les Bains, from there it's easy to switch to the Mont Blanc express that goes straight into Chamonix
The Top Hotel
+ The Hotel Hameau is definitely one of the best hotels around Chamonix. It has a fairy-tale scenery both inside and outside of its premises.
+ This 5-star hotel is perfect for anyone that likes to have a room with a fireplace, an indoor-swimming pool, a SPA and a michelin-starred restaurant
Ski Pass Cost
A full-day pass for one adult at the Chamonix ski resort costs €63,50 (around $75).
Revelstoke, Canada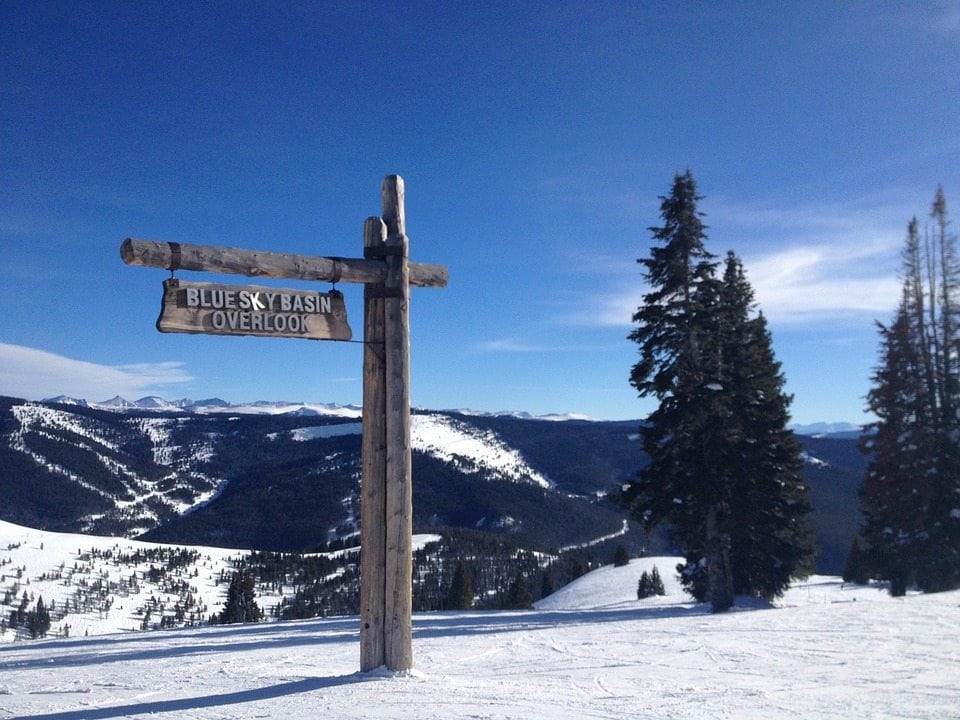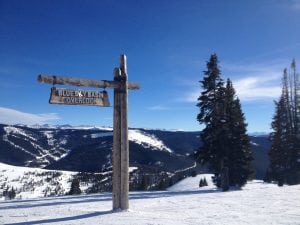 Even though Revelestoke has been formerly known as Powder Springs around the 1960s, it didn't become the official Revelstoke Mountain Resort until late 2007.
Revelstoke is by far one of the youngest ski resorts on our list, and that's one of the things that make its development over the past decade so impressive.
The resort is as big as any other major ski get-away places, and is often compared to the Whistler or Breckenridge
We think Revelstoke earns a worthy place on this list because it's one of the fastest developing resorts in Canada, and the attractions that are offered to the guests are simply phenomenal. The perfect, pristine powdered snow will make you want to snowboard from the moment you set your snowboarding boots down on it. You will have 500,000 acres of land to experience the holiday of your life.
It's also good to know that Revelstoke offers some of the most vertical terrain in the world. There are 69 runs all around campus, 4 high alpine bowls, a cat ski terrains and guided backcountry tours. Revelstoke is constantly improving, and they are aiming to be able to offer 100 runs and over 20 lift services for their guests in the near future!
Not only is Revelstoke known for getting a lot of natural snow, but If you are up for a challenge, Revelstoke also has a vast majority of long, steep groomers. This resort is mostly aimed at advanced snowboarders and skiers due to the natural terrain. In percentages, about 7% of the slopes are for beginners, 45% for high-intermediate riders and 48% for advanced and above.
The Travel
+ Revelstoke is surrounded by international airports and it shouldn't be a problem to arrange a directi flight
+ Revelstoke is located about 200km from the Kelowna Airport, and there are official shuttles, taxis and buses available that will take you from Kelowna and Calgary right into Revelstoke
The Top Hotel
+ The Sutton Place hotel is right at the base of the Revelstoke ski resort and is one of the most renowned hotels around the area
+ It's fully optimized to be a ski-in and ski-out hotel and has three buildings to host hundreds of guests
+ The hotel has a heated parking facility and is a fully smoke-free zone
Ski Pass Cost
A daily adult ski pass at the Revelstoke Mountain Resort will cost you $99 CAD (around $80 US).
Treble Cone, Wanaka, New Zealand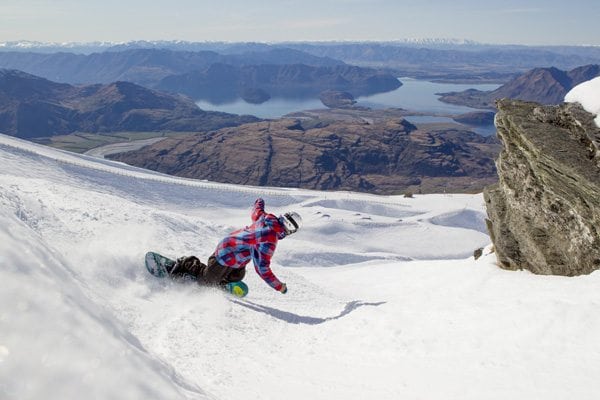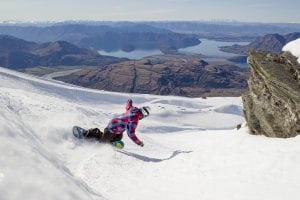 It's hard to imagine that in the late 1960s the Treble Cone mountain resort had only one lodge and was mainly maintained by local ski enthusiasts. Treble Cone is known for being the largest ski terrain available in the South Island area and having magnificent views over landmarks such as Lake Wanaka and Mt.Aspiring.
If you are also into skiing, you will be happy to know that Treble Cone is the official training ground for Austria's national ski team! If you like to live on the edge, you will be also glad to hear that Treble Cone has one of the longest vertical runs in the Southern Lakes.
One of the reasons as to why many people choose to ski at Treble Cone is because of the long seasons- the South Island mountain is located very high in the Southern Alps and that ensures that you will get the coldest, snowiest weather possible no matter if you are coming to the resort in early winter or early spring. The season usually opens around June and ends around October. Keep your feet warm with ski socks (click here for the review). Most importantly, keep your torso warm with the best snowboarding jacket!
Treble Cone offers many slopes for both beginner and intermediate skiers, but it also has a vast majority of runs for the advanced folk that like vertical rides. If you are looking to progress quickly in your snowboarding adventures, Treble Cone is the best place to go. Their runs are 10% for beginners, 45% intermediate and 45% advanced. Treble Cone has been voted New Zealand's Best Ski Resort two times in a row, and it's not only because of the snowboarding options they offer, but the phenomenal views, too.
The Travel
+ Treble Cone is situated about 30 minutes from Wanaka and 90 minutes from Queenstown
+ If you arrive at the Queenstown airport, it's about a 1 hr and 30 minute drive by shuttle, taxis, bus or rental car to get to the base of Treble Cone
+ Treble Cone is located about 5 hrs from the Christchurch Airport
If you're travelling far and bringing your own snowboard, protect it with a snowboard bag or case.
The Top Hotel
+ There is no on-mountain accommodation at Treble Cone, and that's why most visitors stay at Wanaka motels and lodgings that are about a 30 min shuttle drive away from the base of the mountain
+ The best hotel around Wanaka is definitely the Grand Mercure Oakridge resort
+ With this 4-star hotel you will get option such as a gym, SPA, heated rock-pools, sauna, wi-fi, 3 restaurants and play areas for kids
Ski Pass Cost
The cost of a daily ski pass at Treble Cone is $135 NZD (around $95 USD).
Squaw Valley, California, USA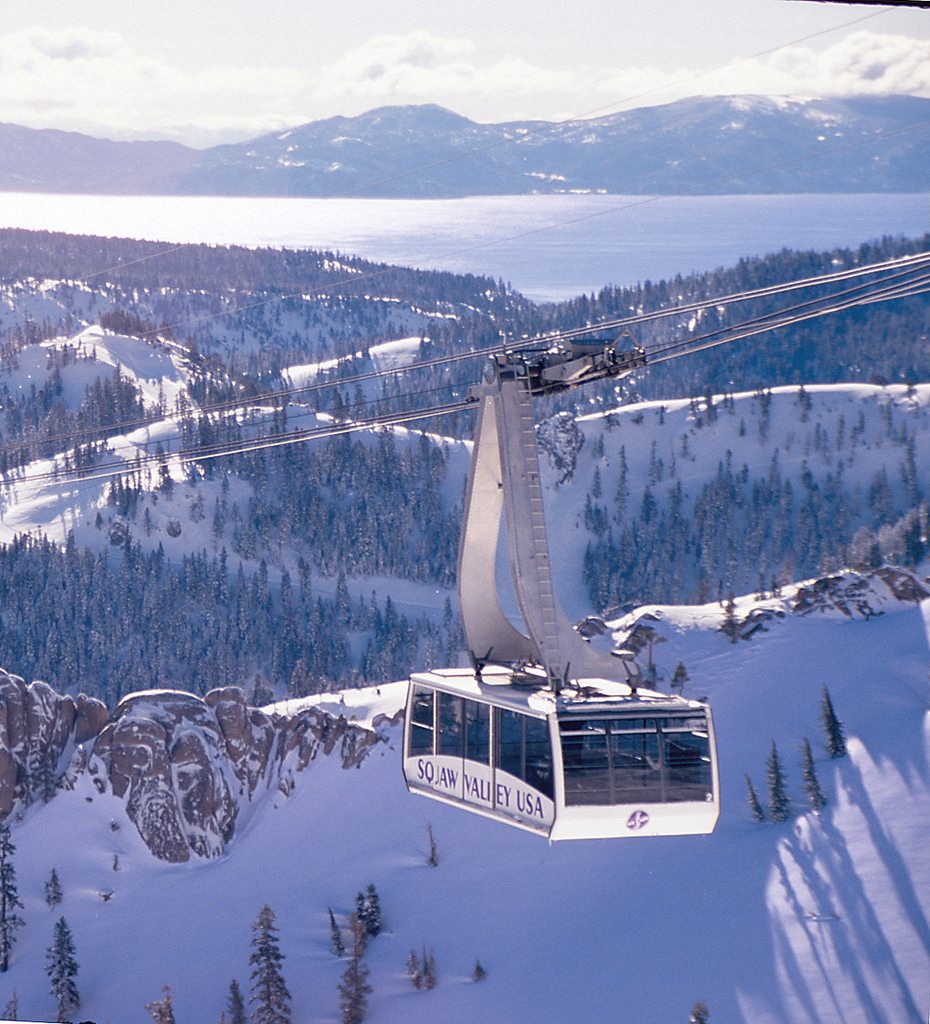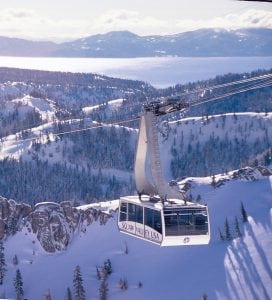 The Squaw Valley ski resort opened for the first time in 1949 and is known to be one of the largest ski resort in all of the US.
It was modelled after popular European ski resorts and that is arguably the feature that made it the most appealing to the US public (alongside hosting the 1960 Winter Olympics!).
Shying away from the traditional USA resort design, Alex Cushing, the founder, introduced some of the most advanced lift technology of the time.
Squaw Valley has over 4.8/5 starred reviews and it's no wonder; they offer more than 170+ trails to satisfy even the fussiest of snowboarders. No matter if you are a beginner, intermediate or advanced rider, there is definitely a run and slope you can call home at Squaw Valley. The runs are 25% for beginners (which is more than on any of the resorts we covered!), 45% intermediate and 30% advanced. If you are just on the learning curve of going onto an intermediate level, this is the ideal holiday for you, and if you are on the cusp of going from intermediate to advanced riding, Squaw Valley will help you nurture and care for your new skill with specially designed slopes.
There are over 3,600 acres to ski on and apart from the 170+ runs, there are 16 bowls and 4 terrain parks, ensuring fun for everyone. This resort is ideal for all ages, all ski levels, skiers and snowboarders alike, no matter which group you belong to, you can be sure you can find something for yourself at Squaw Valley. The terrain can vary from gnarly to soft and powdery, from steep to even, from tough to tame, and from petrifying to relaxing. Having one of the longest seasons in the country, you will be able to enjoy this resort all season round!
The Travel
+ Squaw Valley is about 8 miles from Tahoe City and the closest airport would be in Reno Nevada (about a 60 minute drive away)
+ Easily accessible by car on major high-ways
+ If you land in San Francisco or Sacramento, the drive is about 2-3 hrs long
The Top Hotel
+ The resort at Squaw Creek is one of the best hotels around the area and has a ski-in and ski-out main area and a 24 hr service
+ They offer a free shuttle to and from Squaw Valley, have a babysitting service, gym, free ski-valet, ice skating rink, free use of outdoor pools and hot-tubs, free wi-fi and much more!
Ski Pass Cost
A daily ski pass cost for an adult at the Squaw Valley Mountain Resorts costs around $108.
Nozawa Onsen, Nagawa, Japan
Having been built almost 70 years ago in the mid 1950s, Japan's Nozawa Onsen ski resort is one of the most popular destinations in the country when it comes to having a fulfilled winter holiday. The resort strives to maintain a traditional atmosphere that is common in the Nagano Prefecture.
The beautiful surroundings look phenomenal in the summer, and even more so when the snow acts like a blanket over the landscape. The mountain is widely enjoyed by skiers and snowboarders alike and the village is extremely busy during the winter season as everyone gathers round to try out the new slopes! Nozawa Onsen has over 50 runs, 20 lifts and also a ski school for all age sand abilities located right next to the resort.
If you are traveling with your family, there is also a room for kids that has various activities that all children up to 6 years old can enjoy while the family is out snowboarding on the slopes! There is also a Kids Park available where children are looked out outside and where they can engage in various snow activities with the carers.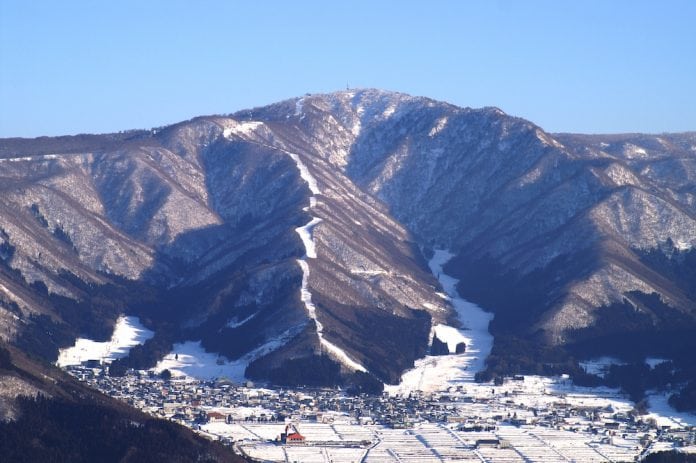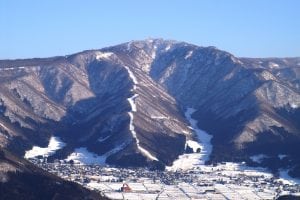 The natural powder snow available at Nozawa Onsen will allow you to enjoy your snowboarding adventures way into May, too!
The amazing variety of slopes on this mountain is perfect for beginners and intermediate riders alike and the Snow Park is perfect for anyone that is up for a test of their tricks and skills.
Nozawa Onsen has been the top ski resort in Japan for many years thanks to the snow quality, its 300 hectares size.
The Travel
+ Even though Nozawa Onsen has no train station, it's connected by bus lines to Iiyama and Nagano Dentetsu.
+ When you arrive at the Nagano bus station, it's recommended to take the Iiyama bus line that will lead you directly Nozawa Onsen's bus station (about a 1 hr journey).
+ A popular choice for visitors is also the direct bus that goes from Nagano City straight to the base of the Nozawa Onsen resort
The Top Hotel
+ Haus St. Anton is right in the center of the village and is a European style hotel that is 5 minutes away from the Yu Road, which will take you directly to the base of the ski area!
+ You will get access to free wi-fi, an open fireplace, a common lounge room, an indoor bathhouse, free onsite parking, laundry facilities, bar restaurant and much more!
+ Nozawa Onsen is not optimized for glamorous 5-star hotels, since the village offers a 100% traditional setting and stay, where it's common to rent a room at an inn where you will enjoy the true Japanese culture!
Ski Pass Cost
The daily ski pass cost for an adult at the Nozawa Onsen ski resort is 4,800yen (about $40!).
Rosa Khutor, Sochi, Russia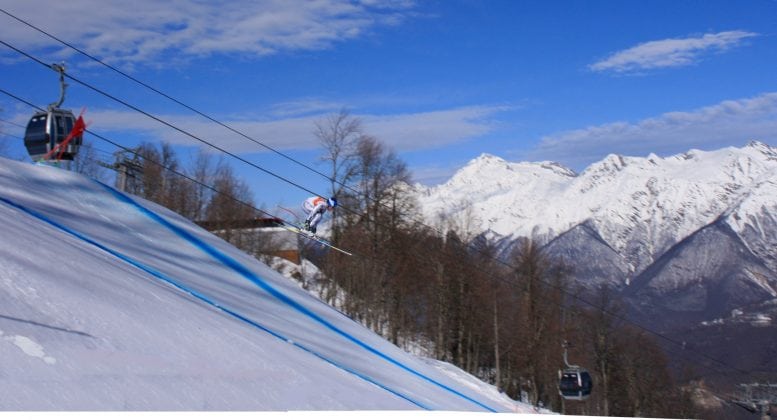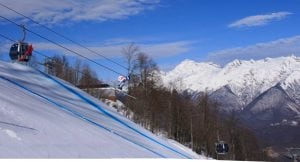 Having been developed for 8 years between 2003-2011, the Rosa Khutor is definitely one of Russia's most prestigious ski resorts. If you talk to the locals anywhere in the country, you can be sure they will name Rosa Khutor as a must-see and experience destination.
Many people should remember the name thanks to resort's participation in the 2012 Winter Olympics and Paralympics that were taking place in the nearby by city, Sochi. Rosa Khutor hosted the alpine skiing events with great success. The resort has over 50 slopes of various difficulties, ranging from runs for kids, to beginners, to intermediate and advanced riders. There are also 5 snow park on campus to ensure all kinds of fun and entertainment for those that want to see the boundaries of what they can do with their snowboards.
Rosa Khutor is known for the safety that it provides to the guests that visit and the slopes that have been designed by leading experts to help you maximize your learning experience and finally pass those learning curves! There are over 80km of trails at the resort campus and 15 of those were used and approve by competition standard like the Winter Olympics. There is no better place to feel safe than at Rosa Khutor, where famous winter sport enthusiasts have been known to hang-out. Stay safe and wear a skiing helmet – click here for the top 10.
If you are into more challenging and dangerous snowboarding, there are plenty off-piste areas that will you give to just that and more. Rosa Khutor is constantly improving and is planning to have 58 lifts and over 150km of runs in the near future!
The Travel
+ Rosa Khutor is situated near the Adler Region of the Sochi city, which means it's about 40km away from the Adler International Airport
+ There are many direct flights that will take you straight to the Adler International Airport and from there, there are local buses that can take you to the base of Rosa Khutur
+ There are direct trains to Sochi from cities all over Russia, for e.g. a direct train from Moscow to Sochi can take anywhere from 25-40 hrs
The Top Hotel
+ If you are looking to have a hotel right at the feet of the Rosa Khutor, Hotel Alpika is widely known for being one of the best hotels around
+ Situated 10 minutes away from Rosa Khutor, you couldn't ask for a better hotel location than this! The Adler-Sochi Airport is just 37 km away from the property, too
+ With a river surrounding the hotel, there truly isn't a more picturesque view than this
Ski Pass Cost
A daily ski pass for an adult at the Rosa Khutor costs 2100 Russian Rubles (about 30$!)
St.Anton, Austria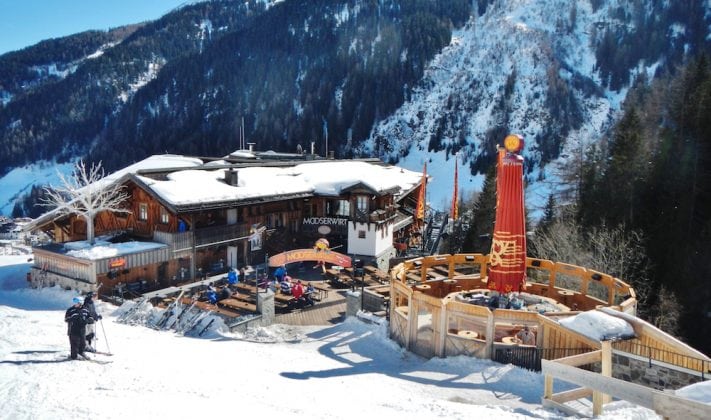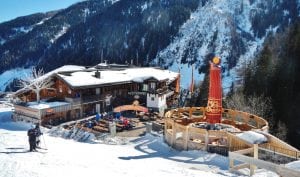 Last but not least, we have one of the most prestigious ski resorts in the world.
The St.Anton ski resort is one of the most popular resorts out there, and is akin in size to USAs Squaw Valley with over 150 runs, 84 lifts and summing up to about 300km worth of pistes all around campus.
St. Anton is also the birthplace of the modern skiing father, Johann Schneider.
There are around 35 blue runs, 70 red runs and 30 black runs. Many people say that St.Anton is too challenging for beginners, especially when the beginner runs are crowded, but many professional snowboarders learned to ride here, and as the staff say: If you can ride at St.Anton, you can ride anywhere.
St.Anton is perfect for advanced snowboarders, even though there are only 30 black runs, there is plenty of phenomenal spaces off-piste that are ideal for the daredevils living among us. It is also said that even though the blue runs are supposed to be marked as beginner runs, most people say that they could be considered as red anywhere else in the world!
If you are travelling as a family, there is a ski school available for kids above 2 years of age around the village located beneath the mountain. St.Anton is definitely located in one of the Alps snowiest areas and gets way over 7m of snow. The lift system is very efficient without over 88 lifts available all across the resort and the stylish town at the base of St.Anton looks like something straight out of a fairy-tale, especially nearing the evening!
The Travel
+ One of the reasons as to why St.Anton is so popular is because of the easy access it has to visitors
+ St.Anton is less than an hour away from the Innsbruck Airport, about 2-3 hrs away from the Friedrichschafen/Zurich/Munich Airport
+ You can also reach St.Anton by train, which takes about 3 hrs, and by transfer shuttles that are located near the airport
The Top Hotel
+ Anthony's Life & Style Hotel is one of the best hotels at the base of St.Anton in the area, it's a stylish, fabulous, hotel that has the atmosphere of a well-designed inn
+ The lifts are 5 minutes away from the hotel door and the luxurious accommodation available within the hotel may just make you forget as to why you really came to the snowy mountains!
+ Within the hotel there is a steakhouse, bar, pizzeria, pub, SPA, beauty retailer, sports shop and much more!
Ski Pass Price
A daily ski pass for an adult at the St.Anton ski resort is 53,00 EUR (around $60).
Best Snowboarding Mountain in the World
The best snowboarding mountain in the world has to be the Whistler Blackcomb, Canada. This resort is massive and the mountains here offer anything a snowboard enthusiast, professional and beginner could ask for. The Whistler snowboarding area offers all kinds of terrains, from vertical, to horizontal slopes to off-piste aggressive runs. The facilities here are fantastic and accommodate any rider of any age and skill level to help them learn and experience true snowboarding.
Biggest Snowboarding Mountain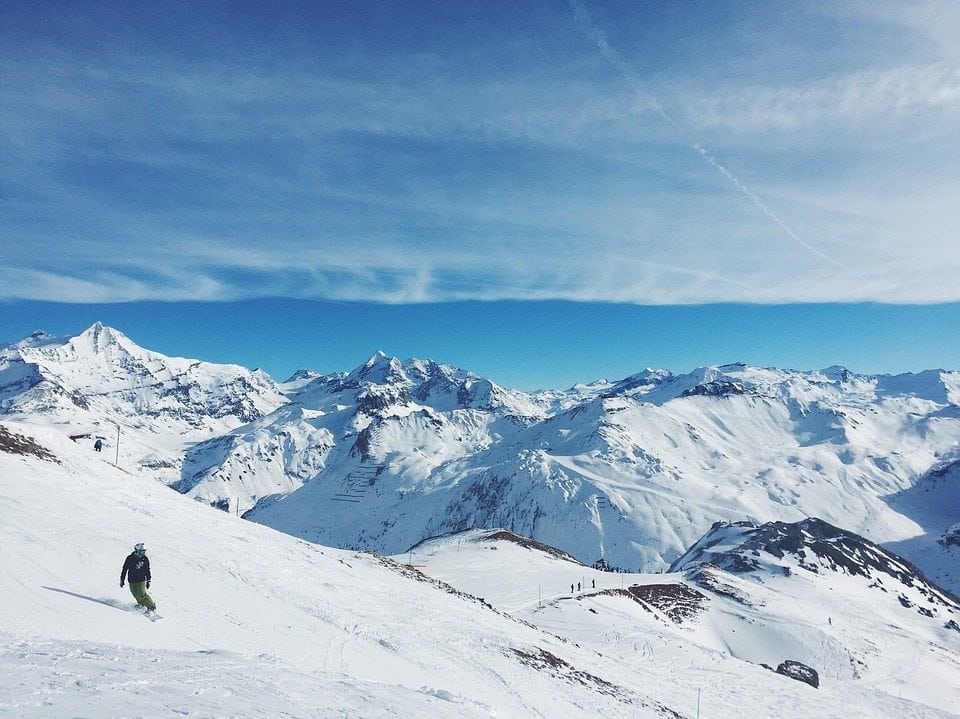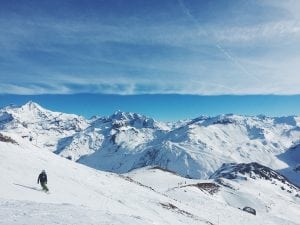 Verbier, Switzerland is the biggest snowboarding mountain you could ask for. It is ideal for extreme snowboarders and skiers alike, in fact it is so popular in the snowboarding realm that Verbier even offers snowboarding lessons on the slopes they have. The staff take up all kinds of people from any skill level and age and they are known for organizing safe, backcountry and freestyle camps for the learners to help them experience what true snowboarding is like – just don't forget your snowboarding helmet (click here for the full guide).