The best snowboard bag is a must if you love snowboarding and want to buy your own board. Whether it is a short trip of a week's time or if you have planned to spend the entire season in the mountains you got to have a nice and reliable board bag.
You might like: Best Snowboard Pants 2018 Review.
There are a number of board bags available in the market these days and they come in different shapes and sizes. Therefore, it is important that you consider a few things first before directly buying the case. The first and the most important thing to consider is the size of your board because you do not want to end up buying a case that is pretty oversized as compared to your board. Another thing to consider is the space you require in the case. There are a lot of board bags that you will find with a number of compartments but if your aim is to just keep your board in it there is no use of so many compartments. A small sleeve would be enough for you.
10 Best Snowboard Bags & Cases
1. Burton Space Sack Snowboarding Bag
Only the people who chase mountains and snow know about what it takes to have a quality snowboarding case. To get the most out of every journey Burton has introduced something excellent.
No matter what you want to pack, your clothes or snowboarding equipment space sack snowboarding case by Burton has got you covered. This case has a simplified yet durable design with room for multiple decks and a removable shoulder step for carrying ease.
On the outside, this case features an army pattern that looks super professional. Believe us that when you touch this case you can feel the premium quality that it provides.
Although this case has got enough room for a board and an extra deck, it can also please you along the day trips. Space sack snowboarding case can fit any board in between 129 to 181 cm, which is an ideal definition for people who want to pack their equipment in style and comfort.
Customers love space sack snowboarding case by Burton.
Pros:
+ Unconditional lifetime warranty.
+ Multiple board capacity.
+ Removable shoulder strap.
Why We Liked It – We are still working on finding the cons. With a lifetime warranty, durable board protection and exciting jungle colorway appearance, this case is favoured by a lot of boarders, and we don't blame them!
2. Burton Wheelie Board Case Snowboard Bag
Burton has been packing innovative products for snowboarders in an affordable manner. With years of experience with snowboarding and mountain journeys, this company knows about every bit.
If you hate separate cases for every piece of equipment and want an all-in-one solution then the Wheelie Board Bag case by Burton will attract you the most. This case is no joke as it has separate storage for multiple decks, removable boot, binding case and room for pretty much everything.
Wheelie Board Case Snowboard bag is manufactured by rugged materials that make it the one-stop-shop for holding all your snowboarding equipment. Similarly, you get multiple decks with padded protection that take care of the things that you are concern about.
No one likes to take on a bulky case on their shoulders that is why wheelie board case is equipped with super smooth IXION skate wheels. These lightweight and lightning-fast wheels allow you to carry all your stuff with ease and comfort. Now no more shoulder hanging your bags.
The binding case allows to put in stuff like laundry, lunch and pretty much anything you ever wanted to take with you on a snowboarding track.
Wheelie Board Case Snowboard case by Burton pack some unbeatable functions.
Pros:
+ Lifetime warranty.
+ Full-zip access to the main compartment.
+ IXION skate wheel system.
Why We Liked It – With removable binding case, lifetime warranty and external zipper accessory pockets, the Burton case is worth every penny.
3. High Sierra Snowboard Sleeve Bag
Since 1978 high sierra is committed to creating durable yet affordable lifestyle gear for every adventure. No matter where you go high sierra versatile range of bags has got you covered in every aspect.
When it comes to extreme condition high sierra core series is the perfect match to endure every torture. This series was meant to be built for outputting cutting-edge performance no matter what the scenario is.
600-Denier Duralite with a water-resistance coating is the heart of high-quality construction that this case promises to deliver. Similarly, durable fabrics with back-to-basics are excellent for travelers who are looking for some serious snowboarding gear.
Pop open this case up and you'll be shocked that it can hold a single snowboard up to 165cm. Similarly, boot case can accommodate a single pair of snowboard boots up to size 13 making this case a perfect partner for every snowboarder out there.
Often snowboard bags have low-quality handles that result in breakage. Fear not as snowboard sleeve case by High Sierra features durable webbing grab handles that are built to be rough and tough.
Snowboard Sleeve Bag by High Sierra cross expectations.
Pros:
+ Durable water-resistant build material.
+ Self-repairing nylon coil zippers.
+ Tough webbing grab handles.
Why We Liked It – You can expect a lot out of this case! With a water-resistant build material, self-repairing nylon coil zippers and durable handles, this case can be your go to for years to come.
4. Demon Phantom Padded Snowboard Bag
This manufacturer is straight out of rocky mountains in Salt Lake City Utah. In 1999 Demon visioned to create the greatest protective gear and accessory for stunning the snowboarders. Now, the demon is known by every professional snowboarder.
People who are looking for an extra-large case that can fit in almost any snowboarding equipment should look at the Phantom Padded Snowboard case by Demon. From snowboard equipment to your household products, it can handle it all.
Nothing beats good quality build material as roots need to be strong in order to shape up the output well. This case is made with a durable 600 denier fabric with a reinforced base that is marked as great durable material.
It is roomy! We aren't joking as it can easily fit boards or skis of up to 170cm in length. Now you don't have to carry that large equipment in your bare hands.
No matter what you throw inside this case, shoes, helmet, gloves, skis, board, it has multiple sections to accommodate all things. One can mark the size of the interior as a monster.
Tough construction and a lot of space make this case an ideal choice for every snowboarder.
Pros:
+ Made up of durable 600 denier fabric.
+ Full-length two-way zipper.
+ Thick padding to safeguard equipment stored inside.
Why We Liked It – With heavy-duty wheels, a carry handle, and thick padding – your board will be safe and sound in this case.
5. Dakine Freestyle Snowboard Carrier
Over 35 years of experience in making travel bags, accessories, outerwear, and clothing Dakine has some serious passion towards people who like to travel. Dakine outperformed other manufacturers because they love what they do.
People who are into snowboarding would love the freestyle snowboard carrier by Dakine. It is just not another case but a choice that you would regret losing. Buy this carrier and you are free from the equipment carrying tension.
Most snowboard lacks the quality that causes the board to suffer from scratches and dings. That isn't the case with this carrier as it is padded to protect your board from any harm while you are riding up the mountain.
Putting accessories in the main compartment isn't the right way to manage your equipment. The zippered accessory pocket featured in this freestyle snowboard carrier keeps your essential aligned and easy to access when you just need them the most.
This carrier weighs only two pounds which makes it portable and easy to use no matter what the situation is.
Freestyle Snowboard Carrier by Dakine is the choice of professional snowboarders.
Pros:
+ Padded and tarp lined bottom.
+ Full-length zipper.
+ Zippered accessory pocket.
Why We Liked It – With padded material, zipper accessory pockets and a removable shoulder strap, this case is one of the top carriers available for snowboarders.
6. Athletico Conquest Padded Snowboard Bag
Snowboarding wouldn't be as fun if you couldnt take tour board and gear with you to test out new slopes, and this padded snowboard bag makes sure that you are never restricted to only one location! This product offers great protection with 10 mm padding, waterproof material (600D waterproof polyester) and a set of heavy-duty wheels to safely roll your bag and your gear with you.
The Tarpaulin bottom makes sure no moist can penetrate from below when you leave your bag on the ground, adding that final touch to what it is that makes this bag such a reliable accessory when traveling with boards and gear.
Pros:
+ Waterproof polyester material
+ Thick 10 mm padding
+ Heavy-duty wheels
+ Reinforced Tarpaulin bottom
Why We Liked It – If what you are looking for is a large carry bag that fits your snowboard and your gear, and that you can place on wet surfaces and snow without it penetrating the material – this is the bag for you.
7. Demon United 2020 New Phantom Flight Snowboard Travel Bag
Why waste money on something that doesn't last, when you can get this durable snowboard travel bag with 1680 Denier fabric that stops holes from forming due to abrasion? It has a shoulder strap, a tow handle and a carry handle, for you to carry it in any way you see fit, to make traveling easier also when you are moving around with more luggage.
This snowboard bag fits two snowboards, plus two sets of boots, bindings, goggles, jackets, pants and anything else you consider essential for snowboarding, and it has a waterproof lining and thick padding to make sure your equipment is safe.
Pros:
+ Fits all your equipment
+ Thick and soft padding
+ With removable strap
+ All-terrain rubberized wheels
Why We Like It – Not only does it fit all your snowboarding equipment, it also has features like anti-abrasion fabric, multiple carry handles, and waterproof lining.
8. Burton Gig Snowboarding Bag
Burton is a group of passionate people with innovative ideas who wanted to change the snowboarding game to a world-class competition. By exchanging ideas with each other this company has managed to create essentials for risk takers.
People who want to buy an all in one case for every purpose trusts gig snowboarding case by Burton. Take this snowboard case outside the packaging and it is ready to take on every situation you throw at it.
Most people travel with one board but what about the fanatics? Gig snowboarding case has multiple board capacity so you can travel with up to two boards at the same time.
So you want to quickly access your accessories? Tuning pocket gives you quick access o compartments featured in this snowboard case that keep your tools easily accessible.
Well, this case is not equipped with wheels but you can them yourselves. Skate conversion straps allow you to strap your skate at the bottom for instantly turning your case into a wheelie case.
From fully padded multiple board protection to organizer pockets this case has got it all to rock your experience.
Pros:
+ Lifetime unconditional warranty.
+ External pocket access.
+ Fully padded board protection.
Why We Liked It – With skate conversion straps, tuning pockets and multiple board capacity this case is worth investing in.
9. Thule RoundTrip Single Snowboard Carrier
Snowboarders who don't want to harm their gear upon arrival at mountain should look for to RoundTrip Single Snowboard Carrier by Thule. This carrier has got everything that you need to have a comfortable traveling experience.
When it comes to carrying this fully padded and reinforced waterproof case you have two options. Detachable padded carry handle comes handy when you are relying on shoulders while convenient grab handles allow for one hand carrying. Now it depends upon you!
If a snowboarding case isn't durable and waterproof it isn't worth considering. This case is constructed with waterproof tarpaulin material and thick padding. 900D polyester is the heart of toughness that makes sure that your gear survives for ages. Similarly, reinforced ends and padded cinch-top sleeves cover your board's tip and tail ensuring that everything is covered.
RoundTrip Single Snowboard Carrier by Thule was made to resist every hardship possible.
Pros:
+ Waterproof tarpaulin material.
+ Built for the road.
+ Fits snowboard up to 167 cm in length.
Why We Liked It – With reinforced tip/tail for extra protection, internal zipped pockets, and waterproof exterior this case is amongst the best snowboard carriers.
10. Athalon Fitted Snowboard Bag
Athalon is known for quality and care products under an affordable price range. Fitted Snowboard case by Athalon makes sure that company's reputation is underneath a good shelter.
Fitted Snowboard case fits and protects boards of up to 170 cm in length so that you can accommodate your bigger and professional boards.
Built material and quality defines the capabilities of a case. This case is made up of 600 denier polyester with PVC lining to make sure that it can handle every abuse you throw at it. Similarly, it is constructed of heavy gauge water repellent polyester that keeps moisture well out of the bag's way.
Pop open this case and you'll find that it is made up of super-strong metal hardware that keeps your equipment more secure. Similarly, ergonomic heavy-duty rubber carries grip handle makes transporting this case really easy.
Fitted Snowboard case by Athalon is a one-stop-shop solution for snowboarders who want something out of this world.
Pros:
+ Heavy-duty self-repairing nylon coil zippers.
+ Super strong plated metal hardware.
+ Made of 600 denier polyester with PVC lining.
Why We Liked It – With ergonomic heavy duty, rubber grip handles, super strong plated metal hardware and self-repairing nylon coil zippers, this case is marked amongst the top of the range and perfect to keep your snowboard safe.
Board Carrier Buyers Guide
If you travel a lot and also take your board along with you on most of the trips it is better to go for a wheelie case, it will make life a lot easier for you. It would rather be a nuisance to carry or drag your board all along the airport. A must-have for a nice snowboard case is the durability, since you would not be using the case all the time.
Therefore, it is important that your board case should last for years. Once you decide on all these factors you are all set up to pick the top snowboard case that will cater all your needs and requirements to the fullest.
Keeping the above factors in mind we have come up with some of the top snowboarding bags that are available in the market these days.
Top Pick – Burton Space Sack
Speaking of winters and not mentioning the name of the brand known as Burton would be so unjust. The company that came into existence back in back in 1977 now has a complete range of winter apparels and gear. Whether it is the snowboard itself or the snowboarding bags, all are top notch.
The Burton Space Sack Snowboarding case is another quality product by Burton. You might not find a lot of compartments with this board case; to be precise it only has one. But it certainly has a lot of capacity and you can easily fill all your stuff in it.
This board case comes in with multiple board capacity and at the same time, it has a removable shoulder strap. So you can put it anywhere in your room removing the shoulder strap and it will not look odd.
This case is actually built to last. You can be sure of the fact that this board bag will serve you in the years to follow without any major wear or tear.
Premium Choice – Burton Wheelie Board Case
As is already mentioned earlier that if you are a person who travels frequently on planes it is rather nice to have a board case with wheels. The Burton Wheelie Board Case Snowboarding bag is actually a revelation for any traveler.
This board bag obviously have wheels so it makes life a lot easier for the traveler and this is not it, this bag has a lot more to it. The space that you will find with this snowboard bag is quite a lot so you can fit in multiple boards.tea
It comes in with a fully padded board protection so your boards are safe all the time. The construction of this board bag is 100 percent polyester so you can be sure of its durability. All in all, if you are a frequent traveler this board case is just the right option for you that can easily cater all your snowboarding gear.
Great Value – High Sierra Sleeve Bag
If you are not looking to take your board bag on planes and just use it for small trips, you could not come around a better board case than this one.
The High Sierra Snowboard Sleeve Bag comes in with two compartments one for the snowboard and the other for the pair of shoes. This bag is made of water-resistant fabric so probably it would last. The zippers of this bag are nylon coil self-repairing zippers, so the zippers also last for long.
If your aim is short ski and you are looking for a not so expensive snowboarding case the High Sierra Snowboard Sleeve bag is just the right one for you.
FAQs
How to Pack a Snowboard Bag with Gear?
If you are planning a trip to the mountains, then the first thing you need to do is get a big snowboard bag with wheels and plenty of compartments. This ensures that you pack efficiently and you know where everything is, and you do not have to turn it upside down when looking for a specific item.
The bigger the bag is, the better for you, as most airlines these days charge per bag. So you can pack all your essentials in one and avoid paying an extra amount for excess luggage, beating the airlines at their own game!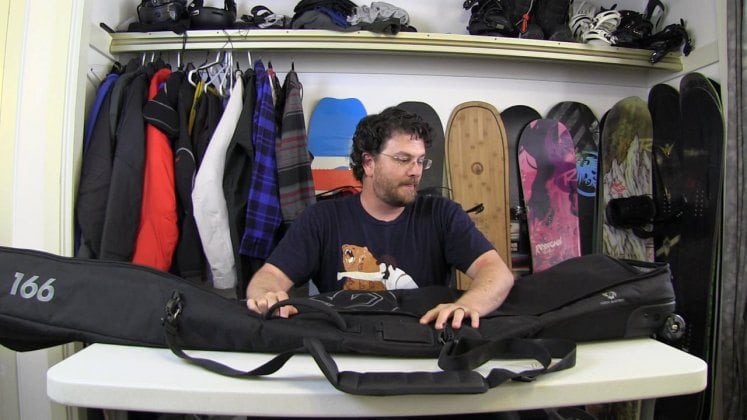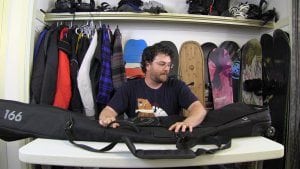 Remember, to pack resourcefully, you should make a list of things you will be carrying with you. By doing this you make sure that you do not forget anything and you can tick off the items as you pack. As you are going to be skiing or snowboarding for most of the day, you will be wearing your gear, so you can take fewer clothes with you than you would on any other occasion. Also, ski resorts are pretty laid back, so you can safely assume that you would not be needing your suits or cocktail dresses either.
Place your snowboard in the bag first, without the bindings for a more proper fit. Place the bindings in next, and stuff a few soft items inside, like socks, beanies, and gloves, and tighten the straps on top. Fold your bulky outerwear, which includes your snowboarding jacket and pants, and place it at one end of your board bag. Neatly stack your regular clothes at the other end; the separate areas make it easier to find everything.
The inner wear like vests, underwear etc come in between the two ends, by rolling them up instead of folding. You can save even more space by putting your goggles inside your helmet, which also protect them from any harm. Put socks and gloves and other small items like your avalanche transceiver into your boots. Place each boot in one outer pocket. If your bag has an inner boot bag, you can put them inside that, and you can place the bag underneath your outerwear.
Now zip up your bag, and you're ready to go!
What Size Snowboard Bag Should I get?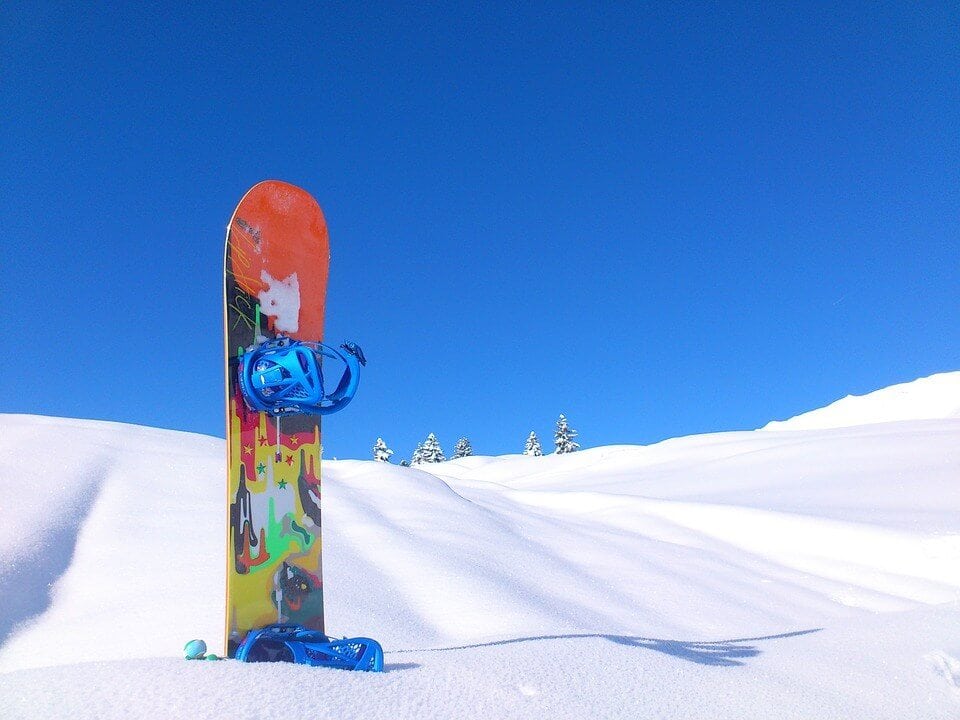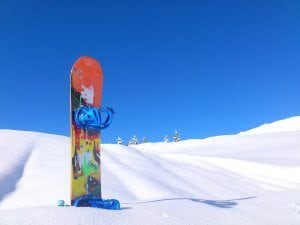 When you have invested your money in a nice snowboard, which usually does not come cheap, you would not want it to become damaged, scratched or even bent before you even hit the snow. So you need to get your hands on a snowboard bag that protects it from harm.
While choosing the size of the bag, you need to keep a few things in mind. First of all the size of the snowboard is going to be the most important factor. You will obviously not get a bag that is smaller than your board. So if your snowboard is around 141 centimeters long, you should get a bag that is at least a few centimeters longer than that, like around 145 centimeters or so.
Also, you need to decide what else you will be packing into your bag. Many people leaving for their snowboarding vacation prefer to pack all their equipment in one bag. This saves them from the hassle of packing and carrying several bags around. Not only that, but it is also an efficient way of saving yourself from having to pay charges for extra luggage, as most airlines these days charge per bag. So if you are planning on doing that, a big-sized bag is what you need.
Many small bags can fit one set of snowboard gear inside them. However, if you want to carry multiple sets, they are not going to fit inside a small bag. The size of the snowboard also depends on the number of clothing items you will be taking. So if you are planning to take a lot of clothes with you, you definitely need to get a bag that is on the bigger side.
Another important aspect that should not be overlooked is the weight of your luggage. Getting a bag that is slightly bigger than what you need is a good option, but only if you can manage to keep the weight under 32kg, as this is what most airlines allow on their flights. Having a huge, over-sized bag that takes up all of your allotted weight is not a decision to make.
So choose wisely, and you'll be able to save yourself from any trouble during the flight or the trip itself! Keep your board safe, and stay safe while snowboarding (click to read the study).
Where to Buy a Snowboard Bag Online?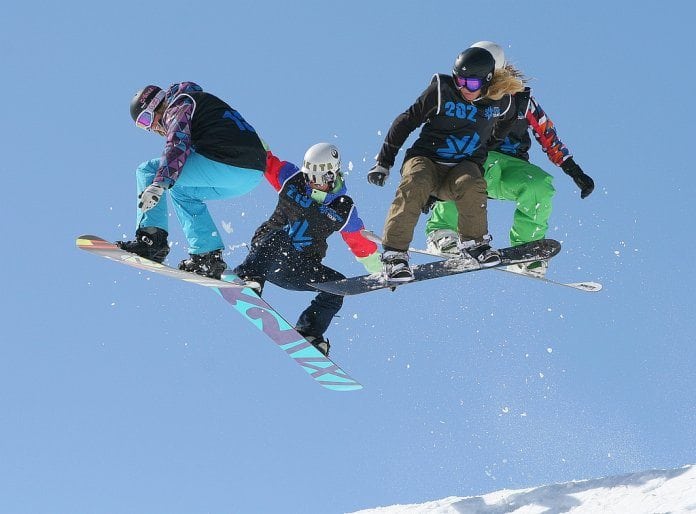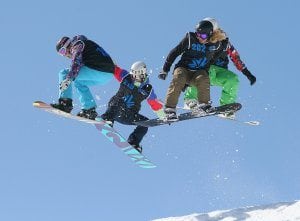 In this fast-tracked world, you do not need to venture out of your house in search for a good snowboard bag. In fact, you can just look online and you will find a large variety of bags to choose from. To get the top deals, i.e. top quality snowboard bags, which are cost-efficient, there are a few online websites that you can turn to. These include Walmart, eBay, and Amazon.
Today, Amazon is the most popular online shopping site and is ranked as the largest retailer in the whole world and not just the United States. Based in Seattle, Washington, it has been functional since 1994, providing everyone with top-notch products. Since it delivers worldwide, shopping for a snowboard has never been easier.
Taking all of this into consideration, you can head over to Amazon, where you will find a huge range of snowboard bags to select from.
You will find them in all shapes and sizes, on wheels or as backpacks, and you can get one most suitable for your needs. Moreover, you do not necessarily need to spend large amounts to get a good bag. You will also be able to avail its many customer-benefiting features, like fast delivery, multiple easy payment methods, quick check out, and discounts on their products.
Order a good snowboard bag at a good price from Amazon, and get it delivered directly to your place without having to worry about anything. Trust us, you will be happy with what you receive!
Amazon Recommends:
If you liked the review, please leave your feedback.