What To Look For When Buying A Skateboard
Buying your first skateboard can be a very exciting process. There are hundreds of designs to look through, and thousands of colorful, witty designs to choose from. Each skateboard is different and has different features. Some boards are perfect for cruising, while others are made to endure a lot of batters, ollies, flips, and slips.
That's why it's important to ask a few key questions: Are you going to be using it every day? Is it for a new hobby? Is it for competition practice? What surface will you be skating on? Will you be partaking in park skating or street skating? How important is the design? And how much are you willing to pay for it?
Design
Skateboards are known for having witty, eccentric designs. This means that are dozens of possible patterns and designs to choose from. Each company has their own trademark. For example, enjoi is known for their panda logo, and they make sure to include it in a lot of the skateboards they make.
Knowing what kinds of designs you gravitate towards will help you make an easier decision. You have to remember that you will be using this skateboard for years/months to come. Therefore, it's important to choose a design that you think is cool, not a design that will look cool to others!
Sizing
Skateboards come in a lot of various sizes. Some are meant for kids only, while some are able to be used only by adults. Regular skateboards are around 7.5" x 31"-8.5" x 32.5", while skateboards for children are commonly sized 7"x28". This ensures that young kids won't be overwhelmed, as larger boards are harder to manage. A perfectly sized helps children ease-in into the skateboarding world, allowing them to see if it's the right sport for them at an early age.
Endurance
Choosing skateboards that are made out of good, sturdy, and durable wood is vital. Most boards nowadays are made out of Canadian Maple. The skateboard deck is usually made out of a dozen or so layers. This ensures that your board will be reliable and can take some beating when you fall off or start doing skateboard tricks. You should also look for pro boards that have metal skateboard trucks since these are the ones that support decks best.
Skateboard Wheels – PU Wheel, Urethane Wheel
You should also look for the type of skateboard wheels that you will be getting with your skateboard. Soft wheels are great for cruising around uneven surfaces, while harder wheels are better for skateboard tricks and hard falls, which is vital for various skateboarding styles. The key thing to remember is the smaller wheels are slower, but also provide you with more control, which isn't the worst thing for beginners and children in particular.
Price Range
Beginner skateboards can vary in price. They can range anywhere from 150$ well down to 35$. If you want something that will last you for a while, you might want to opt for a board made of quality materials, but if you are a total beginner and just want to see if this sport is the right one, get the affordable choice and then upgrade if needed.
Looking to go electric? Check our our review of the top electric skateboards! You could also try these top-rated electric longboards.
These are the best skateboards for beginners:
1. Punisher Girls Skateboard – Best Overall Skateboard for Beginners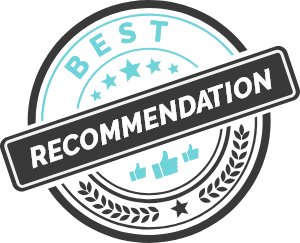 Reasons to buy
High-quality riding experience at a low cost
unique deck shape provides strength for a 200+ pounds rider
Comes in 10 unique designs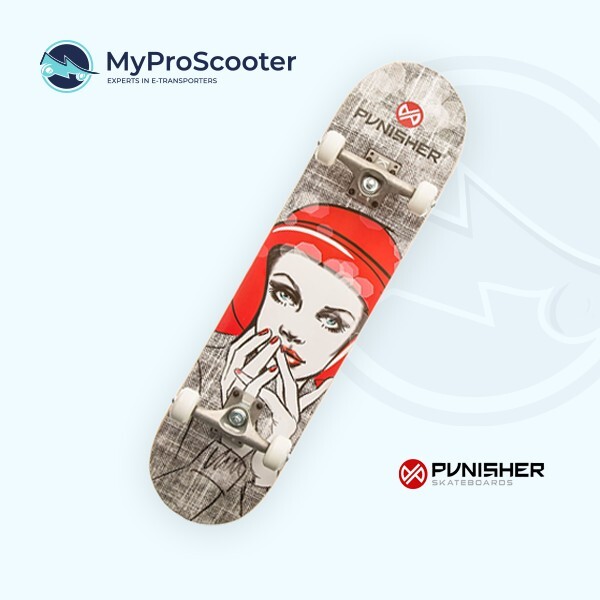 Founded in 2008 in Pennsylvania, Punisher's goal has been to make graphically pleasing skateboards that have designs that resonate with the rider on a deeper level. Each artist is handpicked by Punisher to design an original, unique image that is then incorporated into the skateboard. The fantastic graphic designs combined with the quality of the skateboard itself make for a very personalized riding experience.
If you are looking for a skateboard that will provide you with all the necessary features you need to ride safely and efficiently, then the Punisher Butterfly Jive will be the perfect board for you. No matter if you want to give this skateboard to one of your kids or if you want it for yourself, it has the perfect size to fit just about anyone.
The Buttefly Jive measures around 32 x 14 x 9 inches and weighs about 7 pounds.
Being made out of Canadian Maple, this skateboard is both lightweight and durable. The maple skateboard is known for having good endurance qualities and for being flexible. This helps the rider perform tricks easier, and ride on more bumpy roads smoother.
The concave deck shape allows the skateboard to be ridden by riders weighing up to 200 pounds. It also helps ensure that your feet stay firmly on the board, being positioned at an appropriate angle.
The Butterfly Jive has the perfect price for anyone that is looking for a durable skateboard. It has a great design and wonderful craftsmanship for the price.
Pros

Can take up to 200 pounds weight
Original graphic design
Concave pro deck
Heavy-duty grip tape

Cons

Bearings could spin longer
Our Verdict on the Punisher 31-Inch Skateboard
It's hard to argue against the fact that Punisher makes some of the most amazing boards out there. Especially when it comes to graphics and design, the company puts a lot of effort into making their boards stand out.
2. Bamboo Blue World Peace – Premium Choice Skateboard For Beginners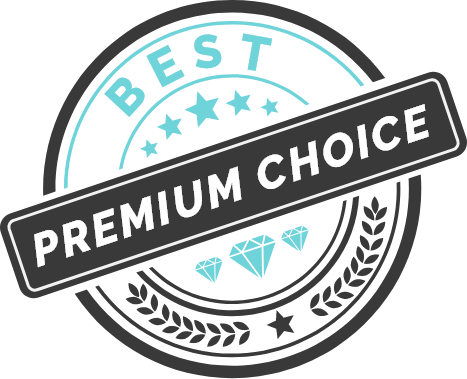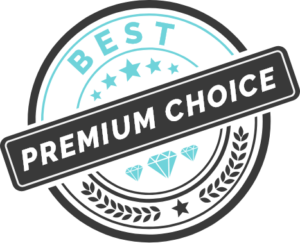 Reasons to buy
More pop when doing trick
Bamboo boards are more durable than maple ones
Available in multiple sizes and colors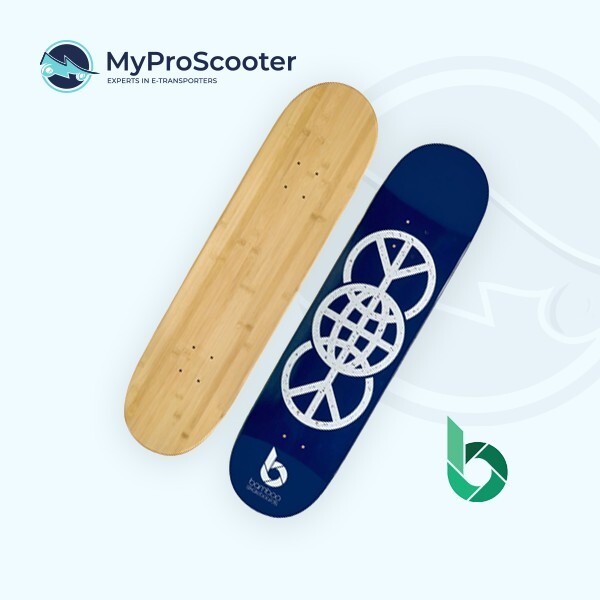 The simple, yet beautiful graphic that makes this board an eye-catcher was designed by Anthony Nathan of Sacramento. It not only looks cool but also promotes a very powerful message – that we should all strive for a more peaceful future for everyone.
Another quite unique feature of this board is that the deck is made out of bamboo, which makes it lighter, stronger, and harder to break than the usual maple boards. The manufacturer tested this even by driving a car over the board and it passed the test with flying colors. So if you want a flexible board that's strong enough to withstand all sorts of jumps and the roughest of landings, then go for bamboo.
Another great thing about bamboo is that it is an eco-friendly and sustainable material. Boards are a 6 ply bamboo and maple hybrid that improves sustainability while maintaining strength.
Pros

Strenght
Durability
Lightweight
Eco-friendly

Cons

Bamboo is a little bouncy
Our Verdict on the Bamboo Blue World Peace
It is almost impossible to break this board, no matter how insane tricks are, and how rough the landing gets! It's very flexible, providing more pop than other boards, while still being extremely affordable
3. The Magneto Kids Skateboard – Editor's Choice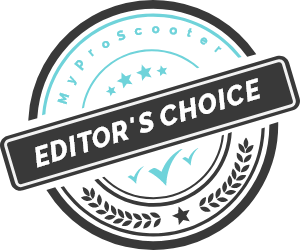 Reasons to buy
Kids' feet fit perfectly on this deck without the added length and weight.
A shallow concave for added comfort while skating.
High Rebound Urethane wheels that make the ride smooth and extra stable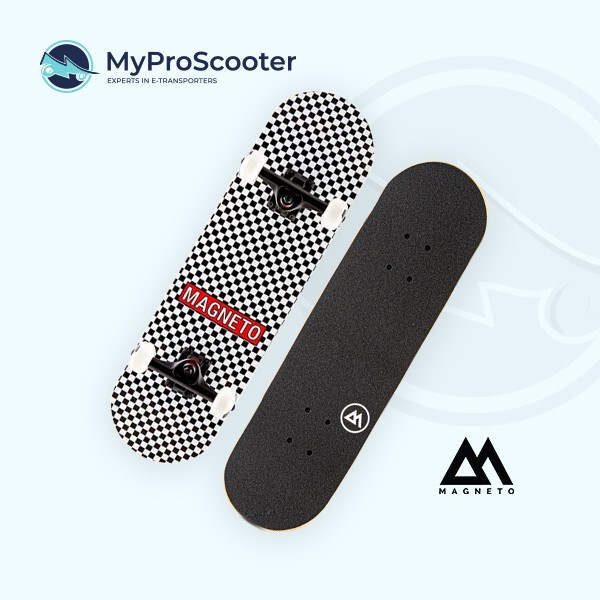 The Magneto Kids Skateboard is one of the best specifically designed options for kids and teens looking to try skateboarding for the first time. At 27.5 inches, its deck is a little shorter than the conventional skateboard, which makes it the perfect size for kids and teens to learn on. It's also excellent for adults and advanced skaters who're looking for smaller boards that are easy to carry. You will absolutely love this skateboard, and your kids will love you even more for getting them these new wheelers as well.
This fun mini-skateboard has a durable, stylish deck that's made with 7 plies of hard maple. It also has double kicktails on its front and back with a shallow concave for more comfort while skating.
With a 27.5" long deck that's 7.75" wide, the Magneto Skateboard fits perfectly well on kids' feet without the added weight and length.
This board offers stability and flexibility and packs a lot of speed to keep kids practicing. This is undoubtedly the best skateboard training tool your kids can hope for. Its ABS wheels allow it to go over cracks and uneven surfaces without any difficulties.
The Magneto Skateboard is super-soft and has high-traction 52mm 95A polyurethane wheels. The deck is made using 7 plies of hard maple and double kicktails on the board's front and back. It is also very lightweight, which is great for going really fast, even in tight spots.
The Magneto Kids Skateboard is very affordable and is ideal for novice riders and kids enthusiastic about their first rides.
Pros

Rides well
Is stylish for kids
Can perform tricks
Extremely soft wheels for high traction skateboarding

Cons
Our Verdict on The Magneto Kids Skateboard
What's attractive about this one is that it can be used by adult skaters, if they want to do tricks on smaller ramps, but primarily this board was designed for kids who are just getting started. It's more lightweight and also shorter than the usual board, giving kids more control over it.
4. Krown Rookie – Best Cheap Skateboard for Beginners
Reasons to buy
Cool graphic design in five color options
Perfect board for fresh beginners
Extremely affordable, yet durable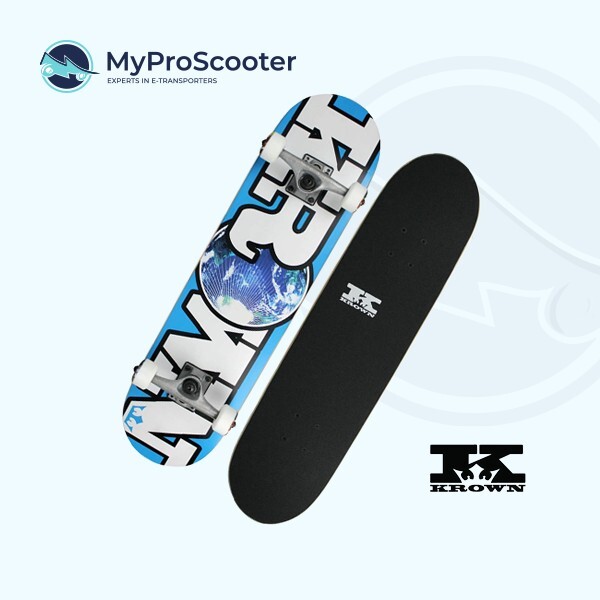 Krown's motto is to provide quality skateboards on a budget. They manage that surprisingly well; not only do their products retail at budget prices, but they can take quite a beating too. Their skateboards arrive readily assembled and ready to ride, so you won't have to spend hours fiddling with screws and bolts to ride your new prized possession! No matter if you are a beginner or an expert looking for a good board to ride on, Krown's products are made to fit everyone's needs.
Krown's board design is simple but speaks a thousand words when examined closely. There are flames on the sides of the board, available in 6 colors. If you are fussy about what your skateboard looks like, then Krown will surely provide you with enough suitable options!
Krown's skateboard measures around 7.5-Inch x 31-inches wide. It weighs about 4.5 pounds, which makes it a great choice if you don't want a big, heavy skateboard falling down on you.
The Candian maple construction helps the skateboard be a durable alternative to the more expensive boards out on the market today. The aluminum trucks help ensure that your board won't break anytime soon, and the skateboard's grip tape allows you to stay on your board firmly at all times.
The board is professionally assembled for pro skateboarders, and you can rest assured that each component of the design meets industry standards. Krown also included a modern concave design for improved comfort when skating, be it on the roads or the skate park.
Being the cheapest skateboard on our list yet, it's ideal for those who would like to try skating but aren't sure if they are going to stick with that hobby.
Pros

Professionally assembled for pro skateboarders
Light-weight
Attractive design
Durable skateboard deck
Aluminum Truck

Cons
Our Verdict on the Krown Rookie Skateboard
It's the perfect first board for any beginner. It looks very cool, the maple deck is flexible and the whole board is durable enough to withstand any learning curve. It won't last forever, but honestly, for that price, it does not have to.
5. SkateXS Personalized Kids Skateboard – Best Beginner Skateboard for Kids
Reasons to buy
Both top and bottom of the deck come in different colors
Only top name brand components
Personalized board with your kid's name on it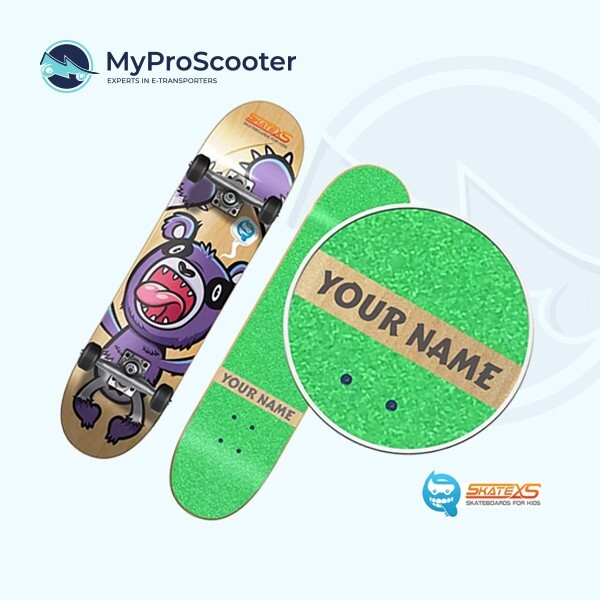 SkateXS has been widely known to be the best brand for kids that are looking to advance their skateboarding skills. These skateboards have been designed with children in mind. That's why there are many customizable features that you can pick when purchasing this product. If you are an avid skateboarder and want to introduce your kids to skateboarding, or just a parent that has been hearing about skateboards for weeks now, you can safely pick this product by SkateXs to help your kids safely advance their skateboarding skills.
SkateXS makes skateboards for kids, but the quality of the product is just as high as skateboards for adults. Many parents report their children being incredibly satisfied with the product. The reviews are 90% positive, and it's easy to see why so many family members and friends turn to buying this skateboard for their young ones.
This skateboard is designed specifically for kids, and the dimensions reflect that. The board is available in three sizes, mainly size recommended for ages: 5-7, 8-10, and 11-12. You may wish to look at penny boards or mini cruiser skateboards for young kids.
The SkateXS Panda is a very sturdy and environmentally friendly product. The bamboo that it's made out of offers a lightweight skateboard that the kids can easily carry around. It makes it also a lot safer because falls are bound to happen, and when they do, you don't want a super heavy board falling on your kid.
SkateXS has provided this skateboard with many choices. Mainly, the various color options and the option to put the name of your child on the skateboard itself. The Skateboards grip tape is excellent and the overall quality of this board can be compared to that of quality adult boards.
Pros

Premium grip tape
Removable shields
8 colors to choose from
Light, bamboo pro deck

Cons

Boards are kid-size, so teens will find them too small
Our Verdict on the SkateXS Personalized Kids Skateboard
This is one of the best beginner boards for kids out there. It's very lightweight, flexible, and comes in three different sizes appropriate for children of different ages. It does cost a bit more than others, but you do get quality for your money.
6. Powell Golden Dragon – Great Skateboard for Beginners and Advanced Riders
Reasons to buy
Affordable complete skateboard for both beginners and advanced riders
Colorful screen-printed bottom
High-rebound, hand-cast polyurethane wheels provide great roll and gr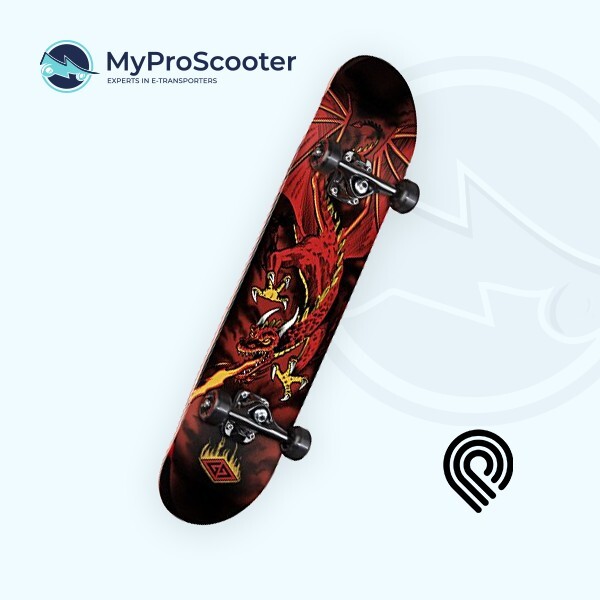 Powell Peralta is a brand that has been around since the late 1970s. The Powell Golden Dragon has been on the market for over four decades now, and its popularity hasn't decreased. It's easy to see why even legends like Steve Caballero recommend these skateboards. Powell is known for having boards that fit every age range and skill level, satisfying the needs of many. It's also probably the reason why the product is surrounded by 5-star reviews.
Powell Peralta has gained increasing popularity in the 1980s when skateboarding became an increasingly more sought-after action sport. Since then, they have been developing skateboards tailored to customers, taking reviews, and critiques into consideration every time they were building a new model. The Powell Golden Dragon is a direct result of such careful consideration and tailored-modeling.
Powell Peralta is known for its eccentric and original designs. This board, in particular, is covered with a black and red dragon. A design that will surely make just about anyone excited to ride!
The board is about 31 inches long, the skateboard deck shape is 126 and the width is about 7 inches. The wheels themselves are about 54mm by 37mm. This skateboard is very durable thanks to the robust polymeric strap. Even if your board breaks, this strap will keep it together and keep you from doing the splits!
The wheels are a surprisingly smooth ride and allow for fast and aggressive gliding. This can apply to people who weigh up to 200 pounds! Despite the polymeric straps and grip tapes, the skateboard is still very lightweight.
Pros

Robust polymeric strap
Smooth wheels
Has high-rebound
Stiff and durable

Cons

The wheels are a bit hard
Our Verdict on the Powell Golden Dragon Skateboard
A simply great skateboard for beginners with a beautiful design and quite a legacy, considering that it has been around for decades. According to the numerous user ratings, it's also extremely reliable.
7. Cal 7 22″ Mini Cruiser – Best Plastic Skateboard for Beginners
Reasons to buy
Available with tons of colorful and graphic decks.
Easily fits into a carry-on or backpack
Affordable board for beginners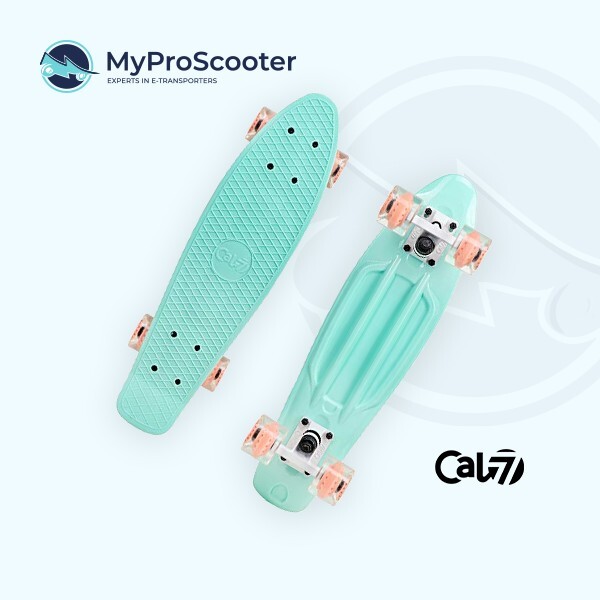 Enjoy the Cal 7 22″ Complete Mini Cruiser Plastic Skateboard on your neighborhood pavement. The bold design of this board helps you to stand out among the rest. It's convenient to place in a carry-on suitcase or a backpack for long journeys.
These fun Mini Cruiser Plastic skateboards come in many colorful designs so you can ride in style from place to place. It's 23 inches long, and the skateboard's deck has a width of 6 inches that provides plenty of room to cruise.
The 78A wheels are shock-absorbing when traversing on rugged streets. The soft wheels of this Mini Cruiser Plastic Skateboard can handle tight turns.
The very affordable Cal 7 22″ Complete Mini Cruiser Plastic Skateboard is ideal for novice riders who want to cruise solo or with fellow skateboarders.
Pros

Affordable
Strong, yet lightweight
Sturdy, aluminum alloy trucks
A great choice for beginners

Cons
Our Verdict on the Cal 7 Mini Cruiser
This is a great board considering the price it sells at. It's lightweight, flexible, and quite durable. We also love that it comes in so many colors – the hardest part will be picking one.
8. Enjoi Whitey Panda Wide R7 – Simple Design with Lots of Features
Reasons to buy
Clean and elegant design
Durable board, perfect for beginners
Available in different sizes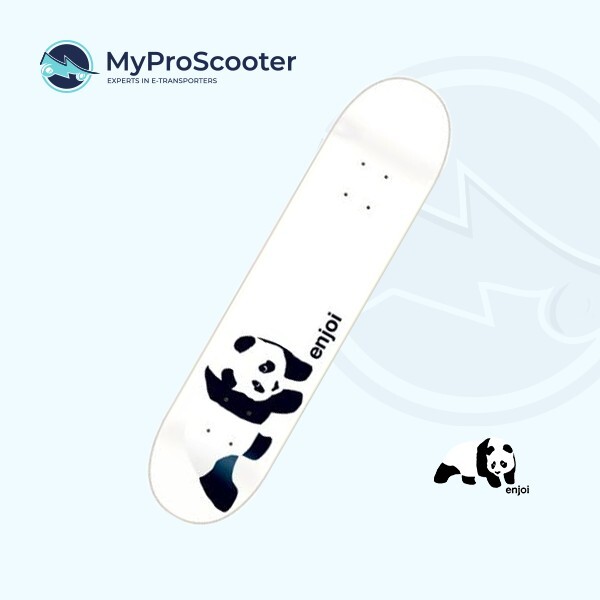 Founded by the pro skateboarder Marc Johnson in the year 2000, Enjoi has been on the market for over two decades now. They have since expanded and in addition to skateboards, started producing skateboarding accessories and clothing. A panda is featured on most of their products and has quickly become the company's trademark.
If you are looking to buy a reliable skateboard that will keep you busy for years to come, the Whitey Panda is the ideal choice. It's a very good entry-level skateboard that can be put through a lot of wear and tear. The solid, metal skateboard trucks ensure th