Is the Razor Dune Buggy the Ultimate Ride On Toy?
The Razor Dune Buggy is a compact buggy with a very powerful motor; it can speeds up to 9mph  on a clear road and supports any rider that weighs up to 120 pounds. It's an ideal toy for kids and teens over the age of 8 and has very stable and reliable 8-inch pneumatic tires that make the ride feel safe and secure. The durable tubular steel frame of the dune buggy ride on will also ensure that your child stays safely within the kids riding toy when speeding around the neighborhood! If your kids prefer two-wheels, check out the Razor MX650 Dirt Rocket motocross bike here. For children under 16 years of age, the Razor MX350 is more suited.
Key Features
Even though motorized kids riding toys have been gaining popularity over the years, they are still relatively new to the market and not many people know about their features. Razor USA LLC released their first motorized scooter in the early 2000s because Gino Tsai, the president of the company that manufactured the Razor scooters, realized he couldn't move around the factory as well as he could have when he was younger.
Since then, Razor USA LLC has developed dozens of other motorized ride on toys, like the Razor Dune Buggy. It's the ideal form of entertainment for kids that want to have some fun around the neighborhood. Especially on hot, summery days when the weather is humid, the buggy ride on can be the best form of entertainment thanks to the breeze that it provides when you speed down the road with speeds up to 9mph. Looking for something a bit different with 2 wheels? Check out the Razor Ripstick Ripster caster board here.
Razor has released many motorized kids riding toys, and the Razor Dune Buggy is one that has grabbed the attention of both kids and parents worldwide. However, it can be hard to find specific information that will help parents decide if the toy is ideal for their kids or not, that's why we decided to provide a list of features that the Dune Buggy offers!
Design & Additional Features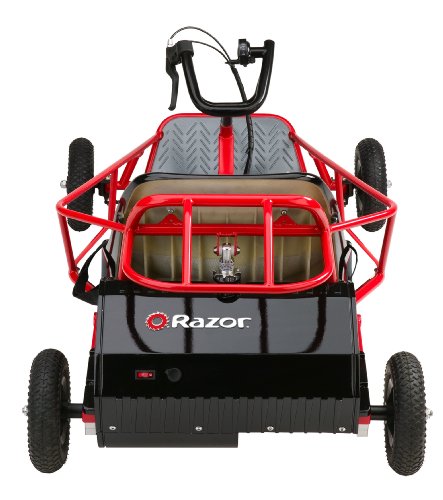 One of the greatest features of the Razor Dune Buggy is its electricity-powered design. This means that the kids riding toy doesn't require any fuel to run, which is a big plus if you want your kids to stay 100% safe without polluting the environment.
The big, 8-inch pneumatic wheels will allow your child to speed around on both asphalt and grass, which is a huge pro if you live in an area that is surrounded by nature and forests. Razor's power wheels are made of rubber and are meant to provide just enough friction to help the ride feel stable and controlled. All in all, Razor's Dune Buggy is the perfect combination of safety, fun and entertainment.
The kids dune buggy also comes with a safety flag that is easily noticeable. This will ensure that the parents will be able to keep an eye on their little ones no matter where they are riding. The steering wheel also has very easy-to-use rear disc brakes that are very responsive.
Battery Life & Electric Design
Each motorized toy has a battery-charge limit, which means that the toy will only be able to be ridden for a certain amount of time before it will need to be recharged again. The Razor Dune Buggy can be ridden for up to 40 minutes before it needs to be plugged back in for a charge. The buggy has a 24V battery system that consists of two 12V batteries and is very easy to use.
The battery charger for Razor dune buggies comes with the bundle and is included in the price.
Charging with the Battery Charger
Since chain driven motor toys usually sit in cardboard boxes for months before they are purchased, it's important to charge the buggy for a longer time than usual when you are plugging it in for the first time. All in all, it is recommended to charge the buggy for up to 18 hrs before taking it out for its first ride. This will ensure that the rechargeable battery is full and ready to use before its first adventure outside – without the need for video games.

Expenses & Bills
Since the kids dune buggy is electric battery powered, it's important to take into consideration that it will need to be charged regularly. This means that your home electricity bills may go up by a significant amount since the buggy can only ride for 40 or so minutes on one charge.
You might need to have a talk with the kids about how often they can use the kids electric dune buggy go kart, and how often it should be charged. This, of course, all depends on the electricity company that you are affiliated with, that's why it's important to ask other parents who own similar ride on toys as to how their use impacted their monthly bills.

Age
The Razor Electric Dune Buggy is ideal for kids and teens over the age of 8 who want plenty of buggy thrills. However, many parents have stated that they have also given the buggy to much younger kids. Razor's age ranges are very versatile and their products are very safe, that's why many parents don't hesitate to gift Razor's electric scooters or buggies to kids as young as 5 years old. Kids a little older? Check out the Razor Crazy Cart review.
3-5 years old
Quite a few parents in the review sections have names the dune buggy the ultimate toy for 2 year olds as long as they are heavily supervised during the ride. If you are planning on gifting this buggy to a much younger child, it's important to put them on grassy areas when riding.
You can even let them ride around with a sibling, however, if you are intending on giving this buggy to children below the age of 5 (no younger than 3!) then it's important to take safety precautions.
Many parents take their kids out onto big fields and let them ride around to their heart's content there, since any fall or stumble won't be dangerous thanks to the soft landing. The buggy also does great on grassy terrain following rear suspension, as well as slightly rocky roads, which makes it ideal for all-around neighborhood use.
Weight
The weight-limit of the dune buggy go kart is about 120lbs, which means that it probably isn't ideal for older teenagers or adults. It's definitely ideal for kids and teens below the age of 14. It's also important to check the weight of your child before purchasing the buggy, since some kids develop quicker for 7-8 year olds and may need bigger buggies than is recommended for their age range by the company. Luckily, Razor USA LLC has a wider range of powerful 350watt electric motor toys that will suit just about any child.

 One thing to consider is that the buggy doesn't need any assembly, and the box that it arrives in might prove to be very heavy.

Speed
A kids Dune Buggy may seem like a menacing toy, however, it's one of the safest Razor ride on toys on offer today. If you are not sure about whether you can trust your child with the speed of the buggy, you can rest assured.
The compact kids Dune Buggy maximum speed is fully adjustable and you can regulate it accordingly. You can regulate the speed thanks to the Allen wrench which will allow you to modify the hand throttle and brake controls. This will ensure that your child won't be going any faster than they can handle, and kids under 5 years of age can stay safe even with supervision.
Safety
When talking about safety, it's best to stay simple. You should supply your child with a good-quality helmet and possibly knee and elbow pads before putting them into the buggy. The offroad dune buggy has well-padded bucket seats and the kids can strap themselves in with a flexible yet reliable seat buckle that will keep them safe.The steel frame will help your child within the buggy at all times. Should they tip over, the durable tubular steel frame will protect the child sitting inside thanks to its durability and sturdy make.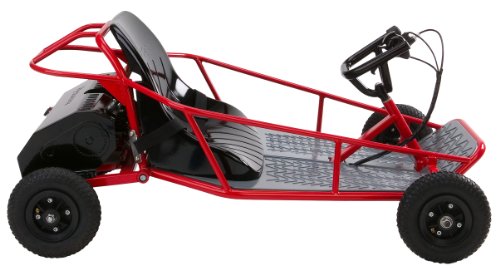 It's also important to show your child how to safely use the buggy. The Razor Electric Dune Buggy will come with an instruction manual that will tell you how to use the buggy, how to charge it, how to take care of it and maintain it so that it can last as long as possible.
It's vital to read all of the instructions and safety concerns before allowing your child to jump in and start riding! The Knobby tires and terrain following suspension give kids and teens plenty of buggy times ahead.
Pros:
+ Durable tubular steel frame
+ Knobby Pneumatic tires (8-inch front wheels and rear wheels)
+ Rides well on various terrains following rear suspension
+ Comes fully assembled
+ Bucket Seat Diamond Plate Floorboard
+ Powerful 350watt Electric Motor
+ Hand throttle and Brake controls (rear disc brake)
+ Rechargeable battery
Cons:
– Battery life may vary
Who Is It Suitable For?
The Kids Dune Buggy is ideal for any child over 6 years of age that wants to speed around the neighborhood and/or country roads. It's also perfect for younger kids, as long as they are supervised by an adult. All in all, it's the ideal toy for any enthusiastic child that wants to have some fun outside during the sunny days, avoiding video games!
Why We Like It

The Razor Electric Dune Buggy is the ideal addition to any child's play routine. One of the things we like most about the Razor Dune is the fact that the parent can adjust the maximum speed (with speeds up to 9mph) that the child can go. This makes the Buggy ideal for both younger 8 year olds and young teens.
Alternative Product – Razor Ground Force Drifter Kart
If you are not convinced by the Razor Dune Buggy, then Razor has a wide selection of other karts and buggies that might suit your child's need for speed! The Razor Ground Force Drifter is powered by electricity, can go up to 13 miles per hour, supports 140 pounds worth of weight and can run up to an hour on a single charge. It also comes with safety gear bundles, where you can get a helmet and pads within the price!
Amazon Recommends:
Bestseller No. 1
Razor Dune Buggy - Red
Compact kids dune buggy with powerful 350-watt electric motor. Reaches...
Assembled Dimensions: 41 inch x 26.5 inch x 17.5 inch
8-inch knobby pneumatic tires. Hand throttle and brake controls.
Bestseller No. 2
Razor Dune Buggy Rear Wheel Set
Razor Factory Original 200 x 50 Dune Buggy Rear Wheels (Set of 2) with...
Complete Set - Each Rear Wheel Assembly Includes: 200x50 Knobby Tire,...
Factory Original Wheels - OEM Razor Factory Original Rear Wheels for ALL...
Bestseller No. 3
If you liked the review, please leave your feedback.