When it comes to bicycles, let's be honest, there are a lot of products out there for you to choose from, all that vary in size, functionality, and price. Finding the right sort of bike takes time, any avid bike enthusiast will tell you this.
Many of you out there will have gone many months if not years without a noble steed by your side, well today that changes! Everyone should own a bike they're proud of at some point in their life, it should be made a law in our opinion! Riding bikes is an incredibly freeing pastime, especially if you are doing it daily if not often!
Not only is riding a bike incredibly healthy, but it comes with an endless amount of benefits that don't stop there. You are directly helping reduce the number of carbon emissions used whenever you are using a bicycle as a vehicle.
Various places of work now have bicycle schemes to help tackle these issues; it's never been more popular to own a bike of your own that right now! Have you ever heard of a commuter bike before? It's what we're going to be discussing in our article here today!
Commuter bikes are a lot like your regular bikes, the only difference is how they are built and how good they are at traveling long distances outright. You'll never forget your first time on a commuter bike, in the same way, that you can never truly forget about your first time on an electric bike; they're utterly fantastic pieces of kit that get you from A to B in a jiffy! Now without any further interruptions, let's dive in!
We should state that the list below is in no particular order, which does mean that you should judge each product on their own list of pros. A lot of the following products do have similar features but will all differentiate at the same time, whether that be in price or appearance — this was a purposeful choice to give you some variation in your preferences! Oh and this as a list isn't gospel, meaning if you find a product that works for you just the same outside of this list, then that's perfectly fine; happy cycling!
View The Best Electric Commuter Bike Below
1. Tomasar Power
Looking for something a little more sturdy? You'll find that in spades with the Tomasar Power bicycle, a bicycle that comes with a lot of outstanding features such as a removable lithium battery that can allow you to ride up to 25-50 km depending on where you happen to be going and in whatever direction.
The aluminum alloy is a sturdy material used in this one, the sturdy shock absorption used in this bike will also allow for a very comfortable ride, one that can pass over multiple surfaces with little to no resistance. Front and rear brakes are incredibly reliable here also.
Pros:
+ Removable battery
+ High-speed motors
+ Long distance travel
+ Optimal brakes
+ Responsive
Why We Liked It – This is a very reliable product, one that allows you to travel rather long distances rather easily.
---
2. Swagtron Swagcycle EB-7 Elite
A hybrid bike for the hybrid commuter, that's how we'd go about describing the next bike in our list here. The EB-7 Elite from Swagtron is the ultimate foldable electric bike, one that allows you to travel up to 15.5 miles in one burst.
The removable battery will enable you to have multiple charging at any given time. If you were perhaps looking for a product that has a lot of upside for being one so small, then you've found just that in this bike from Swagatron, its name is the Swagcycle and it certainly lives up to the reputation.
Pros:
+ Removable battery
+ 15.5 mile charge
+ Foldable
+ Responsive
+ Adjustable
Why We Liked It – You'll notice that this one has a lot of swag to it despite its small size; it's definitely one of our favorites listed here for you!
---
3. Aceshin 26" 21 Speed
From Aceshin comes the 26" 21 Speed electric bike, one that comes outfitted with all of the top gadgets that will no doubt help you during your commute. The bike is made from aluminum alloys that allow for a very sturdy ride indeed.
The front fork found on the front of the bike is manufactured using high strength carbon steel which makes for a very absorbent ride indeed. The brakes found on the front and back of the bike are incredibly responsive, so you shouldn't have to worry about going too fast or over specific terrain. The ergonomic design is yet another highlight here.
Pros:
+ 21 mph
+ Ergonomic design
+ Quality build
+ Responsive
+ Sturdy
Why We Liked It – We enjoyed this product in particular for its ability to easily traverse many miles without ever slowing down or limiting our performance
---
4. Swagtron SwagCycle Pro

Swag Cycle Pro Folding Electric Bike has a study frame that ca nsupport up to 264lbs and fold in a second, for easy storage. Because of it's size you can take it anywhere with you so it is perfect for weekend rides.
It speeds up to 18mph with app optimization, which is the best thing about this bike. It can climb up to 12% with powerful zero emission motor. Single charge lets you travel up to 15.5 miles. Since it can be connected and controlled via phone app, you can also connect that phone to usb charger so it stays full all the time.
Pros:
+Phone app
+Foldable
+264lbs support
Why we liked it: We liked app control the most, as well as it's size, since,when folded, you can take it anywhere with you. Perfect for weekend relax rides.
---
5. NAKTO Skylark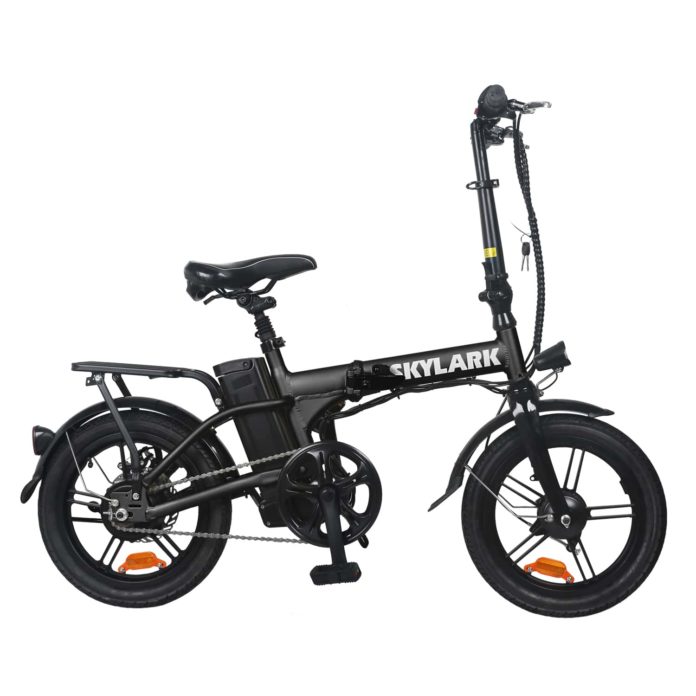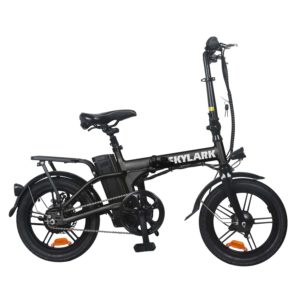 Despite stable carbon steel frame. it can be folded in a second without any tools. This city bike has two riding mode options. You can choose between pedal riding mode or pure electric mode, depends on the road conditions you face.
It also has dual disc brake system, which does not affect your tires , and has no influence on it's durability at all. 250w motor can provide with rapid lift when needed, or just help you uphill.
Pros:
+ 250w motor
+ Charging time: 4-6 hours
+ Foldable
Why we like it: We like it's lightness, 2 riding modes, and the fact that you can fold it in a second. You take it with you on any road possible, and still put it almost anywhere. Isn't that what you need from any bike?
---
6. Schwinn 14 Hinge
This electric folding bike stood out as the most stylish, unlike most other electric bikes which feature a hybrid or mountain design. This electric frame was very reminiscent of a Dutch bike with a nice sleek paint job and wide handlebars. This bike just provides a great easy to use a model which includes:
Pros:
+ Easy to use frame – As we've mentioned the frame of this bike model is really user-friendly and great for those wanting to keep a straight back thanks to the city bike design. But this model is also great for those who can't lift their leg high, as the frame is a low stand-over design.
+ Lightweight and foldable – The small but sturdy 20-inch alloy wheels and lightweight aluminum frame make this bike super easy and user-friendly when it comes to folding it away, even the pedals fold away for extra storage space. Once you've folded this bike down you can even pop it into its specially designed carrying case which makes it simple and stress-free to carry around with you.
---
Electric Commuter Bike Buyers Guide
Welcome to the buyers guide section, here we will be going over what you should be looking out for when it comes to purchasing an electric commuter bike of your own. Although these bikes go through rigorous testing protocols, that does not then mean that every bike is made for you and you alone.
There is still a lot that can go wrong when riding these bikes for yourself. In this section, we hope to highlight these issues for you, so that you may have peace of mind knowing that all the money you have forked out to buy a commuter bike has not gone to waste.
Disclaimer
Before you even think about making a purchase, you should first make a list of requirements. These requirements will obviously vary, but you mostly want to be buying a bike that ticks most of the boxes that you have outlined beforehand. It's pointless purchasing any of the bikes listed above if they aren't going to help you in your commute to and from work. If you find that your place of work is past 30 miles, you might want to consider looking for a different product for obvious reasons.
Having an idea on your own expectations when it comes to electric commuter bikes will keep you away from disappointment we promise you. When you set your expectations so high, you usually then have a gut feeling when certain products don't feel right for whatever reason. If you are just buying a product for the sake of it without doing your research then be prepared to fail; purchasing a new bike is meant to be a joyful experience, make sure that it is.
One of the significant things that you should be keeping in mind is how long it takes for you to get to work. If you find that you have very little time to charge your bike and only live around 5 miles away from your place of work, then you might want to look at your more basic bike, they're a little less expensive and will allow you to just hop on and off whenever you need to ride the bike outright. These charge times can be an annoyance especially if you forget to charge your bike the night/morning previous.
We began with around 30 bikes after scouring the internet for some of the best products; it helps that most of our friends are avid cyclists, so they helped us find these bikes and narrow it down to a list of 10. From this point, we then began trying out the bikes to see which did what. All of the bikes here surprised us in their own unique way; it was honestly a pleasure to write and research this article for you guys!
Foldable Yes or No?
Most of the products that we have listed here come with a few foldable options for you to choose from. Foldable bikes come with a varying level of differences to that of your standard electric bikes. In our experience, these sorts of bikes are a lot easier to store once you get to work rather than chaining them outside.
If you work somewhere that doesn't have a place to chain your bike then you might find that purchasing a foldable bike is the best option for you. When folded they are so small that you could easily have it sit between your feet at work and barely notice it's there.
Foldable bikes are known to be a lot lighter compared to some of the other bikes out there right now. This does mean that you can carry them wherever you want, and it also makes traveling with them in a car a lot easier too as you aren't taking up that much space in your vehicle once stored. If you are someone slightly taller than the average person you might find these bikes somewhat flimsy, it depends entirely on your own personal preferences.
Speed, is it essential?
This will depend entirely on how quickly you will want to get to work. Keep in mind that you'll still need to adhere to the rules of the road. On average these bikes travel at around the 20 mph mark, and faster and you might as well own a motorcycle.
To be honest the only times, we can foresee you traveling faster than 15 mph is during long stretches of road where there are very few vehicles in your path. If you leave during peak travel times on a morning, then you might find that traveling fast is impossible given the number of other cyclists there are out at that time specifically.
Speed isn't everything when it comes to these sorts of bikes; we'd class responsiveness and how sturdy it is as more of an importance than how fast you are traveling when riding it. Depending on the product that you purchase, you'll notice a significant decrease in the speed of your bike once you've had it for a period of time.
Like cars, these bikes will not be as powerful as they once were as time goes on. These bikes can be expensive which is a shame, but after a couple of years you'll either need to change the battery or find a new bike outright; so yeah, speed isn't that important.
When in doubt go with intuition!
If you find that you are stuck on which bike out of our list to choose from, or any other bike outside of our list, then using your intuition will definitely help you in making a rational choice that will no doubt help you in the future. We understand that we are all wired differently and each has different specifications that we must hit.
If this is the first time you are purchasing an electric bike having owned a standard bike for so many years, then we understand your confusion. These products can appear confusing at times, but once you get the hang of them and understand their basic features then they become a cake walk!
Conclusion
We hope that this article has proved helpful to any of you out there looking to purchase an electric commuter bike of your own! We spent a lot of time assembling this list and subsequent article for you all, so to see it come to fruition like this and already receive feedback from friends and family is always a bonus. Honestly, electric bikes are so useful and exciting. We can't say that we want to go back to the manual!
Amazon Recommends:
If you liked this review, please rate below.