The Razor E200 is an electric scooter than can drive up to 12mph, has a very reliable rechargeable 12v sealed lead acid battery system and comes with all the tools that you will need to assemble it. The scooter can run up to 40 minutes, has a hand operated rear brake, pneumatic tires, and a spring kickstand that will allow you to pause anywhere, anytime without any problems. Looking for something different? Try the Razor MX350 electric motocross bike!
E200 Features
Every time summer arrives, companies release hundreds of new toys and merchandise. These are meant to help engage kids in outside play, whether it be by riding a bicycle, a scooter, or an electric power toy cart. Motorized toys are a great way to help engage your kids and their siblings in all-around play that will be a fun ride to watch by the whole family.
Since there are so many new toys being released nowadays, it can get a bit confusing trying to choose the best candidate for your kids.
The one thing that you can be sure of is that your child will be happy with the gift, but since motorized toys are still very new to the market, it can be hard to find information about their specific E200 features.
Some scooters look too menacing, others are meant for more daredevil children while others just don't look appealing at all.
We know how hard it can be to find a reliable product, and how hard it can be to even find reliable information on something that you are not familiar with. That's why we compiled a list of E200 features that will help give you a well-rounded view of the Razor E200 scooter, and Razor electric scooters in general!
Battery Life
Every kids or adults motorized scooter has a battery life, and depending on the motor, the battery life will be different for each scooter. The Razor E200 scooter in particular has a battery life of 40 minutes, but if it's well taken-care of you will be able to ride it for over an hour every time you charge it. Some customers even report that their kids speed around on the scooter for 4 hrs+, however that may be because of the light weight of the child.
Most companies state the overall limit of the charge to avoid complaints, however most motorized scooters can last much longer on a single charge, depending on who the rider is, what the climate is and how well the scooter is taken care of. It's important to note that the scooter does get progressively slower as it reaches the end of its charge life.
Charging Time & Battery Charger
The initial charging time of the E200 scooter should be about 12 hrs. It's extremely important to not keep the scooter plugged in for more than 24 hours, since that can significantly damage and weaken the 12v sealed lead acid battery.
If you charge the scooter for over a day without a break it can lead to very quick failures in the system due to the consistent flow of energy. It's also recommended to not ride the scooter till it's completely out of battery and then charge it.
It's important to let your child ride for a specific amount of time, and then plug the scooter in before its 12v sealed lead acid battery is completely exhausted.

Expenses
Another thing to take into consideration when buying a motorized scooter, or a motorized toy in general, are the expenses. Since motorized toys require a lot of charging, they can take a significant toll on your electricity bills if your child ends up loving the toy. It's important to research the pros and cons of such Razor electric scooters electricity-wise, and how they changed the electricity bills of parents that have already owned them and had children that regularly used them.

Age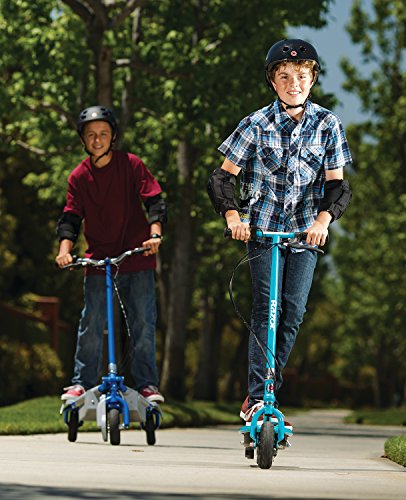 The Razor E200 electric scooter is ideal for kids over the age of 13, however, like with most Razor toys, the age here is very arbitrary. Many parents buy this scooter for kids aged 9+, since they have taller kids that can already reach the handlebars without a problem. Even if you are not sure if you should purchase this scooter for your younger kids, even if it ends up being too big you can wait till they grow into it! Luckily, Razor also provides their customers with detailed descriptions of the dimensions of their products, so you can easily measure your child and judge the differences if needed. Try the Razor Ripstik caster board for kids as an alternative.
Weight
Depending on how much the rider weighs, the Razor E200 electric scooter can go much faster than the 12mph that is stated in the description data. If your child is light, the scooter can reach speeds that go up 20mph at its fastest, with the average being 15pmh. It's important to also decide whether your child has enough balance and maturity to start riding a motorized scooter, since they require a lot of control, especially during the learning stages.

Instruction Manual & Learning Curve
The weight limit of these E200 Razor Scooters is 165lbs, which means that even the parents can give riding a go. This is particularly useful if you want to show your child how to use the Razor E200 electric scooter before they get on it. By demonstrating , you can show them the E200 features and how to stay safe. That's also why we recommend reading through the instruction manual with your child before allowing them onto the Razor E200 electric scooter.
For example, you will need to let go off the gas handle if you want to brake. If you are using the gas and rear brake handles at the same time the scooter won't stop. This information could save a lot of injuries along the way, that's why we have to recommend to read the instruction manual prior to using the scooter.

Assembly
The Razor scooter does require some assembly, however it's relatively minimal and should be a fun exercise to do with the kids.
Most parents state that the scooter doesn't take more than 30 minutes to put together, and it should give a nice jolt of accomplishment to the kids when they see their new favorite toy slowly assembled thanks to their efforts.
Kick-Off Feature
The E200 Razor scooter does not need a kick-off like its predecessors (the Razor E100 electric scooter and the E150). It has an automatic start which means that your child can just jump on it and go, no kicking needed! This Razor scooter model also weighs less than its sister models (only 35-45 pounds). The lightweight feature is great if you are looking for a portable scooter that you can take to the park, to camping trips or on holidays close to home.

Terrain
The Razor E200 series scooter also works great on grass and dirt roads, which is perfect for kids who live near country roads, farms and fields and don't have many gravel roads to have a fun ride on. All in all, the E200 scooter is a very versatile motorized scooter that your child will be able to ride almost anywhere. The Razor E200 electric scooter will, of course, slow down when it's riding through grass, but on asphalt it can definitely go up to 19+ mph with a light rider.

Safety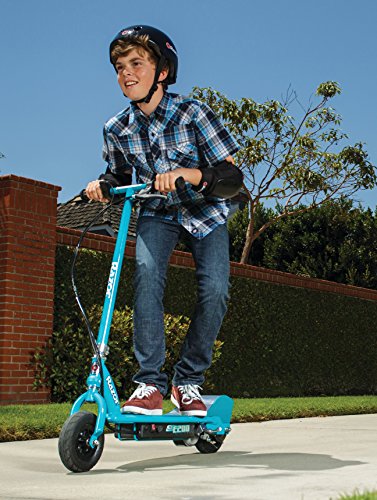 Like we stated before, the E200 scooter is a very powerful scooter, and it's important to first allow the child to learn to balance on the deck before starting to ride.
The deck itself is relatively wide, which should make the the balancing much easier.
The dimensions of the Razor E200 electric scooter are 37.7 x 16.8 x 40.9 inches, which makes for a wide, perfectly-size scooter that has easy-to-reach handlebars.
The E200 scooter can also come in three bundles: a bundle with just the scooter, a bundle with the scooter and a helmet, and a bundle with a scooter, helmet and pads. For parents looking for 4-wheelers – check out the Razor Dune Buggy here. Or for older kids, see the Razor Dirt Quad for hours of fun!
These additional accessories don't add much to the price, and you will save yourself the pain of having to go out and separately look for pads and helmets that are surely more expensive when bought from individual buyers.
Pros:
+ Maximum speed of 20mph
+ Comes in bundles with safety gear
+ 40 min and above battery life
 or run time (12v sealed lead acid)
+ 12hr charging time
+ Rides well on various terrains
+ Fullsize deck and frame (steel frame)
+ Pneumatic tires
+ Hand operated rear brake
Cons
:
– Battery life may deteriorate over time
Who Is It Suitable For?
The E200 scooter is ideal for kids above 13 years of age due to the powerful chain driven motor and fast speeds of the scooter. However, if your child is particularly tall and/or mature for their age and seems to handle the balancing and steering of the scooter well, then there shouldn't be a problem in allowing them to have a fun ride! It can be useful to first try a scooter out at the mall or from neighborhood friends, to make sure that your child likes the product and fits well with the dimensions.
Why We Like It
The Razor E200 has a wide, comfortable full-size deck and frame that helps the children feel secure when they are riding at high speeds. One of the things we like about the E200 scooter, in particular, is the maximum speed limit, that can go up to 20mph on an asphalt road. We also like the safety accessories that come with the E200 bundles, like the helmet, knee and elbows pads etc. which will help keep the kids safe, should they stumble or fall.
Alternative Product – Razor E300 electric scooter
There are plenty of Razor electric scooters on offer, and if you are not liking the E200 features or if it doesn't suit your or your child's needs, then the Razor E300 electric scooter might just be a good alternative.
Upon purchase you will get the scooter, a helmet and knee and elbow pads, all included in the original price. The E300 electric scooter has a wide full-size deck and frame, can go up to 15mph+ and has a very quiet chain driven motor that won't disturb any cranky neighbors!
Amazon Recommends:
If you liked the article, please leave your feedback.