Finding a good, decent electric scooter for adults that will take you from point A to point B can be difficult. However, we think that the EcoReco M5 (the predecessor of Ecoreco's M3) might be the best candidate for the job. With its lithium iron phosphate battery, the charging times are quick and painless. The silent engine is ideal for neighborhood settings, and the energy recovery braking system will make sure you stay in control at all times.
Ecoreco M5 Features
As we mentioned above, finding a reliable eco scooter can be difficult. Most scooters are also meant to be used by kids or young teens, not adults. Adults who want to have a new, comfortable way of transporting may find it hard to find a big, suitable electric kick scooter to support them. EcoReco was well aware of this problem, and that's why they made it their goal to design a scooter that will satisfy both young teens and adults. The frame is comprised of aircraft aluminum for durability.
The EcoReco M5 kick scooter by Evo Powerboards is meant to carry you all across your neighborhood and town roads quietly, and quickly. No matter if you are looking for something to cruise with on breezy summer nights, or if you need something to help you get to work, explore outdoor recreation or get to the grocery store, the M5 is the ideal solution. Trips to and from work will become more fun and more engaging within seconds of getting onto the M5.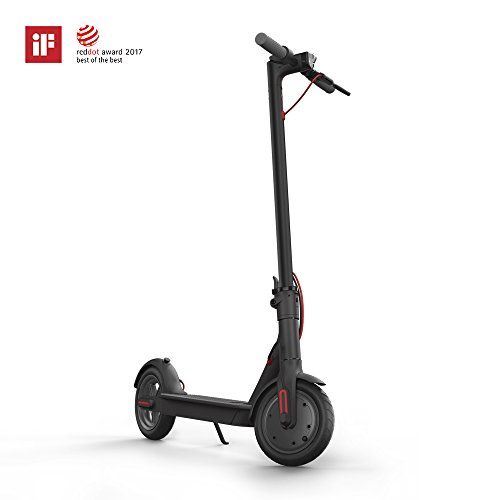 One thing is sure; the EcoReco M5 kick scooter for adults was designed to be energy efficient, slick, and quiet. We think that EcoReco managed to include all those features within this compact, sturdy scooter.
It looks great, works great, and will be able to accompany you through many adventures, no matter if they are fun to ride, work, or chore-related. You will definitely be enriching your life by including the EcoReco M5 in your life.
In the following paragraphs, we will give a quick EcoReco m5 review that will look at the key Ecoreco M5 features, and explain as to why you should think about investing into the EcoReco M5 Kick scooter for adults:
Design
The EcoReco M5 e-scooter has a simple, hands-on design. It doesn't include any of the daredevil patterns or thunderbolts that are commonly used when designing an electric scooter for kids. It's a straight, professional, formal looking eco scooter that will help you look good as you glide down the roads and pavements.
Just like most scooters, we can safely say that the EcoReco M5 scooter has the common, sporty eco scooter look. However, it will still fit with the appeal of just about any rider.
The Ecoreco M5 Scooter for Adults comes in a simple, black matte color and many customers report that the finish is very durable, and doesn't succumb to any quick wear and tear. Thanks to this minimal design, EcoReco managed to focus more on the functionality of the scooter, and its mechanics.
Fold & Go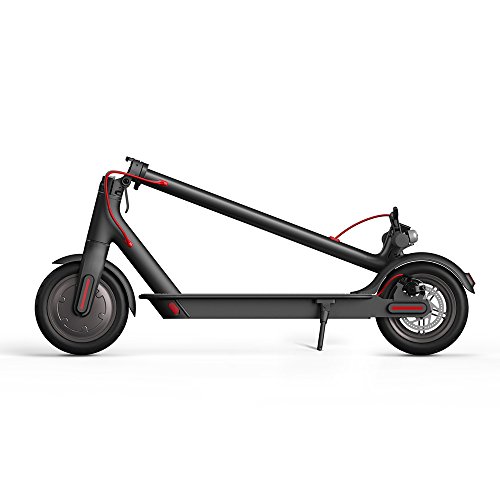 One of the best features of the M5 air electric scooter is its foldability. Even though some people may think that 36 pounds is still heavy when folded, the common opinion is quite the contrary.
Many customers report that the M5 is portable, easy to carry, and doesn't take up much space. It's folding size is: 3'x1'x1/2′.
You can go onto a train, a car or a bus with your electric kick scooter in hand, and it won't bother anyone.
If you travel a lot, or want to go on holiday, you can easily pack your eco adult scooter and take it with you. Its description also states that it can comfortably fit under chairs, and in small, compact places.
Charging
The EcoReco M5 e-scooter also has one of the best charging times in the scooter industry: it can charge up to 70% in just 2 hours. If you are often in a hurry, or find yourself tied up whether you should take a taxi or the scooter, you can quickly plug it in and get going within an hour or two. Comparing this charging time with the 12+ hrs of other adult electric scooters, there is simply no comparison in the efficiency of the EcoReco M5 e-scooter and the other scooters available out there.
Regardless, it's still important to make a quick note of how such an electrical scooter can impact your bills. Charging in the long run can prove to have a bit of an expensive price tag, and that's why we recommend taking a look at how it could affect your electricity plan. It can also be worth the effort to go and ask friends or neighbors who already own such a scooter, as to how, if at all, it impacted their electricity bills.
Speed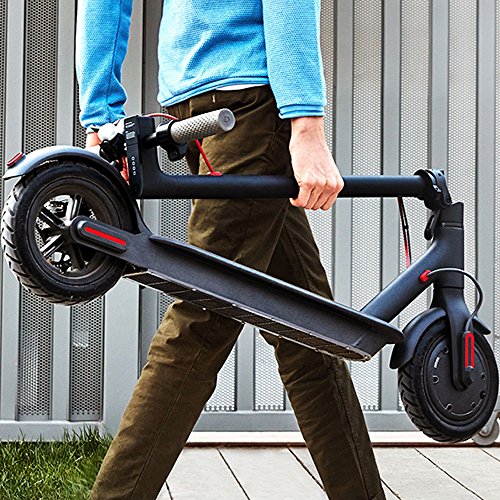 The EcoReco M5 electric scooter by Evo Powerboards can go up to 20 mph, and has configurable top speeds, which are :7 mph, 12 mph and 20 mph. Depending on how long you charge your scooter, it can go anywhere from 10 to 20 miles of range on a single charge.
This is definitely more than enough to reach close destinations such as work, stores and/or friend's houses. If you should run out of battery life midway, you can easily fold and carry the electric scooter thanks to its portability.
Another good feature of the electric scooter for adults is the fact that doesn't get you as sweaty as a bicycle would. You can cruise without any trouble, not worrying about getting your clothes soaked during hot, summery days. If you are going up more vertical hills, you can use a kick or two to get going, but you won't have to put too much effort into riding overall.
Front Wheel and Rear Wheel
With the EcoReco M5 electric scooter and it's rubber hard tires, you will be able to ride over cracks and even grass without much trouble. Customers who have tested the M5 in daily life scenarios stated numerous times that they can still maintain 10mph even on grass fields. If you live in a more rural, urban area, the EcoReco M5 electric scooter will be the ideal eco scooter for you and your needs. One thing is sure; with the M5 electric kick scooter,  you will be getting a quick, smooth ride without any surprises.
You won't get any flat hard tires, and the front wheels themselves are very grippy and sturdy, letting you ride around sturdily, yet smoothly. They are definitely more sturdy than traditional bicycle tires, and will be able to hold out for years.
Weight Capacity
The speed also depends on the weight of the rider; and most customers report that the M5 ecoreco adult kick scooter is not particularly good when going uphill. The more light weight the rider, the quicker the M5 adult kick scooter will be able to go (even up to 25mph on a straight road) and the scooter can carry up to 400lbs of weight, so it can really suit just about anyone.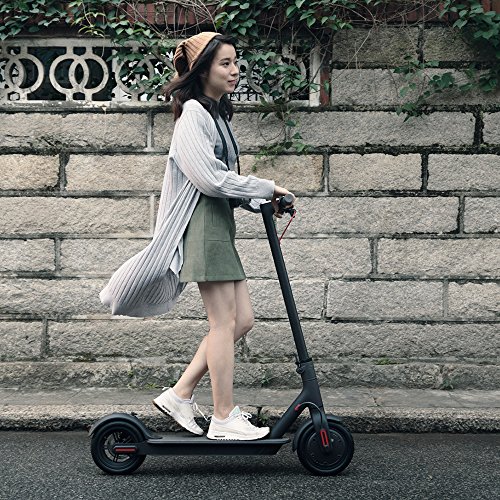 Naturally, the limit listed on the box is 250lbs, however many heavier people have tried and tested the EcoReco m5, and saw no drawbacks.
With a 250watt motor, it's easy to see that this little adult scooter may be small, but it sure is powerful.
With the 36 volt lithium battery, the M5 ecoreco is more than capable of carrying an average adult for 20 or so miles per charge.
Display Pad
Other interesting Ecoreco M5 features include the display pad. When turning it on, you will see the LED lights light up, and they will show you all the data that you need to know. Data such as: your speed, your trip distance travelled, an odometer, a charge bar, and a speedometer.
All in all, you will get a complete display of all the important information that you will need to know when riding. Whether you just like the trivia or actually need the data to see how well the Eco reco scooter works, the display pad is a great addition.
If you are curious about how much battery life you have left, you can easily check the data on the pad. This is extremely useful for those times when you still have a ways to go home and aren't sure if you should use the full battery life now or leave it for a possible time of greater need. .
Features:
+ Rides on various terrains
+ Features a display pad
+ Charges up to 70% in 2 hrs
 with good Battery cycle life
+ Goes up to 20-25 mph
+ Configurable top speeds
+ Range of 15 miles per charge
+ Lithium iron phosphate battery
+ LED Backlit dashboard
+ Front and rear suspension
Cons
:
– Front tire may need to be replaced after regular use
The Eco Reco e-scooter can go about 15 miles of range per charge, and needs about 4 hours of charge time before each ride. This quick charging time is definitely a huge plus, especially for busy people who need to use the adult kick scooter regularly each day.
Who Is It Suitable For?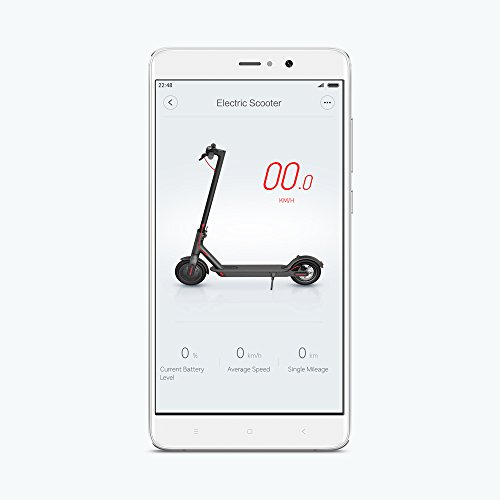 The EcoReco e-scooter is ideal for adult or collage students that want to have a new way of getting around. If you find yourself in an urban area and need a new way to travel around, then the M5 Eco reco electric scooter for adults is the ideal solution.
It's fun to ride, has a relatively cheap price tag and will be able to serve you for years to come. It's also ideal for young teens that need help moving around the neighborhood, too.
Why We Like It
We like the EcoReco electric scooter for its versatility and efficiency. The EcoReco electric scooter can ride on both grass and pavement terrains, has sturdy, rubber front and rear wheels, can go up to 23mph, has an energy efficient display pad showing you all the data you need to know, and can charge up to 70% in less than 2 hrs.
The M5 EcoReco electric scooter is definitely one of the most energy efficient scooters available out there, and that's why we think you should definitely take a chance in Ecoreco scooters, and invest!
Alternative Product – Segway Ninebot ES1
If you're interested in similar products to the M5 Eco Reco, we recommend taking a look at the Segway Ninebot ES1. This electric kick scooter is lightweight and foldable with a one-click folding system. This scooter has an upgraded 300-watt motor and can reach up to 15MPH. The front, shock-absorbing wheel makes for a safe and comfortable ride.
You can also try the Razor E300 electric scooter, the Uberscoot 1000w electric scooter or the Segway ES1 E-Scooter as other alternatives. Looking for an electric skateboard? Try the Razor Ripstik Ripster!
Amazon Recommends:
If you liked the article, please leave your feedback.