Razor's MX350 Dirt Rocket Motocross Bike is definitely a toy that many kids would love to have. Mainly thanks to it's menacing look and appealing features, such as its ability to go at 14mph. It has large, pneumatic knobby tires that are able to speed past all kinds of terrains and can carry up to a weight limit of 140 lbs. (max weight capacity). The electric motor also works very quietly, so you won't have to worry about rowdy neighbors! Not bothered? Check out the awesome Razor Crazy Cart!
Key Features
Buying a new toy for your child can be tough; there are so many options available out on the market today that it can be hard to settle on just one choice. There are hundreds of electronically powered scooters, motorcycles, cars and boards to choose from. Since the electronic-toy industry is still relatively new, it can also be hard to see the pros and benefits of these toys. Looking for something with four wheels first? Check out our review of Razor's Dune Buggy! You can also try the Razor Dirt Quad as an alternative.
One thing we can testify to is that hundreds of parents have not yet been disappointed by their child's reaction when they purchased them an electric motorbike. It's the dream of many kids to speed down roads, both on grass and on gravel, at high speeds, use the variable speed of the MX350 electric. The closest they can get to this experience as a child is, of course, by having their own electric motocross bike. Control the throttle with the twist grip throttle control module and hand operated rear brake.
Since it can be hard to find information about the benefits of such toys, we decided to compile a quick review of Razor's MX350 Dirt Rocket Electric Motocross Bike. We will list its features; its good and bad sides and how having an electric toy at home may or may not affect your bills! Alternatively, you can always go for the traditional bicycle, or balance bikes for kids.
Design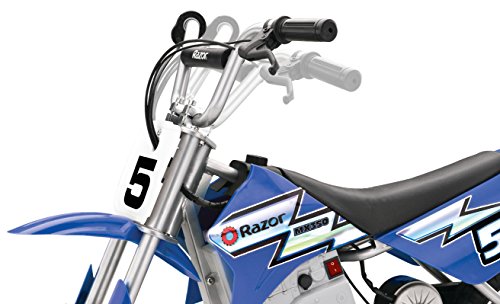 The Razor MX350 Motocross Bike was designed after professional, modern electric dirt bikes for kids and looks the part, too. If you decide to invest in the Dirt Rocket Electric Bike you won't be disappointed with its appeal, and how closely it resembles the motocross bikes for kids that are regularly ridden during contests.
If your child is as enthusiastic about the bike as they are about the sport itself, then this will definitely be a fantastic purchase.
Razor's goal is to provide its customers with the best riding experience, but to do that they have to know how to get a reaction from their targeted audience. The big, chunky wheels and well-molded seat will make your child want to jump on immediately, and live out their off-road journey here. From the get-go it's easy to see that the bike is made from high-quality materials, and that the paint and patterns applied are there to stay. With a twist grip throttle control, chain driven motor, and hand operated rear brake, adjustable riser handlebars with handlebar grips and a handlebar clamp; this amazing electric bike delivers.
Color & Appeal
The bike only comes in a lively blue color, but it definitely makes up for this limited choice with the daring thunderbolt patterns that are placed on both sides of the bike. On rare occasions, you can find the Razor MX350 Dirt Rocket Electric Bike in yellow, black and pink color variations, but those are usually sold in individual retailers or on Razor's official website.
It's easy to see that Razor put a lot of thought into designing the Razor MX350 Dirt Rocket Electric Motor Bike. There's no question that your little one will have tons of fun exploring their new, professional-looking bike if you decide to purchase the toy.
Age Suitability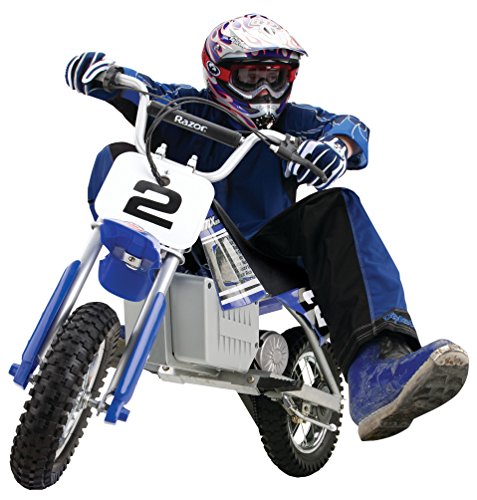 There is a lot of confusion regarding how old your child should be when you allow them to ride the Razor MX350 Dirt Rocket. Razor states that the bike (MX350 version) is ideal for 13 year olds, but that simply isn't the case.
In 90% of the scenarios that we've researched and sifted through, this bike seems to be more ideal for 5-7 year olds. That is quite an age jump, and we will explain the specifics of the bike now so that you can decide whether it will fit your child in particular.
Dimensions
The bike has dimensions of about 44 x 24.5 x 31 inches and can carry up to 140 pounds, which means that usually, it's way too small for 13 year olds. As we researched further, we noticed that even 9-year olds looked cramped on the Razor MX350 Dirt Rocket.
Ideally, the kids that fit best on Razor's MX350 Dirt Bike are between 5-7 years of age. It's definitely better to buy it for younger kids and have it grow with them, since they will find it difficult to maneuver it, as they get older.
Electric Power Battery
Like with all electronic toys, the Razor MX350 Dirt Rocket electric motocross bike comes with a 24V battery that consists of two 12V batteries. It has a 12v sealed lead acid rechargeable system, which means that you will need to charge the bike regularly. The initial charge after you first take it out of the box will have to last at least 12 hours, since it will be the bike's first introduction to electricity.
If you are planning on gifting the Dirt Rocket to your child, then it's vital to know that the MX350 version doesn't come pre-charged. If you want your child to be able to ride on it right after they take it out of the box, then you should charge it the night before so that they can immediately ride it when they open it.
Charging via the Charger Port & Battery Charger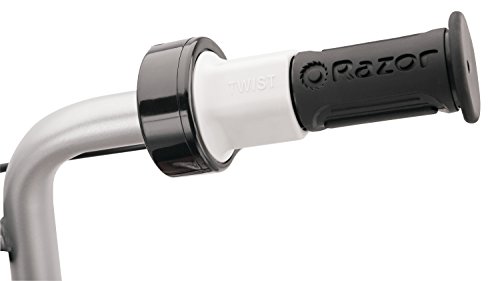 With one 10-12 hr. charge the pocket bike can complete up to 30-60 minutes of continuous riding, but this heavily depends on the weight of the rider and has a max weight capacity. The lighter the rider, the faster the bike will go, and the faster it can run out of battery. For a more stable ride, you can try Razor's pocket mod (betty).
On a general basis, the bike can go up to 14 miles per hour, depending on the terrain. Simply plug into the charger port for recharging.
Most kids love the Razor MX350 Dirt Rocket thanks to its ability to speed past fields, grass and dirt roads as well as normal pavements and gravel. It's definitely a very versatile motocross bike and will be able to carry your child anywhere they want, as fast as they want.
Electricity
One more thing to take into consideration is the fact that the bike will need to be charged each time it runs out of battery. Strictly speaking, this may affect your electricity bills, depending on how often your child will be using the bike. 12 hrs. Of charging each day or each other day may sound like too much when the pocket bike rides for only 1 hour, but usually this isn't very expensive with a good electricity plan.
Additional Features
The bike is covered with a 90-day warranty, but it's non-returnable after the 90-days expire. Most customers are very happy with this deal, since even in the rare case that someone may get a faulty product, they can immediately get it exchanged to get a working product instead.
Kickstand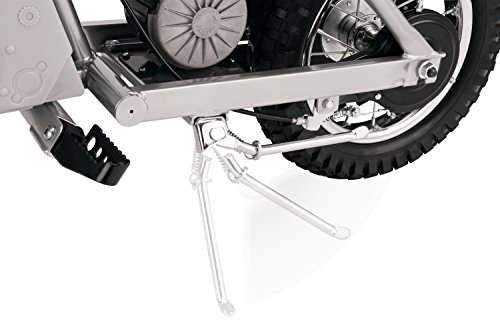 The bike itself has a sturdy, steel frame construction that enables your child to have a stable ride, no matter what kind of terrain they find themselves on.
The retractable kickstand is a perfect addition for those times when you need to take a break, but don't have anywhere to put your bike.
Razor knows that putting a new prized possession on the floor can be sacrilege, and that's why they decided to equip the bike with a sturdy, reliable kickstand that you can use anywhere.
Assembly
The Razor MX350 Dirt Rocket also comes with a manual, which will help you assemble and put the electric-powered dirt bike together, since some assembly is required. We recommend sitting and reading through the manual with your child before they got onto the bike, since it will help them get a grasp of the basics. It will also avoid any injuries or falls that could result from not knowing how to use the bike.
You can also involve your child in putting the bike together, since this can help establish more respect for the toy.
Pros:
+ 14mph variable speed
+ Big, pneumatic knobby tires
+ Works great on various terrains
+ 90-day-warranty
+ Electric motor (chain driven motor)
+ 12v Sealed Lead Acid batteries with battery cover and charger port
+ Riser handlebars with handlebar grips
+ Handlebar Clamp
+ Hand-operated rear brake with Variable Speed
+ Up to 30-60 minutes of continuous riding
Cons:
– Will be too small for 13+ year-old children/teens
Who Is It Suitable For?
Since the age ranges that Razor places on their products are extremely versatile, it's better to look at the dimensions of the product itself. Like we stated before, Razor says that this MX350 electric bike is meant for 13 year olds, but after a lot of research we came to the conclusion that it's actually ideal for 5-7 year olds. It's best to either look at the specific measurement of the pocket bike, or go to a local retailer and try one out!
Why We Like It
The Dirt Rocket Electric Motocross Bike (the MX350 version) is one of Razor's best dirt bikes for kids. This is simply because it's so versatile, and can be ridden on both rough and smooth terrain, and has quite a long battery life. It can go up to 14mph, which is perfect for any child that is 8 years old or younger. All in all, this is a great sturdy pocket bike that your child will have many memories with as they grow.
Alternative Product – Razor Steel MX650 Electric Dirt Bike
If the Razor MX350 Dirt Rocket hasn't convinced you to invest yet, then Razor's Steel Razor MX500 Dirt Rocket or MX650 Dirt Rocket might be good alternatives. The Steel MX650 Electric can go as fast 17mph, which is quite a bit more than the MX350 Electric Dirt Rocket, and has a sturdy steel frame construction. It can be ridden for up to 1 hour on one charge and is ideal for kids aged between 5-8 years old. All in all, it's a great versatile pocket bike that has a quiet, powerful chain driven motor using electric power that won't disturb the neighbors! Try the Razor MX500 Dirt Rocket or MX650 Dirt Rocket as alternatives.
Amazon Recommends:
If you liked the article, please leave your feedback.