When it comes to skiing, you can't ignore the importance of accessories. Keeping this in mind, we have decided to review the best ski socks available in the market today as you know that our reviews are details, it's more like a step-by-step guide on how you can purchase the best product for you.
Stay safe on the Slopes with safe ski helmets.
This review is a result of months of research, getting up close and personal with experts and our personal experiences as well. It contains everything you need to know about ski socks and is suitable for both beginners and expert level snowboarders.
As well as keeping your feet warm, make sure you are properly kitted out with warm snowboarding pants – click here. If you're a Skier – check out our top 10 Ski pants. Not forgetting, a pair of top quality ski gloves and mittens.
Our Top 9 Best Socks for Skiing This Winter
1. Darn Tough Vermont Padded Ski Socks
Darn Tough Vermont purchase the finest raw material and produce the best hose for every use, especially skiing. Latest knitting technology and experienced labor had made it possible to produce state of the art hose.
Although there are many cheap alternatives, darn tough Vermont's throne cannot be challenged. Experience, consistency, and hard work has made this company amongst the best.
Function 5 padded ski hose possess those same attributes promised by the company. By working closely with boot fitters, the manufacturer had dial in five comfort pads to protect common pressure point to make your experience go viola.
Sock geeks have featured shin padding that protects shin from hits while Achilles padding reduces heel lift. Similarly, for backing up the top foot from second buckle pressure they have equipped a pad zone.
These hose use advanced knitting technology to produce the finest fit that will take your performance to a whole new level. Heel pockets, integrated arch support and many other features in these nylons make sure that your investment goes worthwhile.
Most manufacturers forget the fact that high density kitting is very important. Well, fear not as these hose have more stitches per inch that means a comfortable, reliable and durable sock fitting.
Although professionalism shines in these ski hose, the most loved factor is yet to come. The best part about these nylons is that they are made up of merino wool. This material regulates the temperature and pulls the moisture away making you concentrate on what matters the most.
If you want that phenomenal ski experience these hose by Darn Tough Vermont will surely lead you towards the right direction.
Pros:
+ Unconditional lifetime guarantee
+ Merino wool regulates temperature and pulls out the moisture.
+ High-density knitting for a more comfortable and durable fitting.
Why We Liked It – These hose are great if one wants to spice up their ski experience. With merino wool material, high density kitting and performance fit, other contenders are held at a side.
2. Smartwool PhD Ski Socks
Only the skiers know what it is like to ski with warm and best quality hose. Peter and Patty Duke were ski instructors that had the urge of pushing the boundaries of merino wool to produce something great.
For over 20 years this company is pushing the mindsets to create a different story.
PhD Ski Socks by Smartwool features a medium-cushioned shin and foot that pumps up superior fit, durability, and versatility. And yeah! The heart of ski hose is the amazing fiber called merino wool.
Speaking more about the merino wool, it is more comfortable, manages moisture well and looks best. Everything becomes extraordinary when Smartwool adds their expertise to it.
When you wear PhD ski hose you are away from many problems. As merino wool manages moistures you don't have to worry about odor while intense activity. Moreover, you don't have to worry about dirt and water as these hose repel anything that comes in your way. They get dry quickly so you can continue making history.
To perform in the extreme conditions these nylons feature PhD technology so you can push the boundaries regardless of what's the situation. Smartwool PhD Ski hose are ready, are you?
Wear the hose, settle them up and forget about re-adjusting them as the 4-degree elite fit system uses two elastics for greater stretch and recovery to keep the sock in place. Yes! These nylons are the best!
Extreme ski depends upon the durability that hose offer. Patented ReliaWool technology provides superior durability in high impact areas making you output wonders. Similarly, to keep your legs warm these hose feature medium-cushioned shin and foot.
PhD Ski Socks by Smartwool holds every bit to be called one of the best sock solution.
Pros:
+ High density provided by 200 needle construction.
+ ReliaWool technology for superior durability.
+ PhD technology for performing in extreme situations.
Why We Liked It – It all comes down to these ski hose. With the 4-degree elite fit system, reliawool technology, and high-density construction these hose are amongst the best ski partners.
3. YQXCC Fleece Lined Ski Socks
YQXCC is amongst the undisputed rulers of ski hose. Here at YQXCC, every employee aims to deliver the best quality ski hose so that consumers can reach higher grounds of skiing.
No matter who you are, professional or a beginner these ski hose will surely aid you to achieve what is now considered as impossible.
If you are looking for the best in less option then Fleece Lined Ski Socks by YQXCC is hands down the best option. Don't get carried away by the price as professionalism shines out loud within these hose.
Wear these hose and you'll feel outrageous. Fleece Lined Ski Socks are made up of quality cotton that makes sure your feet stay warm while you ski. Furthermore, to eliminate the overheating, these hose are engineered to provide thermal regulating properties, keeping you away from difficulties.
Irritation while you ski is something that everyone hates. These ultra-soft hose make sure that there is no irritation while you ski. Similarly, moisture and odor build-up when you are maneuvering the snow, say thanks to these ski hose as they prevent the buildup of stink and perspiration.
It wouldn't be wrong to comment that these ski hose are amongst the best options available.
Pros:
+ Quality cotton keeps feet warm.
+ Ultra-soft cotton eliminates the itching factor.
+ Prevents stink and perspiration buildup.
Why We Liked It – Customers love the fleece lined ski hose by YQXCC. With quality cotton build, ultra-soft material and light cuff to prevent slippage these hose are here to give you more for less.
4. PureAthlete High-Performance Ski Socks
This brand covers all athletes by providing state of the art body care products so that one can touch the skies. Service, honesty, positivity, and passion combine here at PureAthlete to give out finest goods.
PureAthlete also manufacturers ski hose which means that ski players are covered by the best. By putting in every bit of strength, expertise and consistency PureAthlete proudly announces high-performance ski socks.
Feeling the correct warmth while you ski is considered as the most important factor. Say thanks to the innovative blend of merino wool and polypropylene, all moisture gets away and you feel an enhanced warm feel. Now just wear these high-performance ski hose to create magic.
Comfort is the key to skiing professionally as one needs to have that cozy feel. To pump up the enjoyment with ease, these hose use advanced knitting technology to provide cushioning in the shin, ankle and foot areas. Now you get ultimate comfort no matter what the conditions are.
One can't predict what comes next in the ski adventure. To keep you in grip these hose feature an elastic at the top that prevents slippage and sliding down of hose. Now just forget about the obstacles and continue your historical journey.
Long ski sessions can result in fatigued feet. To provide the utmost comfort these hose feature elastic arch support making you concentrate on what matters the most.
High-Performance ski socks by PureAthlete are just outstanding.
Pros:
+ Enhanced warmth achieved by the blend of merino wool and polypropylene.
+ These hose can be easily washed by machine.
+ Best elastic at the top make sure that hose stay in place.
Why We Liked It – With enhanced warmth, comfortable areas and arch support it wouldn't be wrong to comment that these hose have some serious potential.
5. Wigwam Snow Sirocco Performance Skiing Sock
In Wigwam's dictionary, there is no compromise in manufacturing hose. For over hundred years this company is dedicated to producing state of the art socks for every use so that consumers can feel the right warmth.
Honesty, integrity, and passion have made it possible for Wigwam to score a sweet spot inside the majority's heart.
After huge success in the sock, industry Wigwam thought of providing state of the art ski hose to customers who want to achieve something bigger. It all started in the '80s when Wigwam introduced Snow Sirocco Performance ski hose.
Snow Sirocco performance ski sock pack was built to endure harsh conditions so that you can go on and on. All that was made possible with a full cushion throughout the leg and foot of the sock that protects your shin and feet from cold conditions with full comfort. No matter what the conditions are these hose are here to back you up anytime.
To ski is no joke and especially for the fanatics that take risks. To back up your extremes these hose are reinforced with durable synthetic fibers and extra cushion so that you don't rub against your boot.
These hose are made up of wool yarn that is supplied from South Carolina. Note that this wool yarn is the best in town!
All good and no bad makes Snow Sirocco Performance ski socks by Wigwam.
Pros:
+ Full cushioned.
+ Medium Weight.
+ Seamless toe that eliminates discomfort.
Why We Liked It – With reinforced shin, seamless toe and lifetime guarantee, these hose are no doubt amongst the best options currently available.
6. CompressionZ Thermal Ski Socks
From shorts to hose this company manufacturers it all to help people achieve their goals through affordable price. It all started with a small team that aimed to provide state of the art apparel.
Today, here at compressionZ you can buy all fitness apparel under an affordable price range.
Keeping the same spices and recipes in mind CompressionZ manufactured thermal ski hose so that snowboarders can taste the best in less. Now don't let the weather stop you from creating wonders as these hose has got your back.
The key to ski success is the level of sock comfort. These hosen feature comfortable padding in the right areas for maximum warmth and coziness. Similarly, impact absorption promises to support at any cost.
Most ski hose stay fine on normal usage but what about the freaks that are here to push limits? For those who want to score higher, these hosen are made up of anti-itch and anti-odor material that keeps you dry and comfortable even during long ski sessions.
Advanced moisture-wicking fiber featured in these hose keeps your feet away from wet situations allowing greater flexibility and full motion range.
Wear these thermal ski hose by CompressionZ and go out to challenge the world!
Pros:
+ Anti-odor and Anti-Static.
+ Ideal for every use.
+ Comfortable padding in right areas.
Why We Liked It – Whosoever is looking for a best pair of ski hose should give a chance to CompressionZ thermal socks. With high performance graduated compression, comfortable padding and advanced moisture wicking these hose are amongst the best contenders out there.
These cozy and warm socks are made with the best material available, and they have a total of 55% Merino wool, which is more than what you will find in most other products. It is also considered the ideal material blend in ski socks, and they are made to last not just through one season, but through several.
The anti-odor and moisture management properties provide impressive wicking abilities, to keep your feet warm and dry also after a long day in the slopes. An interesting feature is that they are made with the ultimate thickness – not too thin and not too thick – to fit perfectly in your ski boots.
Pros:
+ Special yard for improved absorption
+ Fits comfortably in ski boots
+ Moisture-management properties
+ Helps prevent bad odor
Why We Liked It – With a pair of wool socks like these, your feet will be warm without getting overheated, and the moisture management properties help make sure you stay dry and odor free.
9. Bridgedale Compression Winter Sport Socks
Out on the mountain or enjoying winters at home, these hose by Bridgedale have got you covered. 15-20 mmHg lightweight MerinoFusion technology provides good insulation and utmost moisture control.
Wool matters in manufacturing socks as every material doesn't promise elite quality. Compression winter sports socks use merino wool that offers superb softness and a skin-like touch. Similarly, you also get the ultimate thermal and moisture control properties that other materials lack.
Superfit socks often cut down the oxygen supply that results in muscle fatigue. Well, that is not the case with these hose as graduated leg compression featured recognizes blood circulation and improves oxygen supply to muscles that aids stamina – click to read a study on this.
ski, running or cycling, whatever you do these hose will handle it all giving you the experience of your life. Similarly, close stretch fit reduces muscle vibration and enhances recovery to master whatever you do.
Put these hose up and you are ready to master the performance.
Pros:
+ Graduated compression leg.
+ Designed for ski players, runners and cyclists.
+ Close stretch fit.
Why We Liked It – With one year guarantee, close stretch fit and graduated compression leg these hose are worth investing in.
9. Bridgedale Merino Skiing Socks
Merino ski socks by Bridgedale are long and all over terry-looped with underfoot warmth and pressure protection for making the ski experience go viola. Customers title these hose as great choice for beginners who are looking for a professional solution.
All that good packed inside this hose is made possible because of merino wool. These hose use merino wool that offers the best softness and skin-like touch so consumers can easily get used to it. Moreover, it also provides excellent thermal and moisture control properties so that everything is in a good situation.
Apart from all promised and proved characteristics of these merino ski socks you can return them back within 3 years. Believe us that there is no going back when you have purchased these state of the art ski socks.
Merino ski socks pack up quality, comfort, and warmth that every other option does not offer.
Pros:
+ 3 years of guarantee.
+ Lightweight terry looping construction.
+ Merino fusion technology.
Why We Liked It – It wouldn't be wrong to comment that these socks are best for every skier out there. With 3 years guarantee, merinofusion technology and lightweight terry looping construction these nylons are good enough to invest in.
All our products reviewed above are fantastic but since we believe in bringing the absolute best for you, we have further picked the best from the list above. These three products are all based on our research and personal use of the products. We love them and we are sure that you will love them too.
Recommended Men's Ski Socks
As the cold weather and holiday season drawing nearer, many of you may be planning to treat yourself to a vacation. If ski is on your agenda, and you want to make the trip without suffering from any ankle sprains or bruises on the legs, as one might usually expect, then you need to get your hands on Darn Tough Vermont Padded Ski Socks. These nylons serve a double purpose, i.e. keep you warm, and they function as shock absorbers, saving you from any minor injury.
They are the perfect socks for the skiing as well as fishing and hunting. They are made up of Lycra Spandex (4%), Nylon (34%), and Merino Wool (62%). These nylons are manufactured in the United States of America. The Vermont Padded Ski Socks are thick enough to ski but they are not as thick as the regular hunting socks. However, they can still be used for hunting due to the high quality of these nylons.
The socks have additional padding at specific spots which are more prone to being bruised, such as the big toe, heel, and toe top and ball. The extra pads help the skin from being rubbed onto ski boots – read the full guide. The cushion effect that the ski socks provides is amazing as so many pads do not normally exist in such socks – click to read the case study.
The socks are longer than regular so they extend above the boots. Normally, ski socks slide down slowly as you ski but these are tight enough to stay up. They are so tight that they stay in place but do not hurt the feet. The socks allow people to wear tighter boots and still get bruised minimally. The quality is outstanding as they can be used in all temperatures; hence, for various trips.
The fabric provides enough warmth to keep the foot comfortable. Ski socks turn damp and take time to dry out. The dampness makes regular socks stinky but the Vermont Padded Ski Socks do not stink. Instead, the socks help lock sweat in the socks without the smelly aspect. However, they do take a longer time to dry but it is totally worth it. The Vermont Padded Ski Socks are produced specially for men. Although, there is no hard and fast rule as anyone can buy and use these comfortable socks. Ski could not have been more comfortable with these.
They have incomparable durability and can be washed and dried in regular machines. It is an efficient item of clothing which has a lifetime guarantee. One must consider buying these wonderful socks as they have numerous that are not all found in one single pair of socks. They are also in various colors so that you can have your personal pick. This pair of socks is providing comfort, durability, sweat prevention, warmth and even less harm due to ski boots.
Nobody likes getting their legs wet in the snow, and this is where these nylons step up their game. Not only do they keep your feet dry, they are very quick in drying themselves out as well. So if you are planning on going snowboarding, these nylons are just the thing for you. So get these and have the vacation of a lifetime without having to worry about getting your feet wet, or getting any bruises or cuts!
Smartwool PhD Ski Socks for Avid Skiers
Skiing is a great sport, but not something everyone can handle. Even if you are physically fit and a great skier, you are still in danger of pulling your muscles, especially in the calves or getting cuts and abrasions. But fret not, as Smartwool PhD Ski Socks are here to save the day!
The popular and trending Smartwool Men's PhD Ski Medium Socks are another variety of ski socks. They are knitted in the United States of America. The Smartwool Men's PhD Ski Medium Socks are made from Elastane (2%), Nylon (36%) and Merino Wool (62%). The socks were constructed by 200 needles and have a nearly seamless toe. Smartwool Men's PhD Ski Medium Socks are made up of a high density of fabric but a low profile effect of cushioning. The total length of each sock is fourteen inches; therefore end a little above the calves.
The quality of the socks is excellent. They keep your feet warm while you ski having the time of your life. The socks prove to be worthy of every single penny that you pay for this pair of socks. The socks are multi-purpose as they can be used for hunting and even fishing. Some people also use it for regular home wear or under regular shoes. They tend to get less damp, hence, dry out quickly. They are long-term solutions to your ski problems. The Smartwool Men's PhD Ski Medium Socks can be hand-washed or washed and dried in a machine. Regardless of the washing method, they are long-lasting.
The Smartwool Men's Ph.D. Ski Medium Socks are made specifically for men due to which it is manufactured to be of a short length. However, there is no strict rule; anyone can purchase and wear these nylons. Skiing could not have been more comfortable.
So the next time you are planning a trip to the mountains, don't forget to take these nylons with you, so that you can enjoy your time there to the fullest, without any worry.
Fleece Lined Compression Ski Socks for Men
While taking part in outdoor physical activities like cycling, running or skiing, the most overlooked item to get packed with your luggage is your socks, although they are in fact the most crucial part. Normal, regular socks do not come up to the mark where sports are concerned, and hence may result in poor performance and even various injuries.
To prevent all of this from happening, we recommend YQXCC Fleece Lined Ski Socks, specially designed for winter sports like skiing and snowboarding. It's time to ditch those cotton socks you previously thought would be okay for the job, as now you know better.
The YQXCC Fleece Lined Ski Socks are socks that people look to buy to go on ski trips, cycling, hiking, hunting, fishing and many other outdoor activities. They are lightweight socks that are manufactured using products available due to advanced technology. These nylons possess the property of staying odorless. Hence, they do not allow the growth or multiplication of bacteria that can cause an odor to develop. Your feet will smell and look fresh regardless of the dampness that develops during skiing. YQXCC Fleece Lined Ski Socks have moisture wicking features that do not allow the socks to become heavy due to the wetness from the snow or perspiration. A person can ski all day and still expect his legs to feel the same as when he started skiing.
These nylons are highly elastic as they are made from a stretchable fabric. There is extra cushion padding around the toes and the heels to prevent bruising or pain to occur due to the rubbing of the feet against the ski boots. They are extraordinary for all outdoor sports. A circular design structure on the insteps is an additional feature of the socks that make them more secure and comfortable.
Some precautions have to be taken for the durability of these nylons. The YQXCC Fleece Lined Ski Socks can be washed in a washing machine at a temperature of 40 degrees Celsius. They should not be dry cleaned; instead one should dry them by hanging them in sunlight. Never put bleach made up of chlorine as that would ruin your socks. If you want to iron these nylons, ensure that the iron is set on low heat. If these precautions are taken, these nylons will prove to be one of a kind.
Ski, snowboarding, hockey and you name it, the application of these hose is unlimited. No matter when you wear these thermal ski hose, the high performance graduated compression takes care of better oxygen circulation and faster muscle recovery as stated in this study.
FAQs
This brings us to yet another important section of our review. In this part, we try to answer some of the most commonly asked questions by customers and enthusiasts. We think that this section is important because it holds the power to influence your decision. Let's get down to the first question now.
What are Ski Socks?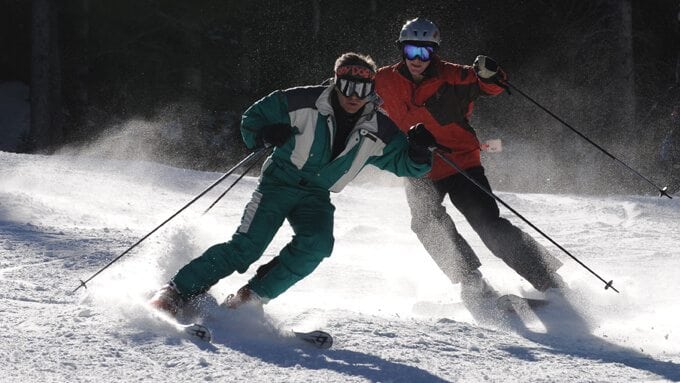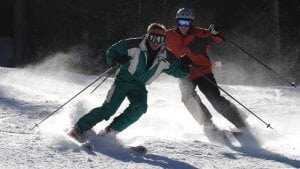 Ski socks are specialized socks made particularly for snowboarders. These nylons are pretty different than our normal, everyday sock. These are tall, very paddy and crafted out of warm synthetic fibers or pure wool. The design helps the skiers stay warm, comfortable and moisture free inside the shoe – allowing them to concentrate on skiing rather than anything else.
Planning a skiing trip? We recommend that you carry an extra pair of ski socks as you can never possibly know the terrain out there.
Are Ski Socks Necessary to Wear?
According to Bob Gleason – an expert in skiing and manufacturing top-class skiing accessories, ski socks are very important for anyone who is into skiing. It doesn't matter if you are a pro or a beginner, ski socks should never be ignored. In fact, it is the right type that matters. You can't just perform at your best while skiing if you are wearing your normal, everyday pair of socks. According to the experts, ski socks should be ultra-thin and must be coupled with the boots that are of the exact size of your feet.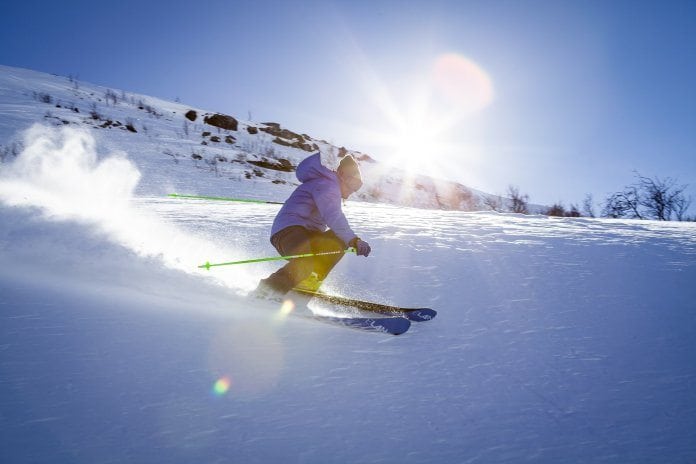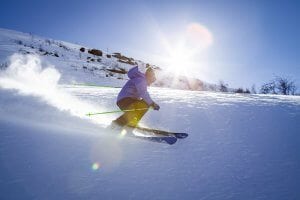 A common man would think that it is better to wear thick socks for skiing. He will be of the opinion that the thicker the material is, the better it will protect the person from cold weather. In reality, this is not the case. Thicker socks keep the foot warm, yes! But they also result in more sweating. The sweating tends to add up and accumulate on the socks itself and as a result, your foot becomes sweaty and moist. On the other hand, a thinner material will not soak the sweat itself but will pass it onto the liner, which is particularly made to keep the moisture away from your foot. We have already given you the logic, the bottom line thinner socks help in keeping your feet warm during a typical day at skiing. The bulky socks tend to become bulkier with all that extra, soaked-up moisture. The wrinkles on the sock also prevent the proper blood flow, which in turn can make your feet extremely cold.
So, yes, ski socks are essentially important for anyone looking to go out on skiing. And not only just regular socks but socks that are designed to keep your feet warm and protected in the wild.
How to Choose Ski Socks?
Now that you know how important ski socks are for any snowboarder, it is now time to guide you on how to choose the best socks for your needs. This question is important because not only you but everyone else realizes the importance of ski socks – so the demand is basically pretty high. There are tons of companies making ski socks but not all of them are known to produce high-quality products. So, you need to be very cautious if you want to make it right the first time.
If you are a regular snowboarder and reading this piece of our, the chances are you have hit badly by the wrong pair of socks. Anyway, let us get down to the question and discover things that are important when buying ski socks.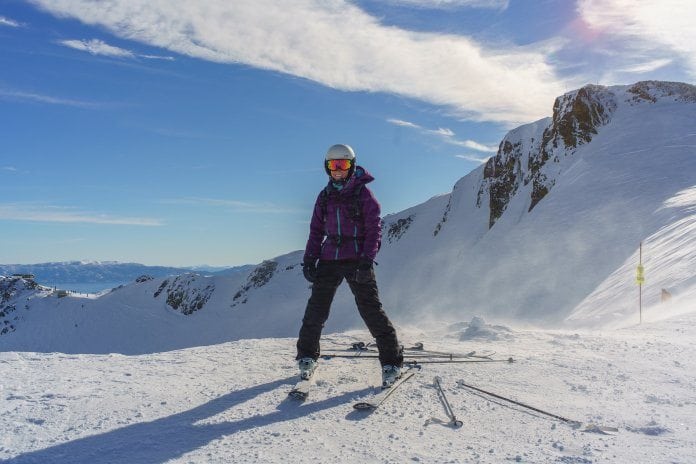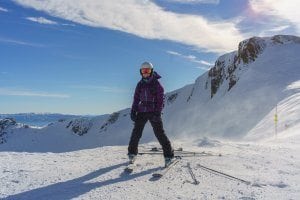 First of all, you need to be aware of your genetics. Some people complain that their feet are always cold and as a result, the body doesn't perform actively. There could be other reasons for this problem. Check your shoes, make sure you are wearing the right type and that it fits properly on your feet. An ill-fitted shoe can be the primary reason for this problem. Socks can also be a contributor if you are wearing the right shoes, and the problem still persists, you might have to check the material of the socks. We suggest that you go for a heavier material in this case but make sure that it is still breathable enough to prevent further problems.
Now it's time to check the durability of your ski socks. Let's face it, these nylons are a little expensive than your everyday sock and you ideally don't want to be buying a new one every time you go out there. We suggest Merino wool as it is durable, breathable and has those amazing odor reducing abilities.
It is also important to mention that your shoes can also damage the socks in more ways than you think. If the shoes you are wearing are fitting and there is a space between the inside of your shoes and the socks then you might have to change your shoes first than anything else.The space between your socks and the shoes results in more wear and tear, discomfort, hence decreasing the useful life of your socks.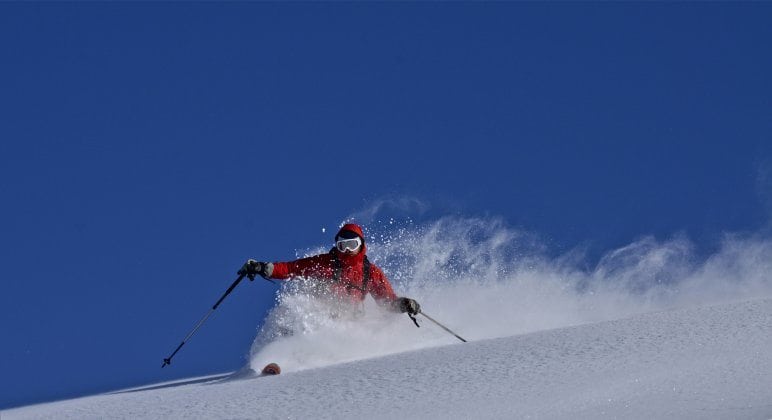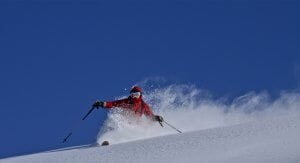 Last but not the least, you should always look for the sock weight. Lightweight is usually suggested by the experts but heavier socks are also there for a purpose. Now that you know that your shoes should be fitted, if they are you might want to try a heavier sock in order to fill that unwanted gap between your foot and the inside of the shoe. A tighter fitting is also going to make your socks last longer by reducing the wear and tear inside.
How to Wear Ski Socks Correctly?
Wearing ski socks is a simple process.
1- Wear the right shoes: The shoes you wear must be properly suited to your feet. Ideally, they should not be too tight or too loose.
2- Don't over tighten your shoes: This is because you are out there to have fun and enjoy. A tight shoe will put you in discomfort, especially if you are trying to spend a long time out in the snow.
3- The right socks: Socks is can be a dealbreaker here. Make sure you are wearing the right sock as we have tried to explain above.
4- Keep body warm: Make sure that you keep your body warm by wearing all the recommended clothes and accessories.
5- Footwarmers: If you are one of those who always have their feet cold, then footwarmers should always be there.
That's it – you're good to go! Always make sure that you don't wear more than one pair of socks. As this can create imbalance and more problem when you are out there.
Where to Buy Ski Socks Online?
When it comes to buying the ski socks, the options are many. However, you should be careful as buying the right type of sock is all that matters. We hope we have covered enough on how to buy the right pair of socks for you above. This time we will tell you where to buy them from.
Everyone is buying online these days, we recommend our readers to do the same. Why? Because it's easy, you get to choose from a huge variety, you can shop from different stores while staying in your room and plus online stores like Amazon has a huge collection of items.
Amazon Recommends:
Bestseller No. 1
Bestseller No. 2
Bestseller No. 3
If you liked the review, please leave your feedback.