Imagine pulling open the blinds in the morning, only to be met by the sight of glistering white snow and beaming sunlight. For many, this is an indication that it is time to take out the skis or board and head out for a day in the slopes.
Skiing and snowboarding are also excellent family vacation activities, and something you can enjoy when being a complete beginner as well as a skilled pro. Before getting out there, however, you have to make sure you have all the right gear, such as suitable snowboarding jackets, ski pants, snowboard helmets and glide wax for snowboards or skis. Wax? This might come as a surprise to some beginners, especially if usually renting since rented equipment tend to come waxed, but it is good to know what it is and what it is used for.
With wax skiing and snowboarding become a lot more enjoyable, as it allows you to glide with less effort down snowy slopes. What the best snowboard wax will do is to lessen the friction, by basically melting the snow as the board goes over it, which creates a thin none-visible water layer between the snow and the board.
This will have you accelerate faster than you would without a good downhill ski wax so that you can enjoy a day out without getting stuck half-way down. Snowboarding is physically challenging as it is, and the last thing you need is a board that won't cooperate.
If you already know all about ski wax types and are just looking for some advice on what product to get – great! Hopefully you will find some interesting info below. If, on the other hand, you don't have the slightest idea of what the difference is between spray on ski wax, rub wax, roll on snowboard wax and beaver wax – we will try to make it more comprehensive. Let's have a look at some of the best wax for snowboard enthusiasts, followed by our ski snowboard wax buying guide.
This is how we evaluate and select products
In this article, we review a number of popular products that we have found through in-depth research and thorough analysis. The products listed here are sold by one or more of our partners, and although these partnerships may influence the range of products in the article, our recommendations depend on an overall assessment of the product.
We evaluate and compare products in the article based on:
1

Any official and impartial product tests

2

Customer opinions about the product

3

Product specifications, features as well as advantages and disadvantages

4

Warranties, service and reputation of the dealer

5

Insight and knowledge of our reader's preferences
We keep these parameters up against price and quality, and deliver our subjective assessment and recommendations to our readers. Keep in mind that the order of the products does not reflect their quality, since each product is chosen as the best option for certain customers and their specific needs.
View The Best Snowboard Wax Below
1. ZUMWax Rub On Wax for Snowboard
If you are looking for the best all temp snowboard wax, you might want to look in this direction. This all-temp wax is locally made in the United States and sold without middle hands, which guarantees you the lowest possible price. T
he ZUMWax Rub On Ski Wax can be used in combination with the company's other product Iron On Universal Ski Wax, as a reinforcement, or on its own. This all-temperature wax contains 70 grams of product which will last for many fun days in the slopes, applies in two simple steps and smells freshly of vanilla. TheZUMWax Rub is a rub on wax snowboard enthusiasts will love.
Pros:
+ Easy application in two steps
+ Good for all temperatures
+ Affordable price
+ Fresh vanilla scent
Why We Liked It – Easy to apply for beginners, with two simple steps where you first apply the all temperature wax on the bottom of the board, and then smooth it out with the cork on the lid. Plus-points for the scent!
---
2. Don't Eat Yellow Snow Snowboard/Ski Wax
Getting the best snowboard and ski wax can dramatically improve the traction you experience. You shouldn't always feel like you're slipping around without control, nor should it feel like you're stuck in one place. Fortunately, the Don't Eat Yellow Snow Snowboard/Ski Wax provides a comfortable, reliable middle ground.
You can choose between Cold, Graphite, and Warm, all of which work in different temperatures under unique snow conditions. Find the set that best fits the area you're going to snowboard or in for optimal results. These 4-ounce blocks each provide enough wax for up to 10 coats per bar.
Pros:
+ Comes with three different types
+ Easy to apply and lasts for a long time
+ Lightweight wax blocks can be used up to 10 times
Why We Like It – We like this snowboarding and ski wax because it lets you use exactly the right type of wax to get the job done.
---
3. Purl Ski/Snowboard Wax All temp
Wax your board with this broad range (3-35 degrees F) snowboard wax, and notice instantly how it makes your skiing experience a lot less of a hassle. You can use it in a wide range of temperatures; it is a microcrystalline ski wax that is PFC free, it is made in Colorado by a company owned by skiers and – as an extra plus – the block is big enough to last you through the season even if you are an avid skier. When you purchase this snowboard wax, it comes with an included ultra-fine buffing pad.
Pros:
+ Works in temperatures of 3-35 degrees F
+ Large bar that lasts a whole season
+ No strong or unpleasant smells
+ Made in Colorado, in the United States
Why We Like It – The best thing about this snowboard wax is that you can use it throughout the winter, even as temperatures shift, and it is large enough to last a full season.
---
4. Hertel "Super Hot Sauce" Snowboarding Wax
Claiming to be the only all temp snowboard wax – this Hot Sauce wax uses a unique encapsulation formula that has patented surfactants to provide snowboarders with more control and a safer experience. Hertel Ski Wax has been around since 1974, which means they have had plenty of time to perfect their Hertel "Super Hot Sauce". That it has survived for this long on a competitive ski paste wax market also speaks highly of this well-established Hertel ski and snowboard wax. There is an old saying regarding how only the strongest survive – the survival of the fittest – and the principle is no different when it comes to the best wax for snowboards.
Pros:
+ Has been around for decades
+ Partially patented formula
+ For safety and more control
Why We Liked It – When you own a snowboard all-temp wax is a great way to prepare your board for anything and everything. This Super Hot-Sauce paste wax will have you ready to hit the slopes in no time, regardless of what weather you wake up to.
---
5. Burton All-Season Fastest Snowboard Wax
This snowboard wax comes in a diamond-shaped bar, and it is applied to your board using an iron set to medium heat. It weighs 40 grams, which makes it large enough to last through most of the skiing season, and it is made in the United States with only approved ingredients.
It is an all-temperature wax bar that can be used effectively in 14-32 degrees F (-10 – 0 degrees C), and the high-speed fluorocarbons will help you go fast and effortlessly down the slopes. What makes this bar worth its price is how easy it is to use how versatile it is in terms of temperature and how long it can be used for before you run out.
Pros:
+ Easy iron-on application
+ Weighs a total of 40 grams
+ Affordable and long-lasting
+ Made and produced in the United States
Why We Like It – While this bar may look ordinary, it is made with a complex mix of ingredients to aid the snowboarder who wants to go downhill fast.
---
6. SUMWax High Fluoro Snowboard Racing Wax
Fluoronated wax, or "fluoro" for short, improves the glide as well as the speed when you snowboard in wet or humid conditions. The best ski wax for wet snow is one like the SUMWax High Fluoro wax, since it repels water and stops big lumps of snow from getting stuck to the base.
There is nothing more frustrating than having wet snow form a bumpy layer underneath your board or skis, and it can be near impossible to enjoy the outing when you can't seem to slide down the slope with the same effortlessness as usual. Different snowboard wax types have different qualities, so if you plan to indulge in winter sports in milder climates where the snow might be wet – this product with its high Fluoro content is a great option, since a higher Fluoro content tends to mean an overall better glide.
Pros:
+ Improves speed
+ Great for wet snow and humidity
+ Fluorinated wax for better glide
Why We Liked It – Anyone who has ever tried to ski or snowboard in wet snow with the wrong wax knows how frustrating it can be. This fluoro wax is very clear with its intended purpose, which we applaud, and it works great on that overly moist snow that might otherwise prevent you from enjoying your snowboard trip.
---
7. Swix Bio Degradable Snowboard Wax
Here we have a 180-gram power block that is bio degradable and easily ironed on; making it both safe for the environment as well as user friendly. It is a yellow high-quality ski and snowboard wax that is best for use in medium temperatures, with the recommendation being -2°C to +10°C or 28°F to 50°F.
It is important to know what weather conditions you are going to be dealing with before heading out on your board, because you want to make sure the glide wax you use is one that will aid you and make it easier and faster to glide down the slope, and not the other way around. Iron on for best and most long-lasting effect.
Pros:
+ Perfect for medium temperatures
+ Bio degradable and environment friendly
+ Simple to use for beginners
Why We Liked It – This ski and snowboard wax is cheaper than many similar products from other brands, yet it still performs with the same high standards and results.
---
8. Demon Hyper X Universal Big Block Wax
When opting for a Demon Hyper snowboard wax product, you usually know that you are about to give your board a quality wax.
With this wax and cleaner combo from demon snowboards in your care will silently thank you, as this universal wax provides the ultimate attention and preparation for long-lasting fun in any weather condition. This combo consists of a high-quality ski snowboard wax bar and a citrus base cleaner, so that you can get that board cleaned up nicely before you apply the hyper wax. These demon wax premium products have been manufactured in southern California since 1991, always with the intent to give snowboarders worldwide a more complete boarding experience.
Pros:
+ Premium demon snowboard wax
+ Made in southern California
+ Citrus base cleaner included
+ Pleasant scent
Why We Liked It – With Demon snowboarding becomes faster, safer and more fun, and this Demon hyper wax combo gives you a chance to properly clean your board before you wax it, and to give it that extra care it needs to carry you down the ski slopes.
---
9. Swix LF 4X Race Snowboarding Wax
Looking for the best snowboard wax kit for those freezing cold days? This product works best in cold temperatures with low humidity, and it also works well on dry friction conditions and on artificial snow. It generally rates high in ski wax reviews, and though the ski snowboard wax bar is somewhat pricy, this Swix universal wax is worth it to be prepared for those cold days when most people would much rather stay at home in front of a cozy fire. There is no such thing as bad weather for winter sports, they say – it is only a question of whether you are using the right ski and snowboard wax for the outside temperature.
Pros:
+ For dry conditions with friction
+ Best for cold days and low humidity
+ Irons on easily
Why We Liked It – It is a high-quality product that will prep your board for the coldest of winter days, and it is less messy than a liquid ski wax and is easily ironed onto the base of the board.
---
10. DaKine Indy Hot Wax for Snowboarding
This DaKine snowboard wax is a high-performance hot wax product, intended for warmer slope days with an average temperatures above 3°C or 28°F. It is a snowboarding hot wax manufactured in the United States and it has a maximum high fluorine content, to guarantee perfect glide and no snow build-up under the board. Some snowboarders avoid warm temperature and humid weathers for this reason, but it is usually because they haven't tried a hot wax like this DaKine Indy Hot Wax. While hot waxing is recommended as application method for the Indy Hot Wax, this product can also be used as a snowboard rub on wax!
Pros:
+ For warm temperature and humid conditions
+ Added synthetic fluoro
+ Two options for application
+ Best applied hot
Why We Liked It – If you are not sure whether you prefer a rub on snowboard wax or a hot wax bar, this DaKine Indy Hot Wax is a great option since it can be used both ways, giving you a chance to test to see what method you like best.
---
Snowboard Wax Buyers Guide
With so many different products available for snowboarders to choose from, the best thing you can do is to just know what weather conditions you plan to ski or snowboard in and pick a product that is optimal for those conditions. There are a lot of brands that aren't mentioned on this top 10 list, such as Bluebird wax, Graphite Waxes, One Ball Wax and so on, but there are simply too many out there, and these 10 you've just gone through are some of the top products on the current ski wax market. Read on for our full ski snowboard wax buying guide!
The Benefits of Waxing You Snowboard
Waxing a snowboard will essentially allow it to glide better and faster and prevent you from getting stuck at the flats or from being left behind as your friends shoot down the slope like blurry darts. The P-Tex material at the snowboard base is what absorbs the ski and snowboard wax, giving the base extra protection from the elements. If the scraping process is executed properly it will the channel snow and water along the board, which is what allows you to go a lot faster than you would with an unwaxed board. It is however important that you use the right type of ski snowboard wax for the weather and snow conditions, or it could end up having the absolute opposite effect.
Think of the ski and snowboard wax as something that doesn't just allow you to go faster and with less effort, but also something that nourishes and protects your board. A snowboard can last for many years if properly cared for, so use quality wax to extend its lifespan.
Different Types of Snowboard Waxes
There are countless products made to suit specific weather conditions, but there are also different types of snowboard waxes. A hot wax comes in the shape of a hard wax bar and is applied with an iron (always read the instructions on the packaging), and while it can be applied as a rub-on wax – by rubbing it on the base of the board – in emergencies or when you find yourself without the access to an iron, it generally lasts a lot longer if ironed on. This is one of the most common wax types, which probably has to do with durability and the way it can nourish the board, and it is used all over the world by both professionals and hobby snowboarders.
Another type of snowboard and ski wax is the rub-on wax. These kinds of products can be either liquid wax or come in a solid bar and are – as the name indicates – rubbed on to cover your board base. It is a very fast waxing solution that will only take you a couple of minutes, which is great when already out for the day or when needing to give your board waxing a quick touch-up.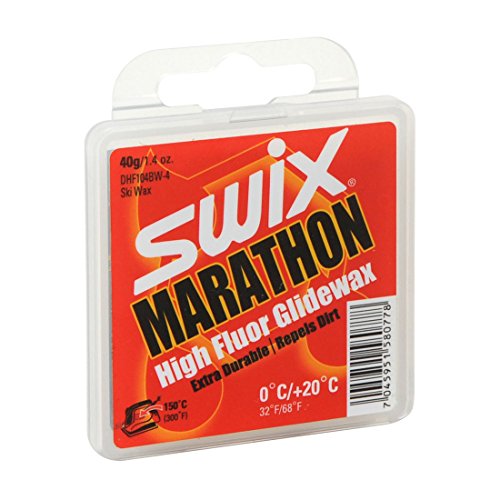 Wax production companies constantly work to find new solutions for snowboarders out there, so that everyone can find an option that suits their needs. Because of this one of the newer wax types are spray-on waxes, where you apply a thin and even layer at the snowboard base simply by spraying it on and letting it dry. Just like with rub-on wax, this tends to last for a shorter time than a standard hot wax, but is still a very effective and simple way to keep your snowboard ready for an adventure at all times.
Operating Temperatures
When looking around for a snowboard and ski wax, you will quickly notice that most, if not all, come with indicated operating temperatures. It might seem a bit confusing at first, but it is simply the temperature range that the wax operates best within. Most top products list these degree recommendations both in Celsius and Fahrenheit, but if you would come across a product that doesn't – make sure you use an online converter so that you don't get a product that won't serve your intended snowboarding purpose. Consider what weather conditions you plan to ski or snowboard in and choose a product with a fitting operating temperature.
A hobby snowboarder will usually do fine with a wax that is apt for all temperatures, rather than to have to invest in several different waxes for variating weather conditions. It is very unlikely that you will notice a difference, and it is usually smarter not to experiment when you don't have the need nor the knowledge. Just make sure it is indeed a wax for all temperatures and climates, since you will definitely notice the difference if trying to use a product for extremely cold and dry weather on a hot and humid day.
How to wax a snowboard at home?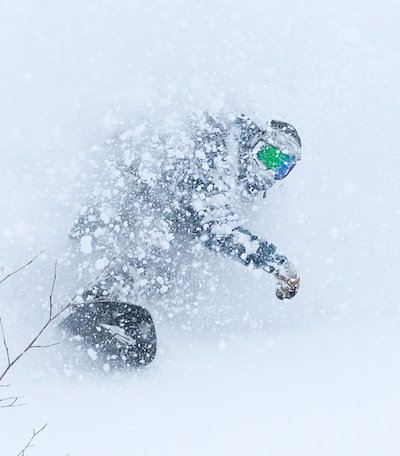 This is the great thing about snowboard waxes, since everyone can buy a wax product and have the board waxed at home. It is not difficult, is in most cases done within minutes and there is a large variety of products to choose from so that you can pick the one that won't be a hassle to apply. If you choose a best applied hot wax – just make sure you have an iron at home or that you are willing to purchase one, and if you don't – choose a product that does not require one (rub-on or spray). Read the instructions on the packaging carefully and get right to it!
When to wax a snowboard?
How often you need to wax your snowboard depends on the type of wax you choose to use. Usually, wax comes with specific instructions regarding how to apply the wax and how often to do it, but in general an iron-on wax will last longer than for example a rub-on wax.
It is also important to take into consideration how much you actually use your board; how often you use it and for how long, as it will also have an impact on the frequency with which you have to wax. Additionally, the weather conditions you ride in and the construction of your snowboard (extruded base or sintered base) are also relevant factors. So, while some recommend you wax it every 3-4 days or so (every 3-4 days of full-day use), it really depends on everything mentioned above.
How to wax a snowboard without an iron?
Not everyone owns an iron, and even those who do might not be comfortable with such an application method, and then it can be good to know how to wax a snowboard with rub on wax, for example. There are two different types of rub-on waxes – liquid and solid. To use a liquid wax you just apply a thin and even layer to the whole base of the board, leave it to dry for a few minutes and then continue to structure or polish it. These types of waxes tend to penetrate the board to some extent, which provides a good protection.
A solid rub-on wax, on the other hand, is gently rubbed on while making sure it covers the entire board base. It is easier and faster to apply than an iron-on wax, but it doesn't last as long since it will only sit superficially on the base, and you will have to redo it more often than you would with an iron-on product.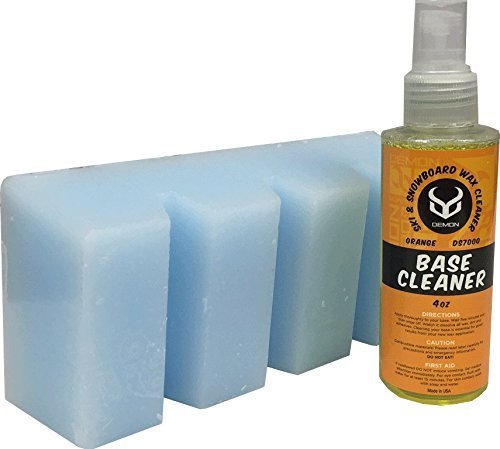 You can also consider using a spray-on product or use a hot wax bar as a rub-on product by rubbing it on cold rather than using an iron.
It will do the trick, which is great for times when you don't have time to iron it on or when you're out and about (nobody brings an iron to the slopes) for a quick touch-up. It won't last as long as an iron-on wax or as having a the wax ironed on, but it will be a good emergency fix.
Conclusion
Just like it is necessary to fuel up a car before going for a long drive, or to keep the oil at the right level, it is also necessary to wax your snowboard before taking it out in the slopes. You don't need to wax it every time you use it, but it is good to have a quality wax product at home as well as a basic idea for how to use it. Take care of your board, choose a wax that best suit your needs and that nourishes the base, and see the difference it makes for the entire snowboarding experience.
Expert Tip
Stick to a basic all-weather wax product if you are a hobby snowboarder, so that you won't have to worry about what wax to use at what time. Unless you are an expert, it is unlikely that you will notice much difference.
Did You Know?
Snowboarding as we know it today was invented in the 1960s. An American called Sherman Poppen strapped two skis or board together one day, and since the way he used his new "invention" was similar to the idea of surfing, his wife pointed out that he was snow surfing, and called the board a Snurfer. Yes, a Snurfer.
Amazon Recommends:
Bestseller No. 1
Bestseller No. 2
Bestseller No. 3
If you liked this review, please rate below.