Today we review and find out the best ski mask on the market to date. Whether you live in cold regions or are an avid lover of ski or snowboard, you will need a thermal winter face mask to provide protection and warmth. Finding the right product for you crucial for your ski, snowboard and mountain activities to go smooth. To keep your hands warm, make sure you have a warm and reliable pair of skiing gloves or mittens.
Not wearing a ski or snowboard mask can be uncomfortable or worse give you frostbite. You require complete protection during outdoor sports similar to skiing and snowboarding and generally too if you live in a very cold winter climate. People often forget their face needs equal protection as their hands or feet during ski, snowboard, and mountain activities. Get a sturdy pair of ski boots for even more foot protection!
Yo! Don't forget the importance of specially designed snowboard pants – see them here. Or, If you are into Skiing – see our top picks for Ski Pants.
The Best Ski Masks & Snowboarding Balaclava Comparison Below
1. Ergodyne N-Ferno 6823 Wind-Resistant Hinged Balaclava – Best Overall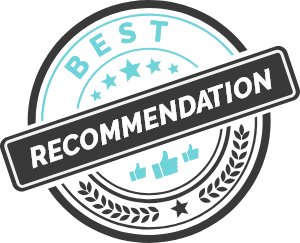 This Balaclava mask is perfect for your skiing expeditions as it is snug and breathable. The long-length of this balaclava covers every part of your face without being too tight. It has a stretchable fleece so virtually anyone can wear these face-masks.
The great thing is that these balaclava masks are quite lightweight weighing merely 2.9 ounces so it never disrupts your snow-sports similar to skiing, snowboarding or mountain climbing and does not feel too clingy. You will instantly feel warm when you wear these balaclava skiing face masks whether you live in moderate winters or extremely cold ones. These balaclava-masks are especially good for those who work outside and can have the balaclava on for long hours.
Pros:
Very lightweight
Covers entire face
Great for working outdoors
Why We Liked It – Balaclava-masks are not just for ski, anyone can add them to their clothing for any occasion just to feel warm. These hats are multifunctioning so you can have them as a neck gaiter as well. There is a little color choice as well with black and camo offerings in this particular balaclava.
---
2. Action Heat 5 V Heated Fleece Balaclava – Editors Choice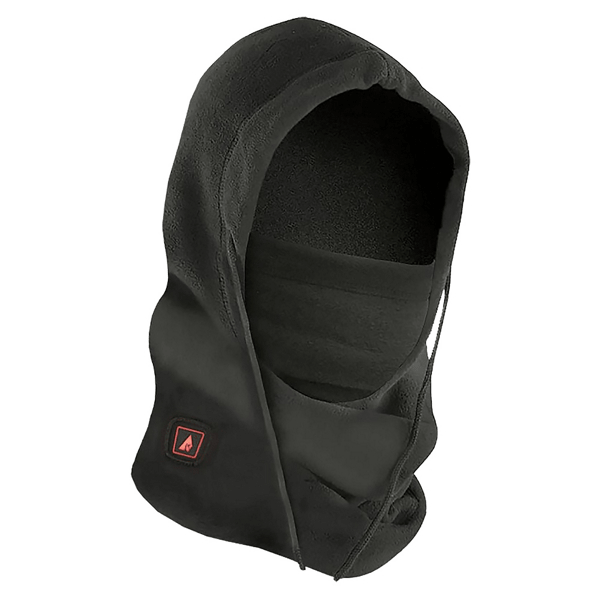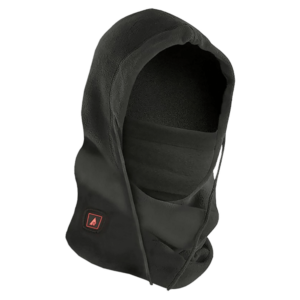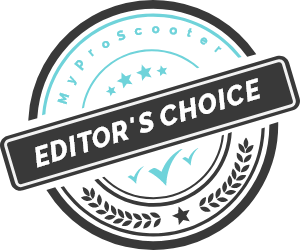 Extremely warm and cozy inside, with mouth cover, prevents you from getting almost any part of your face cold. If you combine it with a jacket with same color or material you can barely notice the difference, so it looks like it's part of it. However, on the outside, it consists of waterproof breathable materials that keeps you dry all the time.
By far the best feature is built-in Heating Panels placed over both ears. 5-Volt Battery w/ 2-Amp Power System and infrared heating can heat you up from 2 to even up to 4.5+ hours depending on what model you use. Almost impossible to find Action Heat 5 V-s match in this category.
Pros:
3-mod heating system
Waterproof
4 LED Power Indicators Display
Why We Liked It – It is hard to find better feature than heaters. Absolutely thrilling experience, in combination with warm and dry ride!
---
3. ZERDOCEAN Winter Windproof Fleece Thermal Full Face Motorcycle Ski Mask Balaclava – Premium Choice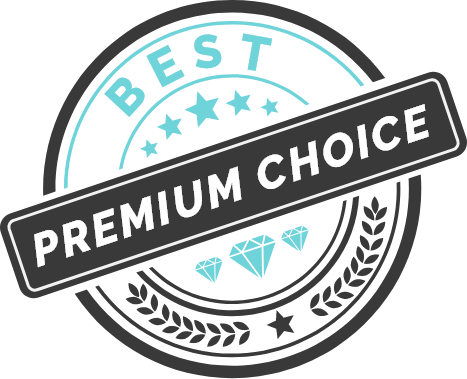 Keep your face warm with a Balaclava that doesn't just feel good but that looks good while you are wearing it! It comes in black, army green, dark camo, light camo and gray, so that you can get whatever goes the best with the rest of your outfit. There are four different ways to wear this Balaclava.
You can wear it as a full-face mask, a neck gaiter, a half ski mask or an open Balaclava, and it fits effortlessly under most types of helmets. The material is stretchy and it has a soft fleece lining which offers great comfort, you can use it for winter sports or just for being out on cold days, and you will look great while doing it.
Pros:
Comes in a variety of colors
Four different ways to wear
Soft and comfortable fleece lining
Stretchy one-size-fits-all
Why We Liked It – There are so many different ways to wear this balaclava, and you will save money compared to having to buy a variety of products to cover all your needs.
---
4. BlackStrap The Kids Hood Kids Balaclava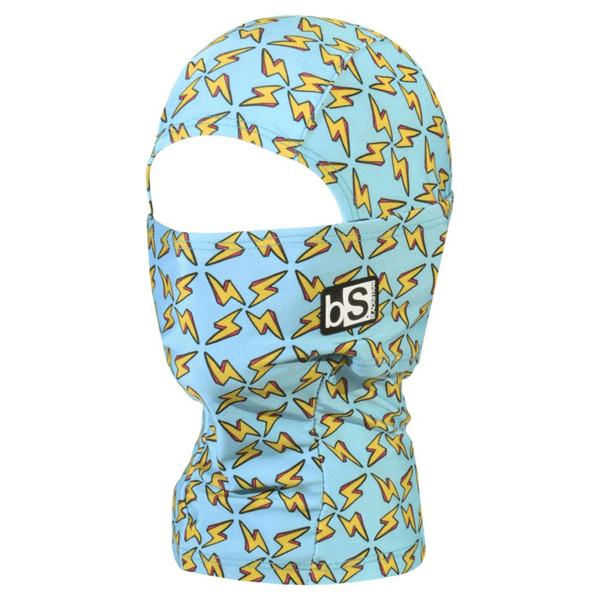 It's impossible to move on with this list without making an offer for our youngest fans. If your kid likes snowboarding or skiing, this BlackStrap Balaclava could be the most attractive choice for them. Awesome attractive design that not only protects from the cold and snow with antimicrobial and moisture wicking lens safe fabric but also makes it impossible to go unnoticed. Perfect choice for social media lovers! It is also machine washable so its maintenance is as easy as it gets. Fits almost all helmets and covers your neck and head completely. Pair it with glasses and start cruising!
Why We Liked It – Thunders makes wonders! Small bolts of lightning all over the surface make you the most attractive person on the road!
---
5. WTACTFUL 3D Animal Funny Balaclava Face Mask
Calling out all the animal lovers as here is a snow-board mask they will absolutely adore. This hood can both be considered a winter protection and costume with an animals head printed on it. The thing covers your face, ears, nostrils entirely and the snugly fitment keeps them warm. The stretchable cloth makes it good for everyone from teenager to adults, from men to women. It is good for both regular and lining under helmets.
Why We Liked It – It is a fun piece of ski gear that anyone can carry and look adorable in. It also is quite lightweight and portable. You can just take it off and put in the pocket during ski expeditions or mountain climbing. Unlike many other close-fitting garments, it is incredibly cheap.
---
6. Turtle Fur Micro Fur Ninja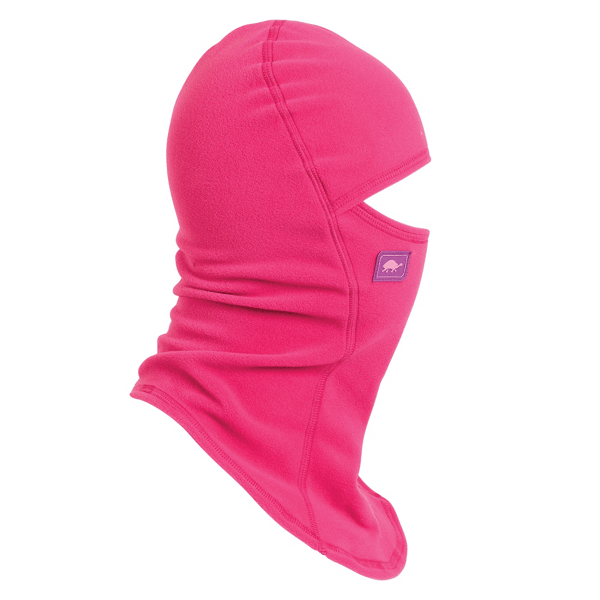 Next model is mostly loved by ladies. Simple but never out-of-date completely pink is never a wrong choice. While covering the entire face and neck, micro fur is probably the coziest material that you can look for. It will make you feel like you are tucked in your warm bed while sliding through snowy forests and roads. It stands out for one of the classics, most selling products on this list, due to its design. Quick-drying system is another great feature of this balaclava. It fits under every helmet without having your head wet at all.
Why We Liked It – There's almost nothing not to like on this model. Classic, and always cool!
---
7. Nike Pro Combat Hyperwarm Hydropull Hood
This hood from Nike is designed for tough winter sports in tough winter. It is remarkably comfortable with its soft and stretchable Nylon and Spandex construction. Its hood has a flat seam construction that makes it ideal for combining it with a helmet (click here for our full review). It has the capabilities of a winter ski mask but anyone can wear it anywhere because the prime purpose here is to keep you warm. It nicely covers everything from your skull to your collar and can also be converted into a gaiter. It has a very simple construction and is practically most suited for any kind of sport similar to ski or snowboard.
Why We Liked It – This ski facemask is very affordable and since it is from Nike, one of the top athletic clothing brands in the world, you can be sure about the highest quality. So all in all, it is the greatest value for money that will perhaps last several winter and many slope sessions.
---
8. BlackStrap The Expedition Hood Balaclava
The Blackstrap Balaclava is created and designed for the serious riders. It provides ultimate comfort while shielding your face during any possible snow condition you can ski into. Ergonomic fit, and helmet friendly, with 360 dual-layer coverage generates maximum warmth and protection. It is also machine washable so maintenance is not an issue at all. This one is one of the newest models created in 2020 so you shouldn't miss a chance to be a trendsetter! To make sure you get what you buy, skis.com is giving one year warranty on it, so check it out on the link below and get your model!
Why We Liked It – Color is awesome. Flourescent green is something all generations can enjoy, and never gets out of fashion.
---
9. CIKIShield Skull Face Masks For Couples
The Seamless Skull Face Tube Mask is a ski mask that is truly great value for money because you can carry it for so many functions. You could utilize these hats as scarf, bandana, muffler, liner, gaiter, or even a skull band. It is made entirely from polyester and is very breathable which means you do not have to worry about sweat or bacteria for that matter as it is also anti-bacterial. These snowboard masks keep you cozy and can be used for regular use or winter sports. Both men and women can wear this skull printed mask just like that or under their ski helmets to provide extra heat.
Why We Liked It – These funky masks can be worn as part of a costume too with the colored skull print on it. The skull print adds a little bit of funk in the mix and would appeal to anyone who likes such Gothic stuff. Of course, we like it also because these products are incredibly cheap.
---
10. Beardski Prospector Cool Skiing Face Mask
If you desire those big beard ski accessories you will love this one with its 12-inch synthetic beard that looks quite cool for ski hats. It is a one size full mask that can accommodate everyone thanks to the adjustable flap. The beard is made from thermal fleece which keeps you incredibly cozy even in the toughest winters.
These slope accessories are comfortable enough with their silk lining. You can easily wash the beard ski prospector ski mask once the winter is over and it should last you for several winter seasons. This piece of protective gear is a result of quality craftsmanship in a price that is remarkably low.
Why We Liked It – The beard on the ski and snowboard mask is quite soft and cozy. The beardski prospector ski mask almost looks like a real one so anyone wearing this ski mask would look as if they actually have a beard. And the facemasks perform the job well to keep you warm and protected from cold winds. This is why we rate the beardski prospector ski mask number two in the list of the best ski masks of this year.
---
11. Mountain Hardwear Men's Snowboard Balaclava
This part ski mask from Airshield is known to be very cozy. It will accommodate quite snuggly even if you wear it under a hood or helmet which you most likely would as it is only a halved balaclava. It is a stretchable balaclava and has venting ability in areas where there is an ample amount of ventilation. It is a good choice for those men who work outdoor and require something soft and comfortable around the clock.
Why We Liked It – This balaclava fully covers the neck and is a good combo with a hood or helmet. Some people do not want a full close-fitting garment when they are wearing ski helmets so this helps extend the safety and warmth of the ski helmet.
---
12. Outdoor Research Ninjaclava Headwear
You know you are getting something flexible when it is a mix of nylon, polyester and spandex. Yes, this item's construction is mostly nylon and polyester but has 5% spandex as well. This is a perfect item for children who want to do a sporting projects outdoors in winters. These are one measurement that fits all children thanks to its stretchability. However, do not think they will get uncomfortable for the young ones as these are designed with soft materials and will stay breathable.
Why We Liked It – It is perfect considering it fits all sizes of children nicely. If the ski or snowboard mask is too tight obviously it is going to be uncomfortable for t