There is no shortage of accidents in the mountains, and a quality pair of best ski pants for a few bucks can save you a lot of pain! Even small slips on the slopes can be a source of a series of unwanted bruises and bumps which are definitely not a pleasant experience. Especially if you are just starting out your skiing adventure, having something to back up your limbs should be put into consideration. Ice and snow can be tricky, especially for people who just started learning! If you are looking for snowboard pants – click here for the review.
Regardless, even the best of ski pants may not always be the most exciting piece of gear to buy, but they are some of the most valuable. They are meant to protect all of the limbs you have below your waist from moisture, harsh winds and in some cases even scrapes or cuts you may get from roots or rocks sticking out of the ground and sharp ice fragments. If you're looking to keep your head safe with the top ski helmets click here. Make sure you have the correct footwear with our guide on Snowboard Boots.
We have some of the best material gathered up and condensed into readable chunks of information that could help you with your search for new ski pants. From a few reviews to a small section of answers to popular questions, we hope you will be able to find at least one new fact or tip that will prove to be helpful as well as interesting! Make sure to keep your whole body warm with Skiing Mittens, and not forgetting Balaclavas – see here. You may also wish to look into buying some ski socks (click to see our top 10)
The Best Ski Pants for Warmth & Protection on the Slopes in 2021:
Spyder has been on the market for a long time, and in that timeline, they have supplied countless amounts of customers with products that are both reliable and protective on the mountain slopes. They have a waterproof fabric that will be fit to repel and falling snow or moisture around you. Although many pairs of pants may become stuffy due to some of the fabric they use to manufacture their products, Spyder ensures that you will have a 100% breathable material that won't let you get sweaty and uncomfortable on the inside. This will help you enjoy longer rides with a very comfortable and protective pair of ski pants!
They come in four colors: black, blue, green and red; a variety that won't make you feel bound to one single color (usually black). Spyder makes sure you will find something for yourself with each and every one of their skiing products. The vets are also present within these pants as well as the pockets that are also waterproof- if you are looking to take your phone or wallet into the mountains, this is the perfect pair of outdoor wear to allow you to do that safely without risking a leak.
Pros:
+ fully waterproof
+ breathable fabric
+ protected pockets
Why We Liked It – Spyder has been a worthy competitor in the world of winter gear for a long time now, and this pair of pants is one of the best out there. They are the best pair of winter gear you could ask for, together with their breathable fabric, waterproof material and extra, protected pockets, you can take this pair of pants out and ride all day without any worries! You can also wear these ski pants when riding on a snow kick scooter.
Arcteryx is known for having products that lean a bit more to the expensive side, but to counter that, they are also known for the durability and quality of their products that can last up to years at a time even with regular use. The overall design of the gear is made in a way to be as articulate as possible and the seams are place so that you are not restricting your body in any way, shape or form. These bibs will encourage your skiing abilities and will allow you to move down and along the slopes without any constraints present.
They are a perfect choice for anyone who is looking to keep the cold out and keep the warmth in. Any kind of moisture will be immediately repelled and you will be glad that you don't have to ski down the slopes soaking wet! They also have a lot of free room and won't be tight on any clothes that may be laying underneath. Usually people who have been skiing for a long time know that to be ultimately comfortable, you also need to have a few protective layers underneath the pants themselves.
Pros:
+ tough fabric even in extreme conditions
+ allow for layers underneath
+ keeps warmth in and cold out
Why We Liked It – When buying a pair of winter pants from Arcteryx, you should go in with the assumption that this pair will last you a good couple of years. Whether you will be using it for regular skiing days or for holiday trips, you can rest assured that these pants won't give up on you anytime soon.
Also since this pair of shorts are bibs, they allow for a significantly larger amount of movement than regular outdoor wear, which is key for skiing and should be the best choice for anyone!
3. Arctix Men's Avalanche
Arctix is a brand that has made it their goal to appeal to both the professional and aspiring skiers. Their pants come at a very affordable price that will be sure to attract anyone's attention. The price ranging between 30$-50$, it's easy to see how they are dominating the market in their niche. Other options on the market are more costly and can sum up to being between 100$-250$; a price that can prove to be a bit too ambitious for someone who just wants a pair of shorts for the occasional holiday trip to the mountains.
These ski pants will keep the warmth in and moisture out thanks to the protective zippers; the boot gaiters will also make sure that no warmth will escape as the seamlessly integrate with your ski boots for maximum comfort and efficiency. The adjustable waist will allow you to quickly tighten or loosen your fit whether you are on the slopes or in the hotel. This comfort of quick and accessible adjustments will leave you glad that you don't have to fiddle with zippers or laces, which is something other pants usually make you do!
Pros:
+ adjustable waist
+ affordable price
+ boot gaitors
Why We Liked It – Arctix allows you to have all the key essentials that winter pants need to have at a low price that will make every customer feel happy and satisfied. If this is your first time skiing or if you just need a new pair of sustainable pants, Arctix will keep you warm, insulated and dry through all of your skiing adventures!
If you are fussy with picking products and need to choose a pair of ski pants that will be just right for the rest of your gear, both performance and appearance wise, you don't have to put in any more effort into searching.You can rest assured that Columbia will have you covered with their quality make of products and the stunning selection of color variety that reaches up to 18 colors! 

They also have an adjustable exterior waist, a protective cuff guard to make sure you won't end up tearing your new gear too quickly and articulated knees to encourage free movement.
A vital feature since skiing requires you to bend and swerve for a large portion of the ride!

Many people praise these pants for lasting for many seasons and providing sufficient protection from both wind and moisture. They are perfect for also just hanging around in the snowy mountains, especially since they're not bulky and don't overwhelm you with being heavy. They are a relatively loose but well-fitting pair that will fit over your ski boots and other layers perfectly, providing a sufficient layer of protection over your other clothes!
Pros:

+ wide-range of color variety
+ loose and adjustable
+ articulate custom design
Why We Liked It – Columbia is one of those brands that we're not afraid to say will fit a lot of customers, they truly have some of the best offers out there. Not only thanks to the versatility of the color schemes they offer but also thanks to the quality craftsmanship and the price range that goes from 50$-150$, depending on what deal you can strike with these.
They're perfect for beginner and professional alike, you get more for less!
convenience for many. You will be covered right up to your chest and the suspenders will keep your pants up at all times. Many normal pairs may end up fidgeting down over the skiing period that you have them on and it may become uncomfortable, especially if you are being more aggressive with your skiing. The bib overalls will keep your pants up and your chest just as protected as your legs and waist. If you are in need of a sturdy pair of winter pants that won't embarrass or slide of, Arctix will have you covered.
They come in six different colors, most are more earthlike and fit in well with the snowy scenery. You will need to make sure that before you buy these pants that you measure your waist and torso lengths, this will ensure that you will be able to purchase a pair that won't fit too tight on the clothes you wear underneath, like a hooded sweatshirt or jumper.
The material isn't too thick and provides great warmth, insulating you from the harsh realities of the snow weather waiting for you outside. The zipper at the bottom of the pants makes it easy for you to drag them right over your boots and not have you expose naked ankles!
Pros:
+ insulating material
+ elastic material to encourage movement
+ waterproof and windproof
Why We Liked It – Combined with the gaiters that you can tuck in, you can be sure you will be kept well and warm through your trips with only the best of winter outdoor wear! They will insulate and protect you from the outside cutting cold and you will be left wondering why you didn't think t invest in these earlier!
6. Gash Hao Mens Snow Ski Waterproof Softshell Snowboard Pants
Enjoy the comfort of a stretchy waist that won't provide unpleasant pressure throughout the snowboarding experience, and which allows you to move freely thanks to the loose fit and soft material.
They have a granule fleece lining to keep you warm even in very low temperatures, zippered rear- and front pockets for storing personal items, a softshell layer, wind-resistant material, bottom legs with zippers and much more, to provide you with the ultimate clothing item for hiking, snowboarding, camping, winter outdoor adventures, hunting and fishing, or for whatever other activities you plan to engage in.
Pros:
+ Water- and wind-resistant
+ Leg with zipper for boots
+ Large front- and back pockets
+ Extra knee space for movement
Why We Like It – These pants are comfortable and easy to move in, thanks to a stretchy waist and extra space in the knee and groin area, making them great also for activities like climbing.
7. Outdoor Research White Room
These outdoor ski pants are definitely more on the expensive side, ranging from 300$-500$ depending where you can get them. Regardless, their design is not like the bulky one you would usually expect to find when buying other pants. They won't make you look too inflated and are rather slim and thinning, thanks to their modern and good-looking design that doesn't add to make you look more puffy than you already are, they are a very popular purchase among people who are out on the slopes very regularly and want to feel good while wearing them, too.
They come in three colors: black, blue and lemongrass. These colors are sure to fit anyone who wants to look a bit more lively on the slopes or for anyone that is looking to inject some bright colors into the rest of their winter gear. They are made of 92% nylon and 8% elastane, which makes for the perfect material combination for a pair of articulate pants that won't allow you to be restricted with your movements! The zippered and waterproof pockets will allow you to keep all your phones and wallets safe from any moisture and right at your disposal whenever you will need them.
Pros:
+92% nylon and 8% elastane
+ zippable thigh vents
+ waterproof
Why We Liked It – Outdoor Research has offered the market only the best and quality products and if you will end up choosing their pants, you will surely not be disappointed. They allow you to be both free in movement and in regulating the zippable vent options, encouraging a customized and personalized skiing experience!
8. Helly Hansen Legendary
Helly Hansen has been able to supply the market with a quality pair of ski pants for a good amount of years now, and they come at a very affordable price, too. The venting zippers can be regulated at the riders own free will, which allows you to regulate your temperature easily and cool down if needed. Anywhere and everywhere you find yourself, you can rest assured that you will be able to customize your new pants to best suit your comfort level at that point!
The boot gaitors have a very flexible and stretchy silicone gripper to ensure that you can tuck them in withing your boots, providing enough friction to make them stay there, too.

The extra 60g of insulation around the knees and seat to make sure that the parts that get most exposed to harsh winds stay protected. This will in turn allow you to spend as much time on the mountains as you wish, encouraging a worry-free and comfortable experience all thanks to Helly Hansen's design and features that are a perfect match in the cold.
Helly Hansen also went out of their way to construct their own fabric that they use with all of their ski pants, the HellyTech Performance fabric. HellyTech has superior wind and waterproofing and is made in a way to allow the 2-way mechanical stretch give you freedom when skiing, leading to the ideal articulation that Helly is praised for and giving you optimized movement.
Pros:

+ HellyTech Performance fabric
+ flexible boot gaitors
+ a lot inner insulation provided
Why We Liked It – Helly Hansen gives you a pair of very slim but not tight winter pants that allow you to both look modern and fashionable while ready for your skiing duties. They have a snug fit and allow you to regulate your temperature provide with the vents on both side of the pants to best suit your needs. If you are looking for a well-priced pair of pants with excellent performance, these are the ones!
9. Dynafit Chugach Windstopper
Dynafit's ski pants are the perfect outdoor wear if you are looking for a reasonable price, a good luck and features that will help repel the cold weather you will surely encounter during your skiing ventures. These pants come in four colors: grey, light green, dark green and blue. They are compatible with bibs which is perfect for anyone that is used to more aggressive skiing and ski pants sliding off every now and then. They are water as well as wind resistant and will be sure to keep you shielded from any harsh weather and moisture that may come from falling over or from the sky!
They are made of 85% nylon and 15% elastane, which once again allows for a lot of freedom when skiing. These ski pants won't be restricting you with tight seams or zippers that are placed in unusual places; they are made to be as elastic and as durable as it is possible, while still retaining the ability to keep you dry and warm. The ventilation zippers will allow you to regulate your temperature, and if you are too sweaty you can unzip one and continue skiing! They however have an enhanced breathability to ensure that happens as little as possible.
Pros:
+ flexible and elastic to encourage movement
+ breathable material
+ ventilation zippers
Why We Liked It – Dynafit has manufactured a pair of ski pants that will best suit just about anyone's needs in the wintery seasons. They are durable, they have enhanced breathability, ventilation zippers and come in a variety of colors to help you choose a pair that will suit the rest of your gear without any trouble!
Obermeyer's ski pants are a great for the beginning stages of winter or around the spring time; they are a loose, snug fit that will be perfect for skiing in the cold with and best worn with few warm base layers underneath. These ski pants will provide you with the ultimate windproof material that will reflect any harsh winds and have them bounce away immediately. 

You will also not have to worry about the moisture that they may be expose to, since they are fully waterproof and will keep you dry and safe throughout your travels on the slopes.
Many people have said that these pants are ideal for both skiing and comfortable walking around the cold mountain settlements as a break since they don't restrict any movement and are rather light in build.

These pants come in both black and yellow and range from 150$-250$, depending if you can get them while they are on sale or during special offers before the winter seasons starts. The taped three layer stretch fabric offers you features that were not available for, mainly: 30K waterproofing and 15K breathability. The heavy duty zippers will be sure to stay in tact and not break any time soon and the reinforced inseam will make sure these ski pants stay with you for a long time yet!
Pros:
+ heavy duty zippers
+ adjustable inner belt
+ a relaxed fit
Why We Liked It – Obermeyer is not only a brand that has been on the market for a long time, but a brand that despite that still makes an effort to produce the ideal ski pants for everyone. They are always on top of the new features that could help their customers enjoy the winter days in all kinds of temperatures and give only the best of experiences. You can be sure that these ski pants will be a great fit for you if are looking for a good price combined with fantastic comfort!
Buyers Guide Questions
Are Ski Pants And Snowboard Pants The Same?
Whether you are new to skiing or if you have been doing it for a long time, there is no doubt that you must have asked yourself this question at one time or another. Perhaps if you were shopping for new ski pants and the results section would show you a mix of both ski and snowboard pants. The truth is, sometimes people can by mistake purchase ski pants for snowboarding and snowboarding pants for skiing, and usually that can provide a bit of trouble, but that depends on the product in question, too.
Snowboarding vs. Skiing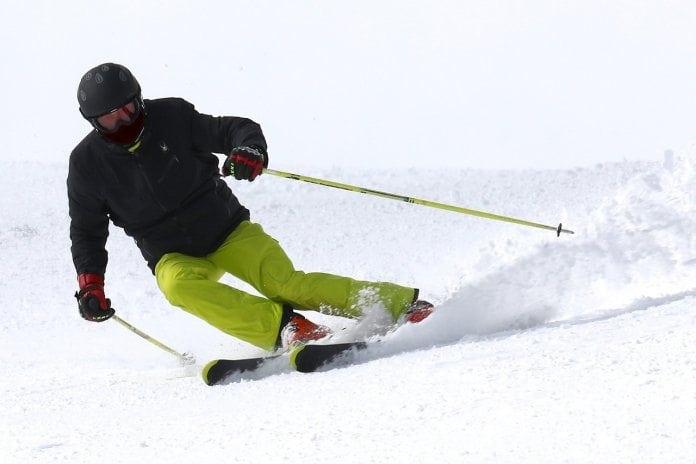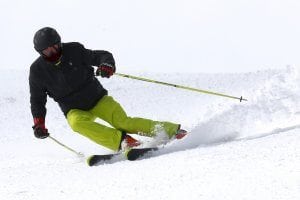 While both snowboarding (click here for bags) and skiing can be regarded as winter sports, they are quite a bit different if you take a closer look. This means that even though some companies promote winter gear that is catered both for snowboarding, skiing, walking and the alike, sometimes it's best to invest in a pair of pants that is best suited for your particular sport to encourage maximum comfort, suitable features and a good overall experience that won't result in any accidents. 

Snowboard Pants
Snowboard pants are usually different from ski pants due to the baggier appearance of them. The baggy design is one of the features that distinguishes them from ski pants, since snowboarding needs you to have way more room to swerve and move you need a more articulate pair of pants to suit all the maneuvering you will be doing on the slopes. The baggy and loose fit allows riders to have an easier time when crouching, jumping, and performing other various leg movements.
Usually, the appearance and design of snowboard pants tends to be more attractive and appealing, or so the customers claim. Since snowboarding has been made to appeal to both the surfing and skateboarding crowds, the clothes are baggier to also represent the culture of the sport. The colors are way more lively and eccentric, providing some very interesting patterns that other types of winter gear just doesn't have. Snowboarding is all based on the tricks and style you wish to represent, and therefore the market offer you many options to help you find that inner voice.
The snowboard pants also provide you with extra padding around the knees and seat, places where you very often fall on as a snowboarder. Ski pants don't usually have any padding in these places, and this is one of the reasons why it's best to choose winter gear that best fits your specific sport rather than buying general wear!
What Are Ski Pants?
Ski pants are a bit different from snowboard pants in the sense that skiing is made to be about speed and efficiency, and the ski pants are made to suit that motto. They are nowhere near as baggy as snowboard pants and usually are a much slimmer and tighter fit to encourage speed. Ski pants also have a more toned down design, that is usually simple and doesn't get in the way. The slimmer design allows for more air to come through the ventilation zippers, and overall skiing doesn't require as many harsh movements as snowboarding, and therefore the ski pants can be a bit tighter and snug in fit.
The air is better insulated thanks to the tighter fit on ski pants, while snowboard pants usually have more vents since it's a more aggressive sport and don't need as much insulation to keep the rider warm. Ski pants also sometimes have a reinforced layer of material near the ankles, as to prevent the neighbouring ski to run into it and damage the material of the ski pants.
Verdict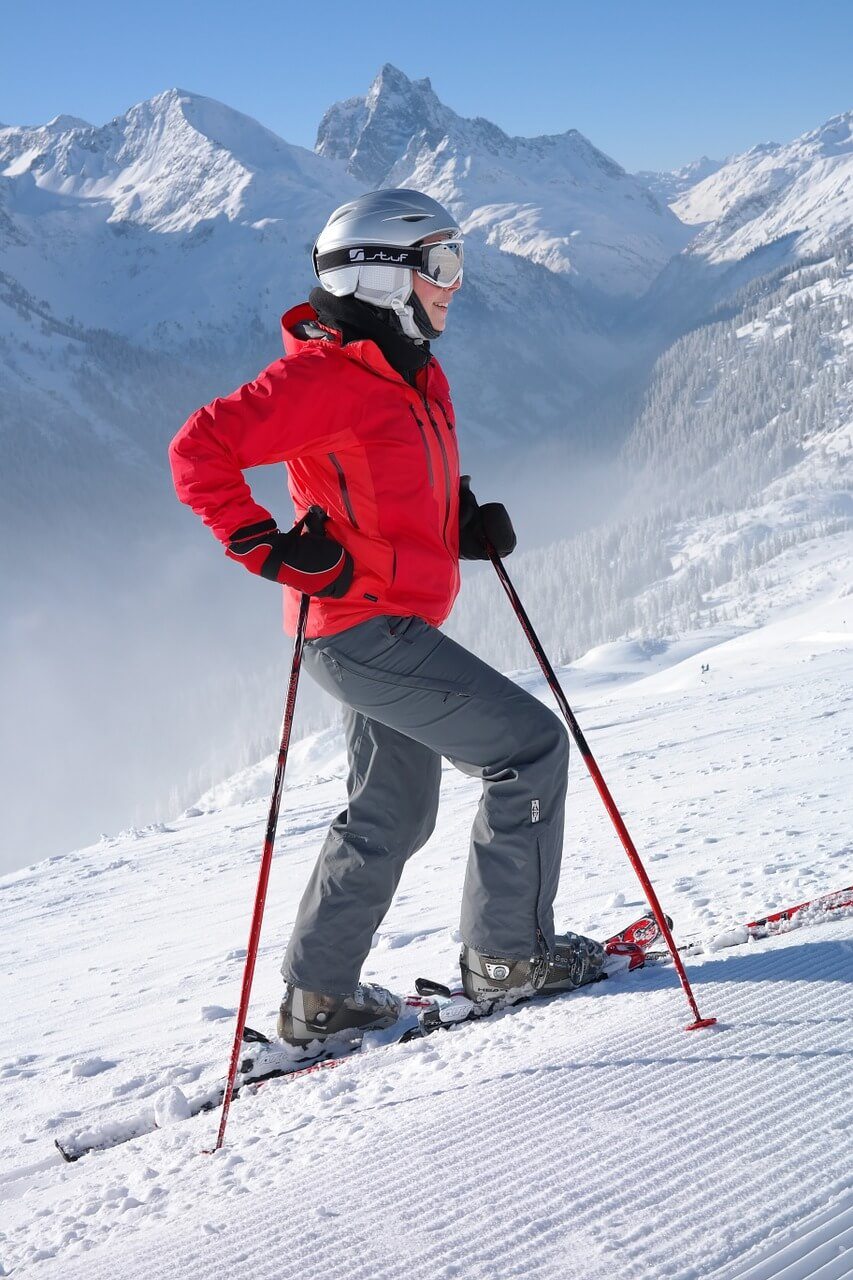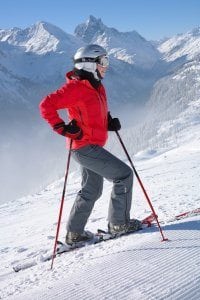 Both of these sports seem to be very similar: both include boards, although at different sizes and lengths and number wise, both expect you to go on a hill and ride down, and both require you to have warm winter gear to keep you protected! Despite these similarities, both can be rather different. Snowboard pants can be more waterproof in the padded areas and ski pants can have more protection reinforced to protect you from the ski next to you.

No matter what the occasion, if you are looking for either snowboard or ski pants, it's best to not mix them up during your initial purchase phase! Both parties offer a set of features that is not present in the other. While snowboarding pants tend to have way more padding and ventilation and articulate seams, ski pants usually have a slim build, extra protection around the ankles and better insulation. Either way, choosing the best pair of ski or snowboard pants is vital to help you enjoy your holidays and practice sessions as best as you can!
Are Ski Pants Waterproof?
All winter pants usually have a layer of waterproofing unless otherwise stated; this also means that there are many different thicknesses of the waterproof layer. Depending on which pair of ski pants you will end up purchasing, the best solution is to check where you will be skiing and what environment you will be spending most time in. Some surroundings have a lot of snowfall and powdery snow under your feet, while other have drier snow and little snowfall overall.
Heavy Snowfall
Choosing the best skiing pants for either condition is crucial, since the first option would need to have less vents and more insulation to prevent you from all of the snowfall and powdery snow you could fall on. The waterproof layer would also need to be thicker due to the snow coming from above you and below you, which means you would need a thicker and more reinforced layer to keep you dry at all times. The gaitors would also need to be present and more flexible to make sure you can tuck them in deep into your boots to not allow the inches of powdery snow to get withing your ski socks (click here for review), boots or around your ankles.


Light Snowfall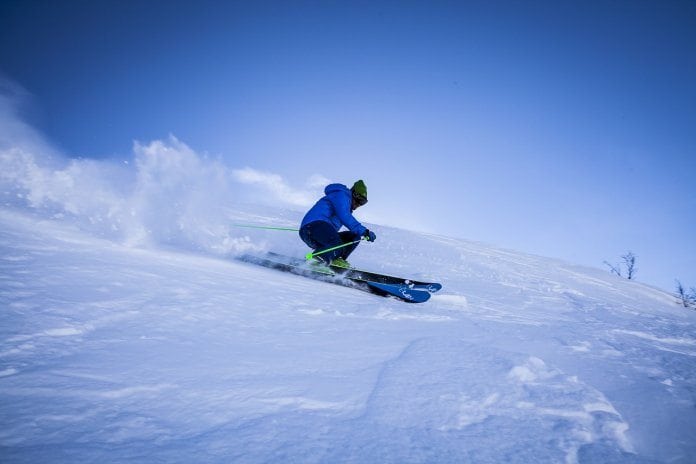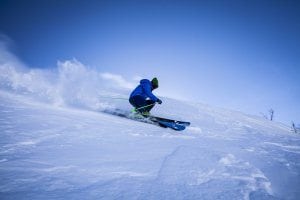 Ski pants for more dry conditions could have no insulation since you could wear more base layers and not much snowfall would hinder your comfort. They could also have more vents to encourage faster speeds on the snow hills that have thicker and harder snow. You also wouldn't need as flexible gaitors as in the previous example, since you wouldn't have to put much worry in looking out for your ankles due to lesser snowfall in the surrounding.
Verdict
It's best to check what weather is prevalent in the regions you will be skiing in, and the conditions that you will be expose to. Some companies offer ski pants that are also catered to specific seasons; for example, spring ski pants have more ventilation zippers and no insulation layer, while harsh winter ski pants have double padding and less vents. Some ski pants are also perfect for most conditions, the ideal thing to do is to look around and see what fits you and the environment you will be skiing in the most!
How Do I Wear Ski Pants?
While this may sound like an odd and amusing question, there is more to wearing ski pants than just putting them on! The ski pants you buy from the shop will usually only be the outer layer that will shield you from things like moisture that comes from snow and rain, wind that is very harsh in the mountains and accidents that may scrape a normal piece of fabric, but not a durable pair of ski pants.
Base Layers
Usually people who ski are encourage to wear base layers, which are layers of clothes that you wear underneath the durable winter gear that you buy to protect you from the outside, but that material doesn't always prove to be comfortable to just wear on bare skin, and also shouldn't be worn like that in any case. While you can throw on a pair of your own pants underneath, it's best to put on special leggings that are breathable and synthetic and will help you stay dry under all those heavy layers. When you wear a base layer, usually the only layer separating your ski pants from your skin, that is breathable and doesn't hold moisture against your skin, you will be less likely to experience extreme body changing temperatures!
Top Choice
Our Top Choice spot has to go to Spyder's ski pants, simply because they are at the best average price so that anyone looking for a quality pair of ski pants could invest and get only the best of results on the slopes.
The Spyder ski pants have a variety of lively colors to choose from, and they provide you with only the best and necessary winter features without cluttering the design and still making them look fashionable. They have an articulate knee construction that will not hinder you in your skiing. The waterproof zippers make sure that you will be able to hide all your handy possessions by your side.

The vents will allow for air-flow as you ski so that you don't get unnecessarily sweaty and can enjoy your skiing adventures for a longer and without any discomfort hindering you in your performance. These ski pants also allow for a full range of motion and comfort both and outside of the slopes; whether you are looking forward to spending some time in the snow or to actually ski, these pants will perform great in all winter conditions, on and off the slopes.
Thanks to Spyder having all of the key and vital features a pair of ski pants should have, and thanks to the reasonable price they propose for such a fulfilling winter bundle, they have to earn themselves a place as our Top Choice!
Premium Choice
Our Premium Choice has to go to the Arcteryx ski bibs thanks to the quality of the craftsmanship that they offer. The protection that they offer each customer that purchases them cannot be matched and they are simply a very good product that will provide you with all the features a pair of winter ski bibs should have.
They are presented as bib overalls and thanks to that you can be sure that you won't have any trouble with your pants sliding off during your more aggressive turns or jumps, or just regular skiing. You will be equipped with two small zipper pockets on the bib to encourage the storage of small possessions, passes or snack that you would keep on hand in case of an emergency!
The suspenders are fully adjustable and thanks to the waist-long bib you will be kept warm for longer (click here for the ski insulation study), and your torso won't have to experience any wind or moisture attacks that could come through under the coat! These ski pants are truly a superior pair of gear that will help you enjoy your skiing holidays and practice sessions more thanks to the comfy, dry and safe feeling you will have that will make you continue skiing for hours on end.
Thanks to all of the features Arcteryx provides with their ski bibs, they have to make their way through the lists as our Premium Choice. The quality of the material is fantastic and all of the features present within these ski pants will help you enjoy all of your days out on the slopes!
Great Value
Our Great Value choice has to go to none other than Arctix's product; these ski pants are on the market since a long time and are a best -seller when it comes to winter gear. Not only are they widely accessible but their price is stunning for the quality you get. Between 30$-50$ you will be able to acquire a pair of ski pants that will accompany you through many winter seasons.
These ski pants have all the features you could ask for, including an adjustable waist to make sure you can have them fit you perfectly. The boot gaiters are equipped with grippers to make sure no cold and moisture gets between your pants and your boots, which is a common problem with pants that go without them.

The cuffs of the pants also have zippers to ensure you can pull them over your boots as you desire and take them off as you wish. This ensures little to no effort in pulling your pants on and off thanks to the zippers that are put there to increase the comfort and accessibility. They are also 100% nylon material to ensure you have a flexible and articulate pair of pants that will help you enjoy your skiing holidays and practice sessions, wherever you are! Truly one of the best and most versatile pair of pants that will make any customer happy to own them.
Thanks to the stunning price and quality of features and craftsmanship of the Arctix ski pants, the simply have to be our Great Value choice. You will get more for less and they will be sure to satisfy even the fussiest of customers!
Conclusion
No matter which pair of pants you will end up going with, you can be sure that all of the products we listed have great features and trademarks to their own functions and designs. The best thing you can do to make sure you get the best pants for you is to read all of the specifications and determine what kind of weather you will be skiing in and if the ski pants in question will be able to protect you from either the harsh or light weather conditions you will encounter, or even both!
Amazon Recommends:
Bestseller No. 1
Bestseller No. 2
Arctix Women's Insulated Snow Pants, Black, Small
Adjustable black 22 millimeter resin strap fits up to 8-inch wrist...
100-hour chronograph; 24-hour countdown timer; 3 vibrating & audible daily...
24-hour military time mode; 3 time zones; Occasion reminders; Hydration...
Bestseller No. 3
If you liked the review by MyProScooter, please leave your feedback.