Snowboarding is by far one of the most popular sports nowadays, along with skiing. That, however, means that people need invest in good and safe equipment to take part in the snow sport. You are here to find next pair of the Best Snowboard Boots, right? Make sure you have the right pants for snowboarding too. If you're looking for Skiing pants – click here.
The winter months provide some of the best attractions for many people; there is snow, skateboarding, snowboarding, ice-skating and all the alike. That's also why the winter months can be rather dangerous if you don't plan ahead!
The most fun part of taking part in certain activities is making a list and planning all the equipment and merchandise you need to purchase! Snowboarding, for example, requires a pair of good, comfy and sturdy snowboard boots. You will need to consider the material, brand and design that will fit your personal tastes best and then start the search!
We've made a few reviews and answered a few questions to make this journey a little bit less strenuous…
10 Best Snowboard Boots for 2018?
1. DC Men's Judge Snowboard Boot
Equipped with two boas and known for being stiff and sturdy, you won't be breaking any ankles anytime soon with this pair of snowboard boots. People have praised the product for being extremely efficient when you want to quickly tighten or loosen your boots up, which proves to be a good feature when you are in the middle of the trail and there are other people coming at you left and right!
These snowboard boots are available in most commonly used sizes and are a very good quality product for the price. They range from 170$-290$ which makes them an affordable but t worth-while investment. Some of these manufacturer's boots end up lasting a solid few years, so if you need a product for every year's winter months, DC Men's snowboard boots will provide you with sufficient protection and warmth whenever you go on the trail
They are also known for being comfy and usually take only one or two days to break into. Thanks to its articulated construction you will have absolutely no problem moving around with these snowboard boots outside of the snowboard too!
Pros:
+ double BOA set-up
+ includes a ventilation system
+ synthetic and sturdy
Why We Liked It – Not only are they sturdy and durable but are one of the most affordable pairs of snowboard shoes on the market, this makes them an excellent choice thanks to all the features it has. Whether you want to go down a trail or walk back to your hotel with your snowboard in hand, these snowboard boots will keep you warm and steady wherever you take them!
2. Burton Concord Boa Snowboard Boots
Burton's Concord boots are one of the best on the market, which means that you will need to spend a couple of extra bucks to get them. Although not the cheapest, they definitely make up with the phenomenal quality that Burton instills into each and every one of their products.
These snowboard boots are praised for being very light-weight and less bulky than the usual snowboard boots you would get a local store. This feature makes them very sought-after during winter vacations when you are expected to walk to the slopes and back to the accommodation center. When choosing Burton's product, you will ensure that you don't have any additional weight added to your feet and are able to move around smoothly and with ease.
They also are manufactured with three sets of lacing, ensuring that you will get that comfy and snug feel whichever way you adjust them!
Pros:
+ light-weight design
+ excellent performance on slopes
+ great for intermediate or advanced riders
Why We Liked It – Although these snowboard boots are definitely more on the expensive scale, there is a good reason as to why they are so highly-priced. They perform without any faults and will guarantee you a bulk-free experience, leaving only enjoyment. They will not strain and cramp your feet with every step and will make sure to give you a fantastic ride down the winter slopes!
3. Burton Moto Snowboard Boot
These snowboard boots are another example of Burton's high-quality craftsmanship; like always, they include features that will make a ride down the slopes feel effortless.
This particular pair is designed to be warmer than other snowboard boots on the market while still maintaining Burton's signature light-weight quality. Also, it boasts to be the world's best selling snowboard boot, which is quite a feat and shows why Burton is one of the leading industries on the market.
Not only is the price lower than the previous product we listed, but it also includes features that previous Burton snowboard shoes don't have. You get a broken-in feel right from the get-go which makes them a perfect choice if you are struggling to choose yourself a new pair of snowboard boots and need a new pair asap. They also have heat-reflective foil which fights against the cold weather surrounding you outside by insulating your heat and bouncing it back at you!
Pros :
+ insulates heat and is one of the warmest pairs of snowboard boots
+ a soft flex that is perfect for beginners
+ premium cushioning in the soles
Why We Liked It – If this pair of boots produced by Burton is the best-selling pair of snowboard boots out there, there is absolutely no reason to not invest in such a comfy product! These will keep you warm and cozy whether you are rushing down the trails or waiting for your turn at the bottom. Whichever it is, you are sure to experience a top-notch performance from this product!
4. Adidas The Samba Snowboarding Boots
Many people don't know that even though Adidas is one of the most renown brands when looking at casual and sports wear, they also specialize in fantastic snowboard boot varieties! These boots are very adjustable and will be able to satisfy your feet with a few pulls and tugs, ensuring you an enjoyable and care-free ride!
The articulation technology is also very noticeable in the ankle area and allows for quick and easy turns when you are on the slopes, same as the mid-level flex prevalent in these kinds of boots. The flex should ensure that the snowboard shoes fit in with most if not all kinds of snowboards and provide a high-end performance!
Thanks to the free design of the Samba boots, you will not feel like you are imprisoned in a cast. There is room to move and flex your toes within the shoe so you will be able to get the blood circulation running, not like many other products that often stiffen and cramp your limbs.
Pros:
+ shock-absorption
+ reduced footprint
+ quick and easy to take on and off
Why We Liked It – It's no wonder that Adidas has its name well-spread around the world. Whatever they make, you can be sure it's a high-quality product that will perform well. With a reduced foot-print, advanced articulation technology, and cozy design, you will be sure to use these boots up and around the slopes to great success!
5. DC Men's Scout Snowboarding Boots
Another one of DC's fantastic choices! If you are on a budget or are looking for an average priced pair of snowboard shoes for your snowboarding endeavors that will give you the best performance regardless, this is the pair!
They are praised for being made of extremely comfy materials that will make your feet feel snug and cozy right from the get-go.If you are looking to move around and between the slopes too without an extra added weight, the DC's light-weight design will give you just that and more!
Thanks to the BOA technology that is present in most if not all of DC's products, it makes these boots not only safe but major time-savers. You won't spend much time fiddling around trying to slip these boots on and off, DC made sure to save you as much time as possible so that you can use it on the slopes instead!
Pros:
+ light-weight
+ BOA technology- no more fiddling!
+ fantastic insulation, cozy and warm down to -30 degrees
Why We Liked It – Most snowboard boots can be expected to come within the 300$ price range, but DC has made sure to make their products both high-quality and affordable to the general public. That makes them one of the top competitors out there, these boots can be bought under 200$ and guarantee years of enjoyable and insulated use!
6. Flow Hylite Focus Snow Boot
Flow Hylite's snowboard boots are advertised extensively and perform just as well as it is stated in their description. Although they also lean more onto the expensive side, you can easily find them on sale during the winter months! Surrounded by 5-star reviews, these boots are also one of the top picks when it comes to choosing a suitable partner for your snowboard.
If you like to live on the edge and be a bit more aggressive when you're speeding down the slopes, this pair is definitely something to consider. Their flex rating is at a lofty 8, which means they are ideal for steep terrain and charging head-on – make sure you get a helmet for protection (click here for our full guide!). The 3-D lasted tongue in this design fits perfectly against your foot and doesn't add on any extra bulk.
One of the most noteworthy features of this product is in the insole that possesses a memory foam topsheet, thanks to this addition, you can slip your foot in and let the shoe do the rest of the work! It will mold accordingly to your foot and anatomy every time you put them on.
Pros:
+ 3-D lasted tongue
+ equipped with memory foam
+ a flex-rating of 8
Why We Liked It – If you like to be a bit more feisty with your snowboarding, these snowboard shoes are definitely a great choice. They are made for steep slopes and fast rides and perform best when used for such. Equipped with memory foam and features that make these boots customizable specifically to your foot, you cannot go wrong with Flow Hylite's product!
7. DC Travis Rice Snowboard Boots
DC boots are once again on our list, and these are definitely for more intermediate riders. Their flex-rating is a 9, which is rather stiff but DC definitely makes up for that with the soft, cushion materials that are present within the boot. They have a great articulated construction which will still allow you to have a good range of movement on or off the snowboard.
Noteworthy additional features are vents that are integrated into the design; these vents allow to direct the moisture outside of the rider's foot. This new addition eliminates a stuffy and sweaty environment that is often common within other boots that don't possess these kinds of vents. There is also a heat-foil within the shoe that works both to insulate heat and reflect the cold.
The outsole within the boot also significantly reduces any kind of heel or toe drag, which makes these snowboard shoes perfect for catch-free landing when riding more dangerous terrains, along with their 9 scaled flex-rating.
Pros:
+ asymmetrical outsole to reduce heel or toe drag
+ flex-rating of 9
+ AeroTech ventilation
Why We Liked It – Thanks to the 9 scale flex-rating you will be able to jump and land on slopes with any problems – view this study. You will not have to worry about breaking any bones or having an uncomfortable ride with these snowboard boots.DC's boots will mold accordingly to your sole and keep you safe and comfy no matter where you ride!
8. Burton Imperial Snowboard Boot
Burton doesn't cease to surprise with their quality material and design boots! Once again a more expensive choice, but for good reason, it will be well-worth your money. If you are into more aggressive riding but still want to enjoy slow rides down the smooth slopes in the park, these snowboard shoes are ideal for both. These boots are right in the middle between the Ion and the Concord. The light-weight soles have great grip and reduce the footprint to make them ideal for a comfy snowboard experience.
The heat-reflective foil will make sure you won't have to take breaks to warm up your feet in between your training sessions. The foil will keep you snug and thanks to Burton's fantastic craftsmanship you will have a smooth break-in feel right from the get-go. If you are eager to head to the slopes right after the purchase, you won't have a problem doing so with Burton's Imperial boots!
Pros:
+ ideal for slow and fast riders
+ no break-in times
+ high-performance on all terrains
Why We Liked It – It's not secret anymore that Burton's products are some of the best on the market. Although pricey, they make sure that you will only have the ultimate experience. These imperial snowboard shoes will be perfect for any terrain and any type of practice, which is a great, versatile pick if you are looking to explore a bit more during your training sessions on the slopes!
9. Thirtytwo STW BOA Snowboarding Boots
If you are on a budget and need some good-looking snowboard boots that will perform well on the slopes, ThirtyTwo's shoes will be the ideal choice. They are also perfect for beginners who are just getting into the sport, thanks to the soft flex-rating you will be able to get maximum comfort when sliding down the trails and trying to get a hold of this new and exciting sport.
With their stainless steel laces, you can be sure to have these boots remain in their full glory for a long time. Each lace possesses its own eyestay which will provide you with equal lace tension across the full-length of the shoe. This ensures that the shoe will fit perfectly to your feet without any loose spots.
Equipped with evolution foam soles, you get better cushioning for your feet than standard foam can provide. This evolution foam sole reduces the weight of the overall shoe, which in reduces the weight of the boot. That means you won't have any extra bulkiness from a rubber outsole, and will enjoy smooth-sailing down the slopes!
Pros:
+ STI Evolution Outsole
+ individual eyestays
+ stainless-steel laces
Why We Liked It – Thirtytwo has supplied the market with snowboard boots that are perfect for any budget. They have a slick design and are ideal for beginners that are just looking to start out. These are very soft and comfy snowboard shoes that will work best when used on smooth slopes. With evolution outsoles and individual eyestays you can adjust these shoes to fit your feet like a T!
10. DC Lynx Snowboard Boots
The last DC product on our list is the Lynx snowboard boots. They are one of DC's more affordable options and come in two designs, either the very appealing military pattern or a simple black overlay. Equipped with Aerotech's ventilation system, you can be sure that your feet will be allowed to breathe and won't be slipping within the shoe. Of course, the boots are also insulated, even though they allow moisture to escape and cause a dry and sturdy environment.
The boots also have an ankle harness and well-articulated construction that will allow for easy movement whether you are just starting your practice session or heading back home. Whichever it is, these snowboard boots will do their job splendidly and will allow you to enjoy your time outside!
Armed with traditional lacing, you cannot go wrong with this classic, there is a reason it worked for all those years! Being in the top 20 on Amazon when looking at snowboard shoes, you will do well to choose DC's product, and you surely won't be disappointed.
Pros:
+ impact S sole
+ provides an ankle harness (click to read the study)
+ flexible and comfortable
Why We Liked It – DC is known for having high-quality products suitable for everybody's tastes. If you are looking for a traditional, old-school set of snowboarding boots, you will love these. There is no system like the BOA, just traditional laces, impact soles and ankle harnesses. Truly a flexible and comfortable product that will please anyone looking for a good set of boots to take on adventures!
Buyers Guide
How Should Snowboard Boots Fit Correctly?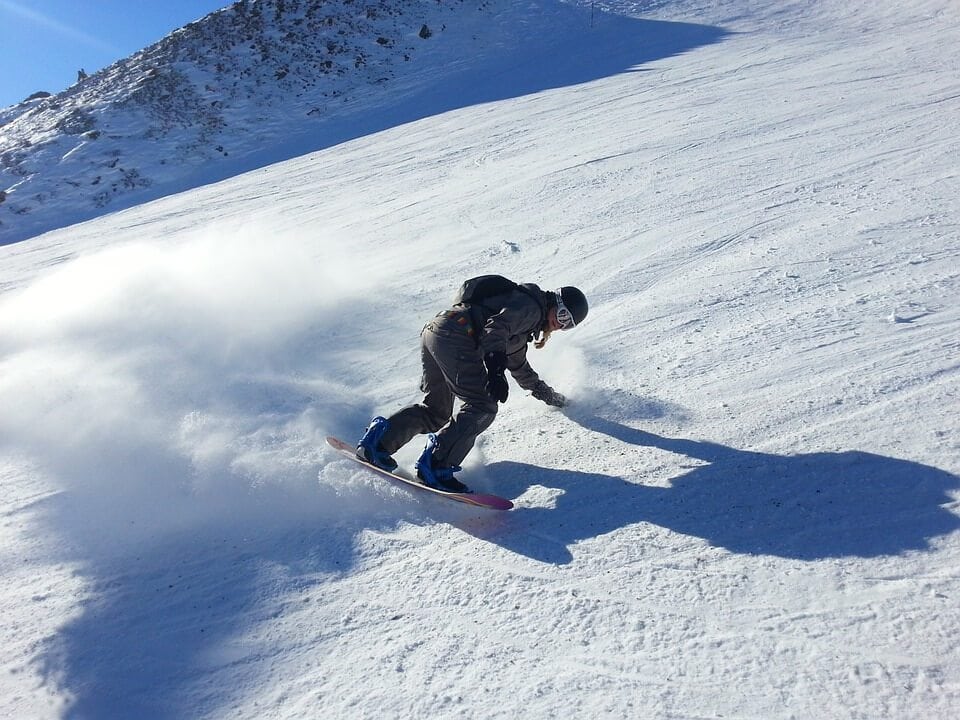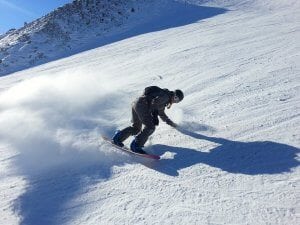 The thing about buying snowboard shoes either online or in a tangible shop is that you need to be well-versed and prepared before settling for your final choice. You need to take into consideration that the shoes are designed along the principle of feet reduction, and that you will be wearing big wooly socks while your feet are in the boots too. This makes choosing correct size even more vital, since you will be riding around in these for a long time and you should be as comfortable and as insulated as you can.
When trying the snowboard boots on, it's best to let them overhang both at the front and at the back, not too much, however. About 1 or 2 centimeters should be enough to not have the shoe slide, either. To ensure you are choosing the correct snowboard shoes, you can also measure your foot by putting it against the underside of the shoe. That allows to measure the leeway between the toes and heel to the edges easily.
Both of those factors usually require you to buy 1 or even 2 sizes above your average sized snowboard shoes that you wear casually every day. They also need to fit into your snowboard, and if you are a beginner it would be best to get a professional in a real-life shop to instruct you and show you the best options. Each brand is different and some use various sizing charts, and while it may be confusing at first, you will surely be able to buy the next pair on your own when you decide what works best for you!
How to Clean Snowboard Boots Effectively?
If you have been interested in snowboarding for any period of time or have been doing it for years, i