The slopes are steep, the snow and ice are slippery and it's easy to place a wrong step and get injured. It's absolutely vital to invest in the best snowboard helmet that can endure many hits, bumps and scratches without transferring them to you. This often overlooked piece of equipment has saved many lives and can even save yours if you allow it to.
Are you a Skiier? Click here for the Best Ski Helmets.
If you don't have a trusty snowboard helmet with you there is little chance that you will get to experience any of the action on the slopes! Many people get too excited over starting their newly discovered hobby and want to get to the top of the mountain and ride as soon as possible. There is, however, a problem with that. We often forget about precautions and the dangers that the cold winter months have to offer us. Make sure you keep warm with the proper snowboarding attire, such as snowboarding pants, gloves, coats and so on. If you're a Skiier – make sure you have some warm ski pants (click here for review).
From Giro to Anon, we are prepared to list all the best brands that can protect you during your practice sessions on the slopes. We also answer some commonly asked questions about helmets themselves. The only thing left to do is to examine the possibilities, choose the most suitable helmet, and be ready to go on your snowboard or snow scoot adventure!
9 Best Snowboarding Helmets to Buy in 2022
Giro has been supplying the snowboarding community since years, and is definitely one of the best helmets brand you can rely on to protect you during your rides. Available in almost any color you could desire to fit your other skiing equipment, Giro's helmet is best for someone who wants a versatile line of choices. The sizes vary as much as the colors and the helmet comes in 4 standard ones. The helmet is fitted with x-static anti-bacterial padding to ensure you won't get any nasty incidents for as long as you will be using the product.
The helmet will keep you warm but will also allow for a transfer of air with the 12 small vents that it has installed; you won't be sweating in this helmet and you won't be freezing your head either! The best combination of the two to allow for a worry-free experience on the slopes. It's easy to adjust, which is a plus when you quickly need to tweak the size during your training sessions.
The snowboard helmet also fits best with goggles and doesn't pose any annoying protrusions! It's also light-weight and boasts a very attractive design.
Pros:
+ Light-weight
+ Appealing design
+ Comfy and easy to adjust
Why We Liked It – Giro will provide you with a durable helmet that won't be a nuisance to take around to different slopes on location. It's light-weight and and has a stylish design that will get anyone interested! The vents will supply you with extra cooling air if you are feeling too stuffy. A fantastic purchase that is well worth your buck!
Another product falling under Giro's brand name, we have a bit more expensive alternative to the previously listed helmet. It's also equipped with anti-bacterial padding that will keep you fresh and your helmet as good as new for a long time after purchasing. The helmet also comes with a travel bag, which is a big plus if you are going to be traveling a lot and need a place to put your new helmet in a safe place. After all, you didn't just buy it for it to get scratches and bumps that are not on slopes!
If you are looking for professional helmet from one of the best leading brands, this product from Giro will suit you well. It prides itself on being the most advanced helmet built by Giro up to date. The helmet was designed for alpine racing and has carried many contestants to success thanks to the protection it provides during the hazardous sport. It will be sure to keep you covered when you run into other contestants or fall and generate high-impact energy. Whichever it will be, Giro will make sure to keep you safe.
This helmet is also available in a versatile palette of colors and all of the six sizes that are available will be sure to find a fit for everyone's head!
Pros:
+ Best for alpine racing
+ Protects from high-impact collisions
+ Anti-bacterial padding
Why We Liked It – Giro's products are best for any advanced rider or professional; they will protect you from high-impact collisions whether it will be with the ground or with other contestants. You can be sure that your head will be kept warm and safe within this helmet! It's a best-buy for any professional looking to up their game.
3. Bern Watts EPS Adjustable
Bern's helmet is another leading product on the market, and has a reputation of 5-star reviews all around. Whether you are a beginner or intermediate rider, this snowboard helmet will keep you protected from any bumps and bruises you could sustain during this dangerous winter sport. Bern has a certain feature that makes this product stand out, and that is the 'seasonal upgrade'. You can pick a specific color from the list and then customize your helmet according to the weather, which is the perfect addition for someone who snowboards all year round.
The helmet can also be customized with a bike light; if you are snowboarding in less than satisfactory conditions, this could be a life-saver. Made to sustain high-impact collisions with hard ice, roads or pavements, you can be sure this helmet will keep you covered if you ever fall into any trouble. It also has a visor, which is a good addition if you end up on a snowboard when the sun is high. The helmet isn't heavy and is rather lightly built while still conserving its durability and sturdiness. It's easily adjustable and won't leave you fiddling on the side of the slopes when your friends are riding down and having fun!
Pros:
+ Light-weight
+ Seasonal-upgrades
+ Compatible with bike lights
Why We Liked It – Thanks to the seasonal upgrades, Bern's product remains to be on the top of the list among its rivals. Whether you will be snowboarding and use the winter upgrade or will be riding your bike in the summer months and need some extra protection, this versatile helmet will provide it all to you throughout all of the seasons!
This long and sleek helmet will keep you protected and safe with its endura-shell construction, which offers extra protection against high-impact collisions with your environment. Its design is made specifically to encourage ventilation when you are speeding down the wintery slopes. You will have no problem maintaining a balanced temperature when you are out practicing with Anon's helmet. The fleece liner ensures you will be comfy and warm whenever you decide to put on your new purchase onto your head! Keep you feet warm with ski socks – view our guide here.
This helmet is specifically built to endure season after season of collisions and accidents; you can be sure that you will not have to buy a replacement anytime soon.The ventilation system will breathe in fresh air from the front and transfer any remaining moisture from the back outside. Both of these features ensure that whenever you will wear goggles they won't get clouded with moisture and constrict your vision.
Anon's helmet will help you keep a balanced climate through all of your training sessions while giving you some of the best protection available on the market today. There's no problem setting up goggles to fit the helmet and it won't cause any inconveniences to do so!
Pros:
+ advanced ventilation system
+ durable construction
+ designed to endure wear&tear through seasons
Why We Liked It – Anon has one of the most durable helmets on the market. The ventilation features will help you be comfy and balanced whenever you decide to go out for a ride with your snowboard. If you are looking for some helmet that can take a beating and will serve you through all of your winter endeavors, Anon's product is a fantastic choice!
Available in almost all of the colors you could ask for, you won't have a problem choosing a suitable option to fit all your winter gear with Smith Optic's helmet. Another product priding itself with fantastic reviews and happy customers, it's easy to see why many people choose this product as their best form of protection from the dangers winter sports have to offer.
There are many adjustable venting options with this helmet which ensure you won't be stuffy and sweaty during your snowboard adventures. It is supplied with a comfortable and padded material on the inside that will keep you cozy even when you are going down more hazardous slopes.The adjustment dial on the back makes sure you will have a tight and snug fit and that your helmet won't be sliding off anytime soon.
The helmet is also equipped with pockets for in-ear music and a goggle lock that can be easily removed if need be. Smith Optic's has kept dozens of people from serious injuries and hospital visits; if you are looking for the ultimate protection when you are out and about with your snowboard, Smith Optics is one of the best choices to go for.
Pros:
+ 14 vents that can be open and closed with a switch
+ light-weight
+ fantastic air-flow
Why We Liked It – SmithOptic's helmet is equipped with vents that will have you forget you even have the helmet on your head; it's one of the most comfortable product out there with the best foam. The light-weight design of the helmet makes it easy to take around with all of your luggage as you go and visit the slopes!
It's no surprise that another one of Anon's products makes its way onto our list. Thanks to the endura-shell construction that is Anon's signature feature, any bumps and scratches caused by collisions will not give you any trouble.
The ventilation is super-easy to control and won't leave you fussing around with many switches when you get too stuffy withing your helmet. The inside is lined with fleece and also features ear pads to make sure you will keep your ears warm as you are rushing through the harsh cutting winds. It's also audio-compatible, therefore if you are the kind that likes listening to some tunes as you glide down the icy slopes, Anon's Blitz Helmet should be the best pick.
It's a simple fit and the liner and ear pads are removable to encourage regular washing and caring for your gear. The helmet is also available in my bright colors, something uncommon in helmets in general. This will make your life easier if you are going on a snowboarding trip with your friends and everyone else has black helmets! You will be easy to notice and won't have to spend much time looking for your comrades.
Pros:
+ comes in bright colors
+ audio-compatible
+ adjustable vents
Why We Liked It – Once again, Anon doesn't disappoint with the products they place out onto the snowboarding market. This piece of helmet is a tight and snug fit and doesn't require any fussing around with straps or switches. The ventilation system is easy to manage and will give you fresh air whenever you feel stuffy!
Once again Giro makes their way to our list with one of the sleekest helmets yet! Not only that, it offers a mount for an integrated POV camera. If you are looking to record your snowboarding adventures with something that doesn't occupy your hands and is a steady fit, Giro's new feature will offer exactly that and more. The lay-out is easy to operate and will allow you to pop your camera on and off whenever you desire.
The ventilation system is as good as with Giro's other helmets. The helmet isn't bulky and provides you with a nearly invisible switch that you can use to regulate the flow of fresh air. Many other helmets on the market tend to give you foggy goggles because of the poor ventilation features, this however isn't a problem with this product. Another new ventilation feature added to this version of Giro's helmets is the stack ventilation; this helps to keep your goggles fog free. The low-profile design also ensures you will get the best out of the helmet's protection and the magnetic buckle feature will allow for no fiddling with the straps, you can put on your helmet with one click!
Pros:
+ magnetic buckle closure
+ stack ventilation
+ POV camera mount
Why We Liked It – Giro only puts high-quality products out onto the market, and they don't disappoint with the new addition to their already impressive collection of helmet. If you want to have an opportunity to record your snowboard travels with a POV camera, the mount feature will end up being just what you're looking for!
POC's first priority is to reduce any consequences you could possibly sustain while you are snowboarding down steep slopes and trails. Their helmets reflect their mantra in the best manner, they are durable and sturdy helmets that look both stylish and fashionable. They are made of strong materials that won't allow you to sustain any serious injuries when snowboarding. Make sure you add a pair of strong boots for snowboarding as well.
The ear pads and neck roll are detachable which allow you to place your own alternatives if need be to exchange or adjust the two. The helmet is also compatible with a communication neck roll and the Dr. Dre communication neck roll and microphone. While you need to purchase the Dr. Dre upgrade separately it's the best addition if you are looking to stay in contact with your friends or to listen to some beats when sliding down the beautiful snowy sides.
The ventilation system together with the double-shell anti-penetration design is ideal for those who look like to take part in snowboarding down more aggressive slopes. The helmet will insulate you and provide a good supply of fresh air with the vents to make sure you don't get any stale and stuffy air when you are trying to enjoy your day outside with your snowboard!
Pros:
+ compatible with Dr. Dre communication bundle
+ the best quality ventilation system
+ detachable neck roll and ear pads
Why We Liked It – Equipped with the useful feature to attach Dr.Dre's communication bundle, it's easy to see why many people would go to purchase this helmet. It's a fantastic choice if you are looking to snowboard to some music or while staying in contact with your friends; after all, the slopes are vast and easy to get lost around!
Complete with 5-star reviews from nearly all of the customers, it's easy to see why K2's helmet is so sought after. With its diverse style you can be sure that your friends won't have any trouble finding you on the snowboarding slopes; it's available in both gray and black colors so that you can choose the option that best suits your snowboarding gear.
Thanks to the Matrix Venting feature you can turn your vents on and off with a flick of a switch; no need to take your helmet off and fiddle around with the settings that are easily accessible either way. The goggle vents will remain open to make sure your goggles won't succumb to the common fog that is prevalent in cheaper made helmets that don't let through fresh air.
You can fully customize the helmet according to your phone too. If you are one to communicate with your comrades as you rush down the slopes or are in the mood for some upbeat music during your practice sessions to boost your motivation, K2 has it all. You will never have a boring moment with this helmet!
Pros:
+ compatible with your mobile device
+ great ventilation system
+ durable and stylish
Why We Liked It – K2's helmet is ideal if you are looking to have your snowboarding experience enhanced by some music or conversations with friends that are sliding down the slopes right next to you. The quality of the audio is the best and you will wonder why you didn't settle for a helmet with such a useful feature earlier on!
Buyers Guide
How Do I Clean My Snowboard Helmet?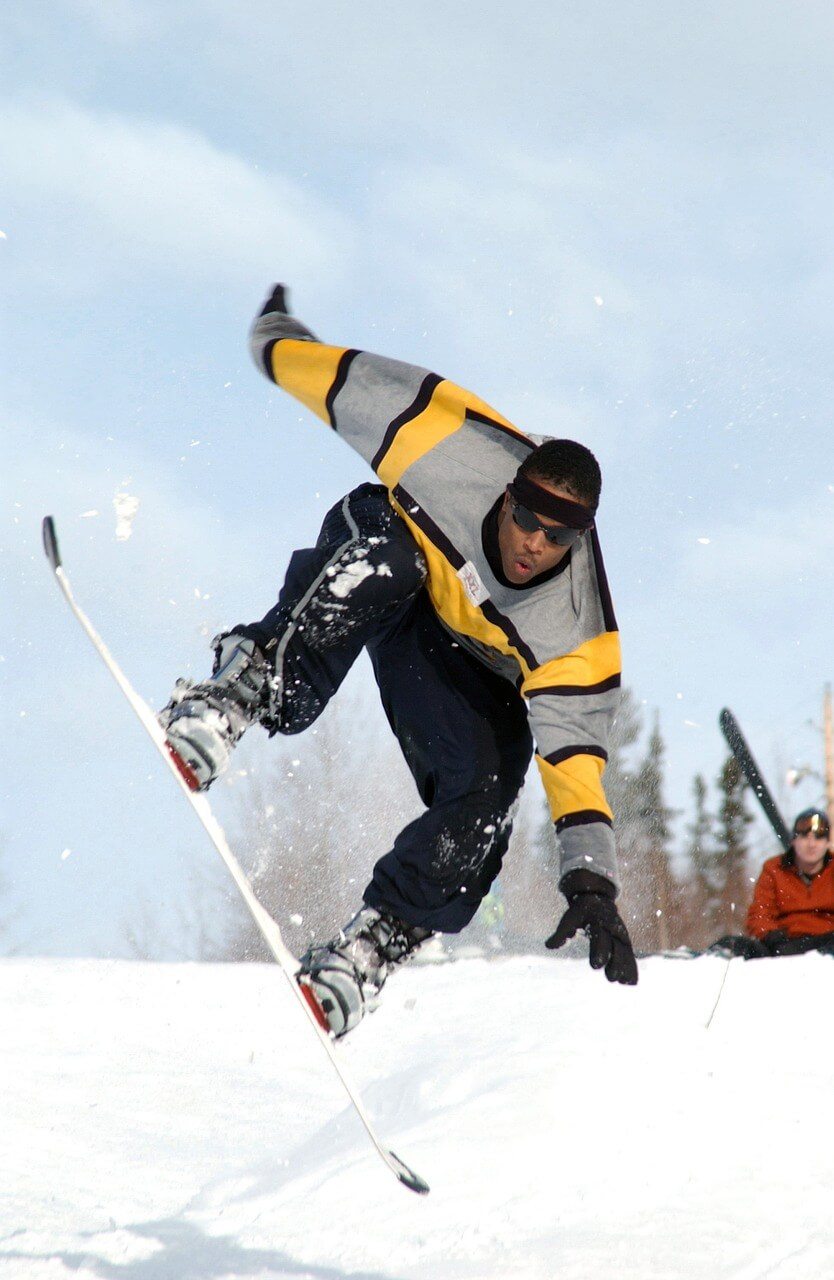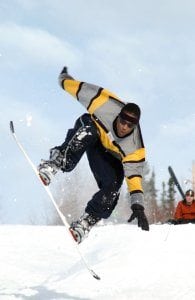 Most of us buy our new snowboarding helmet and don't think twice when we put it on our heads and go out onto the slopes. We wear it day in and day out and usually don't think about the fact that it needs as much care as the snowboard when it comes to cleaning; even more so, since it's supposed to protect your head from any sustained injuries. If you don't put much care into washing and cleaning the helmet or don't pay attention to what kinds of chemicals you expose it to, it could lead to weaken the helmet and fail in securing your head from dangerous and even life-threatening concussions upon impact.
The best you can do for your helmet is to grab a cloth or towel soaked in warm or lukewarm water (some people add very gentle baby-soap) and start cleansing your helmet spot by spot. Avoid using any liquids that could include petroleum and any solvents, since that can cause the foam lining and the outer shell to weaken. Don't use any hair dryers or don't put your helmet in a dryer since all of the heat can weaken the outer shell and put you at risk of injury. When you're finished washing, put your helmet out into the fresh air, preferably in the sun, and let it dry on its own. This will also ensure that it won't get a nasty smell!
After you finish riding your snowboard for the day, don't put your helmet into tightly sealed places like bags, suitcases or car trunks. This will encourage the bacteria to grow since the helmet won't have air to breathe and will lead to a very unsatisfying smell. After every training session leave your gear outside for a while so it can breathe and dry out. If you are already having trouble with smelly gear, make sure to add some white vinegar to the warm water you are using for washing to get the best effects.
All in all, as long as you air-out your gear after every session and don't store it in closed up tight spaces or wardrobes when it's still wet, your snowboard helmet should last you for a long time and give you the best protection!
Are Ski And Snowboard Helmets The Same?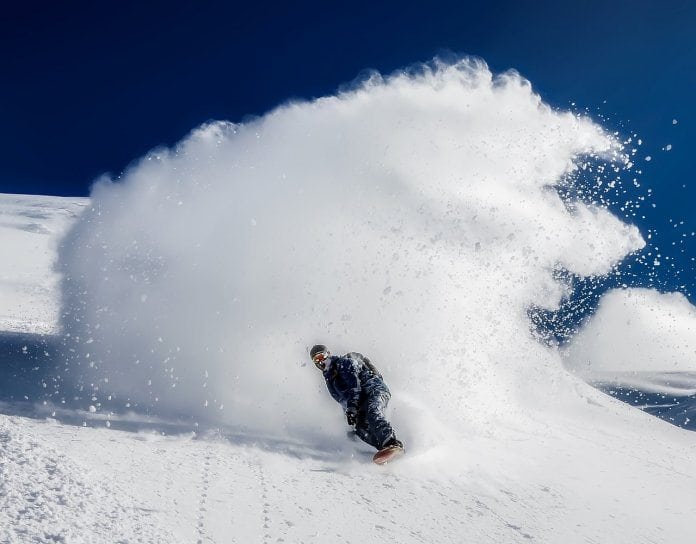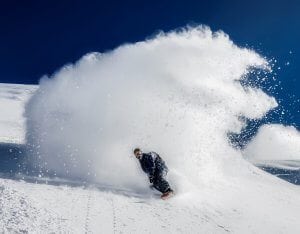 There is no major or any difference at all between a snowboarding and a ski helmet; it's mostly the manufacturers choice to put either "snowboarding" or "ski" in the title to appeal to that specific market and get more customers from that party. Most helmets can be used as both, however it didn't use to be like this.
A few years ago, ski and snowboard helmets were quite different. The helmets you would use for skiing were rather on the heavy side and always had ear-pads. The snowboarding helmets however started to stray from that bulky form and took on a new design. They were lighter in weight to encourage less weight and faster racing down the slopes and they were thinned out at the edge to achieve a boat-like shape to encourage speed.
The heavy ski helmets started to be redundant for both markets and also decided to head in the direction of creating a lighter design. That made them sell extremely well thanks to the large audience that was tired with the bulk and annoying heaviness that would come with the previous models. It's no wonder that people decided against using the heavy helmets since they significantly altered the gravity of the rider during freestyle competitions and made it much harder to move effectively!
Snowboard helmets were also the first to introduce audio inclusion to encourage communication and listening to music while you are out on your adventures.
While there isn't much difference now between snowboard and ski helmets since both markets now have sleek and light models in their arsenals, it used to be much different!
How Long do Snowboard Helmets last?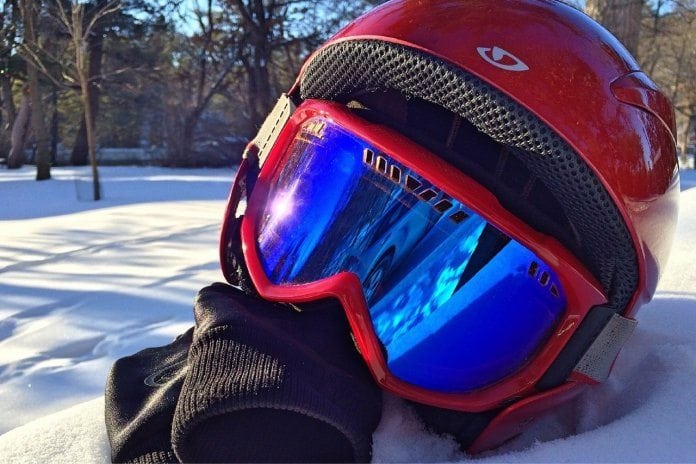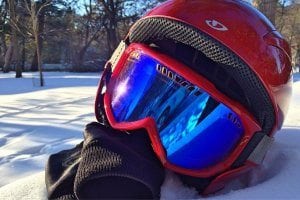 It's very important to know when you should exchange your snowboard helmet for a new model since as well all know, their effectiveness wears off after time and can expose you to the dangers present in winter sports nowadays. The best solution is to exchange the helmet for a new one if you have been a part of a major collision or high-impact hits from either the pavement or accidental run-ins. When you collide with either the ground or your fellow comrades, it's the snowboard helmet that will take all of the energy and probably suffer some cracks as a result or will be at the very least weakened.
Since helmets are exposed to all of the elements when you are out and about this usually gives them a lifespan of up to 3-5 years of regular use before you need to replace them. All the collisions, moisture, temperature shifts and general wear and tear that they are exposed to through all of that time will significantly weaken the protective elements of the snowboard helmet. If you have exposed your helmet to any kinds of sun or skin lotions it can also weaken the design due to the chemicals present there.
The EPS foam within the helmet doesn't fully go back to its original shape after a high-impact collision since it's specifically made to condense when it is exposed to any kinds of impact.This helps to direct the collision energy to your snowboard helmet and not your skull, and thus the helmet will be a bit weaker if you suffer any future hits. Therefore it's important to pay attention to and even record any serious hits you may have gotten during your h0lidays or training sessions to see when enough is enough.
The simple answer is: every 3-5 years and every time you suffer any major hit or take part in a nasty collision. Make sure to keep an eye out for when you should replace your helmet next. Sometimes people avoid buying a new snowboard helmet because they can't see any visible damage, but some dents just aren't visible and you can't see what the impact did to the helmet on the inside. The truth is, the shell and the lining can be significantly weakened even if you can't see it with your bare eye.
How Do You Choose A Snowboard Helmet?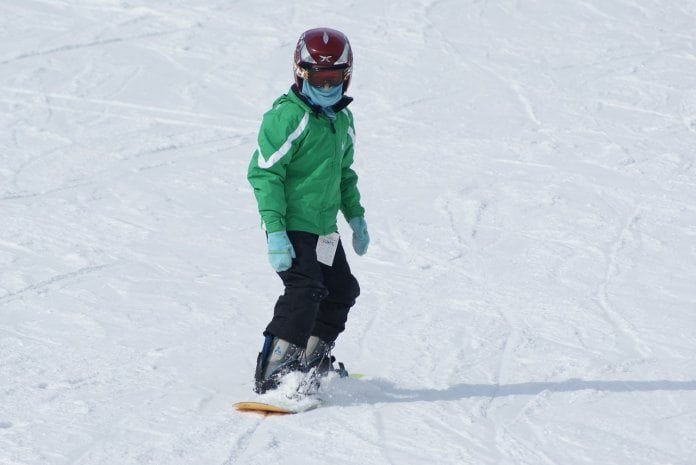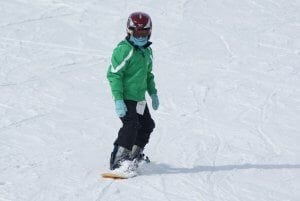 When choosing your first snowboard helmet it's important to look at the sizes and the features that it has to offer. It's also good to look at all the color variations and choose one that doesn't suit any of your friends' helmets, which in turn will make you much easier to find you on the slopes! Many people that review their new helmets often state that the only regret they have is choosing the same black helmet like everyone else, since you can't find anyone. You have access to dozens of colors and sizes no matter which brand you will look at, there is usually a lot of alternatives to black, and maybe it's a good choice to go for those helmets too!
Depending on your budget, you should look out for a snowboard helmet from the better-known brands like Giro, K2 or Anon. If you want something to protect your head from potential long-term injuries it's better to spend a bit less on your long-desired snowboard and a bit more on the helmet that may save your life. Going for one of the more popular brands in the industry you will be sure that you have a high-quality product on your hands that will protect you if need be. When buying cheaper made snowboard helmets you are always left with the question of "what if?", and if you are looking to secure your head and be worry-free, that's a bad question to have.
Make sure to measure your head carefully before you make your purchase, it takes a few measly minutes and will save you a lot of headache; especially if you are ordering a snowboard helmet online. Sometimes people think they can estimate between the "medium" and "large" sizes, but the truth is if you won't have a good fitting helmet it won't do much to protect you either. Even though snowboard helmets have buckles and dials to tighten and loosen the fit, it won't do much good if you chose a helmet that is either too big or small for you because you didn't want to measure your head! It has to be a snug and comfortable fit that will make you forget you even have it on.
There are helmets that are also specifically made for racing or cruising or just have other useful bits and bobs, such as being able to replace the lining for a bluetooth alternative. When you are choosing your helmet think of what features would be best for it to include: would you like the audio inclusion? Ear-pads? A sleek or round design? How many vents? Buckle or dial for adjusting? Is it compatible with my goggles or do I need to buy different ones? Is it my size and is it a snug fit? Would you like a camera mount to record your travels?
Answering all those questions before making your final purchase will make all the difference in the world! And in the end will leave you satisfied with your product and make you glad that you spent all this time planning for a safe and fun trip with your snowboard – read the study on safety tips here.
Should You Wear A Snowboard Helmet?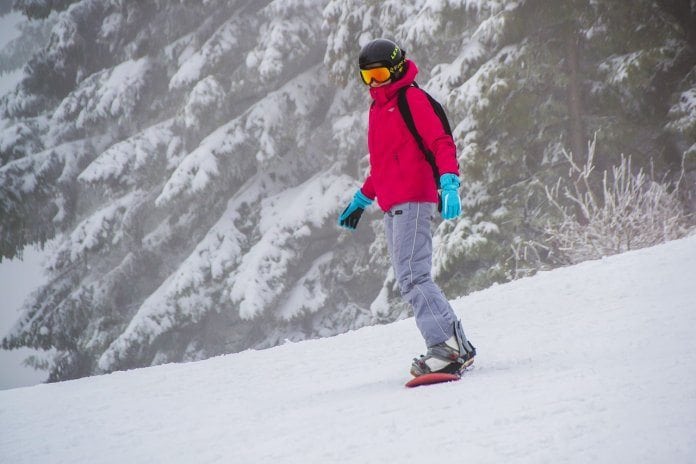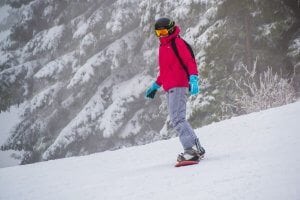 There has always been the on-going debate of if you should even be wearing some helmets in the first place, and many people agree and disagree on this topic. The truth is, even though you may be wearing a helmet it doesn't make you immune to the injuries you may sustain if you run into someone (or the ground). It may reduce the severity of the impact thanks to the mechanics the brands incorporated into it, but all in all it just reduces the impact, it doesn't completely eliminate it. That of course doesn't mean you shouldn't wear a helmet at all, it just means that you can't go out with your snowboard and feel like nothing bad can happen to you just because you are wearing helmets.
Many people who don't wear helmets say that they have better vision when they don't wear one and don't feel cramped. It also makes them pay more attention to their environments and not be reckless, since they know they could possibly sustain a serious injury and end up paying more attention to everything that is going on around them. These increased senses however don't make them immune to simple accidents, someone could still run into them or they could slip because of thin ice and it doesn't have anything to do with recklessness. Helmets can protect you from these unlucky accidents when you are not in charge of what is happening to or around you!
Even though in the end it's a personal choice and there is no best answer, there are some other nice aspects to wearing a helmet other than having it protect your head. It can help keep your head a little warmer, help keep your goggles in place and make it easier to talk with your friends and listen to music. Keep your whole body warm with different items such as warming snowboarding gloves, which you can find by clicking here.
The thing about winter sports and sports in general is that you just can't predict what will come at you and from what side. If you are out enjoying a well-earned holiday and decide to not wear some helmets and get into trouble, you probably won't get back out onto the slopes. If you are a beginner it's natural you will fall over more than the average person and a helmet will help ensure you will keep enjoying your holiday even if you get a few bumps and bruises, which is surely a better option than spending the rest of the holiday at a hotel with either a minor or serious head concussion! At the very least a helmet can reduce the impact and make it a bit easier on your head, even if it doesn't make you completely immune it's still the best alternative.
Some people who don't wear helmets also say that they are too expensive, and while some brands offer quite expensive products there are leading brands on the market that make affordable quality helmets too. It has been also said that since 2003 around 50% of fatal head injuries have been prevented just by wearing a helmet. In the end, if you can wear a piece of gear that can save you from the accidents that life may throw your way that don't depend on you in any way and save your life in the process, why not do it?
Top Choice – Giro Seam
It should be of no surprise that Giro's snowboard helmet earns its place as our best Choice product! The brand is well-known and places only high-quality product on the shelves.
With more than 15 colors available, you can be sure that you will find a color here that will suit you and your equipment. This is one of the features that makes Giro's products so unique- you can always find a design, size or feature that will suit you no matter which one of their products you will end up purchasing.
It's a comfortable helmet that does its job when you collide into other riders or fall onto the hard thick ice. Whether you will be cruising down the slopes or doing more harsh turns and racing, Giro will keep you covered thanks to the tough materials that are made to withstand high-impact collisions whether that is with other people or with the ground itself. You can be at peace knowing Giro designed a product to keep you safe and covered from any accidents that may occur (click here to read the study on how they help you).
The Giro helmet made its way to our Best Choice slot because of the anti-bacterial padding that its lined out with. It ensures that you can enjoy your purchase for as long as possible; and along with the ventilation slots, you can be sure the helmet will be serving you the best it can for years to come!
Premium Choice – Giro Avance MIPS
Our Premium Choice has to be Giro's most advanced helmet up to date; especially since it's made for professional and the best competitors, you can be sure there are no faults with this product.
Its job is to protect and keep your head secure and it does that better than most brands. Thanks to the feedback it gets from the people and best competitors that use the gear, you can be sure that you will only get the most satisfying product from Giro's arsenal of helmets.
It's designed specifically for racing and for withstanding multiple collisions with other contestants. If you are a person that likes to live more on the edge and wants a durable helmet that you won't have to replace after the first high-impact hit, you will do well to invest in Giro's Avance Helmet. It's made for harsh snowboard racing and performs as its best in rough environments, and that's why it makes its our Premium Choice- it will withstand any impact you give it and save your head from a trip to the hospital!
Great Value – Bern Watts EPS Adjustable
The Best Value slot has to go to Bern's helmet; it's best if you are on a tight budget or just spent all your money on the best snowboard, goggles etc.It has seasonal upgrades that allow you to be active throughout the year with your snowboard, bike or other sport equipment. Even though the helmet has a thin shell, it will still give you protection from bumps and high-impact hits, many reviewers state that the helmet saved their lives during unexpected accidents when their heads hit the ice or pavement.
The headgear also comes in a series of attractive colors that will allow you to choose the best match to suit any equipment you already have. The dial adjustment system will allow you to quickly loosen or tighten the helmet at will and you won't need to spend any extra time fiddling with it while juggling your snowboard in the other hand. It secures its place in our Great Value slot thanks to the best affordable price and the many features it offers that will give the best protection to your head from any injuries!
Amazon Recommends:
If you liked the review, please leave your feedback.