Why you should consider a Razor Dirt Quad Bike for your Child
If you want to introduce your child to the world of possibilities that comes with owning a dirt quad riding toy, then we can wholeheartedly recommend purchasing the Razor Dirt Quad riding toy. It's ideal for kids above 8 years age, has a long battery life, adjustable handlebars, rear disc brakes, droop-travel rear suspension with coil shock technology, shatter-resistant plastic fairings, pneumatic knobby tires, a front brush bar, acceleration control and a motor that works quietly and efficiently; these Razor drift trikes can conquer tough trails. Looking for a 2-wheeled bike? Check out Razor's MX650 electric dirt rocket bike here. For kids under 14, the MX350 is a better choice.
Fancy something a bit different? Razor also produce a go kart for kids. Want to stick to scooters? No problem, check out the top Razor scooters this year.
Key Features
As your kids grow up, it can get increasingly harder to keep their play limited to household-only activities. Your child may be growing bored, and you may find yourself wondering what kind of entertainment you can provide for them that doesn't rob your budget.It has to be safe, engaging and fun. One of the products that fit all those categories is the Razor Dirt Quad riding toy.
As your child grows, they will be eager to explore the outside world, whether that is on foot or on wheels. Giving them a taste of the thrills that a dirt quad riding toy can provide is invaluable and can encourage them to be more independent, seeking adventure in unusual places.
Some parents may be wary of dirt quads, after all, they do look quite menacing and are often associated with dangerous races or daredevil acts. Luckily, the Razor Dirt Quad riding toy is meant for kids and has features that suit kids, too. With the fresh black styling and design, and the secure hand operated rear brake, the smooth ride, this dirt quad is built strong and sturdy. Check out this caster board by Razor for an alternative.
If you are interested in getting to know the components that a Razor dirt bike is made out of, we have you covered!
Battery Life
The Razor Dirt Quad riding toy is powered by a 24V battery system. It consists of two 12V batteries and has to be charged for 12 hours after every use. It can offer up to 1 hour of outside fun after charging, which is just enough time to explore and have fun on the fields and roads outside. Interested in battery-powered toys? Check out the top electric scooters for kids here.
Charging
One thing to take into consideration is the charging time. 12 hours of charging can be a lot for a home that is watching their electricity bills. It's important to take this factor into consideration since the quad only runs for one hour after charging. This means that you will have to charge it daily if your child will want to ride the toy daily, which is a huge possibility if they end up enjoying the quad. This, in turn, means that your electricity bills may significantly rise after purchasing the product.
If you have a good electricity plan this shouldn't be a problem. If you find yourself worried about the expenses this quad may come with, we recommend asking a few people who already own the quad about the perks of keeping it. If your child uses the toy only during the weekends or during sunny days the expenses should stay at a minimum.
Age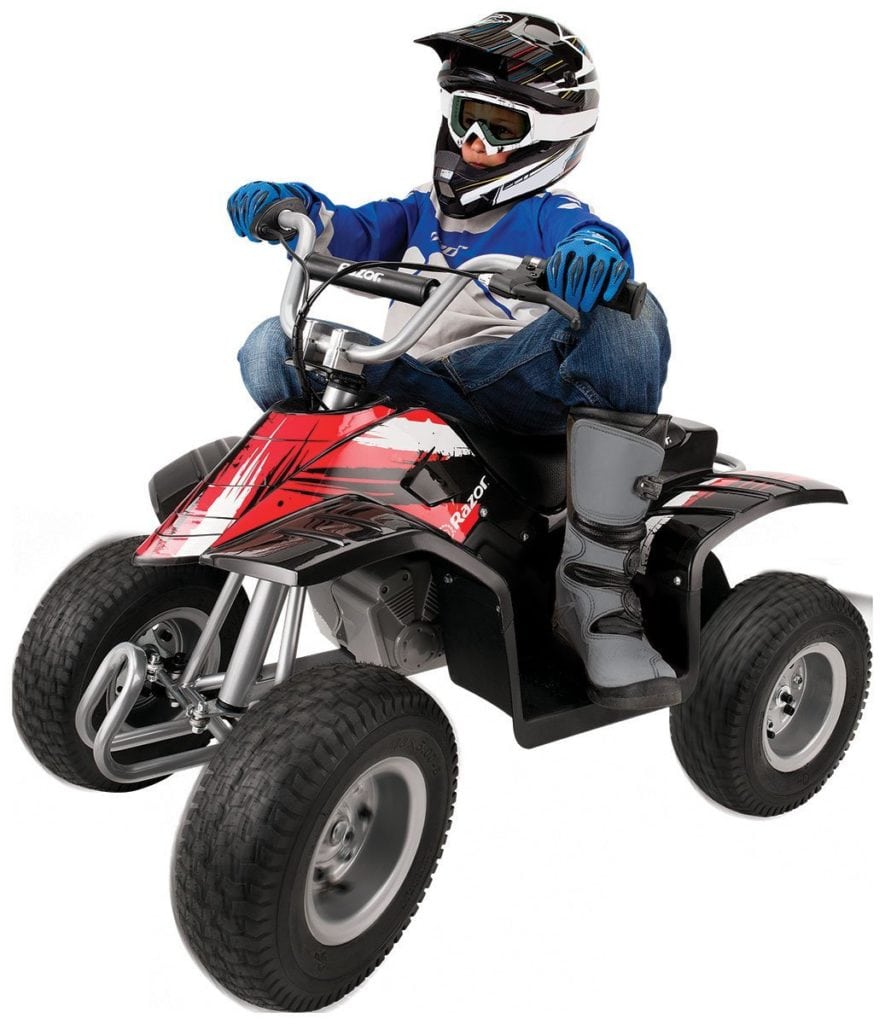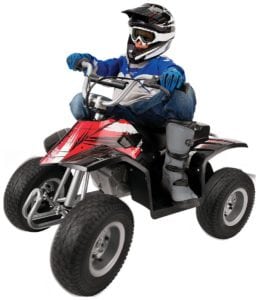 The Razor Dirt Quad is ideal for kids above 8 years of age, since the quad can go pretty fast and needs a lot of coordination while steering. You should make sure that your child gets used to the quad when it's not powered up.
Getting out the manual and quickly running through the safety instructions and the features of the quad should help the child get to know their new toy better before jumping into the driving. This way, they'll know where to brake, how to steer and how to have good posture when driving.
If you will be taking them to the park to drive around, it's also important to introduce them to basic driver manners and how they should interact with pedestrians when they cross their path.
4-6 year olds
The quad itself can also be used by younger children if they are tall and mature enough to handle and steer the toy on their own. Several parents have reported that their 6-7 year olds also fit fine on the quad and don't have any trouble driving, racing, changing direction and having fun. Several parents have stated that they quad is ideal for their 4 year olds, too, as long as they are heavily supervised when using the quad. The quad supports any child that weighs up to 120lbs and as long as your child fits the dimensions and the maximum weight limit,they should be able to keep using the quad for a long time.
Adjustability
Many kids don't like parting with their favorite toys, especially if the toys have accompanied them through many childhood memories. Luckily, the Razor Dirt Quad bike has adjustable handlebars that you can adjust to your child's growing height. If they start using the quad at 6 years old, they can easily keep using it till they're 12, and if they have siblings they can easily pass it on.
Safety
The Razor Dirt Quad ride on can look like a daredevil toy that only the teenager neighborhood kids would be allowed to use, however that couldn't be further from the truth.Even though the quad looks sporty and menacing thanks to its stylish design, it's relatively harmless.
The Razor 24volt Electric Dirt Quad ride on can only go at 10mph, which may seem slow, however it's definitely faster than any parent can walk and is fast enough for your kids to get the adrenaline thrill. It's not fast enough, however, for your kids to get thrown off! All parents who have had their kids use the quad do recommend putting a helmet on your child before putting them on the quad, since riding on wet or mountainous terrain can be challenge.
Brakes & Wheels
If your child feels like they are going too fast, they can always use the hand operated brakes to pause and take a breather. This feature is ideal for those times when you get an unexpected pedestrian or animal running out in front. The quad also comes with semi-professional wheels that will endure wet weather, bumpy roads, muddy grass patches and much more. There's not much that this little quad can't handle, and is ideal for any adventurous boy or girl.
Dimensions & Additional Features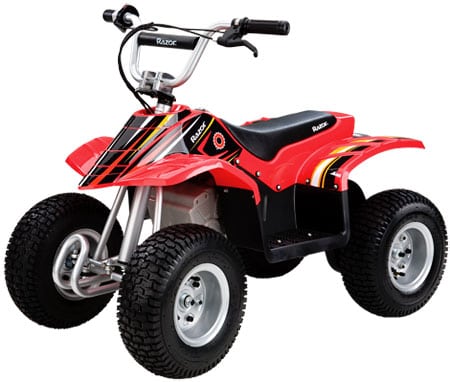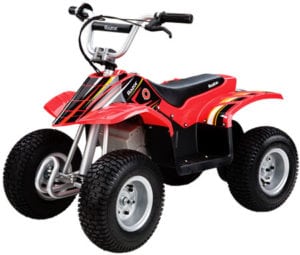 The Razor Dirt Quad bike has dimensions of 43"L x 24"W x 31.5"H and needs to be assembled. The quad bike itself weighs about 89 lbs, and the box it comes in is rather large, weighing over 110 pounds. It's important to know that you have a place to put the quad before purchasing it. It should be kept within a dry area that doesn't have any droughts or damp surroundings. This will ensure that the quad doesn't get rusty and that the battery doesn't get damaged.
The assembly of the Razor Electrical Quad is rather easy and comes with an instruction manual. Many customers state that the assembly shouldn't take more than 10-30 minutes, depending on how well you organize the parts of the quad before putting it together. The product comes with a battery charger and needs 12-15 hours of charging the first time you turn it on.
The plastic fairings are fully shatter-resistant and the frame is fully powder coated to help the quad endure tough weather conditions too. This ensures that the paint and design won't fade away as your child keeps using their new favorite toy. The Razor Electric Dirt Quad is meant to be used on rough terrain and easily manages to ride over small obstacles that are common around forested areas and fields.
Pros:
+ 60 min+ battery life with Battery Charger
+ Adjustable handlebars
+ Weather resistant
+ Easy assembly
+ Powder Coated
+ Plastic Fairings
Cons
– Doesn't have a reverse feature
Who Is It Suitable For?
The Razor Electric Dirt Quad ride on/ quad bike is ideal for kids from 6-12 years old. Some parents have put kids as young as 3 1/2 on this quad, however that should only be done if you are ready to heavily supervise your child as they ride. Many parents who decide to put much younger kids on the quad put an older sibling in the front, since older children usually have better controls of the handlebars and brakes.
Why We Like It
The Razor 24volt Electric Dirt Quad ride on is ideal for kids of various ages, and does extremely well on rough terrains, just like a quad should. It has a battery life of over one hour and can go pretty fast for 24V battery-powered vehicle. 10mph may seem like little top speed to an adult, but it's definitely faster than any parent is willing to run for longer periods of time!
All in all, the Razor 24volt Electric Dirt Bike is ideal for kids who want to have fun outside, exploring surroundings and having unlimited amounts of fun. The Razor Dirt Quad Bike is a top seller in this game.
Alternative Product – Razor Dirt Rocket SX500 McGrath Electric Motocross Bike
Some kids like electric quads, some kids like bikes and electric ATV toys for kids, it's no secret that both electric quads and bikes are very exciting outdoor toys. The Razor Dirt Rocket Bike is one of the best dirt bikes on the market, and has 40 minutes of battery life. It can also go up to 15mph, which means that it's not recommended for younger kids. The recommended age range for this bike is 14 years old and supports any child that weighs up to 175 pounds. Try the MX650 Dirt Rocket as an alternative.
Amazon Recommends:
Bestseller No. 1
Bestseller No. 2
Bestseller No. 3
If you liked the review, please leave your feedback.