An electric trike is all the rage nowadays for those who wish to enjoy the feeling of riding a bicycle without the strain and hassle. There is nothing quite like a bike ride on a beautiful day. It lets you enjoy the wind blowing in your face, explore the open road or trail, and appreciate the small joys of life. However, bike riding can be difficult for people with bad knees or who otherwise find that the motion required is uncomfortable.
For adults and seniors looking for an easier going option, electric bike trikes are a solution that keeps things mellow. Electric trikes make things easy with an extra wheel for balance support, a motor for enhanced speed stability, and sometimes even storage space.
We think you'll like: Razor RipRider Review
View The Best Electric Trike Below
Ready to get moving and spend more time in the great outdoors without straining yourself? Check out these top 4 electric trike reviews to find an electric trike bike that fits within your budget and offers the features you need.
Related Review: Best 4 Wheelers for Kids
1. TopMate Mini Electric Tricycle
If you're looking for a small three-wheel electric bicycle that's portable and easy to store, the TopMate Mini Electric Tricycle is the one for you. Its foldable small size makes it ideal for travel and leisure activities since it can be placed in the trunk and ready to go at any moment.
The simple and portable design of this TopMate E-bike 3 wheels model means it is lightweight enough to lift with a 250W brushless motor while still packing a punch. This kids bike trike is perfect as a handicap assistance vehicle or even a travel companion for road trips or flights, as it meets all domestic FAA regulations.
Pros:
+ Fits in most trunks
+Travel-friendly; meets all FAA requirements for lithium-ion batteries
+Lightweight
+Foldable design
+Strong motor; can hold a lot of weight in relation to the size
Why We Liked It – We liked this e-trike because it's perfect on-the-go for someone who needs their trike to go where they do. At the same time, it has the battery power to take them even further.
---
2. E-Wheels EW-36
This tricycle scooter is the perfect solution for seniors or those with handicaps who need a little bit of mobility support. This high-powered electric scooter features a tricycle design for extra balance and speeds of up to 18mph with a 500w battery, making it the quickest mobility tricycle on the market.
Designed for everyday use, it features a digital anti-theft alarm, rear shock absorbers, rear-view mirrors, front lights, rear storage space, and a car-like seat for comfort. This speedy and agile mobility trike will make life easier — getting you around faster, keeping you comfortable, and making sure you're safe.
Pros:
+Anti-theft alarm
+ Rear-end shock absorption
+Rear-view mirrors and front lights for safety
+Fastest option
+Full-support chair
Why We Liked It – We like this trike because it is the fastest you can get. It's also designed for superior comfort in everyday life with special features like lights and alarms that can't be beaten.
---
3. Razor Power Rider 360
This electric-powered three-wheeler from the makers of the famous Razor scooter is a great lower-cost option for someone looking to dip their toe into the world of electric tricycles for kids.
Designed for short periods of riding for a smaller and lighter person, the Razor supports riders over the age of 8 and under 120lbs for up to 30 minutes of continuous use at one time. Its simple and agile design allows for fun maneuvers for the adventurer. You can take this out for full 360-degree spins, slides, and drifts.
This bike makes getting around extra easy with a push-to-start motor that doesn't require pedaling.
Pros:
+Push-to-start throttle
+Up to 30-40 minutes continuous run time
+Special specs for spinning, drifting, sliding
+Lightweight frame
+Perfect for kids or lighter adults
Why We Liked It –  We thought this trike was especially great because of all the fun it offers. With abilities for turns, drifts, and slides, any kid or adult who rides this is guaranteed to have fun without even pedaling.
---
4. E-Wheels EW 19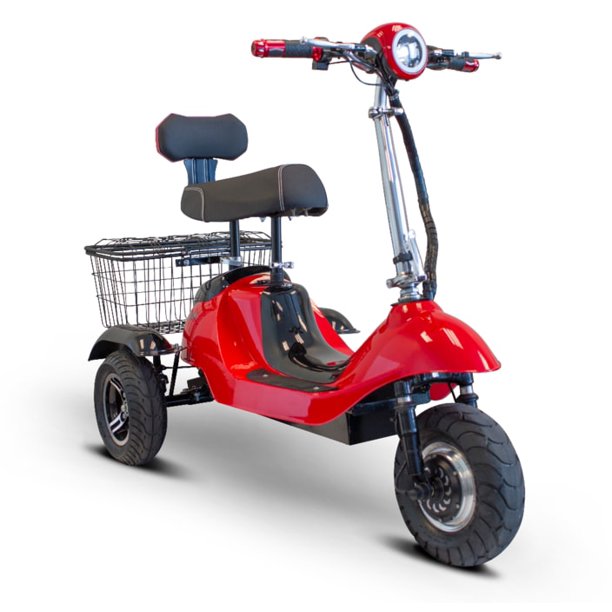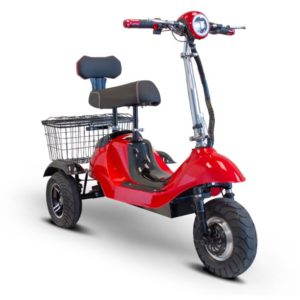 For something that's ready to ride and as comfortable as an office chair, the E-Wheels EW-19 Sporty model has you covered. It comes pre-assembled, so it's ready to go after a full battery charge (which lasts 21 miles). The slender but sturdy red and black design will turn heads, and the large ergonomic seat keeps all riders comfortable.
Transporting this trike is easy because of the foldable tiller and removable seat. Once it's time to ride again, simply snap on the seat and pull the handle back into position. With speeds of up to 15 mph and a 500W battery, this tricycle will take you places.
Pros:
+ No assembly required
+ Slender but sturdy
+ Foldable handle and removable seat for easy storage or transport
+ Storage area in back
+ Comfortable large seat with lower back support
Why We Liked It – We gravitated towards this bike because of its beautiful design that offers presence, strength, and style all in one. However, it really sold us with its portability and battery power!
---
Electric Trike Buyers Guide
When you set out to purchase an electric three-wheel bicycle, how do you know what to look for? There are some key aspects of each bike that you should research for every option you're considering. Once you have all the specifications for your top options, compare them to each other. By eliminating the ones that seem lacking, you should be left with your best option.
Some things to consider when purchasing include size, speed, design, and special features.
Size
Usually, there is a choice between 20 and 24-inch wheels. If you're below 5 ft 6 inches, go with 20 inches. If above, go with 24.
Speed
The speed is comparable to a golf cart, with speeds up to 15 or 25 mph depending on the power of the model.
Design
The most popular frames for 3-wheel electric bikes for adults include low-step trikes, traditional trikes, vintage trikes, and chopper trikes. You can also choose from city wheels or all-terrain models. Seats may come as a traditional bike seat or a reclining chair for further comfort.
Special Features
Some models may feature storage options on the back of the electric 3-wheel bike. Other special features include an integrated speedometer or a specialty adjustable seat. Because trikes can be so bulky, it's also wise to consider a 3-wheel bicycle electric version that folds or is lighter in order to improve storage options when not riding.
How powerful does an electric trike need to be for hills?
When it comes to 3-wheel electric bikes, the higher the wattage of the E-trike, the more power it will have. However, there are a variety of reasons, such as marketing ploys or finding loopholes that might entail that the labeled wattage doesn't actually reflect the power level of the electric tricycle. The best way to know for sure is by multiplying the battery voltage and peak current time.
If you're going to be triking up hills often, you want at least 432 watts but anywhere up to 1000 watts, depending on the hills and the weight of the rider.
How to Ride an Electric Trike?
Sitting and riding on a three-wheel electric bike may feel different than a normal bike or trike. However, while each make and model will vary, most have the same basic functions. On the front of the 3-wheel bike electric, there is usually a way to adjust the level of speed assistance generated and to brake or to cease the power. Other than that, steering and riding (with the exception of minimal pedaling needed) are essentially the same.
Where Can I Buy an Electric Trike?
You can purchase an E trike at specialty trike, bike stores, or online from many retailers. Amazon is a popular online seller of trikes that comes with good customer and product support.
Which electric trikes for Seniors?
The best electric trikes for seniors will have a step-through design, which provides for easy mounting. It might also have an upright riding position and a full-support seat, which provides comfort for the back, legs, and bottom while riding.
Best electric trikes for Adults?
The very best electric trikes for adults are those that fit the three most important components: your budget, your body, and your lifestyle. The options for electric tricycles reviewed above will help you identify key features that you may want.
Expert Tip:
A typical battery on an electric trike will let you get about 18 miles of riding time before having to recharge, so plan with that in mind!
Did You Know?
Some retailers will try to pull off a modified or repurposed e-trike as a purpose-built bike, but they are not the same! A first-time, purpose-built bike is the lightest, toughest, and the most capable kind that you can get.
Conclusion
An electric three-wheel bike is a great way to gently transition into a more active lifestyle at any age. Whether you're an adult who wants extra balance support or a senior looking to recline and cycle when nice weather is calling, a 3-wheel electric bicycle is a move in the right direction.
Whatever buying decision you end up making, an electric tricycle is a great investment. It not only means a good excuse to get outside now but also means you'll have a lasting excuse to stay active and outdoors for many years to come.
Amazon Recommends:
If you liked this review, please rate below.