As you are looking over your new snowboarding kit ready to go speed down the slopes, you will probably be interested in finding a pair of comfy, cosy and warm snowboard pants to fit that, too. To help you out, we have a couple of reviews and answered questions to make picking the best snowboard pants for your journeys a little bit less frustrating! Click here for Ski pants instead.
When looking for winter gear, most people usually rush to buy the more entertaining kits first. Kits that include the actual snowboard (see review on cases), fitting snow boots, as well as suitable goggles and helmets (click here for review). For a warm peak protection, head over to our balaclava review – this is for both skiing and snowboarding.
The thing is, when sliding down the slopes you will quickly realize that having a proper pair of insulating and breathing snowboard pants could save you a lot of trouble. Falling down won't be as painful, and the cold will not be achingly biting into your skin if you choose a proper pair. You can help avoid mistakes with the correct snowboard bindings – click here for the guide. There is no doubt that a good pair of snowboard pants is vital for anyone that is looking forward to spending a holiday in a cold surrounding, or even for seasoned riders who need to supply themselves with a new pair. Add a pair of warm snow socks for extra warmth.
10 Best Snowboarding Pants for Men and Women in 2020
1. Quiksilver Dark Stormy
Quicksilver is definitely one of the best brands when it comes to winter gear. They have durable and sturdy products that will last you a long time, no matter what you put them through. The best thing about the Dark Stormy snowboard pants is that they don't restrict your movement when snowboarding. The trouble with most snowboard pants is that they may be too tight or bulky to allow for sufficient movement when riding, which in turn may lead to nasty accidents.
These Quicksilver snowboard pants come in three colors, pumpkin, denim and army patterns, which ensure you will find something to fit the rest of your gear in no time. These pants are definitely waterproof, which is a vital feature when you are out in the snow and are exposed to moisture which lurks at every angle.
The quality of the craftsmanship is fantastic and the prices range from 80$ to 135$, depending on which deal you can strike up. Regardless, these pants are a great investment if you are looking for a pair of snowboard pants that will protect you from the cold and moisture that are prevalent when snowboarding in the mountains. They are 100% polyester and are praised all around for being extremely comfortable.
Pros:
+ 100% polyester
+ waterproof
+ comfy and don't restrict movement
Why We Liked It – Quicksilver's product is definitely something to look out for. If you get the chance to grab these, you will certainly not be disappointed. They will keep you warm and will not do anything to restrict your movement during your adventures when going down the slopes. They are a fantastic pick if you are looking for durable, quality snowboard pants! They can also be used to keep you warm if you and your mates are out on snow kick scooters.
Arc'Teryx's snowboard pants are one of those products that go out of stock the moment they are put out for customers to buy. They are much more on the expensive side of pants, the starting price being 500$. Nevertheless, even though this pair of snowboard pants is definitely for someone that can spend a bit more cash, you will definitely have a long life thanks to their durability and useful features. They are not overwhelming with the material and don't add on much extra weight, which is great if you are wearing something a bit more bulky under them.
Thanks to the light build, you will not only forget they're there but they won't do anything to restrict your moves when you are trying to enjoy your holiday or practice sessions. They come in a selection of four colors: pytheas (blue) , sangria, black and dark moss. This selection will make sure that you won't have to buy a pair that doesn't suit the rest of your gear.
These snowboard pants have double-sided zips to encourage ventilation to make sure you won't get too hot and steamy when you are being a bit more aggressive with your riding.
Pros:
+ light build
+ thin layer of material to prevent immobility
+ attractive design
Why We Liked It – Even though Arc'Teryx's product is way more on the expensive side of the scale, their snowboard pants are really something to look out for. If you tend to fall often or want to protect your thighs and shins from the harsh reality of the pointy and hard ice that can slash through your normal clothes in seconds, Arc'Teryx will make sure that will not happen to you with their pants!
3. Arctix Avalanche Snow Sports
Arctix's snowboard pants are so far the most affordable pants listed so far, they come at a fantastic and reasonable price, especially when you consider all of the features that they supply you with. There are zippers everywhere to ensure you won't have to fiddle with your snowboard pants in any frustrating way and can easily take them on and off on demand.
These snowboard pants are made 100% from nylon and have hem guards to ensure that your pants are protected against all of the dangers they could sustain due to all of the daily wear and tear scenarios you could be exposed to. They also have an adjustable waist to make sure you can have a tight or loose and snug fit, depending on your preferences, which is a feature many other snowboard pants lack. Usually, you would have to depend on the sizes themselves and bet on what could be a fitting waist size. Thankfully, Arctix decided to put an end to that with their product, which is definitely a plus which can prevent your pants from riding up on you.
They are praised for having way more flexibility than bulk, which is vital when you are trying to be competitive with your snowboarding and need as little restraints as possible. They also have a multi-layered construction which will ensure you will be kept warm and dry all throughout your snowboarding adventure in the cold.
Pros:
+ multi-layered construction
+ 100% nylon
+ flexible, light and dry
Why We Liked It – Arctix has a fantastic price range on these high-quality snowboard pants, ranging between 30$-55$, depending what deal you can strike up. It's a great deal for such a good pair of snowboard pants that includes all of the features you could ask for when looking for good snowboard pants to take with you on your next snowboarding adventure to keep you warm, dry and protected!
Burton Tactic's snowboard pants come at a very reasonable price comparing to most other alternatives. They price in at around 100$-150$ depending on what deal you can find. They are a fashionable pair of pants available in the four common sizes: S,M,L and XL. If you will end up going for Burton's product, you will have no trouble finding a pair that will suit your waist and silhouette perfectly.
They are exactly the kind of snowboard pants you will be needing in the mountains: waterproof and breathable. You will not get stuffy or overheated with these and you will able to enjoy your holiday as you are equipped adequately.They are made with 98% organic cotton, 2% spandex and an approved polyester material. This ensures that you stay waterproof from the ice, snow and rain and that you can still move around freely without any constraint.
These snowboard pants are also equipped with vents to help the ventilation circle through; this will help you not develop a bad smell or a sweaty surrounding later on. The flexibility of these pants is well praised, as well as the other quality of the make of them. The fit is snug and comfy and won't have you feeling restrained from your usual snowboarding adventures!
Pros:
+ 98% cotton material
+ fully waterproof
+ 1 year warranty
Why We Liked It – Burton is a well-known brand among the winter-sport community and for good reason. Their pants are usually at exactly the right price range to enjoy both quality snowboard pants and ensure good performance without constraints. You will not be spending thousands but will still be satisfied with the make and features of these charcoal black snowboard pants!
5. Exposure Project Bobby Cargo
Exposure Project's snowboard pants are definitely one of the better deals on the list when it comes to money. They range between 30$-50$ and are perfect for when you are on a tight budget and still want to get a quality product that can keep you warm and waterproof on your snowboarding journey. They come in two basic colors: black and grey. They are made of a 100% nylon material that will repel any drops or waves of water that you may succumb to while going down or off the slopes.
These snowboard pants have an adjustable waist which is perfect for getting a snug and comfy fit without fussing with belts and the alike. You can be sure that with Exposure's product you will spend more time on the slopes than getting ready with your gear, it's an easy and simple fit. They also have large and secure pockets to allow you the freedom of grabbing a few essentials with you wherever you will go.
They are one of the insulated pairs of pants on this list, something that is unfortunately not that common with snowboard pants. One of the other features are the articulated knees, which make sure you get full mobility wherever you may lean.
Pros:
+ 100% waterproof
+ insulated
+ articulated design
Why We Liked It – Exposure has supplied the market with an affordable and quality product for a few years now. It's perfect if you don't want to end up spending hundreds on snowboard pants or if you just need a pair to keep you safe for a holiday or two. Their insulation feature will make sure you will be kept shielded from the harsh cold reality of the slopes and the articulated design will help you get your best snowboarding performance yet!
Ripzone's snowboard pants are another good product available at a good and reasonable price for everyone. They come in three different colors: black, dark green and yellow.Customers who ended up buying a more outgoing color, like yellow, were always happy about the fact that their family and friends could always easily find them on the slopes. Something that is not easy to do when everyone else is wearing black or navy blue snowboard pants!
They are also made of a 100% nylon material, which is known for not being bulky and having very light-weight properties. When buying these pants you can be sure that they won't interrupt your snowboarding endeavors in any way. They have inner waist adjusters to make sure you don't feel either too loose or too cramped within and their durability will have you thinking why you didn't invest in a pair sooner!
The venting is lined along the mesh which makes for a great place to capture a breath of fresh air when speeding down the hills. The zippers are made for heavy-duty and won't be breaking off anytime soon, they are as sturdy as they can get which will definitely save you some otherwise embarrassing moments on the slopes!
Pros:
+ 100% nylon
+ heavy-duty zippers
+ adjustable waist
Why We Liked It – Ripzone's product is a fantastic choice if you are looking for a good pair of pants to take with you on your next journey. They are specifically tailor-made for heavy-duty and any falls and scrapes won't leave you dangerously harmed. Their light-weight will provide you with a thin layer of protection that can do a lot to protect you!
Burton's snowboard pants are a bit expensive than the previous candidates on the list, but reasonably so, too. There is a stunning selection of colors to choose from with these pants and there is absolutely no doubt you will find something that will fit you like a glove (click for review), both when it comes to the daily wear and tear and the fashion outlook of things. You will have 17 color choices to sift through before you will be able to settle on a final decision!
Like the other snowboard pants, they are 100% waterproof, but this time thanks to the nylon and polyester combined material. This combination will help you get protection like none other, and you can be sure you won't feel a drop of water or moisture seeping through with this fantastic material choice. The sizes of the pants fit well with what they are assigned and described as, and the waist is also adjustable here to help encourage freedom and a comfortable surrounding when snowboarding.
With that said, it's no secret that Burton makes some of the most durable and functional snowboard pants out there. They are moving onto creating more space for women in the snowboarding movement (study can be found here). The snowboard pants are no exception the rule; although they may seem a bit expensive to some, it's a fantastic investment for someone who wants to have a quality pair of snowboard pants that will encourage the rider without restraining them.
Pros:
+ functional and flexible
+ polyester and nylon material
+ a variety of colors to pick from
Why We Liked It – Burton once again doesn't cease to impress with their product; this pair of snowboarding pants will have you covered in every aspect to conquer the harsh, cold weather, snow and ice that will greet you in the outside world. The variety of colors is a fantastic plus that will help you customize your gear in exactly the way you want, which in turn may help you be more visible by your family and friend on the slopes!
8. Volcom Freakin Snow Chino
Volcom are another brand that impress the market each time they release the new product, each one has a reputation for being durable and of quality craftsmanship. They come in five colors: white, black, navy, burgundy and rusty red. One thing is sure, whichever color you end up going for, you will be able to choose something that will match your gear best without being bound to one default color!
They are 100% polyester and will protect you from all the moisture that you will surely encounter in the mountains. They are also eligible to be washed in a washing machine, something that is not widely practice with snowboard pants of this type and make. When it comes to the price, they range between 100$-160$ which puts them a bit more on the expensive side of things, nevertheless they are a fantastic choice for anyone who is willing to invest.
When you are out and snowboarding you should most worry about the functionality of your snowboard pants, but that doesn't mean you have to sacrifice a good look! Volcom boasts a modern looking, snug and dry fit for anyone that is willing to try on their snow chino snowboard pants.
Pros:
+ 100% polyester
+ a modern and fashionable look
+ eligible for machine washing
Why We Liked It – We are impressed with Volcom thanks to the strain they put on keeping the snowboard pants not only functional but good-looking too. It's no secret that most pants don't look like something you would wear outside of the slopes, but Volcom makes sure you can both feel good during your performance as with your appearance with their product!
Coming in with another Volcom product, we have a good reason to do so. This pair of snowboard pants is just as fashionable as its predecessor and will leave you wanting to wear them both on and outside of the slopes! This pair only comes in black and is also eligible for machine washing, a feature that makes them much easier to take care of comparing to other pants that require more instant and somewhat complicated care.
These pants are made of 100% polyester and are praised for not being baggy at all, something that is common when buying other brands. They are a nice fit and won't be getting in your way as you are trying to show off your skill in the snowy mountains. The craftsmanship is some of the best out there and they are not bulky as to not add any extra weight, something that is vital to be kept at bay during snowboarding when every inch of freedom and non-overwhelming gear is welcome.
The ventilation is also well spaced, as well as the articulated design that won't leave you feeling cramped when you are trying maneuver through the obstacles that may arise in front you. The snug and tight fit of these snowboard pants will leave you wanting to spend more days on the slopes than ever!
Pros:
+ 100% polyester
+ fashionable and modern appeal
+ articulated design
Why We Liked It – There is no doubt that these pants will allow you a bit more freedom than other brands can offer you. They look good, they feel good and they possess all the features you could ask for when it comes to snowboard pants. The ventilation will keep you refreshed and eliminate any sweating and the polyester fabric will not let any drop of snow get under your skin!
Columbia's snowboard pants come both in a black and graphite color that will usually fit any of the typical gear you might find around a snowboard enthusiast. This will have you be able to adjust and match your gear to look its best with an appeal that can shine out for miles. These pants usually range from 40$-90$ which makes them a both affordable and average-priced product, depending what deal you will be able to strike. Regardless of the price, this pair of pants is a sturdy and durable one and does its job well.
They are one of the other pairs on this list that have insulation within them; something vital if you are going to be spending more than 1-2 hours on the slopes. If you are looking forward to fully enjoy your holiday and spend whole evening and afternoons on the slopes, Columbia's snowboard pants will end up being the choice to go far. They will keep you cosy but ventilated and the adjustable waist will allow you to keep the pants as loose or as tight as you like them.
They are just as waterproof as any quality snowboard pants and will make sure that you are kept dry and safe when you are speeding down the powdery hills and mountains.
Pros:
+ 100% waterproof
+ adjustable waist
+ insulated
Why We Liked It – Columbia provides us with a nice and affordable product that you will be able to use for years during your snowy holidays or intensive practice sessions. No matter what you end up using these snowboard pants for, there is no doubt that they will serve you well for long years to come. They are insulated, waterproof and adjustable, which makes them a perfect product for cold and snowy snowboarding days!
Snowboard Pants Buyers Guide
What Are Snowboard Pants?
When you are getting ready to go out into the wide world to try your luck at snowboarding in the deep powdered mountains, you will need suitable gear to get you through your snowboarding days out in the wild or within a resort. Snowboarding pants are no exception and are a vital piece of gear to have with you when you set out to take part in your new adventure.
Snowboard pants are not like the typical trousers you would wear outside; they are specifically made to endure the cold and harsh reality that you will encounter yourself with when setting your first step on the slopes. They are tailor-made to shield and shelter you from both the cold and the moisture that can be very painful to face without them. They are 100% waterproof to prevent any rain, hail snow or ice getting through and making the cotton or wool fabric that you would be wearing underneath damp, sticky and uncomfortable.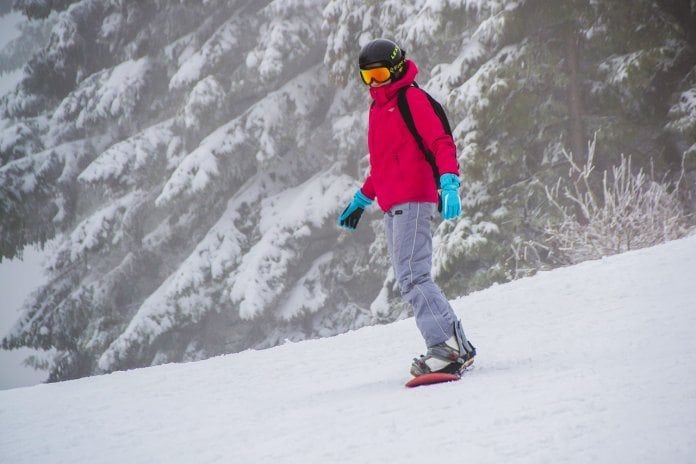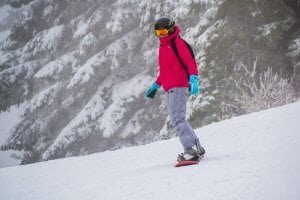 Most pairs also are usually very sturdy and will prevent any cuts or scrapes that could tear through your normal clothing. The slopes are a dangerous place and you never know when you will run into a sticking out piece of snow or ice or a tree root that you might have not seen beforehand. No matter what the occasion, they will be able to protect your legs from most of the dangers and misfortunes you could encounter.
Snowboarding pants also have adjustable waists so that you can make them as loose or as tight as you desire so that they can peacefully co-exist with your other warm clothing. Some pairs are also insulated, which makes for an extra layer of warm protection, something you can appreciate when temperatures go below zero!
You also won't have to worry that this extra layer of clothing will make you steamy and sweaty with all of the other stuff you could have on. They are supplied with ventilation so that you can enjoy having a dry and comfy environment to snowboard in, something that is definitely vital when you are trying to enjoy yourself on the slopes.
They are usually made from nylon, polyester or both to ensure that any moisture that you could encounter will be repelled within seconds. They are also made to allow for an articulate snowboarding experience that will not restrain any of your moves, something that may be common with normal bulky clothing or lower quality, baggy pants. The zippers and pockets are made for heavy-duty and every day wear and tear that you will succumb your new gear to when snowboarding.
With that said, it's easy to see why all snowboard pants are tailor-made to combat the cold, moisture and harsh winds that are common in mountains and ski resorts, and cannot be replaced!
Snowboard pants are specifically designed for both men and women – click here for the study.
How To Wash Snowboard Pants?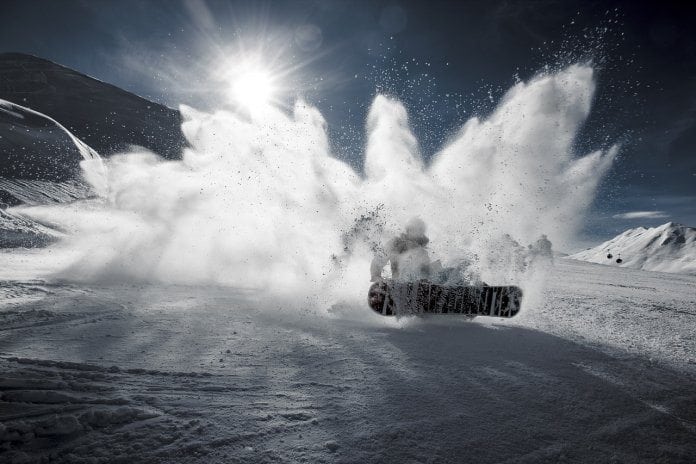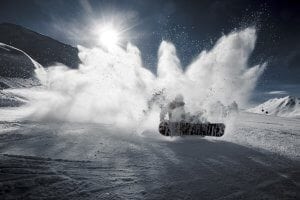 The most common conversation among people that have to deal with their winter gear is the discussion about how to wash the gear. There are endless paragraphs about how go about washing your gear and how to effectively take care of it, but the fact of the matter is that there are many myths to be found within the snowboarding community.
Contrary to popular belief, some snowboard pants can be washed in a washing machine. Not all brands have made products that would withstand that treatment well, but you will usually find bullet-points underneath the product that will tell you specifically whether it is to be hand washed or if it can be thrown into a washing machine without any future consequences. Some people think that putting their pants into the washing machine could damage the material or weaken it, but that is simply not true if the brand themselves states that it is fine to do so.
You may have already experienced the misfortune of smelly pants, and if you haven't it's best to shield yourself against it with a few simple rules. Regular washing will keep the bad smell at bay, though you will have to be careful to not damage the waterproofing layers of your trousers when doing so. You will need to avoid regular soap at all costs since that is the culprit that damages the waterproofing layer; you will need to invest in a specific detergent such as the Nikwax Tech Wash. This snow wax detergent will ensure that the waterproofing layer won't be damaged and your pants is kept clean and fresh.
You will need to pay attention when buying detergents since each one is made specifically for a specific pair of pants, waterproof, not waterproof, insulated or not insulated. For an insulated pair of snowboard pants you would need to invest in the Nikwax Tech Down Wash as to not damage that layer of insulation. Even with these detergents, the waterproof layer may with time slowly start to come off, and that is when you should reach for the Nikwax TX Direct Wash in, which should restore it to its fully capacity.
Another myth that has spread over the snowboarding community is that you cannot put your gear into the dryer, which is completely false. As long as you look at the instructions concerning the washing of the product and the bullet-points underneath it you should be able to easily find answers as to what you can and can't do with your newly acquired piece of kit.
Are Snowboard Pants Waterproof?
Most snowboarding gear that is meant for wearing outside will definitely have a layer of waterproof material on top to help protect you from the moisture and dangers that could come with that, including slipping and injuring yourself. Usually there are different thicknesses of how waterproof a material can be, the thicker it is the more water resistant it will end up being. Usually the thickness ranges from 5,000 to 20,000 mm.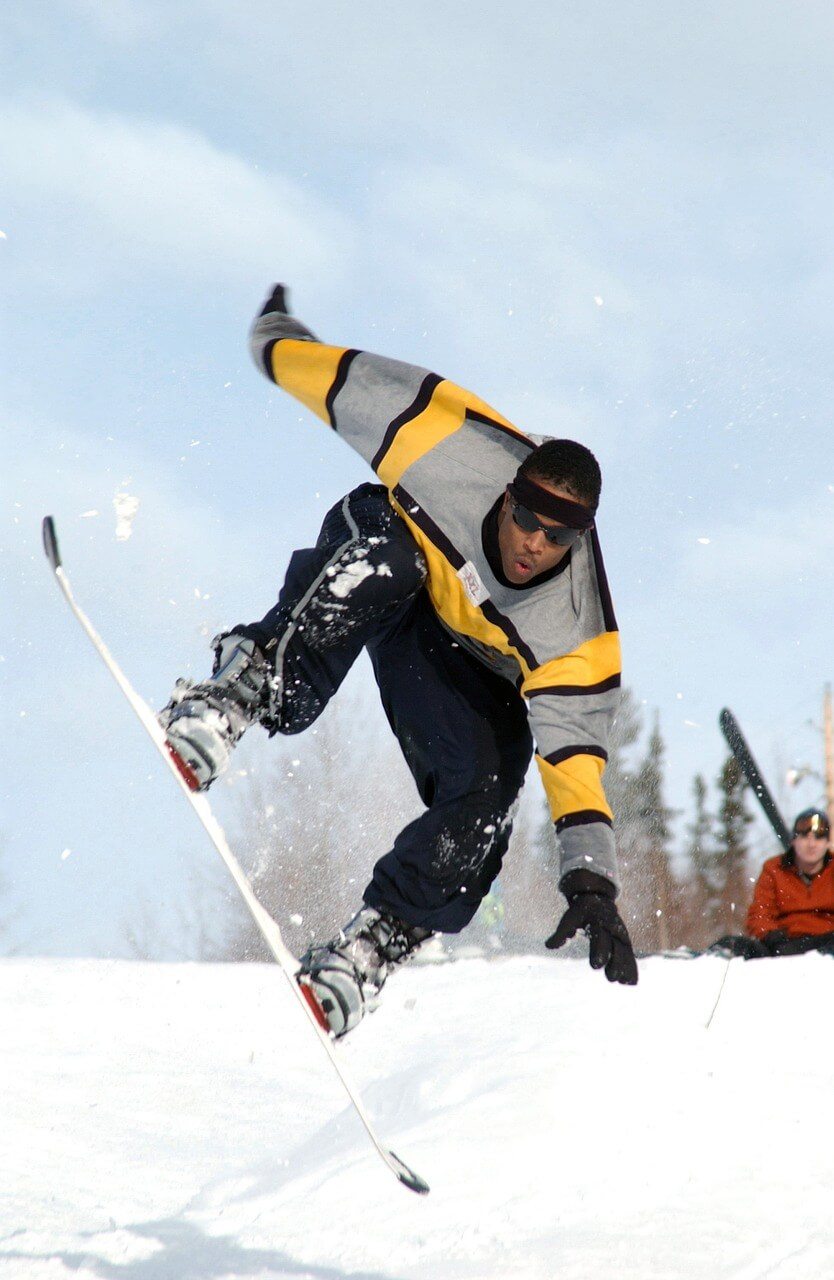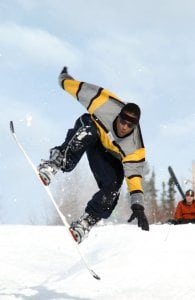 Some snowboard pants will have a softshell around them that encourage flexibility and ease movement when snowboarding, but while these are still considered waterproof, they are not as waterproof as hardshell snowboard short can be. You will need to take into consideration where you will be snowboarding, too. Since every region is different, you will be needing a different kind of waterproofing for your snowboard pants depending on the environment you will be in.
Some places have extreme snowfall and need a more thicker layer of waterproof material to help keep you dry from all of the moisture. Other places are much dryer and only usually have powdered snow to battle with, which would not require that thick of a waterproof material to protect you. Knowing this, it's easy to see why you would need to invest in snowboard pants that could keep you dry day in and day.
To summarize, most if not all snowboard pants will have some kind of waterproof layer to keep you protect. You will have to keep an eye out depending which kind of thickness of water resistant material would be best to buy. There is always the option that you can restore or add a waterproof layer to your snowboard pants with a special kind of detergent. It's vital that you keep a lookout on how effective your snowboard pants are when you are using them regularly.
If you let your pants lose the waterproof layer or if you bought gear without it, it's best to either replace it with a waterproof alternative or re-make it with special detergent. Neglecting a waterproof layer in a snowy surrounding could mean you will get soaked instantly and be left without any protection, something that is definitely to be avoided in the snowy mountains!
What Makes The Top Snowboard Pants?
When looking for new snowboard pants to accompany you with your snowboarding adventures, you will most likely want to look for sturdy and durable product. The most ideal snowboard pants are ones that can keep you dry and safe from moisture thanks to a good and effective waterproof layer. You would also need to make sure that they are made from nylon or polyester to have the most effective response to